Letter of Acceptance for Your DLI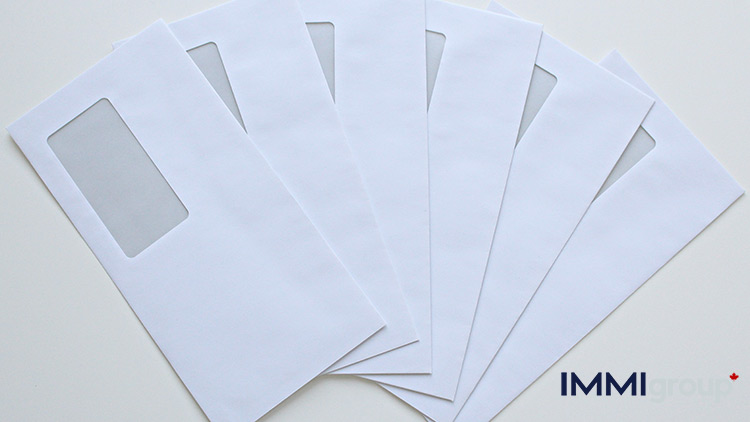 This is the first document you need. As we mentioned, you need to be accepted at a program of study at a DLI and you need them to confirm this with a Letter of Acceptance (LOA).
But did you know that you may also even have to suggest to your DLI what they need to include in your letter of acceptance? Yes, you should indeed do that. Let's see what you need to ensure is in your LOA.
While your LOA will be written by your Designated Learning Institution, IRCC strongly suggests it follow a specific template which contains the following information.
Your full name, date of birth, and mailing address
The official name of the DLI (school's name) and the contact at the school
The DLI number of the school (as shown in our blog on Choosing a DLI)
The DLI's telephone, fax, email, and website address
The type of institution the DLI is: university, community college, technical college, etc.
The program of study
The date of completion or the estimated duration of the program
The date the program begins
The last date for registering for the program
The academic year you will be entering (do you begin in the fall in mid-winter, spring etc.)
Whether your program is full-time or part-time
Your tuition fees
Whether you will be receiving any scholarships or financial aid
Until what date the Letter of Acceptance is valid (until what date do you have to accept or not)
It should be written on the institution's letterhead
For Quebec schools it must indicate the requirement of a Quebec Acceptance Certificate (CAQ)
Go here to see a template from IRCC: We suggest you use this template or even send this template directly to the admissions department of your DLI and politely suggest they use it when drafting your Letter of Acceptance. For those with a dash of hutzpah, do this before you've even been accepted at your school.
As well, please remember that you the applicant must send your original Letter of Acceptance if you are applying on paper. If you are applying online a copy will suffice. So, as most of you will be applying online, you will only need to upload a digital copy (with a camera or scanner) with your application.
Here's a sample letter of acceptance: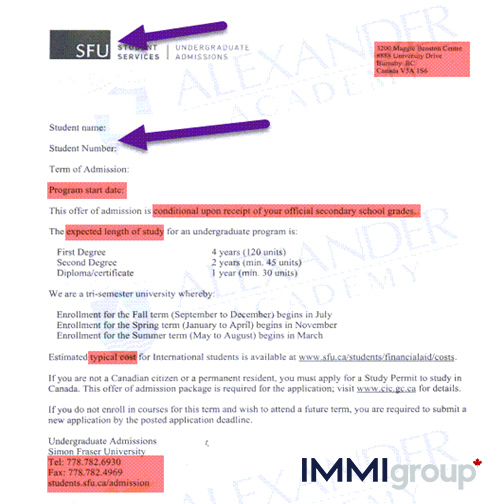 If you use the checklist above against this sample LOA, you'll see it contains most but not all of what IRCC strongly recommends a Letter of Acceptance includes. Note that it's missing the following:
The name of a contact at the University's Undergraduate Admissions
Your (you the student) address and date of birth
The DLI number of the school (Simon Fraser University or SFU in this case)
The last date for registering for the program of study
A mention of whether any financial assistance (scholarships, grants etc.) is involved
Here's another example: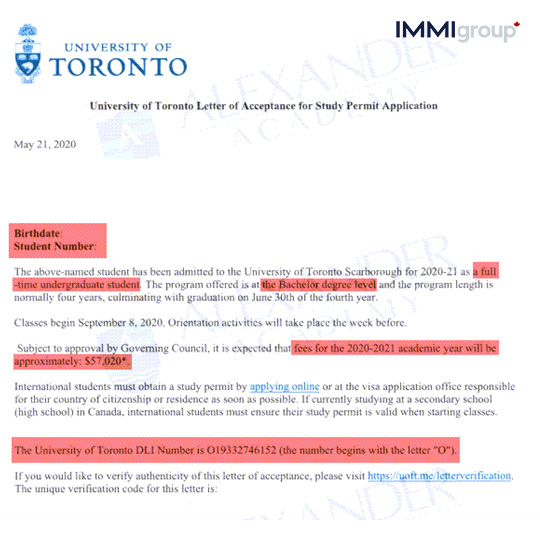 In this case, we have some update features that clearly respond to IRCC's stringent list of requirements for a LOA for international students. However, it's missing a few of the things we had in our previous letter. Can you guess what they are before looking at the list below?
No mailing address, website, email, fax, or phone for the university
No contact at the Admissions department
No final date to register
No mention of what term the program starts or what terms are available (fall, spring, summer, for example)
No mention of scholarships or aid (although it may be that none are involved so they are not mentioned)
And while they do not mention what type of school it is, University of Toronto (along with UBC) is arguably Canada's best-known school and is clearly a university.
Conditional Letter of Acceptance
PLEASE NOTE: If you have a Conditional Letter of Acceptance, one that states you need to first complete a pre-requisite course or program to enter your main program of study, then you will be issued a study permit for the length of your pre-requisite course or program plus 1 additional year.
Once you've completed your pre-requisite course, then you have to apply for a new study permit to cover your main course of study.
Do-it-yourself Study Permit Course