Prince Edward Island PNP Business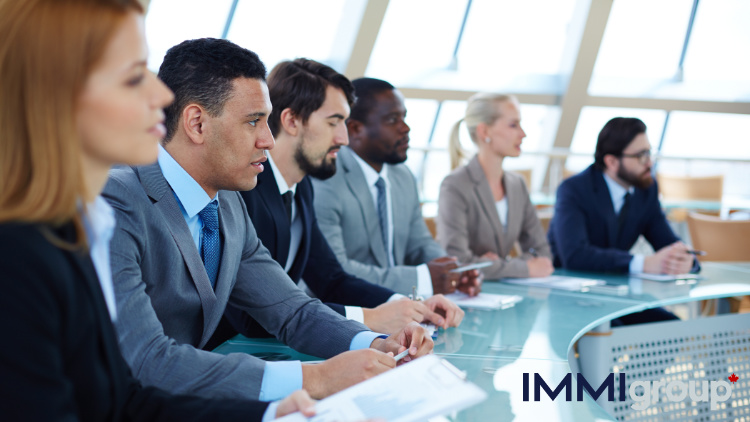 Please note that on January 1, 2015 the way that Canada accepts permanent residents has changed. The new system, called Express Entry, represents a change in method rather than in requirements. 
The P.E.I. Provincial Nominee Program lets P.E.I nominate qualified business persons who are willing to move there and establish, purchase, or invest in a business. This page is currently being updated.
Quick Index
Applicants are given two categories under which they may apply:
Immigrant Partner
Immigrant Entrepreneur
Each category has its own criteria. Applicants considering applying for one of these categories should carefully review the following information to ensure that they qualify for the PEI Business category for the provincial nomination program.
Immigrant Partner Requirements for the PEI Business PNP
All applications under this category must go through a recognized Prince Edward Island Investment Intermediary.
Score a minimum of 50 points on the self-assessment form;
Have a minimum net worth of $400,000 CAD;
Use an Investment Intermediary approved by the Prince Edward Island Business category Provincial Nominee Program;
Make a $200,000 investment in shares in an eligible Prince Edward Island company;
Have a managerial role in the invested comapny (position must be in accordance with Skill Type 0 in the NOC classification);
Make a Good Faith Deposit of $25,000 to the Province. This will be returned after one year's residency in Prince Edward Island;
Be between the ages of 21 and 49 and younger than 55;
Have a minimum of 12 years of education (high school graduate);
Have a minimum of five years of management or business ownership experience in a field that is relevant to the Prince Edward Island economy;
Have enough language skills to be interviewed in English or French. If not, applicants must be prepared to make a Language Deposit of $20,000 to the Province. This will be returned after one year's residency and a moderate level of aptitude in reading, speaking, writing and listening in English and/or French has been achieved.
Immigrant Entrepreneur Requirements for the PNP Business PNP
The following are the criteria applicants must meet in order to be eligible for this category of PEI business nomination:
Have a minimum net worth of $400,000;
Intend to invest at least $200,000 to establish a new business or to purchase at least one third of an existing business;
Submit a business plan to show the have the capacity to establish a successful business in the province;
Pay $100,000 business investment deposit that will be held in escrow and returned to after one year of residence in Prince Edward Island;
Place a good faith deposit of $25,000 with the Government of PEI. This deposit will be returned after one year residence in the province;
Possess strong English or French-speaking skills; if they are not strong enough to be interviewed in either language, applicants are required to place $20,000 in escrow with the Government of PEI. This deposit will be returned when the applicant demonstrates moderate language skills, in English or French, after arriving in PEI;
Be less than 55 years of age;
Have at least 14 years of education, including at least one post-secondary certificate or degree;
Be capable of being interviewed in English or French;
Have several years of management or business ownership experience in a field relevant to the province's economy;
Make an exploratory visit to Prince Edward Island to explore business opportunities and have the interview with the province.
for the business or practice.
PEI Business PNP Application Process
The following are the application forms for the P.E.I. Business category of provincial nomination:
Forms specific to Immigrant Partner:
Immigrant Partner Checklist:
use this to ensure that all required documents are included in the application
Self-Assessment Form-IP:
score a minimum of 50 points to be eligible
Submission Form:
Application form for this category
Application for Eligible Investee Status Form:
To be completed by the investee
Agent Profile Form:
complete if using a representative
Investment Intermediary Agreement with the Investee Company:
details of the agreement signed between the applicant and the company that will be invested in.
Use of Proceeds Agreement Form:
A declaration by the investee stating that the funds will be used in accordance to the business plan submitted by the applicant
Forms specific to Immigrant Entrepreneur:
Self-Assessment-IE:
must score at least 50 points to qualify
Escrow Agreement:
agreement to place $100,000 deposit with PEI to be returned once the business is established
Forms to be completed by all applicants:
Good Faith Deposit Agreement Form:
By signing this form applicant agrees to pay the $25000 good faith deposit
Release of Information for Evaluation Form:
Consent form authorize to the government sharing personal information for evaluation
Information Release Form:
consent to PEI to share information with CIC
Proof of Language Ability Form:
proof of language ability
Language Proficiency Agreement Form:
complete this form if using an interpreter at the interview
Permanent Residence Application:
Application For Permanent Residence:
Principal application form for Permanent Residence.
6-24 months*
Schedule 1:
Must be completed by each person over the age of 18 who is included in the application
Aditional Family Information:
This form asks that the main applicant provide information about his/her family.
Schedule 4 [economic class]:
Provincial nominees must complete this form along with all other required forms for permanent residency
In order to be issued a visa, all candidates must meet criminal and medical admissibility requirements.
* This is a general estimation. Processing times vary among visa offices.
Requirements for residency applications may vary depending on the country of your citizenship. Please contact us for a list of countries.
Our PEI Business PNP services
Fees
Immigroup representation
CDN $6000 + tax
Government:
The PNP application fee for business in P.E.I.
$2500
Permanent residence application fee
CDN $550*
Right of permanent residence fee
CDN $490*
* Government fees are based on only one person in the application. Fees will vary depending on number of persons included in application. Applicants may be required to pay additional fees for medical exams, police certificates, language assessments, courier fees or adding dependents to the application.
We guarantee that your application will be accurate and complete, and in accordance with Canadian immigration law. Book a consultation appointment to get started. At your consultation appointment, we will ask you additional qualifying questions, and answer any questions you may have. We charge a fee of CDN $150 + HST for this consultation. This fee will be deducted from our total fees if you retain our services. For more information about P.E.I. Territory Business Provincial Nominee, please call Immigroup (416)962-2623.
Average time to complete application by Immigroup: 2-4 weeks
PNP Draw Points Cut-Offs
Some of the PNP streams for the provinces of Ontario, Alberta and Manitoba use the same scoring system as Express Entry. Here are the cut-offs for 2021:
PNP Invitations
British Columbia PNP Points Cut-Offs
British Columbia uses its own scoring system:
British Columbia PNP Notifiations
BC Entrepreneur PNP Points Cut-Offs
BC Entrepreneur PNP Notifications
Saskatchewan Immigrant Nominee Program Points Cut-Offs
Saskatchewan uses its own scoring system?
Saskatchewan Immigrant Nominee Program Notifications
If you would like graphs featuring the PEI PNP please comment below