Replace a lost or stolen American passport from Canada
Has your U.S. Passport been lost or stolen? Here's a quick, easy-to-follow guide to report and replace your lost or stolen passport.
Reporting Lost/Stolen U.S. Passports
You have 3 options:
Option 1 – Do it online
Go to this government page and scroll down until you see the following: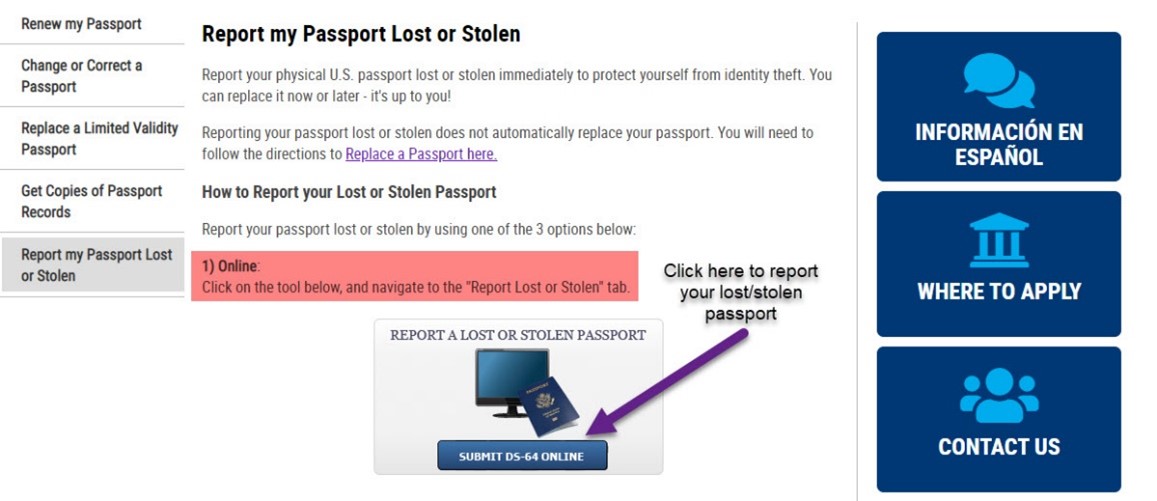 After clicking on the indicated blue button, you'll be taken to the following privacy statement: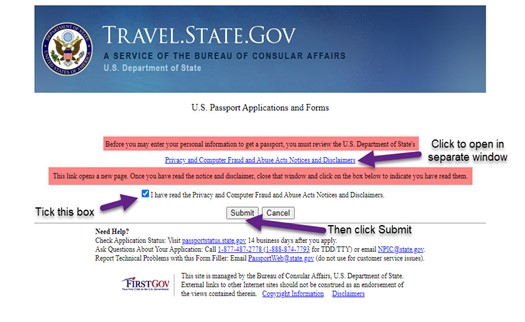 Tick the box and click Submit. You'll then you'll be taken here to begin the online process of reporting your lost or stolen passport by filling out form DS-64:
Once you've submitted your report, you can then (although this is optional, it is recommended) hover over the LHS pane to begin filling out form DS-11 online.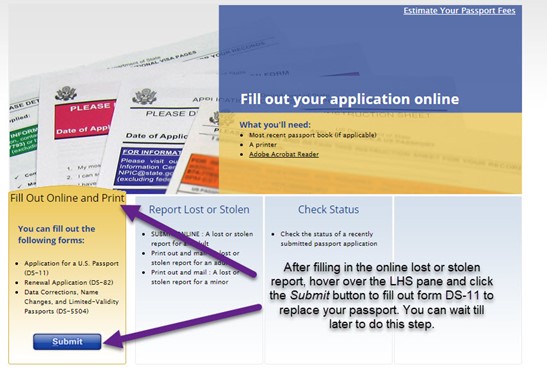 To familiarize yourself with form DS-11, check out our tutorial Change your Name or Replace U.S. Passport where we take you through the basics of DS-11.
Option 2 – Mail in your application
Go back to the same page linked at the beginning of this tutorial to download DS-64 by scrolling down and clicking on the indicated link. Complete it, print it, and mail it to the address on the form.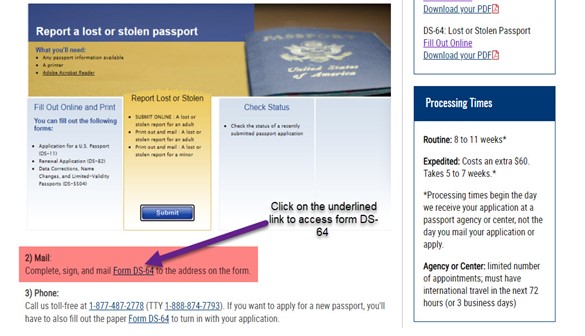 Note: How to get an American passport for a child from Canada?
Form DS-64:
The form has 3 sections and the information they ask for is straightforward but crucial. Let's look at
Section 1 (IDENTIFYING INFORMATION OF PASSPORT HOLDER) &
Section 2 (LOST OR STOLEN U.S. PASSPORT BOOK/CARD INFORMATION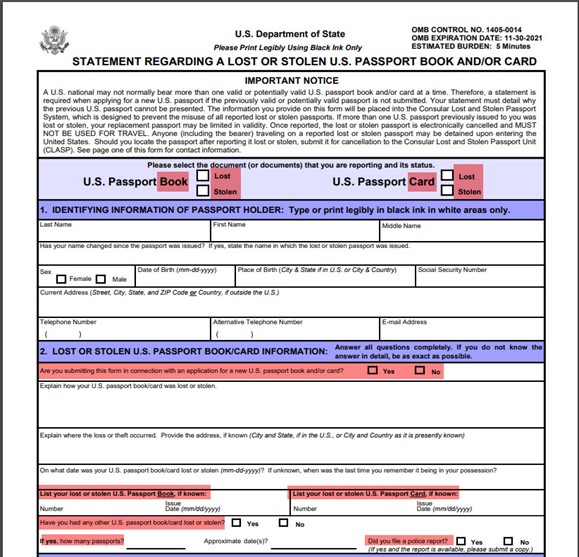 In the first place, indicate whether a passport book or card or both were lost or stolen by ticking the appropriate boxes. In section 1, make sure you indicate if your name has changed and what name was used in the lost or stolen passport. As well, make sure to get your Social Security number right.
In section 2 you'll be asked whether you're also applying for a replacement passport (by using form DS-11) and you'll be asked to explain how the loss or theft occurred. At the end of section 2, you'll be asked if you have previously lost your passport or had it stolen. Please understand that repeated loss or reported theft of your passport may affect your ability to obtain a replacement passport.
Finally, in section 3 you (if you're 16 or older), or BOTH your parents, or your guardian, will be asked to sign the form.
Option 3 – Phone
You can also report your stolen or lost passport by phone at:
1-877-487-2778 (TTY 1-888-874-7793).
However, if you also want to apply for a replacement passport after reporting the loss or theft by phone, you'll have to fill out form DS-64 on paper and include it in your application for a replacement passport.
Your options to replace a lost or stolen passport are as follows:
If you're in the U.S. and need to travel within 5-7 weeks, you may be able to make an appointment to apply in person at a Passport Acceptance Agency or Center.
If you're in the U.S. and travelling within 72 hours or 3 business days, you can apply in person at a Passport Acceptance Agency or Center.
If you're in the U.S. and travelling in over 5-7 weeks, make an appointment at a Passport Acceptance Facility.
If you're outside the U.S. then you must contact your nearest consulate/embassy for information on how to apply for a replacement passport.