How to apply for an American passport for a child from Canada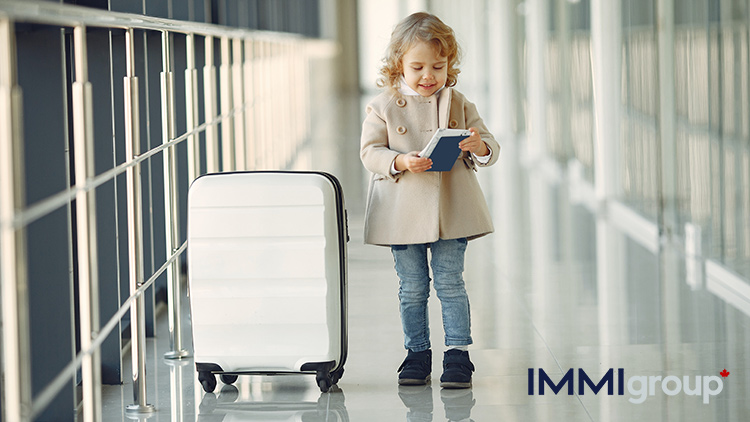 Last Updated on May 10, 2022 by Allard John Keeley
Any child under the age of 16, must apply in person for their US Passport application along with BOTH their parents, or their guardians. Form DS-11 should be completed before going to your local consulate/embassy or Passport Acceptance Center (in the US). It then must be signed in the presence of an authorizing agent.
Tip: Here is the U.S. Passport homepage
Let us go through the details.
You'll be using form DS-11 which we review in our tutorial to renew your US Passport. However, there are a few differences in how to fill it out when applying for a child under the age of 16.
In the 2nd address line, make sure you write: In care of (Parent's or both parents' name). This will make sure that the USPS does not return your child's passport to the State Department because of an unrecognized name (your child's) in your address.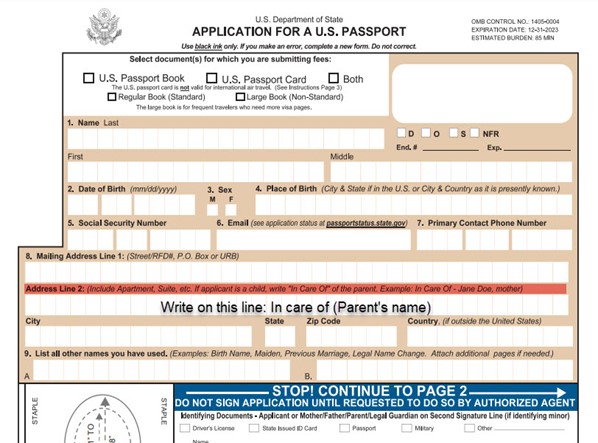 Tip: If you have an error on your US passport, click here to learn how to fix it. 
2. Provide YOUR CHILD'S Social Security number – NOT YOURS. If your child doesn't have a Social Security number, then you must provide the following written statement:
I declare under penalty of perjury under the laws of the United States of America that the following is true and correct: (Child's full name) has never been issued a Social Security Number by the Social Security Administration.
The statement must be signed by you and dated.
3.  As is always the case with form DS-11, DO NOT SIGN DS-11 until instructed to do so by the authorizing agent at the Passport Acceptance Center or consulate/embassy.
4. And just remember to keep clear the difference between parental information (that's you as the child's parent) and applicant information (your child) as you fill in page 2 of DS-11. Again, see our tutorial on renewing your US Passport for more details on DS-11.
Here are the documents you'll have to bring with you:
Proof of your child's U.S. citizenship – one of the following, either the original or a certified physical copy:

Fully-valid, undamaged US Passport (it can be expired however)
US Birth Certificate

Issued by City, County, or State of birth
Lists your child's full name, date of birth, and place of birth
Lists your child's parents' or parent's full name(s)
Lists the date it was filed at the registrar's office (within 1 year of birth)
Has the registrar's signature
Has the seal of the issuing authority
PLEASE NOTE: Some Birth Abstracts issued by States do NOT have all the required information and thus cannot be used. Check this list if you are using a State-issued Birth Abstract to make sure it has all the required information.

Consular Report of Birth Abroad or Certification of Birth
Certificate of Citizenship

Secondary Proof of Citizenship is used if you can't provide primary proof of citizenship (as listed directly above). You need to provide ONE of Delayed Birth Certificate; Letter of No Record; or Early Public Records/Documents:

Delayed Birth Certificate – this is a birth certificate filed more than 1 year after the date of birth. It needs to include the following information:

A list of the documents used to create it – especially what are called Early Public Records
The signature of the birth attendant (the doctor, nurse, midwife etc. present at birth) OR
An affidavit signed by the parents
If your Delayed Birth Certificate does not include this information, you have to also include Early Public Records as Secondary Proof of Citizenship.

Letter of No Record – this is a letter you receive from your State's Registrar if there is no Birth Certificate on record. It acts as a substitute for a birth certificate but must include the following information:

The State which issued it
The Applicant's (your child's) name & date of birth
The years for which a Birth Record was searched in the state's files
A statement saying that no birth record of the applicant (your child) was found.
PLEASE remember to also submit 2 early public document or 1 early public document and 1 early private document when submitting a Letter of No Record + Form DS-10 Birth Affidavit.

Early Public + Private Documents: these are documents created early in the life of a child, generally during their first 5 years. These include:

A baptism Certificate
A hospital Birth Certificate (often with footprints)
State Census Records
Early School Records
Family Bible Record
Doctor's Records of Post-Natal care

Remember to also complete and include form DS-10 if you are submitting either a Letter of No Record + Early Public/Private documents, or just submitting Early Public/Private documents.
Form DS-10
DS-10 has 2 pages: 1 page of instructions and 1 page of the actual form. The instructions are at the beginning:
Remember, DS-10 is an Affidavit which is a legal document that the Affiant swears to. The Affiant should be a close blood relative of the Applicant (your child) who can remember in detail the birth of the Applicant (your child). Remember that the Affiant must bring a clear photocopy of both sides of a valid piece of Identification.
The actual application on page 2 of DS-10 asks for personal information of the applicant (the child) NOT the affiant:
Next, after filling in the form on behalf of the applicant, the affiant must sign IN THE PRESENCE OF THE AUTHORIZING AGENT.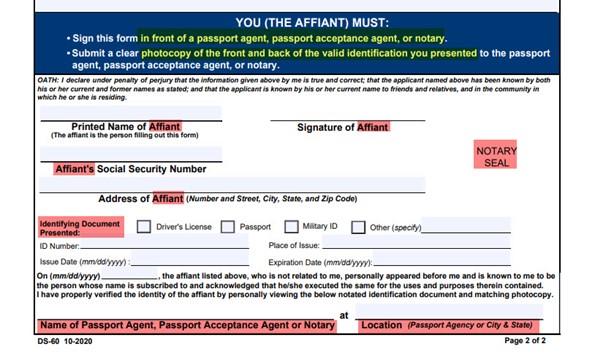 Remember the affiant has to bring a photocopy of their valid ID.
You bring DS-10 along with DS-11 and the other documents with you to the Passport Acceptance Agency/Facility or consulate/embassy. DO NOT sign DS-10 until told to do so by an authorizing agent at the acceptance facility or consulate/embassy. If a notary is the authorizing agent, then they should affix their seal in the space provided.
Child Born Abroad with U.S. Citizen parents
Bring the following:
The child's foreign birth certificate listing the parents
The parents' evidence of U.S. citizenship
The parents' marriage certificate – if applicable
A statement from the child's parents detailing all the places they resided both abroad and in the U.S. before the child's birth.
Child acquired U.S. Citizenship through Naturalization of a Parent
Bring the following:
The child's foreign birth certificate listing the parents
The parent(s)' naturalization certificate
Evidence of permanent residence status

Green card (Permanent Resident Card)
Passport with I-551 visa entry stamp

The parent's marriage certificate (if parents married when child legally entered U.S.)
Documentation of legal custody (if parents NOT married when child legally entered U.S.)
Evidence of child's legitimation

The parent's marriage certificate form after birth of child
A certified court order of legitimation
Child Acquired U.S. Citizenship through Adoption by a U.S. Citizen Parent
Bring the following:
Evidence of U.S. Citizenship of the U.S. Parent
The child's full and final Adoption Decree
Evidence of the Child's Lawful Entry for permanent residence in U.S.

The child's foreign passport with ADIT Stamp, OR
Form I-94 with ADIT Stamp and Photograph (issued by the Department of Homeland Security (DHS), not the State Department)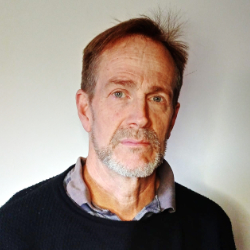 Allard Keeley has been a published writer on immigration policy since 2013. Has written for publications like The Federalist. Fluent in Spanish and English. BA Honors Economics Queen's University in Kingston, Ontario.