Top 10 Dirtiest Cities in the World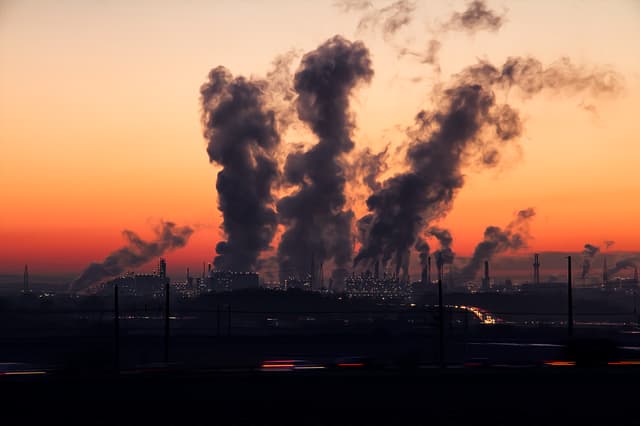 When people move to a new country or even a new city, they usually are looking to improve their quality of life. And key amongst the indicators normally used to measure quality of life is the quality of the environment. Clean air and clean water, elaborate waste disposal systems, as well as up-to-date water purification systems are part of what makes a city a good place to live.

When people move to a new country or even a new city, they usually are looking to improve their quality of life. And key amongst the indicators normally used to measure quality of life is the quality of the environment. Clean air and clean water, elaborate waste disposal systems (whether recycling or the latest technologies for cleaner incineration), as well as up-to-date water purification systems are part of what makes a city a good place to live.
But what happens to residents of highly polluted cities? When the tap water is often unsafe? When the air is often unbreathable? When open-air garbage dumps attract desperate scavengers who recycle the refuse of others in the most back-breaking way? Where in some neighbourhoods the only water available comes from a polluted canal that residents have to scoop up with gritty plastic bottles? Where more often than not sewage treatment plants simply don't exist?
In cities in countries like Canada, these urban services are taken for granted. But around our globe there are an unfortunately large number of cities and towns where the inhabitants live in environmentally degraded areas that are simply toxic. It's time to take a sobering look at cities that are unable and/or unwilling to provide a reasonably healthy environment for their residents. You may be surprised by some of the cities around the world that actually have serious pollution problems.
It's time to see for yourself about
Cities That Secretly Sicken You!
That might seem like an outrageous headline. But it happens to be true. When you breathe in toxic chemicals every day from childhood on, your risk for various forms of cancer rises significantly. When the water you drink is filled with bacteria and often toxic chemicals, the risk of contracting serious illnesses is much higher. Bluntly put, these cities cut short their own citizens' lives.
Where are these seemingly safe cities that in fact are far more polluted than you expect? Time to rip off the mask and see!
10. Nagpur, India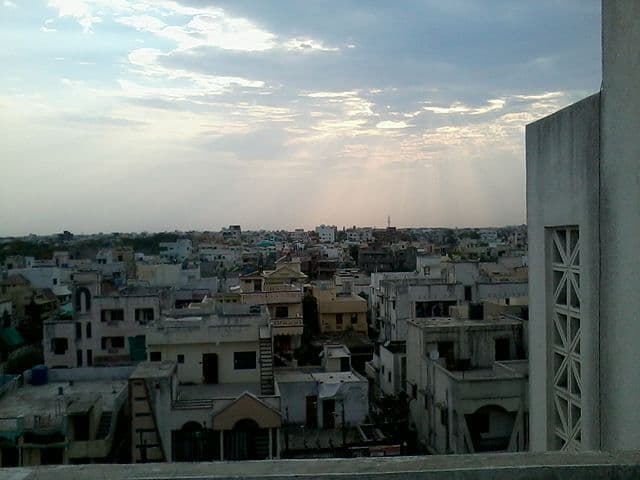 by Sanket Golar / Wikimedia Commons / CC BY-SA 4.0
Nagpur is an economic dynamo, located literally in the centre of the Indian subcontinent, and has a thriving and diverse economy including everything from agriculture to education, from high tech to aerospace, from manufacturing to … coal mining. And yes, that means poor air quality.
The state of Maharashtra, in which Nagpur is located, has put together the Maharashtra Industrial Development Corporation (MIDC) which helps companies with their infrastructure needs including land, water supply, roads, drainage and streetlights. But this is also a city that cares about its environmental reputation. They are proud of topping India's best cities index in 2013 and the metropolitan area is spending several hundred million dollars on an urban rail network.
But such spectacular growth comes at a price. Nagpur comes in at only the 20th cleanest city in India and is a disappointingly high 33rd on the particulate matter air pollution index. And summers can bring heat waves with highs of well over 40 degrees. So, if you want to move up the economic ladder in India, this is a city to relocate to. But Nagpur itself still has a way to go to clean up it's hard-working and increasingly wealthy act if it truly wants to be a healthy city to live in.
9. Dzershinsk, Russia
by Юрий Лебедев / Wikimedia Commons / CC BY-SA 4.0
This is a special case because the air is nowhere near as polluted as that of the other cities on our list. And there has been vigorous debate about how polluted the city, located a few hundred kilometres to the east of Moscow, actually is.
But the undeniable truth is that the city was the Soviet Union's main producer of chemical weapons from sometime in the '30s or early '40s until the early '90s. It was in fact a restricted-access zone until the 90s. By some estimates, 300,000 tons of chemical waste were dumped up in and around the city until the late 90s. And some of those chemical wastes were highly toxic substances like hydrogen cyanide, phosgene, and lead. The drinking water is reported to be contaminated with dioxins and phenols that have been found at levels that are millions of times what is considered the safe limit. The average lifespan has been debated as being anything from the shockingly low (42 years) to significantly lower than in most developed countries (64 years).
So, go ahead and visit if you like. But it may not be the best place on earth to live if you're looking for a long and healthy life.
8. Dezhou, China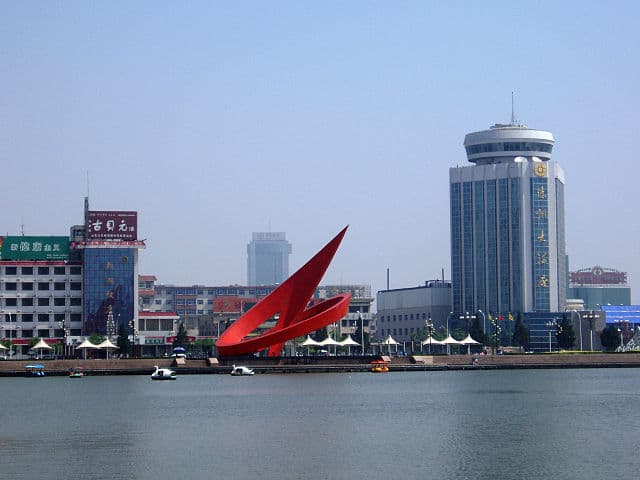 by Fanghong / Wikimedia Commons / CC BY-SA 3.0
According to a study based on World Health Organization (WHO) data collected from 2008 to 2017, the city is the 39th most polluted city in the world in terms of particulate matter concentration.
However, what is fascinating about this city and the valley in which it is located is that, for the last 15 or so years, Dezhou has been the centre of what is called China's solar valley. Hundreds of millions of dollars are being invested in solar industries, from solar panel manufacturers to a plan to have roadside lighting powered by solar. It includes Himin Solar Energy Group, a huge manufacturer of solar water heaters, as well as a plan for a 60,000 square metre solar floor that will be able to power a mid-sized city.
Very impressive, but the fact that Dezhou has Baoding – one of the most polluted cities in China – around 300 km to the north and the city of Jining – also a heavily polluted city – less than 200 km to the south means that air pollution will be a problem for some time to come. So, there are both challenges and hope in Dezhou. Overall, it's still an unhealthy city to live in, unfortunately.
7. Jining, China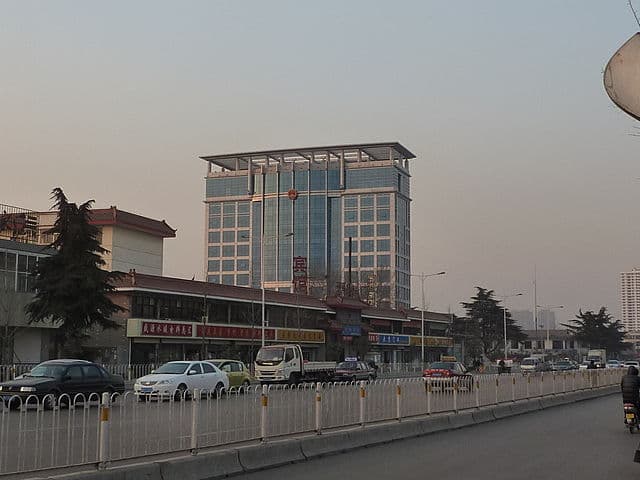 by Vmenkov / Wikimedia Commons / CC BY-SA 3.0
Dezhou's southern neighbour is a coal-mining city which tells you right away what sort of air quality they have. It's 36th on the list of most-polluted cities in terms of particulate matter concentration, slightly worse than Dezhou, but better than Baoding. In the fall of 2017 it, along with 7 other Chinese cities, failed the government's air quality standards.
What tends to happen in these northern Chinese cities is that when fall and winter come, people turn on their coal heaters to keep warm. That means a blanket of foggy smog that sits over the city like a smoke-filled room seeping into your lungs. No, that's not healthy. And it's a sad reminder that maybe the winter holidays are not the best time to visit relatives and/or friends back in cities like Jining. Until newer technologies provide ways for Jining's residents to stay warm in winter.
6. Doha, Qatar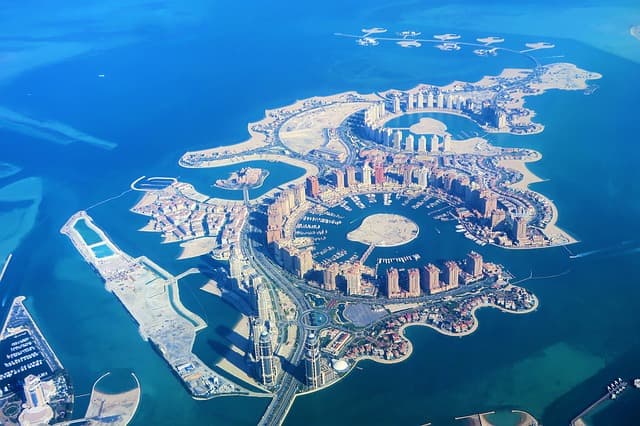 [
Public Domain
]
Doha is a world-class city by many measures, hosting international conferences and sports events of various kinds, from boat racing in the sea to championship-winning basketball teams and, of course, the FIFA World Cup in 2022.
But despite its increasingly diverse economy that has expanded into areas like finance, higher education and tourism, there are two key factors to consider when analyzing how dirty the city of gleaming towers actually is:
The country of Qatar is still a major oil & gas centre with the accompanying levels of air pollution placing it 20th on the particulate matter index.
The city of Doha is extremely hot for a large part of the year with highs reaching close to 50 degrees on some days in July and August.
Put together those two factors and the long summers in Doha are often hellish with the additional factor of coming climate change giving rise to the question: will the city become uninhabitable in a generation or two? Will its steel and glass structures someday be rusted and broken and abandoned to the desert's increasingly inhuman climate? Or will the human race somehow find a solution?
Maybe not the best place to bet on raising a family and staying for a generation or two. Never mind all the spectacular events.
5. Kampala, Uganda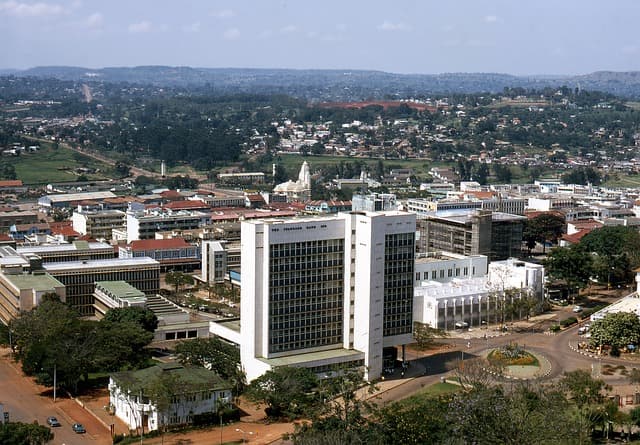 [
Public Domain
]
We are now in the 100+ club as far as particulate matter (PM2.5) levels go. By comparison, Sarnia, Ontario, which has a large petrochemical refining complex, has PM2.5 fine particulate matter concentration levels ranging from 10 down to 2 during a 24-hour cycle. This averages out to a level of about 5 over the course of a day. In plain English, Kampala's air quality is 20 times worse than Sarnia's. (It's 104 in Kampala but 5 in Sarnia.)
As in other cities on our dirty little list, Kampala is an economic powerhouse, accounting for over half of Uganda's GDP. Like Rome, it is built on 7 hills averaging over 1,100 metres above sea level with a warm to occasionally hot climate with mild evenings. And very dirty air quality, in part due to vehicle emissions. The city is planning ways to deal with this by building out a rapid bus network to replace the so-called commuter taxis, as well as a planned urban rail transit system. Similar to Mexico City and Santiago de Chile, its hilly location means that traffic smog can be curse in Kampala. And with muggy, wet weather it's a curse that has to lifted by shifting to cleaner public transport. That will take money and time.
Until then, what should be a beautiful city by Lake Victoria will remain a toxic place to breathe and live in.
4. Peshawar, Pakistan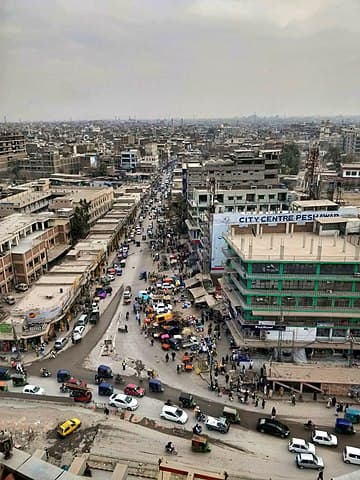 by Mohammed Ahmed Arsalan Khan / Wikimedia Commons / CC BY-SA 4.0
Located in the northwest of Pakistan, the ancient city of Peshawar has been fought over by countless civilizations for centuries on end before finally becoming Pakistan's gateway to the Khyber Pass and Afghanistan. Its economy will get a huge boost from a newly minted deal with China to create 4 economic zones for industrial development as well as creating highways leading to western China as part of the Silk Road project labelled the China-Pakistan Economic Corridor.
While most of the city's residents are very low-income, informal workers, traffic problems as well as other emissions have created dangerously high levels of particulate matter concentrates – a PM2.5 level of 111 to be specific. The air is deadly in the mountainous city of Peshawar. There's no other way to put it. Public transport projects are planned, but one suspects that the China-Pakistan Economic Corridor will be all about industry and transportation. One fears the air quality will get worse before it gets better in Peshawar.
3. Bamenda, Cameroon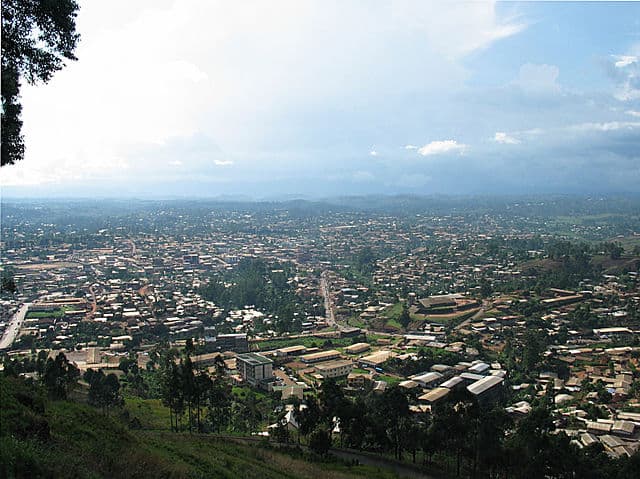 by Amcaja / Wikimedia Commons / CC BY-SA 3.0
Bamenda is a hill town, over 300 km inland from the Atlantic coast of this West African nation and nestled between the hills at an elevation of 1,600 metres. Its mountain savannah climate is wet and mild with highs in the mid 20s Celsius and lows in the mid teens Celsius. It should be a wonderful place to live with days that are warm to cool and fertile valleys surrounding the city.
But unfortunately, smoggy air trapped in the hilly terrain produces Africa's most polluted air quality, measured by our PM2.5 index, coming in at a sickening 132. This is a difficult problem to solve. Just ask residents of Santiago de Chile, the capital of a country that has managed to grow its way into membership of the OECD and yet can't solve the problem of smoggy air in its capital city, despite a well-run subway system.
Cameroon does not have the funds available that a mid-level economy like Chile has, but it is trying to find solutions. The Bamenda University of Science and Technology has partnered with Germany's University of Osnabruck as well as with University of Wales at Bangor. For the sake of its residents, lets hope the professors and students can find ways to improve an air quality that is close to being lethal.
2. Delhi, India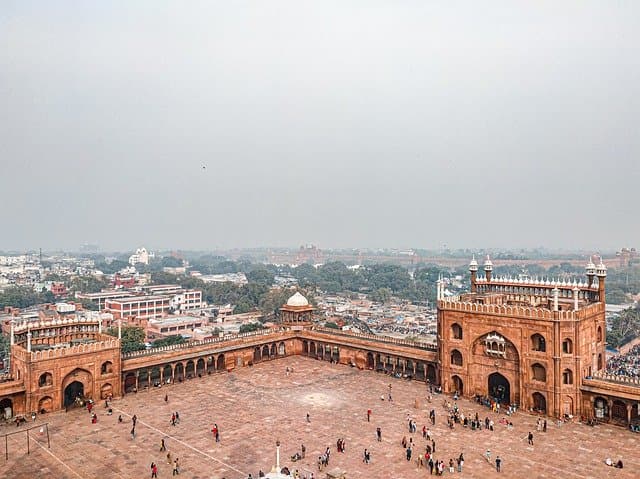 [
Public Domain
]
In the list of most-polluted cities by particulate matter concentration, 10 of the top 11 cities are in India, and not China, as many might believe. Bamenda, at 8th, is the one non-Indian city on the list.
While this is truly troubling, it is also indicative of the strong growth India has experienced over the last decades. Tragically, this growth has not yet produced sufficient innovation or investment to begin to contain industrial and traffic-based emissions, or water toxins, which are all eating away at the health of Indians across their enormous country. Yes, London right into the mid-20th century had horrific smog levels, as did Tokyo right into the early '60s. And both cities are enormous centres of wealth and innovation. But they eventually were forced to clean up their act when pollution levels became unbearable.
In Delhi, PM2.5 levels are at 143, a downright dangerous level, especially during the winter months. Delhi – which is in fact called The National Capital Territory of Delhi and includes New Delhi – is India's 2nd most productive urban area, after Mumbai. Like Mumbai, its local economy is huge and growing and like Mumbai, the city is filled with cars as well as a public transport system that has trouble keeping up with the area's rapid growth. According to India's Ministry of Earth Sciences, over 40% of Delhi's air pollution is caused by vehicle emissions, which turn the sky into a smoggy haze that nearly blots out the sun during winter months.
As India's economy lifts its residents into higher income brackets, public transport ridership has actually declined while diesel vehicle ownership has astonishingly increased. While the Delhi metro carries millions of passengers per year and a Regional Rapid Transit System (RRTS) is being planned, Delhi's residents will have to wake up to the alarmingly high levels of air pollution in their metropolitan area, and find solutions quickly before their health suffers even more than it already has.
1. Varanasi, India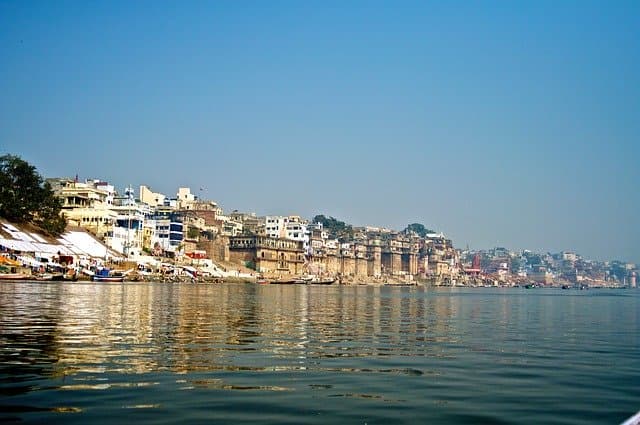 [
Public Domain
]
Shiva must look down on his sacred city on the banks of the Ganges and weep! Ok, admittedly that's a little dramatic, but India's and Hinduism's most sacred of cities has a real pollution problem. It's PM2.5 level is 146, nearly the worst in the world. Prime Minister Modi is actually from Varanasi and the extremely popular Indian leader is undoubtedly keenly aware of the problems his city faces.
Again, industry and vehicle emissions are largely to blame. So, how to blend growth and increasing prosperity with policies that provide cleaner air and water for Varanasi's residents? From high levels of infant mortality (reportedly 70 per 1000 births) to air pollution to water borne pollution in the Ganges, the challenges to this ancient sacred city are enormous. Dangerously high levels of particulate air pollution. Sewage, much of it untreated, seeping into the Ganges. Toxic Chemicals from industrial waste. Let's hope their representative in parliament – who happens to be India's Prime Minister – can summon the political power and will to begin to solve them. India's future will be far brighter should he be able to accomplish at least some of this and start to clean up one of the world's worst pollution problems in their most sacred city.