Top 10 Malls for Cross Border Shopping Near Vancouver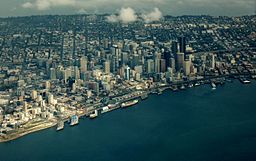 Top 10 American Malls within Driving Distance of Vancouver
Vancouver, British Columbia, is one of the most ethnically diverse cities in Canada. It is also one of the most densely populated cities in the country. There are many activities and entertainment options in Vancouver; whether you want to enjoy an outdoor activity that takes advantage of the beautiful scenery in the nearby mountains, or you want to enjoy Vancouver's vibrant night life and theater scene. Vancouver also enjoys a geographical position near the border of the United States. For those wishing to explore outside of Vancouver and Canada, day trips to the U.S. are a popular option. Shopping enthusiasts can take advantage of many shopping malls in the Seattle, Washington area that are within driving distance of their home in Vancouver. Here are the top 10 American malls that can easily be visited from Vancouver in a day.
Bellis Fair
For visitors wanting a taste of the typical American mall, you need go no further than Bellis Fair Mall in Bellingham. This mall represents malls across the United States with typical stores such as Macy's, American Eagle Outfitters, Bath & Body Works, and many other merchants that are a staple of American shopping centres. The food court features 12 fast food restaurants in one wing for hungry shoppers. There are also several stand-alone restaurants associated with the mall. The mall offers services such as a safety escort, copy/fax service, wheelchair service, etc.
Just over 1 hour drive
Over 120 shops and restaurants
Open 10-9
Alderwood
Alderwood, formerly known as Alderwood Mall, is similar to Bellis Fair Mall, and is even owned by the same company; however, it features several more upscale stores such as Nordstrom, Michael Kors, and REI. Like its sister mall in Bellingham, Alderwood features several independent restaurants in addition to the food court. Alderwood also features a 16 screen theatre showing the latest Hollywood blockbusters.
2.5 hour drive
200 stores
Open 10-9
Northgate Mall
Northgate comes in at number eight on this list primarily because it was "the country's first regional shopping centre to be defined as a 'mall'", giving it some historical significance as far as shopping centres go. No, the shops are not particularly unique, but as long as you are shopping in the Seattle area you may as well visit so you can claim you have visited the first U.S. shopping centre designated as a "mall." In addition to its history, the mall offers all the modern shopping conveniences of other shopping destinations.
2.5 hour drive
Approximately 125 shops and restaurants
Open 10-9
Seattle Premium Outlets
For shoppers wanting to experience an outlet mall, Seattle Premium Outlets fits the bill perfectly, with 125 stores to visit. Outlet stores in the U.S. commonly offer the same goods as their counterparts in traditional malls, but often at substantially reduced prices. Seattle Premium Outlets features high-end stores such as Burberry, Coach, Polo Ralph Lauren, and Kate Spade New York. The stores in outlet malls are generally accessed from an open air common area, so be sure to check the weather forecast and dress appropriately.
2 hour drive
125 shops
Open 10-9
The Bellevue Collection
The Bellevue Collection is actually three shopping centres in one. It consists of Bellevue Square, Lincoln Square, and Bellevue Place. The three malls combine for a total of 250 stores, sure to cover all your needs. It is a mix of upscale and mainstream stores and restaurants, including the upscale restaurant chain Ruth's Chris Steak House.
Under 3 hour drive
Over 250 stores
Open 9:30-3:30
Redmond Town Center
by Sam Meyer Marton / Wikimedia Commons / CC BY-SA 3.0
The Redmond Town Centre is an excellent destination if you want some entertainment with your shopping and dining experience. With over 150 stores such as Macy's and White House|Black Market, this mall offers plenty for those with strictly shopping on their mind. For others wanting to also dine, there are plenty of restaurants associated with the shopping mall; however, what sets Redmond Town Centre apart from many other shopping centres is the event schedule. For instance, every Saturday the mall hosts the "largest weekly car gathering north of Los Angeles." There is also a summer concert series.
Just over a 2.5 hour drive
150 shops
Open 10-8
Pike Place Market
by Mtaylor444 / Wikimedia Commons / CC BY-SA 3.0
One could easily write an entire article on the famous Pike Place Market. This market is probably most well-known as the home of the Pike Place Fish Market, where the fish mongers literally throw the fish to each other. While this was originally a farmer's market when established in 1907, there are also plenty of shops owned by local craftsmen and artisans. Pike Place Market is also famous for its many florists selling beautiful fresh flowers. Located close to the Elliott Bay waterfront in the heart of Seattle, this is a popular destination during the tourist season, especially when the cruise ships are docked. Expect scarce parking and large crowds during these times.
Less than a 3 hour drive
Farmer's market
Open 6-6 (individual store hours vary)
University Village
by Sage Ross / Wikimedia Commons / CC SA-BY 4.0
The University Village shopping centre is unique in that over half the tenants are locally owned businesses. Add the presence of several upscale stores such as Lululemon and Williams-Sonoma, and the customer is treated to a well-rounded shopping experience. The mall bills itself as an "open-air lifestyle shopping center" and is located just north of downtown Seattle.
Just under a 3 hour drive
90 stores and restaurants
Open 9:30-9
Pacific Place
by Joe Mabel / Wikimedia Commons / CC BY-SA 3.0
Just a few blocks north and east of Pike Place Market (see above) in downtown Seattle is Pacific Place, featuring upscale shopping at 50 stores including Tiffany and Co., Barneys New York, and BCBGMAXAZRIA. Located in a five story building, the top floor is occupied by a movie theatre.
3 hour drive
50 upscale shops
Open 10-8
The Shops at the Bravern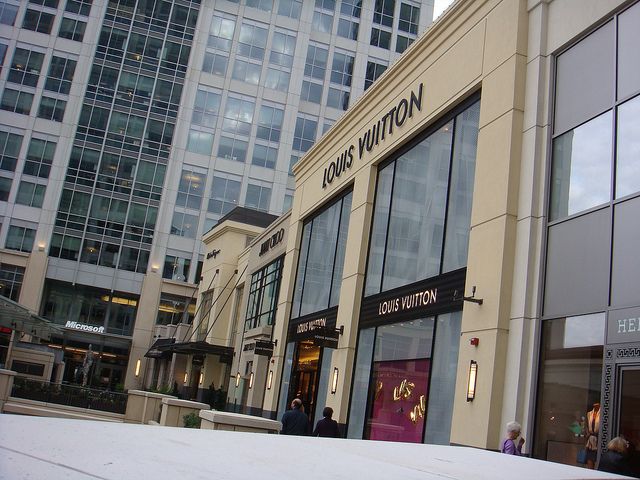 The Shops at the Bravern offer the ultimate in upscale shopping in the Seattle-Bellingham area. Viewing the buildings reminds one of many of the storefronts on Rodeo Drive in Beverly Hills, and for good reason. Many of the same stores, including Louis Vuitton, Neiman-Marcus, Hermes, and Gucci can be found here. If you are looking to stretch your dollar, don't bother doing anything other than window shopping while you're here; but if you're looking for the ultimate luxury shopping experience, look no farther.
Just over 2 hours drive
15 upscale shops
Open 10-8
There are many shopping malls to enjoy if you decide to leave Vancouver for the day and head into Washington. You can find virtually any category from thrift to luxury within three and a half hours of Vancouver. The Seattle area offers something to please even the most discriminating shopper. With plenty of shopping centres to explore, you will want to return to the area again and again.