Top 9 Places to Immigrate to in BC Outside of the Greater Vancouver Area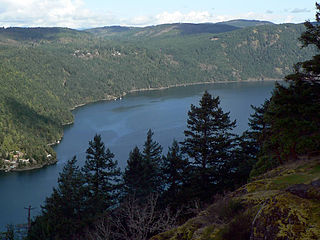 9. Columbia Shuswap
8. Dawson Creek
7. Lake Country
6. Qualicum Beach
5. Kitimat
4. Comox
3. North Saanich
2. Langford
1. Oak Bay

Everybody knows Vancouver. It's one of Canada's three biggest cities and one of the most multicultural cities in the world. And it regularly finds itself on "most liveable" / best cities lists. And it's great, don't get me wrong. But it's also really expensive. What if you want to move to BC, but you can't afford Vancouver? Or you don't want to live in such a big place? Or you want to take advantage of the some of the incentives the BC government has specifically laid out for people to live outside of the Vancouver area? Where should you move then? Well, here are nine places to check out before you move.
9. Columbia Shuswap
Shuswap Lake by Don Mogridge / Wikimedia Commons / CC BY-SA 3.0
This area is a collection of small towns in the Rockies that has experienced the highest growth in salaries of any community in British Columbia this century. So what's the bad news? Besides the growing salaries and scenery, the towns are shrinking – albeit slowly – the unemployment rate is higher than any other community on this list, and it's the middle of nowhere. The area has a rather high number of immigrants for how remote it is, but we're still talking about rural Canada and the mountains.
8. Dawson Creek
Mile Zero Post by Chigliak / Wikimedia Commons / CC BY-SA 3.0
This is the remotest city on this list, but in addition to having a growing population, Dawson is in the Northeast Development region, so everything about this place is incentivized. Sure, the salaries have decreased slightly and, at last look, the unemployment rate wasn't great, but the government of BC wants you to move here. You are much more likely to get a work permit in this region than most other parts of Canada, and you can turn that work permit, in a semi-skilled job, into permanent residence. There are also incentives for opening new businesses, so it works for you regardless of your situation.
7. Lake Country

Lake Country by Accuruss / Wikimedia Commons / CC BY-SA 3.0
Lake Country is the rather cute name for a semi-rural part of Greater Kelowna that has exploded in size in recent years. Lake Country is really the towns of Oyama and Winfield. It is centrally located in the beautiful Okanagan Valley which features some of the nicest weather in Canada, between the cities of Kelowna – 27 minutes by car – and Vernon – 22 minutes. Though salaries are not great, there is relatively low unemployment and a rather high percentage of visible minorities for the region.
6. Qualicum Beach
Qualicum Beach by Qualicum Beach / Wikimedia Commons / CC BY-SA 3.0
Qualicum boasts the highest percentage of new Canadians of any community outside of the Greater Vancouver Area. And its location on Vancouver Island means that it experiences some of the mildest temperatures Canada has to offer. And it's only about a half hour drive from Nanaimo, the island's second city. However, diversity and weather are its strongest assets, as salaries are not rising, the city is growing, but not that quickly, and unemployment is higher than almost all the other communities on this list.
5. Kitimat
Kitimat by Sam Beebe / Wikimedia Commons / CC BY 2.0
Kitimat boasts some of the highest average salaries in Canada but that pay comes at a cost: the town is incredibly remote, which perhaps helps to explain its recent population drop. Kitimat is over 200km from Prince Rupert (though Terrace is only about 40 minutes away). And despite the population drop, unemployment is somewhat high. That's because the aluminum industry that drives the town has suffered over the years. However, new investment in the area is expected and the town is widely viewed as a gateway to the undeveloped northwest of BC. It's likely salaries will continue to stay high and the BC government may eventually make the area an immigration and investment priority, just as it has the northeast.
4. Comox
Comox by Guiness322 / Wikimedia Commons / CC BY-SA 3.0
One of the safest towns in all of Canada, Comox had the lowest overall crime rate in BC in 2010 – the 7th lowest in all of Canada – and second lowest violent crime rate. The peaceful town on the northeast coast of Vancouver Island also has quite low unemployment. However, it is a little remote, at over an hour's drive from Nanaimo, and almost the entire population is white and Canadian-born.
3. North Saanich (includes Sidney)
Nort Saanich by Kyle Flood / Wikimedia Commons / CC BY-SA 2.0
North Saanich, part of Greater Victoria, might not be the most diverse community on this list, as only about 20% of people in the city are new Canadians, the number of visible minorities is even lower. But the town boasted the lowest unemployment rate in the province, according to the last census, and one of the lowest rates in the country (for a community over 5,000 people). It is the site of Victoria's international airport and offers easy access to Vancouver, as it is also the location of Victoria's ferry terminal.
2. Langford
Saanich Inlet by David Stanley / Wikimedia Commons / CC SA 2.0
Another part of Greater Victoria, Langford is also not too well settled by new Canadians, but it boasts an exploding population, really low unemployment, and rising wages. It's about an 18 minute drive from from downtown Victoria and, like all of Greater Victoria, Langford is home to the nicest climate in Canada.
1. Oak Bay
Oak Bay Boats by rpaterso / Wikimedia Commons / CC BY-SA 2.0
The safest part of Greater Victoria – and one of the safest communities in BC – Oak Bay boasts rising salaries, low unemployment and a higher foreign-born population than most of the towns on this list. But the best part? It's pretty much Victoria: Oak Bay is a seven minute drive from the downtown and only silly political divisions make it a distinct community from BC's capital.
There you have it: nine communities to make your home that don't involve the traffic and bustle of Greater Vancouver or Abbotsford. Good luck with your new life in British Columbia.