Where to Live in Canada: Brampton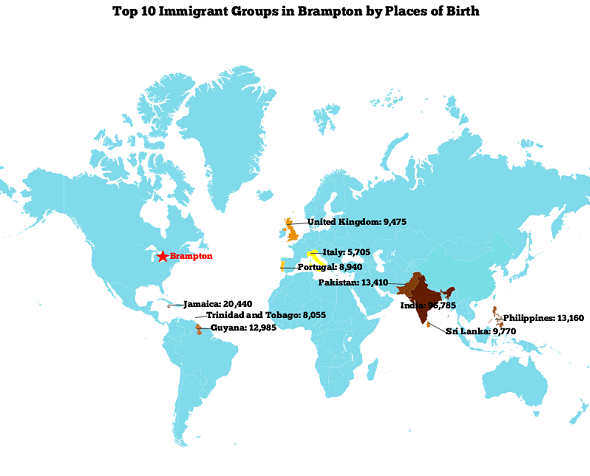 Immigrants are Burgeoning in Brampton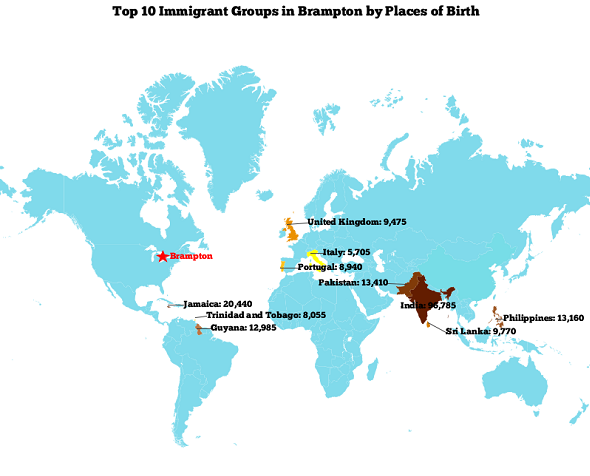 Immigration has been a vital part of American and Canadian history since the beginning.  From the first settlers to the brave Italians, Greeks, Poles, Jews, and other immigrants which came flooding into Halifax at the turn of the 20th century to the waves of immigration which we see, immigrants played a huge role in making Canada the cultural and economic powerhouse it is today.
Perhaps no province in Canada knows the benefits of immigration quite like Ontario.  Long considered one of the premier immigration destinations in North America, Toronto, Hamilton, and other cities have gone a long way towards helping establish Ontario as a remarkably receptive place for incoming immigrants.  With Toronto in particular taking so much of the spotlight, however, it's easy to overlook some of the other great immigration destinations in Ontario, such as Brampton.  The municipality ranks in the Top 10 in Canada in terms of population, and is one of the major centers for Asian-Canadians as well as other immigrant groups.  Here are just four such groups making a name for themselves in Brampton, and why you might wish to join them.
India and Pakistan
Miss Brampton at Ontario Place, Brampton by Keith Moreau / Wikimedia Commons / CC BY-SA 3.0
More than 96,000 Indian-Canadians call Brampton home, making it one of the largest such communities in the Great White North, and likewise one of the best opportunities to move halfway around the world from India to Ontario and still feel "at home" while you assimilate into Canadian culture.  Likewise, the Pakistani-Canadian population in the vicinity numbers upwards of 13,000.  Now, needless to say, India and Pakistan have both experienced considerable strife over the past half century.  Thankfully, Brampton represents a place where you can escape from international struggles and enjoy peace, harmony, and a fresh start.
Country of Birth
Number
Percentage of Immigrants
in Brampton
India
98,785
36.71%
Pakistan
13,410
5.09%
Bangladesh
1,435
0.54%
What's more, Brampton in particular stands out as a terrific place to settle if you're looking to immigrate to a place with a large South Asian-Canadian population—with 38-40% of the city identifying as such, it has the highest concentration of South Asian-Canadians in the Great White North.  With both Indian and Pakistani-Canadians making up a huge portion of that figure, you're sure to find an active community and everything in Brampton from restaurants specializing in Indian and Pakistani cuisine, temples and mosques, and festivals commemorating the most important days for Hindus, Muslims, and Sikhs worldwide.
Jamaica and Trinidad and Tobago
Country of Birth
Number
Percentage of Immigrants
in Brampton
Jamaica
20,440
7.75%
Guyana
12,985
4.92%
Trinidad and Tobago
8,055
3.05%
You may not think of Jamaica, Trinidad, or Tobago as nations likely to send immigrants from their sun-kissed shores to the Great White North, but rest assured—there is an active and diverse Caribbean-Canadian society in Brampton.  More than 40,000 from these three inhabit the area, with half of that number coming from Jamaica.  Roughly 13.5% of the population of Brampton identify, at least in part, as Caribbean-Canadian.  Different forms of Caribbean music and cuisine are likewise shared in abundance in the greater Ontario region in general and Toronto and Brampton in particular, making both locales good choices for someone looking to fly north for the summer.
Sri Lanka
Immigration occurs in waves, and right now, both the United States and Canada are experiencing a significant wave of South Asian immigrants.  The Canadian government classifies South Asian-Canadians as immigrants coming from—among other nations—India, Pakistan, Nepal, and Sri Lanka.  This makes up nearly 5% of the overall Canadian population, and a whopping third of the total Asian-Canadian community.  India and Pakistan have both been covered above, and both tend to overshadow the significant Sri Lankan population which helps make up that South Asian wave.  In one sense, that's understandable, given that the population of both India and Pakistan numbers in the hundreds of millions and that both are nuclear-armed and extremely important players on the world stage.
Country of Birth
Number
Percentage of Immigrants
in Brampton
Sri Lanka
9,770
3.71%
That being said, however, every culture deserves a chance to shine, and whether in their home country or in Brampton, Sri Lankans do a fantastic job of showing off what makes their culture special.  Everything from Sri Lankan cuisine to Sri Lankan communities to artwork and more can be found in Brampton, making it an ideal place if you're looking to leave the motherland for cooler climes, or even study abroad.  Ontario-based universities are some of the best in Canada when it comes to student exchange programs, meaning that if you're from Sri Lanka and want to experience Brampton, Ontario, and the Great White North all while receiving a world-class education, you may want to look into applying to some of Ontario's finest universities.  As a kicker, South Asian-Canadians are statistically more likely to possess a college degree than other Canadians, making that aforementioned Study Abroad option all the more pertinent.
Catholics
St Eugene de Mazenod, Brampton by Terry Ozon / Wikimedia Commons / CC BY 2.0
When you think Canadian Catholicism, chances are the first place you think of is Quebec—and with good reason.  With centuries' worth of history and some of the oldest churches and Christian communities in North America, Montreal, Quebec City, and the province of Quebec has long been one of the great havens for North American Catholics.
That being said, there are other significant Catholic communities across Canada, and while Brampton isn't nearly as heralded or publicized in this regard as Quebec, it still makes for a great immigration alternative, especially if you're looking to work in Toronto or the greater Ontario area while still living within the friendly familiar confines of a Catholic community.  What's more, Brampton enjoys one of the more diverse Catholic communities in Canada, with the Philippines (13,000) Portugal (nearly 9,000), and Italy (5,700) all strongly represented in terms of immigration figures.  The degree of diversity on display here is staggering—three continents, more than five different languages, and centuries of history and culture are represented in these groups.
Country of Birth
Number
Percentage of Immigrants
in Brampton
Philippines
13,160
4.92%
Portugal
8,940
3.39%
Italy
5,705
2.16%
Poland
3,875
1.47%
El Salvador
1,310
0.50%
Even with all that diversity, however, all these groups are still unified in part by their Catholic fate.  Evelyn Waugh in Brideshead Revisited famously described Catholicism as not merely a set of religious ideas, but an overall philosophy for life and guiding cultural influence.  In that spirit, a shared Catholic ideal can help make the transition to Brampton easier for immigrants, be they from Southern Italy or South America.
Whether you're from Lisbon or Milan, Pakistan, Tobago or the Philippines, Brampton awaits as a great alternative for immigrants looking to capitalize on Ontario economy while living in a city that isn't quite as huge as Toronto—but still full of diversity and life.
Country of Birth
Number
Percentage of Immigrants
in Brampton
United Kingdom
9,475
3.59%
Vietnam
4,855
1.84%
Nigeria
3,645
1.38%
China
2,490
0.94%
United States
2,450
0.93%
Iraq
2,210
0.84%
Afghanistan
1,790
0.68%
Germany
1,565
0.59%
Kenya
1,445
0.55%
Netherlands
1,265
0.48%