Worst Neighbourhoods in Toronto to Immigrate To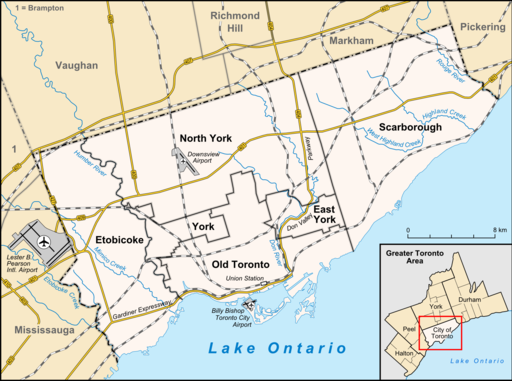 Toronto by Lencer / Wikimedia Commons / CC BY-SA 3.0
Toronto remains the favourite destination for new permanent residents to this country, even though there are way more jobs out west. (We know we won't convince you to choose another part of Canada.) Toronto is also one of the most diverse cities in the world: 49% of Toronto residents weren't born in Canada, and even more weren't born in the city proper. But "Toronto" is a huge place; the Greater Hamilton Toronto Area is one of the largest urban areas in North America. (It is the 5th largest by population after New York, Los Angeles, Chicago and Dallas-Ft. Worth.) Deciding to move to "Toronto" isn't as simple as it sounds, as it depends on the kind of lifestyle you want. Are you moving to the city or the suburbs?
Let's assume you want to live in the city itself because you don't want a bad commute, or what have you. Even then, it's not straightforward as the city is over 600 square km – that's bigger than the island of St. Lucia.
Toronto is divided into six boroughs that were separate cities prior to 1998. And within those boroughs are numerous neighbourhoods, with striking differences in terms of layout, architecture, levels of development, access to services (transit, social services, etc), wealth, ethnicity and other things.
So naturally, you must be wondering 'Where should I settle?' That answer is tough, but an easier answer is where not to settle:
The 29 Worst Neighbourhoods in Toronto to Immigrate to
There are 140 official neighbourhoods in Toronto – and many other unofficial and semi-official neighbourhoods among them – and not all are created equal. Information has been drawn primarily from CBC's interactive crime map, The Globe and Mail's home price estimate, and Toronto Life's 2013 neighbourhood rankings. The ranking is my own and totally arbitrary. We're still fighting about it.
29. Yonge-Eglinton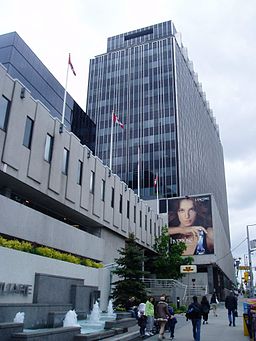 Canada Square by SimonP / Wikimedia Commons / CC BY-SA 3.0
Yonge and Eg is one of the most in-demand neighbourhoods in the city, but because of that it is extremely expensive. And it is home to the busiest subway station in the city that isn't a terminal or interchange. The station is also home to the infamous "Pee Stairs", its northwest exit which never doesn't smell like urine, and the bus terminal, which wasn't supposed to be permanent, smells almost as bad. It's odd that one of the city's trendiest neighbourhoods would be home to perhaps its worst public transit experience, but this is Toronto we are talking about.
28. The Bridle Path-Sunnybrook-York Mills
Bridle Path by SimonP / Wikimedia Commons / CC BY-SA 3.0
The Bridle Path is so expensive the Globe didn't even bother with listing its average house price. York Mills, one of the neighbourhoods it's lumped in with, has an average house price of $1.7 million as of Spring 2014. That's just plain ridiculous. And that's the cheap part of the neighbourhood. These neighbourhoods are near nothing but golf courses and hospitals. (So it's pretty great if you're an old, rich person, I guess.) I mean, if I'm dropping $1.7 million on my house, I want to live in Rosedale or something. Seriously. I'd only live here if my salaried chauffeur drove me everywhere.
27. The Junction
The Junction by Howard64NH / Wikimedia Commons / CC BY-SA 3.0
The Junction is so trendy right now – there are breweries, bakeries, hipster bars, restaurants, a music festival and over-priced "natural" food stores. But the area still isn't quite as gentrified as some would have you believe: it's still full of dollar stores and the No Frills is still there – a sure sign the rich haven't quite taken over yet. In fact, housing prices have dropped over the last year, perhaps an indication that the Junction's status as an up-and-coming neighbourhood has passed to somewhere nicer and, you know, actually at the junction of major arteries. If you move here you have to suffer hipsters and declining real estate prices. Ugh.
26. West Hill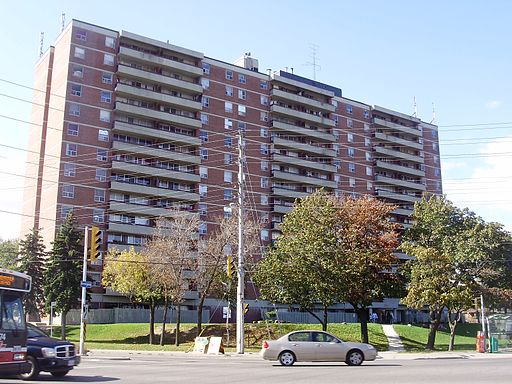 West Hill [Public Domain]
The Grid tells us you can live here if you can't afford the Kingsway – do people want to live in the Kingsway? – but a place like West Hill is practically a suburb and begs the question, if you want to live in a major city such as Toronto, why would you want to live as far away as West Hill? (Rouge also begs this question. And The Elms. And so many other neighbourhoods.) Seriously, why not just live in Pickering? You're barely adding on to that already unfortunate commute, and you're likely to find an area just as nice or nicer.
25. University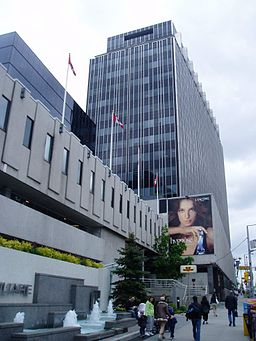 Grad House by SimonP / Wikimedia Commons / CC BY-SA 3.0
In 2011, the neighbourhood around the University of Toronto was not a safe place apparently – the neighbourhood was 2nd in sexual assaults, 3rd in drug offences, 7th in break and enters and robberies and 8th in assaults. In 2013, Toronto Life rated the neighbourhood 97th out of 140. But, as someone who used to live right nearby, I have to disagree a little bit. The neighbourhood where I used to live – Palmerston – is supposedly one of the 25 best in the city, and it's as if there's this invisible line going down Bathurst Street: to the west is wonderful Palmerston and to the east is the depraved, crime-infested University. That doesn't correspond to my life experience of the two neighbourhoods being pretty much identical, except there are even more students in University than Palmerston, and fewer Korean restaurants. For Toronto Life, the problem was apparently the lack of (elementary and secondary) schools and average rankings for all the other categories. But the only reasons I can see for not wanting to live there are the high rent and the crime statistics, of which I want to be skeptical. But you should probably trust those statistics at least a little bit.
24. Bedford Park-Nortown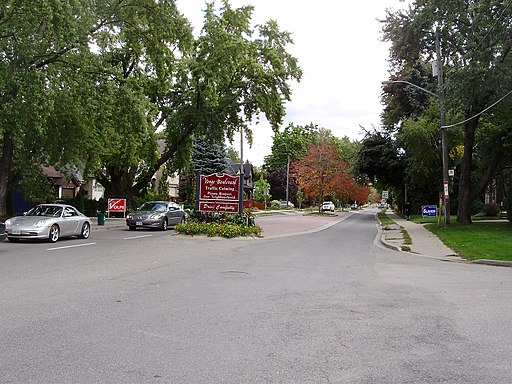 Bedford-Nortown [Public Domain]
Toronto Life ranked this area as the 16th best neighbourhood to live in when they surveyed all 140 neighbourhoods back in 2013, and the area is rich and secluded. I guess that's why it was the neighbourhood with the most reported break-ins in 2011. Now maybe that's just because everybody's rich, but this is like living in suburbia without the cheaper houses. In 2014, the Globe listed the average home price at a million-two – for Bedford Park proper, mind you.  Do you want to pay that much to live near Lawrence Subway? Keep in mind that Bedford Park-Nortown is a weird hybrid including part but not all of the traditional Bedford Park, and even a smaller part of Nortown – some might argue it doesn't even include Nortown – so all the numbers are kind of skewed.
23. Lambton-Baby Point
Lambton-Baby Point (pronounced Babby Point, they'll have you know) is one of the oddest neighbourhoods in the city, in part because it really is multiple neighbourhoods. Lambton was the Murder Capital of Toronto in 2011 and has a correspondingly low average housing price (a modest $551,000, drawn up, no doubt, by Baby Point's ridiculous housing prices) but this only applies to the area outside of Baby Point because, of course, Baby Point is one of Toronto's most exclusive neighbourhoods. Toronto Life was rather hard on the area in part because you have to drive or take the bus pretty much always if you want to buy anything not available in a convenience store and there are only a couple of schools actually in the neighbourhood.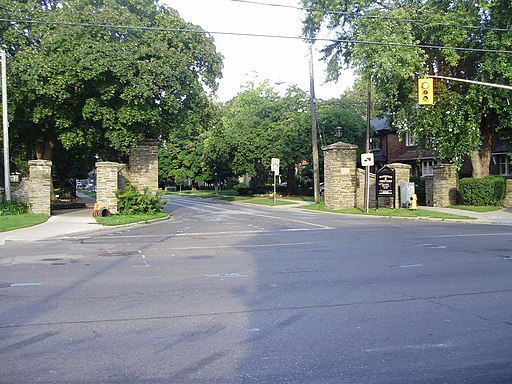 Baby Point [Public Domain]
22. Stonegate-Queensway
This neighbourhood is highly regarded by Toronto Life (18th overall in 2013) but it has seen a slew of break-ins each summer since 2012, in which a man attempts to molest elderly women in the early morning… or just steals stuff. (Probably not the same dude, but anyway…) So I guess if you're an elderly woman and you live alone, do not live in Stonegate, unless you are hoping for a freaky younger boyfriend.
21. The Club District / Entertainment District – one of the 'Waterfront Communities'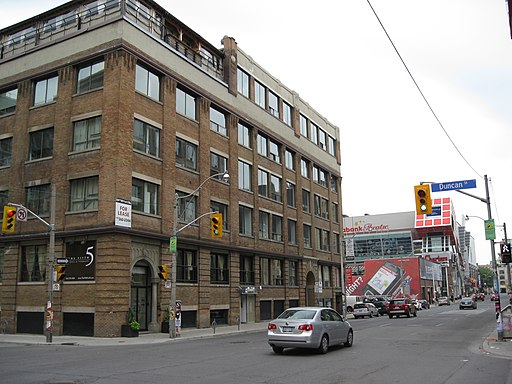 Duncan and John by Doug Kerr / Wikimedia Commons / CC BY-SA 2.0
For some reason, much of the downtown area nearest to the lake is lumped into something called the "Waterfront Communities" (which also includes the island!). This u-shaped "neighbourhood" includes Toronto's infamous Club District, where people are shot all the time for being in line at the wrong nightclub, or something. But to make it so much worse, the "Waterfront Communities" are insanely expensive. The average price was listed by the Globe as only $510,394, but we are talking about condos! Who the hell wants to pay half a million bucks for something nobody is going to want to buy in 8 years? Condos can depreciate, unlike most houses in Toronto – where even tear-downs can sell for ridiculous prices – and they can have all kinds of 'hidden' costs down the road, which you would only expect from a house. And as energy prices rise, living in a glass-covered condo could become very expensive. Costly + shootings. Sounds like a wonderful place.
20. Rouge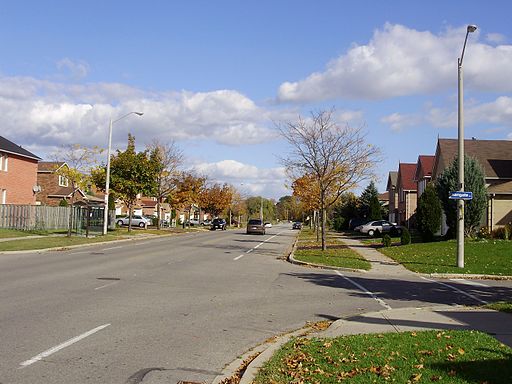 Old Finch and Kengate [Public Domain]
Rouge is a giant "neighbourhood" in northeast Scarborough. It is literally as far as you can get from downtown Toronto without leaving the city limits. Toronto Life rated Rouge the 21st best neighbourhood in Toronto – though it's ridiculous to call this area, the size of a large town, a "neighbourhood" – but apparently that prizes proximity to the Toronto Zoo over proximity to the Core. (By the way, living in smelling-distance of the zoo must be awesome.) The Globe did not include any of the actual Rouge neighbourhoods in its most recent survey of housing prices, so we can't tell you how bad the prices are, but you might as well live in Pickering. At least that way you are near a GO Station.
19. New Toronto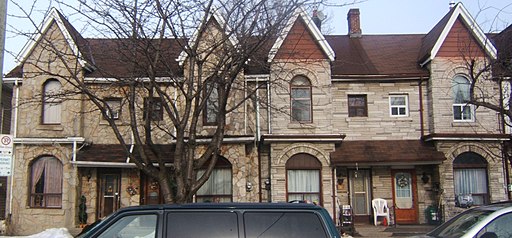 New Toronto [Public Domain]
New Toronto is being sold as a cheaper alternative to the Beach, but crime was still a major issue as recently as 2011 and the area is poorly connected to downtown (where most of the jobs are) unless you drive. (And then it is really close – when the Gardiner is functioning, that is.) Toronto Life ranked the neighbourhood 91st out of 140 in 2013, in contrast to the The Grid's rosier view. It's a good place if you're a college student (Humber is right there) but otherwise it's hard to see the appeal. Isn't this pretty much Mississauga?
18. York University Heights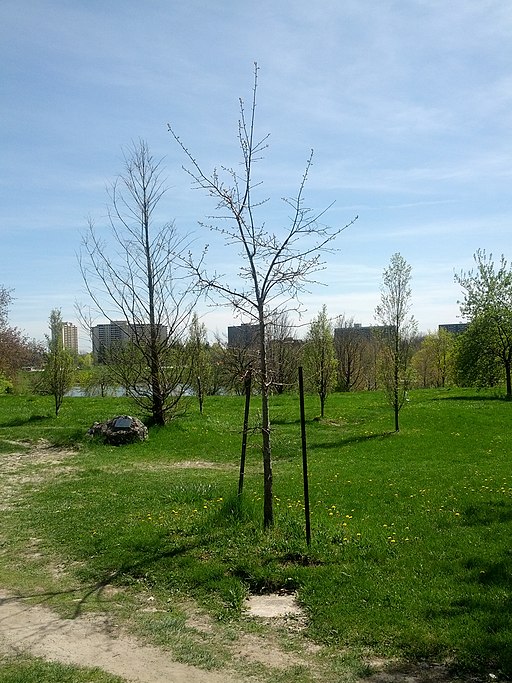 York by Andrevuas / Wikimedia Commons / CC BY-SA 3.0
Toronto Life liked York University Heights in 2013, rating it 32nd out of 140 neighbourhoods, only knocking it for the rampant crime that has long been a major problem. The ratio of apartments to houses is so great that the Globe did not include the area on its survey of housing prices. It really only makes sense to live there if you work or study at York University, because there's not much else there. And it's practically Vaughan. Like so many of the communities on the fringes of Toronto, from a financial perspective it might make more sense to move across the border at Steeles, where your property taxes will be substantially lower. (In this case, Vaughan's rate is about 1/3rd of Toronto's.)
17. Yorkdale-Glen Park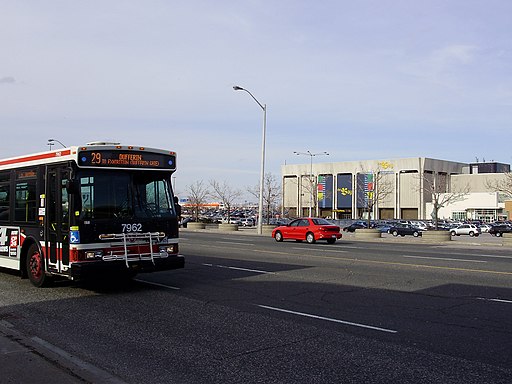 Yorkdale Shopping Centre [Public Domain]
The area below the infamous Yorkdale Shopping Centre had bad crime problems when CBC publicized Toronto's crime stats in 2011: 1st in stolen cars, 2nd in robberies, 5th in major thefts. The Mall has seen its share of incidents – shootings year after year, and other strange incidents, such as a man running through the mall with a knife and a Scream mask – and the Mall likely serves as a magnet for visitors that the neighbourhood may not otherwise want. But, according to Toronto Life, that's pretty much the only serious drawback as otherwise the neighbourhood did fairly average in their rankings: 83rd out of 140.
16. Bay Street Corridor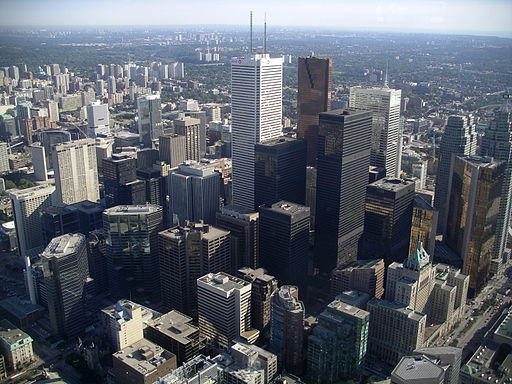 Downtown by Patrickneil / Wikimedia Commons / CC BY-SA 3.0
If you looked at the crime numbers alone, you'd think the Corridor – the heart of downtown, from Bloor to front, and University to Yonge – was the worst place to live in the entire city. In 2011 it was first in assaults and robberies, 3rd in sexual assaults and major thefts, 10th in B and Es, and 6th in drug offences. The only serious crime categories for which it didn't feature in the top 10 were murders and car thefts. But this is the busiest area of the city and the rates – which are calculated per 10,000 residents – are exaggerated in a neighbourhood that gets more visitors than pretty much any other section of the city. If the Corridor didn't have high rates of crime compared to the rest of the city, that would be remarkable.
The neighbourhood was ranked 82nd out of 140 by Toronto Life in 2013, getting killed on crime but also on schools. The condo prices are also crazy. The only reason to live there is accessibility: if you live in the Corridor you are at the intersection of both major subway routes and near many if not most of the corporate headquarters located in Toronto. You can probably walk to your job if you work downtown. So that's something.
15. Church-Yonge Corridor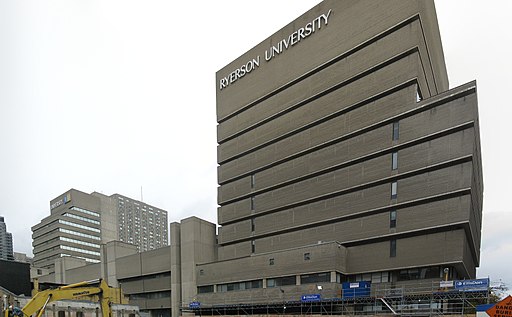 Ryerson University [Public Domain]
The Church-Yonge Corridor is popular with students because of the location of Ryerson at the heart of it, and it's the home of one side of Toronto's Gay Village, but the area has its share of crime problems and if the real estate prices are any indication – an average price of barely over $410,000 – nobody wants to live here. That's a bit of a shock given how close it is to downtown, but we have to remember that it also borders some of the worst neighbourhoods in the old city: Moss Park, Regent Park, St. James Town. This is actually a neighbourhood I have considered living in multiple times – so it's honestly not that terrible – but every apartment I've seen is a dump and ridiculously expensive.
14. Elms-Old Rexdale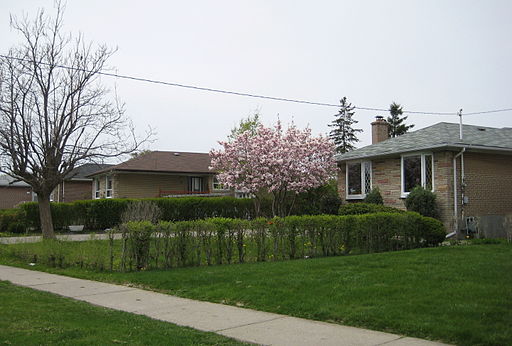 Rexdale by SimonP / Wikimedia Commons / CC BY-SA 3.0
The Elms, or Old Rexdale, had the most major thefts of any neighbourhood in 2011. This isn't a surprise to anyone from Toronto, as Rexdale has long been notorious for gang-related crime. Toronto Life rated the neighbourhood the 9th worst in the city because of, among other things, a lack of access to public transit, schools and shopping. The advantage is that it is one of the cheapest places to buy in Toronto, but that is because Rexdale is in the middle of nowhere, as far as the city is concerned. North Etobicoke is almost as far as you can get from downtown without leaving the city limits. (Almost. Northeastern Scarborough – i.e. Rouge – is even farther.)
13. Blake-Jones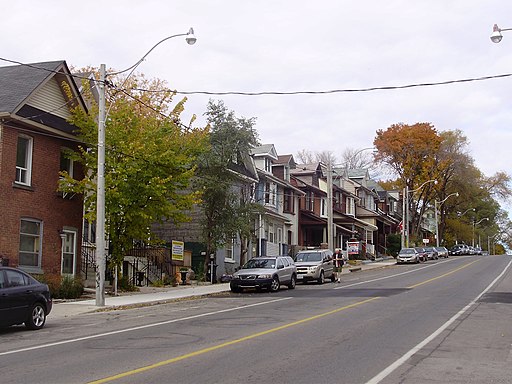 Jones [Public Domain]
Drive east past Pape on the Danforth and everything changes. Greektown ends and something else replaces it. This is where I last lived in Toronto and I actually quite liked it, but Toronto Life ranked it 116th out of 140  because apparently the environment is bad (I hadn't noticed) and there is very little diversity, neither of which seem accurate to me. But though Blake-Jones didn't feature in the Top 10 worst neighbourhoods in the major crime categories in 2011, it is among the top 20-50 in most of them and the crime seems to be getting worse. (The rising crime rate has been blamed, in part, on the horrible youth unemployment rate, over 33% at one point.) But what makes Blake-Jones a bad destination is simple: even though gentrification doesn't seem to have arrived from Greektown yet, and even though crime is kind of bad and the kids can't find jobs, the housing prices are still rising like crazy. The average cost of a house in Blake-Jones is a laughable $710,000. (These prices are driven by the micro-neighbourhood, 'The Pocket', which is aggressively trying to establish a unique identity even though it is merely a stone's throw from the Blake Street projects.) This is supposedly a bad neighbourhood. What are we to do when even the bad neighbourhoods are expensive?
12. Glenfield-Jane Heights
Jane and Finch by redtype / Wikimedia Commons / CC BY 2.0
"Jane Heights" is the pleasant name Toronto officially gives to the infamous Jane and Finch area, once the most feared neighbourhood in all of Toronto. The Globe and Mail, in its housing price estimates, includes the area in a much larger area called "Elia", which has an average house price of just below $310,000, or very, very low for Toronto. Is Glenfield bringing the rest of "Elia" down or are things better than they used to be? The answer, apparently, is that things have changed. Toronto Life somehow listed the place as the 33rd best neighbourhood in 2013. But as recently as 2002, this may have been the worst place in the city, with even basic city services not accessible to 30% of residents. Though the neighbourhood is still stigmatized by its history, and it's still too far from the downtown to really be convenient, Jane and Finch is no longer the worst place to live in Toronto.
11. Mount Dennis
Mount Dennis [Public Domain]
In 2013 Toronto Life named Mount Dennis The Worst Neighbourhood in Toronto. One of us actually grew up not far from Mount Dennis and he was a little surprised that the place he learned to drive in was now considered absolutely the worst place to live in the city. The reasoning: few and poor schools, no jobs, you have to travel to shop, there's nothing to do and the housing prices are really low. The housing prices are really low!? That's a bad thing!? People usually take low housing prices as perhaps the strongest indicator of a neighbourhood's desirability and in the case of Mount Dennis, it doesn't get much cheaper: The Globe estimated the average housing price in Mount Dennis at under $375,000. That's cheaper than many suburbs. Of course, in terms of public transit, Mount Dennis is practically the suburbs.
10. Etobicoke West Mall (aka Eatonville)
The West Mall [Public Domain]
Whether you call it the West Mall or Eatonville, this area is super far from downtown, there's a massive highway running through the middle of it so it's noisy, and there's just not a lot to do, unless you love hanging out at Cloverdale Mall. Also, it's somehow gotten expensive. Toronto Life absolutely came down like a hammer on this area in 2013, calling it the second worst neighbourhood in the city and faulting it for it's lack of schools, community engagement, entertainment and shopping options, access to transit, and it's confusing housing market.
9. Brookhaven-Amesbury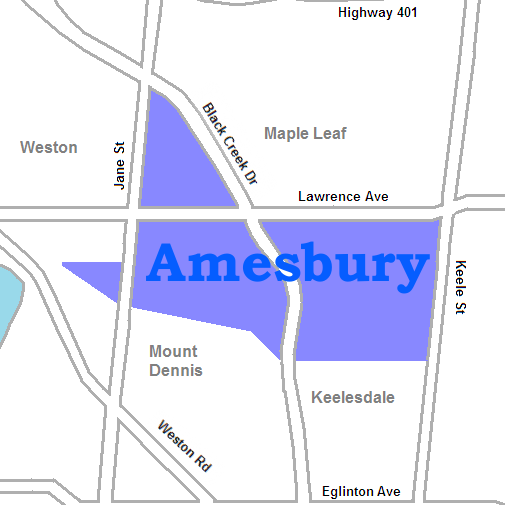 Amesbury by SimonP / Wikimedia Commons / CC BY-SA 3.0
Amesbury was the most dangerous place to be a woman in 2011, as it led the city in sexual assaults. It also came 8th in auto-theft. In 2013 Toronto Life had nothing nice to say about the neighbourhood, ranking it the 8th worst neighbourhood in Toronto, due to few schools, poor housing conditions, little community engagement, and a host of other factors which the neighbourhood faired poorly on. Also, they forgot to mention that for for Toronto this neighbourhood is in the middle of nowhere. If you can tell me what's of interest at Black Creek and Lawrence I am all ears (at least Amesbury has a disproportionate number of parks). Seriously, this is the middle of nowhere.
7. Maple Leaf and Rustic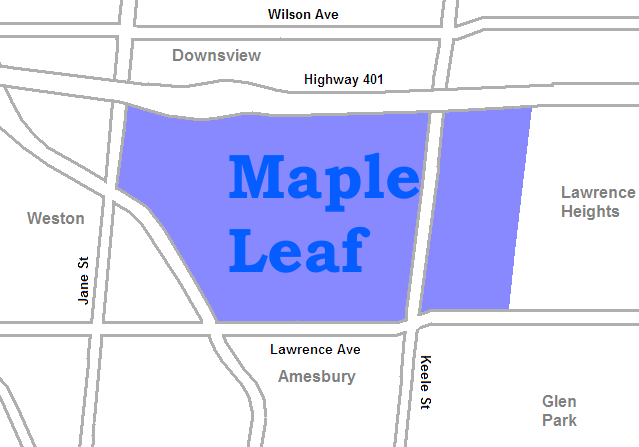 Maple Leaf by SimonP / Wikimedia Commons / CC BY-SA 3.0
The City and Toronto Life consider these two places separate entities but the Globe doesn't even acknowledge their existence – they are both lumped into Downsview for their purposes. TL ranked these two places as the 6th and 4th worst neighbourhoods, respectively, and they got hit for similar reasons: few schools, nothing to do, far from everything. Housing prices for all of the Globe's definition of Downsview have dropped recently, but we don't know if that's a reflection specifically on these neighbourhoods. (It may well be.) Though TL didn't note it, both neighbourhoods have had some crime problems over the years – just as the surrounding area has – and that likely has a lot to do with why people don't want to move here.
6. Beechborough-Greenbrook (aka Silverthorn)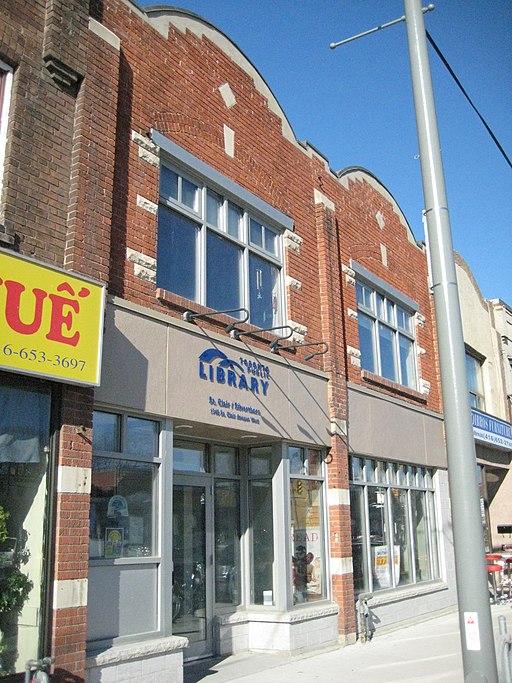 Silverthorn Library by SimonP / Wikimedia Commons / CC BY-SA 3.0
Named the 3rd worst neighbourhood in the city by Toronto Life in 2013, the perception of this area – one of the numerous bad neighbourhoods around Black Creek Drive in the city's northwest corner – has clearly changed since then: housing prices have risen approximately 39%. I'm not sure the reasons why it was rated so poorly have actually disappeared – TL noted it wasn't convenient, which is still isn't, and they also noted that there is nothing to do there, and there still isn't – but clearly people have come around to the idea of living here over the surrounding areas. So it seems it's not as bad as they thought. That being said, it was still rated the 3rd worst place to live in Toronto last year, by a magazine that should know.
5. Weston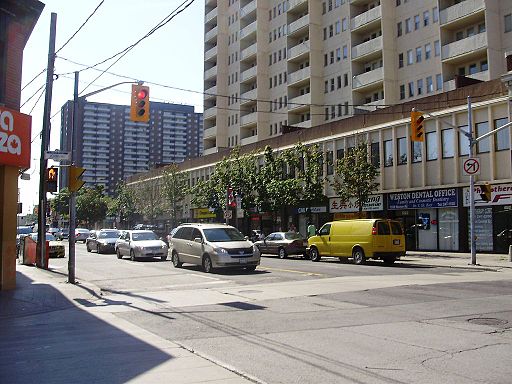 Weston [Public Domain]
This neighbourhood is now particularly poorly regarded currently because of the 24-hour construction for the renovated Weston GO station, and the planned Union to Pearson route, that residents pray will end when its supposed to, in 2015, after previously being assured it would end in 2014. It's a great neighbourhood for the deaf and insomniacs, but pretty terrible for people who enjoy sleeping. And of course it's far away from everything to boot. It will be a little less inconvenient once the construction finishes, but do you want to buy now and lose sleep just to try and make some money off potential future rising housing prices, once those lines come in? Well, you can buy them now, because houses are hitting the market like nobody's business: one eye witness reports 10 houses for sale on a single street. The neighbourhood also has a crack problem and offers a delightful view of the Humber, which in the summertime often smells like garbage.
I like knowing what day it is, thank you.
4. Moss Park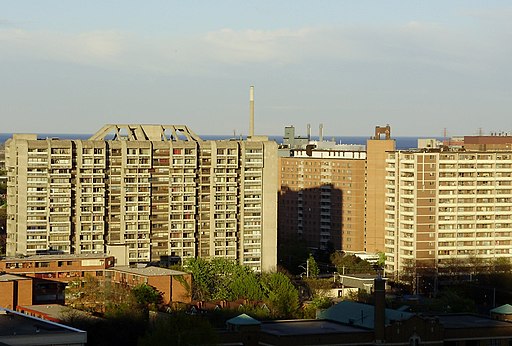 Moss Park [Public Domain]
Moss Park is one of the cities legendary projects. (Legendary only among Torontonians…) However, its reputation is probably far worse than the reality. Like so many of the formerly dangerous neighbourhoods of Toronto, Moss Park has experienced some gentrification recently, and the areas around it are particularly more in demand than they used to be. The housing project itself, and the immediate area around it, are still quite poor, and the place is still not exactly the safest area in the city, listed as the 2nd worst place for assaults and the worst for drug offenses, in 2011. Also, it feels like this neighbourhood has far more than its share of homeless shelters.
Toronto Life ranked Moss Park 96th out of 140 in 2013, citing the crime rate, the lack of schools and the environment as three reasons not to live there.
3. Flemingdon Park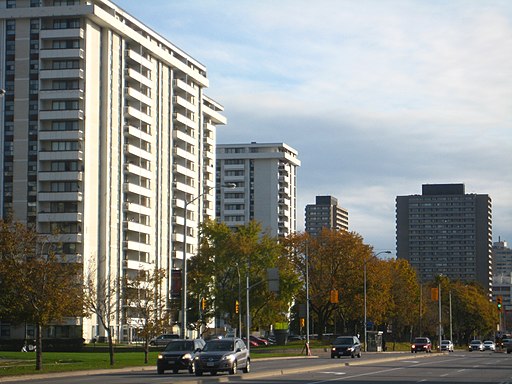 Flemingdon Park by SimonP / Wikimedia Commons / CC BY-SA 3.0
Flemingdon Park is one of Toronto's most notorious neighbourhoods and contains one of Toronto's most violent high schools. The lack of desirability of this area of TO is perhaps best indicated by the housing prices: an unbelievable average of $190,000 in the spring of 2014 (this has a lot to do with the lack of actual, physical houses in the area and the large number of apartment buildings), which has to be the lowest in the city. Toronto Life ranked it only 104th out of 140, and that's primarily because of the lack of homes and the lack of businesses to employ people in the immediate area.  But on a personal level I can't think of anywhere else in the city I'd less like to live: it's far from everything I care about except the Science Centre (is it okay for adults to go to the Science Centre without children?) and it's not safe.
2. (North) St. James Town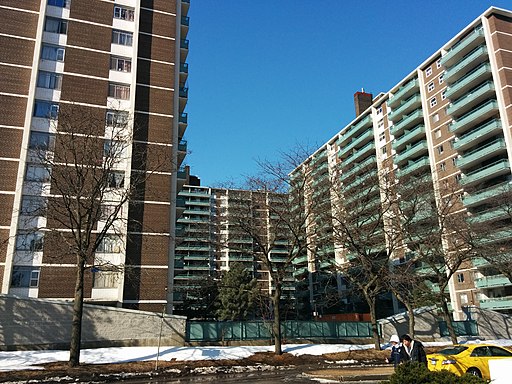 ST. Jamestown by Ma7ged / Wikimedia Commons / CC BY-SA 3.0
For reasons that elude me, St. James Town has been split into two neighbourhoods by the city: North St. James Town and Cabbagetown-South St. James Town. This odd division boosts the ratings of the lower half of the area, one of poorest in the city. St. James Town wasn't always this way. Once, it was the trendiest place in Toronto. It was all swingers and excitement, and then people didn't actually want to move there and now you have a slum. Check out this wonderful description from wikipedia (emphasis ours):
St. James Town is the largest high-rise community in Canada. It has been identified as one of 13 economically deprived neighborhoods within the city. It consists of 19 high-rise buildings (14 to 32 stories). These massive residential towers were built in the 1960s. Officially, approximately 17,000 people live in the neighbourhood's 19 apartment towers and 4 low rise buildings; but the number is thought by residents to be 25,000, making it Canada's most densely populated community, and one of the most densely populated neighbourhoods anywhere in North America.
Don't you just want to move there like right now?
1. Regent Park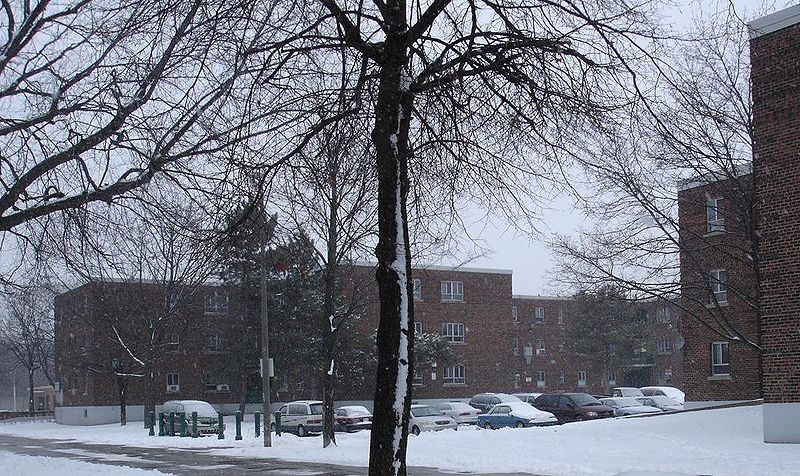 Regent Park by Natkeeran / Wikimedia Commons / GPL 3.0
Toronto Life ranked Regent Park the 11th worst neighbourhood in the city in 2013 and that should come as no surprise to anyone familiar with the area. We can't tell you the average housing price because Regent Park is one of Toronto's most notorious projects, originally designed not as a permanent housing development but a "transitional" area where the poor were supposed to live only until they got back on their feet. However, the opposite happened and Regent Park became one of the poorest areas in the city, which it remains to this day. There are ongoing efforts to make the area nicer, or at least more physically similar to the surrounding areas of Cabbagetown, Moss Park and Trefann Court. There are few private homes, no schools in the actual neigbhourhood and obviously there are very few jobs.
Worst Places to Move to in Canada
What do you think are the worst neighbourhoods in the city? Let us know in the comments below.
Best Neighbourhoods in Toronto?