Rio by Chensiyuan / Wikimedia Commons / CC BY-SA 4.0
To bring a Brazilian fiancé to Canada, you need to sponsor them and to do that you must be living in a common law relationship or conjugal relationship. You can also sponsor your married partner of course, but this does not apply to fiancés who have yet to be married. The best route is to marry in Canada, if possible, so the issue is how to get your Brazilian husband or bride into Canada so you can marry and live happily ever after.
For reference, a common law relationship means you have been living together for at least 12 months and you are able to prove this to the Canadian immigration authorities who are always on the lookout for marriages of convenience. A conjugal relationship is harder to prove and basically means you have tried to live together and have combined your affairs as much as possible, but immigration or other barriers have prevented you from doing so completely. For example, having to get a travel visa for your Brazilian bride is not considered an impediment or barrier, and would not qualify you as a conjugal relationship.
Let's consider the options you have available as a native-born or naturalized Canadian citizen, or even a permanent resident of Canada, who is in a relationship with a Brazilian partner.
Inland vs. Overseas
Couple in Olinda by Adam Jones / Wikimedia Commons / CC BY-SA 3.0
You live in Canada and your Brazilian partner lives in Brazil. You have to choose whether to apply for a temporary visa for your partner to come to Canada and then apply inland – from within Canada – or overseas – from outside Canada. Both have benefits and disadvantages.
Assuming your partner is granted a temporary visa and is able to travel to Canada, you can then choose to apply inland or overseas. Inland applications mean your Brazilian partner cannot leave Canada while the process is ongoing because any problems he or she may have re-entering Canada will essentially disqualify them. Inland applications tend to take longer and you generally will have to apply for an extension of their temporary visa, but your partner will be able to remain in Canada with you. They gain greater familiarity with Canada and improve their language skills – assuming they are not already fluent in English and/or French – and get a head start on assimilating into their new homeland. Any interview required will be held in Canada at an office near your residence. Further, your partner may be eligible for an open work permit and it is a good idea to apply for one at the same time as your inland application.
If for some reason, your partner cannot get a temporary visa to come to Canada, you will need to file an overseas application. Or, if he or she is already in Canada and has a temporary visa, you can also choose the overseas application if you wish. Overseas applications are processed faster but any interview required will have to be done at the overseas visa office that serves the applicant's country of origin and is processing your partner's application. While you can choose to do the overseas application from a third country visa office, given the strong ties between Canada and Brazil, it would be best to apply from Brazil. Processing times at the Sao Paola visa office are relatively fast compared to other visa offices in the Americas as well.
Summing up, if your Brazilian partner will need freedom of travel while you apply, it may be best to file an overseas application. If he or she is able to get a temporary visa to come to Canada and doesn't mind remaining in Canada, then an inland application may be best. Please note that any issue that prevented your partner from being given a temporary visa to visit you in Canada, should that be the case, must be resolved before they can be accepted for permanent residence under the sponsorship application process. 
What will disqualify my fiancé?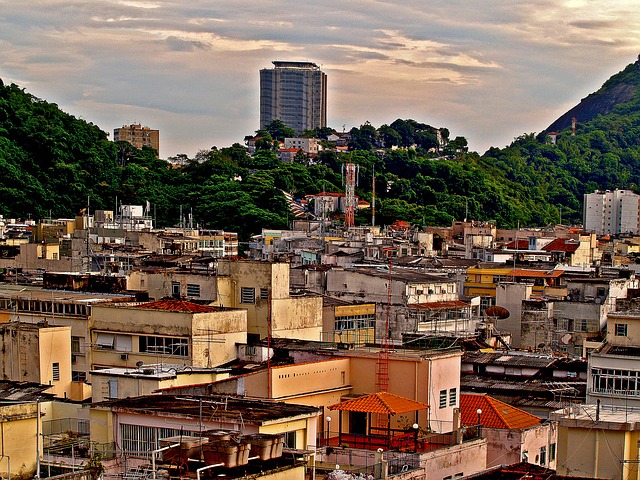 Favelas [Public Domain]
The most common reason for a sponsorship application being denied for a common law partner is doubts on the part of immigration officials on whether your relationship is genuine, or whether it is a 'marriage of convenience'. If CIC does request an interview it will likely be to ascertain the nature of your relationship. That means you need to keep chat logs, phone records, and any other data or documents that can help prove your relationship is real and not one of convenience. Your best bet is to be frank and forthcoming with all the details of your relationship, as, for example, requested on your Spouse/Common-law Questionnaire, even if you feel CIC is intruding on the privacy of your intimate relations with your Brazilian partner. The more data you give them, the more likely your application will succeed. Photographs, printouts of emails or online chats, letters, wedding invitations, all are useful. As well, legal documents like shared bank account statements, insurance policies, or copies of leases are helpful documentation in order to convince CIC of your relationship. Further concerns could be raised by your partner's economic situation in Brazil; if he or she is on social assistance for example, or is bankrupt and has outstanding claims against him or her. Needless to say, a criminal background or links with extremist groups could also disqualify them. And finally, it will be necessary for your Brazilian partner to submit to a medical exam. 
The process of bringing your Brazilian fiancé to Canada is really a 2 stage process. First, your application to sponsor them is assessed, and as a naturalized Canadian or a native Canadian you can do this while living in Canada or while living abroad. The principle concern for CIC is economic in this case. You will enter into a contract as a sponsor with the Minister of Citizenship and Immigration (or the Quebec minister of immigration), called an undertaking, where you commit to provide financial support for your partner and their dependent children's basic requirements. The immigration authorities in Canada need to know that you have the economic means to support your partner once they join you in Canada, or once both of you arrive in Canada to set up residence. This is to ensure that your partner does not end up on social assistance while residing in Canada. If you are living abroad, you must convince the CIC that you plan on moving to Canada with your Brazilian fiancé once they are approved. A job offer in Canada awaiting you, acceptance letters to Universities or Colleges, proof of housing arrangements and the like are all helpful in this regard. Finally, if you are a permanent resident of Canada but have not yet received your citizenship, then you must be residing in Canada in order to sponsor your Brazilian partner.