Temporary Resident Visa for Canada
Index
Getting a visa to visit Canada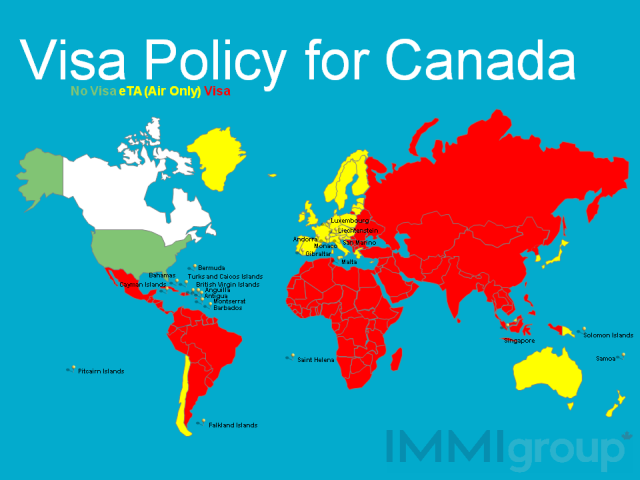 Citizens of most countries who are not permanent residents of Canada require a visa to visit Canada even for a short time, as well as to transit (layover / change planes) inside Canada. If you fall into this category you must apply for a visa prior to your arrival in Canada or you will not be allowed to enter the country – this visa cannot be obtained upon arrival in Canada. If you are exempt from a visa, you still need an Electronic Travel Authorization (eTA).
If you want to visit Canada on holiday, visit relatives, conduct business, or travel to Canada for any other reason you must apply for what is called a Temporary Resident Visa (TRV). This document is issued at the Canadian embassy nearest you and is placed in your passport before you travel. This visa shows the border officer that you have met the requirements to be a temporary resident of Canada as a visitor, student, or worker.
If you have a criminal record or some other issue that may cause you to be inadmissible to Canada, you may need to apply for a Temporary Resident Permit (TRP) to enter Canada.
Please note that you are not guaranteed entry into Canada even if you have been granted a visa – your entry into Canada is determined by the official at the port of entry.
How we can help you visit Canada
To discuss how you can get a visa to visit Canada, contact us for a consultation. We can determine whether or not you are eligible to apply for a visitor visa as well as advise you how you can prove you meet the requirements. Certain supporting documents are frequently used to demonstrate to the immigration officer that you should be granted a visa.
Immigroup will assist you throughout the entire application process from start to finish, including:
Determining whether or not you are eligible to apply;
Determining the likelihood of success for your visa application;
Ensuring your forms or online application are complete and accurately reflect the details of your situation for maximum chance of success;
Ensuring you have the necessary and appropriate documents to support your vis application and prove that you are not trying to immigrate to Canada;
Providing guidance on how best to submit your application to the the right visa office or VAC, depending on your circumstances and location;
Advising you of the rights and privileges a temporary resident permit affords you as well as what you can't do;
Offering Top Priority service for extremely urgent cases, such as a death in the family;
Determining the best way to proceed once the outcome of your application is reached (applying for permanent residence, renewing the visitor visa, re-application if necessary, etc.)
Contact us for a consultation to assist you with a visitor visa application.
Processing Time
If your temporary resident visa application will be submitted from outside Canada, the processing time for your visa application depends on the location of the office where you submit the application.
Processing times can range between 3 to 140 days on average, depending upon location and time of year though many visa offices process their applications in under one month's time. For a complete list of visa offices and processing times, please refer to the following table.
Application timelines below are based on the processing time for a complete application. All timelines are averages and are subject to change without notice. There is no guarantee that your application will be processed within the average length of time as approval is at the officer's discretion.
If your application was submitted within Canada, the average processing time is 7-11 days.
Processing Time by Country of Residence as of November 2016
If you are a citizen of a country or territory marked in green, you do not normally need a visa, but need an eTA if entering Canada by air. (American citizens are normally exempt from both requirements.)
Country
Processing Time
(Days)
Country
Processing Time
(Days)
Country
Processing Time
(Days)
Country
Processing Time
(Days)
Afghanistan
54
Djibouti
6

Lithuania

18
Senegal
13
Albania
7
Dominica
7

Luxembourg

18
Serbia
6
Algeria
8
Dominican Republic
8

Macao

6
Seychelles
18

Andorra

18
Ecuador
17
Macedonia
N/A
Sierra Leone
81
Angola
31
Egypt
16
Madagascar
25

Singapore

20

Anguilla

N/A
El Salvador
9
Malawi
30

Slovakia

18

Antigua and Barbuda

18
Equatorial Guinea
18
Malaysia
19

Slovenia

18
Argentina
4
Eritrea
71
Maldives
18

Solomon Islands

N/A
Armenia
8

Estonia

18
Mali
14
Somalia
18

Aruba

18
Ethiopia
7

Malta

18
South Africa
22

Australia

16
Fiji
23
Marshall Islands
N/A

South Korea

25

Austria

13

Finland

29
Martinique
18
South Sudan
18
Azerbaijan
7

France

13
Mauritania
17

Spain

16

Bahamas

18
Gabon
15
Mauritius
25
Sri Lanka
30
Bahrain
101
Gambia
13

Mexico

6
St. Kitts and Nevis
11
Bangladesh
18
Georgia
7
Micronesia
18
St. Lucia
11

Barbados

10

Germany

7
Moldova
11
St. Vincent and the Grenadines
9
Belarus
8
Ghana
80

Monaco

18
Sudan
102

Belgium

14

Greece

8
Mongolia
8
Suriname
11
Belize
4
Grenada
8
Montenegro
6
Swaziland
18
Benin
119
Guatemala
8
Morocco
17

Sweden

25

Bermuda

31
Guinea
14
Mozambique
31

Switzerland

19
Bhutan
18
Guinea-Bissau
18
Namibia
20
Syria
100
Bolivia
7
Guyana
10
Nauru
N/A

Tahiti

N/A

Bonaire

N/A
Haiti
61
Nepal
28

Taiwan

8
Bosnia and Herzegovina
21

Holy See (Vatican City)

N/A

Netherlands

6
Tajikistan
17
Botswana
25
Honduras
11

New Caledonia

18
Tanzania
8
Brazil
12

Hong Kong

7

New Zealand

19
Thailand
12

British Virgin Islands

N/A

Hungary

18
Nicaragua
12
Timor-Leste
18

Brunei

18

Iceland

18
Niger
20
Togo
92
Bulgaria
5
India
27
Nigeria
96
Tonga
N/A
Burkina Faso
14
Indonesia
4
North Korea
18
Trinidad and Tobago
7
Burma (Myanmar)
31
Iran
55

Norway

28
Tunisia
10
Burundi
10
Iraq
79
Oman
35
Turkey
4
Cambodia
21

Ireland

30
Pakistan
35
Turkmenistan
18
Cameroon
15

Israel

5
Palestinian Authority (Gaza)
114
Turks and Caicos
44
Cape Verde
18

Italy

6
Palestiniana Authority (West Bank)
114
Tuvalu
N/A

Cayman Islands

28
Jamaica
33
Panama
7
Uganda
12
Central African Republic
18

Japan

22

Papua New Guinea

18
Ukraine
6
Chad
14
Jordan
13
Paraguay
4
United Arab Emirates
30

Chile

5
Kazakhstan
7
Peru
6

United Kingdom

15
China
11
Kenya
5
Philippines
20

United States of America

20
Colombia
18
Kiribati
N/A

Poland

6
Uruguay
4
Comoros
18
Kosovo
7

Portugal

10

US Virgin Islands

N/A
Congo, Democratic Republic of the
27
Kuwait
31

Puerto Rico

18
Uzbekistan
8
Congo, Republic of the
15
Kyrgyzstan
8
Qatar
88
Vanuatu
18
Costa Rica
10
Laos
21
Romania
6
Venezuela
9
Côte d'Ivoire (Ivory Coast)
14

Latvia

18
Russsia
9
Vietnam
32

Croatia

18
Lebanon
53
Rwanda
11
Yemen
18
Cuba
8
Lesotho
18

Samoa

N/A
Zambia
19

Cyprus

15
Liberia
92

San Marino

N/A
Zimbabwe
32

Czech Republic

13
Libya
100
Sao Tome and Principe
18
 
 

Denmark

28

Liechtenstein

N/A
Saudi Arabia
11
 
 
Costs of this Process
Legal Fees
Our fees for temporary visitor visa applications are determined on a case-by-case basis, but Immigroup service fees usually range from around $750 for the simplest visitor visa application to around $2000 for extremely complicated matters. Top Priority service for clients who need to travel to Canada urgently carries additional costs. Please note that there is a minimum cancellation fee once work has begun on a file.
If you do not know where you stand, whether you are eligible to enter Canada, or how to proceed contact us for assistance.
Government Fees
In addition to the legal fees paid to a consultant or lawyer to assist you with apply for a Canadian visitor visa, the applicant must also pay a fee to the Canadian government for filing their application, whether or not it's successful. Please see below:
Temporary Resident Visa SINGLE ENTRY: $75 per person
Temporary Resident Visa MULTIPLE ENTRY: $150 per person
Temporary Resident Visa FAMILY: $400
Transit Visa: no cost
Government application fees are subject to change at any time without notice and are not refundable from CIC regardless of whether or not the application is approved.
Comments