The Importance of Having the Right Resume as a Filipino Coming to Canada
Citizenship and Immigration Canada's (CIC) Express Entry is the new application process for most candidates interested in obtaining permanent residence in Canada. Express Entry categorizes each candidate and places them in a hierarchical order based on a point system known as the Comprehensive Ranking System (CRS). Within this ranking system there are additional points that can be achieved for applicants with an existing job offer supported by the Labor Market Impact Assessment (LMIA).
For those applicants that do not have an existing job offer, they are to search for employment within the Canadian labor market using online job boards, job banks, etc. in order to try and secure an offer for employment within Canada.
As an applicant (oversees or within Canada), a simple Google search will provide you with an unending list of online employment agencies, job boards with employment opportunities being posted on a daily basis. As a newcomer it is encouraging to see the plethora of opportunities offered by Canadian employers.
However, do you know what you have to do to make your resume attract the interest of a potential employer in Canada?
Canadian resumes follow a particular style and structure, which can be unknown to a large majority of applicants. Through our new series of articles, we aim to make resume comparisons of those from other countries against the Canadian resume format. This is to help applicants to structure their resumes to ensure they meet all Canadian labor market standards and requirements.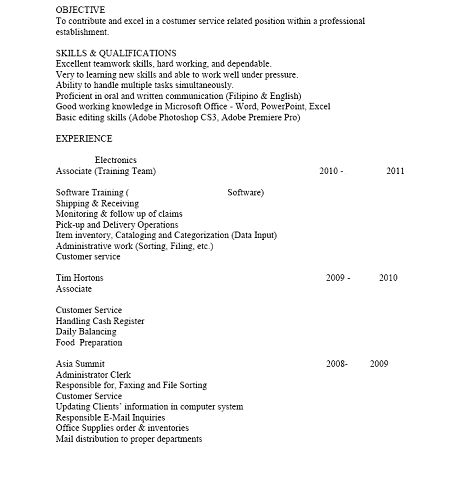 Canadian Resume
Filipino Resume
Always ensure you check spelling, sentence fragmentation and grammatical accuracy.
Example:
Comfortable working as an individual or in a team environment with a keen eye for changing priorities.
Sentence structure is fragmented with spelling errors that could have been eliminated by using a standard spell check feature common to Microsoft Word applications.
Example:
Very to learning new skills and able to work well under pressure
Use of Bullet Points is strongly recommended
Example:
Accurately documented and archived all Shipping/Inventory Receipts and Bills of Lading
Without bullet points, it becomes visually challenging to review the resume
Example:
Shipping & Receiving
Monitoring & follow up of claims
Pick-up and Delivery Operations
Always begin your resume with your core competencies and achievements
Example:
Professional Profile:
A driven and accomplished professional with over 20 years of accounting experience.
Try to avoid listing your computer literacy, and other strong skill sets mid way through your resume; these should be listed at the top of your resume. Spelling accuracy is a priority.
Example:
OBJECTIVE
To contribute and excel in a costumer service related position within a professional establishment.
Use of accurate, professional adjectives add competency to your skills.
Example:
Efficiently liaised with customers regarding Accounts Payable/Receivables
Lack of using professional jargon, results in a very generic resume.
Example:
Customer Service
When listing your educational qualifications, it is necessary to list the name and location of the educational institution, the field of study, and the year of completion.
Example:
Cambrian College of Applied Arts & Technology, Sudbury, Ontario
Diploma in Journalism (Print)                       2004
By not providing detailed information about your educational accomplishments, it can be detrimental to your application as it can cause doubt about the credibility of the certification in the mind of the potential employer.
Example:
Post Secondary - College                       2005 – 2009
Manila, Philippines
Successfully completed the Bachelor in Mass Communication program.
Training: Excelled in Radio and TV production, Desktop Publishing, and Speech communication.
Sometimes less is more. A resume is the professional representation of your career till date. In the past, it was considered a good move to list your contribution and participation in community events and volunteering efforts. However, in present day it is considered unnecessary to divulge this information and sometimes even considered unprofessional.
Even listing educational "affiliations" are considered unnecessary, if not pertinent to the specific job application.
Example:
(A candidate applying for Administrative position)
Speech and Debate Society (President)
2008 – 2009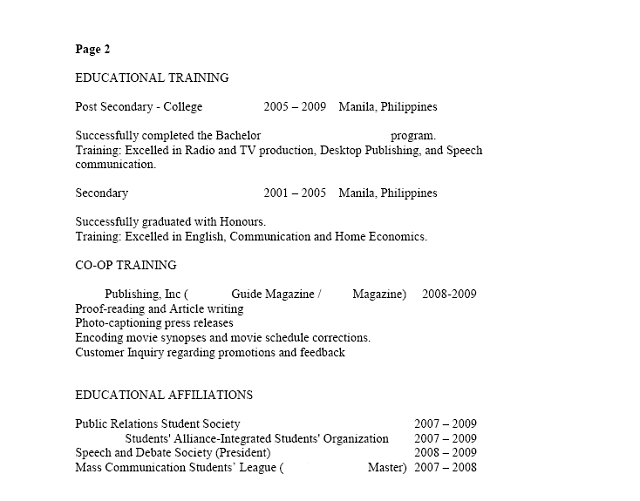 The race to obtain employment within the Canadian marketplace has never been more challenging. As a newcomer to Canada and especially as a professional applying from outside Canada, knowledge of resume standards is important in order to obtain long-term employment in Canada. It all starts with a well structured resume suitable for the Canadian market. The comparison above is to provide you with the knowledge and tools to ensure you make an impact on a potential employer. This series of articles will follow resume comparisons from various countries around the world in order to help candidates put their best and most professional foot forward, and to provide applicants interested in permanent residence in Canada with the tools to obtain employment within the Canadian work force.