Everything You Need to Know About Canada's Electronic Travel Authorization (eTA)
Detailed Guide to Applying for your eTA
Starting August 1, 2015, you will be able to apply for an eTA online in order to come to Canada. An eTA is an Electronic Travel Authorization and will be required for those visa-exempt foreign nationals who wish to travel by air to Canada, starting November 10, 2016. At that time, you will require an eTA to board a flight to Canada. To apply for an eTA you need:
A valid passport,
A Credit Card,
An email address,
An internet connection.
You will go to Citizenship and Immigration Canada's website and the eTA application page. There you will enter:
Your name,
Your Passport Number,
Your email address.
You will be asked to answer a few questions about yourself
You will pay a CAD$7.00 fee by Credit Card.
In general, the eTA will be granted in a matter of minutes and will be valid for 5 years or until your passport expires, whichever is earlier. When you apply for a new passport, you must renew your eTA as well, since your eTA is electronically linked to the specific passport with which you applied. If you do not have the passport linked to your eTA when you arrive at the airport, you will not be allowed to board your flight to Canada. 
Answers to Some Questions You may have on eTAs (FAQs)
When will I need an eTA to Come to Canada?
Starting November 10, 2016 you must have an eTA if you are a foreign national seeking to board a flight to Canada. 
Who will need an eTA to Come to Canada?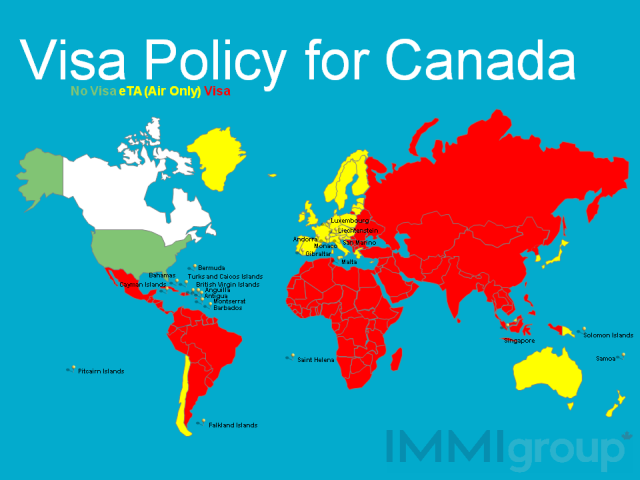 Canada's visa policy via Presentation Magazine
Go here for a complete list of eTA-required countries and for a list of exemptions.
Does an eTA replace my visa?
No, if you need a visa to Canada, you cannot get an eTA instead.
Will US citizens need eTAs?
U.S. Citizens will not need an eTA but must have the usual identity documents (passport).
How about Permanent Residents from the U.S.? Will they need eTAs?
US Permanent Residents will need an eTA as well as their Green (Permanent Resident) Card in many cases. When applying they will need their passport and their Green Card. Your eTA will be electronically linked to your (non-U.S.) passport and you will also need your Green Card as proof of permanent residence in the USA.
If I am arriving in Canada by land or sea do I need an eTA?
No, you only need an eTA if you are from an eTA-required country and are flying to Canada. If you are from a country requiring a visa to visit Canada, you will need a visa (rather than an eTA) no matter how you arrive in Canada.
If I am a dual citizen of the USA and another country, do I need an eTA?
It depends on which passport you will be travelling to Canada. If you travel to Canada on your U.S. passport then you do NOT need an eTA.
If I am a dual citizen do I need an eTA for both passports?
No, you only need one for the passport you are using to travel to Canada with.
Are there age-exemptions? Does my baby need an eTA?
There are no age-exemptions. All eTA-required foreign nationals will have to have an eTA regardless of age.
If I have committed an offence and think I may be inadmissible to Canada, should I still apply for an eTA?
Yes. Your eTA application will give you the chance to explain your situation and even if your eTA is refused you may be able to get a Temporary Resident Permit (TRP) that would allow you to travel to Canada.
I am a Permanent Resident of Canada. Will I need an eTA if I plan to travel abroad and return to Canada?
No. But you will need your Permanent Resident Card when you travel abroad and return.
Starting August 1, 2015, if you are approved for a Study or Work permit you will automatically be issued an eTA.
I already have a Study or Work permit. Do I need an eTA?
Only if you plan to leave and then return to Canada by air, and only as of November 10, 2016.
What happens if I arrive at the airport in Canada without and eTA on or after November 10, 2016?
You can make a last-minute application on any mobile device with an internet connection. You will normally get an email response confirming your eTA within minutes of applying. You should, however, apply before booking your flight to Canada. Once the eTA program is implemented, you may not be allowed to board the plane to Canada without an eTA or visa.
What payment methods are available?
The only payment methods are by Visa or Master Card Credit Cards. There is no other payment option available.