What To Do When You Receive a Notice to Prepare for Your Citizenship Exam
If you have applied for Canadian Citizenship and have received, completed and submitted a Residence Questionnaire, alongside supporting documentation, you will be receiving a Notice to prepare for your citizenship exam. What is it and what do you need to do with it? Find out here.
What is the notice?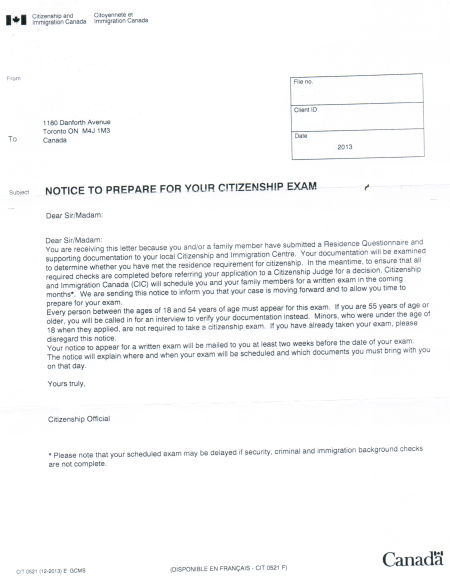 The Notice to prepare for your citizenship exam is a letter from Citizenship and Immigration Canada, received by all applicants for Canadian Citizenship (also those who are applying to keep their citizenship) who have submitted a Residence questionnaire and supporting documentation to IRCC. The letter is essentially an acknowledgement of your application - a  confirmation that it has been received and is being processed. The Notice is also a prompt for you to begin preparation for an eventual Citizenship exam sometime in the following months. Do note that the Notice to prepare for a citizenship exam is mailed months ahead of the exam, and is not the actual invitation for the exam itself; that invitation is mailed on a later date - at least 2 weeks before the date of the exam, and only if you have been found eligible for Canadian citizenship by IRCC. Some applicants, however, receive the Notice to prepare for a citizenship exam after their exam, in which case they should ignore this notice; it is merely an acknowledgement of receipt of the questionnaire by IRCC.
What happens next?
The notice does not require any action by you. However, it does ask you to start preparing for the upcoming Citizenship exam, which will be in the form of either a written test or an oral interview with a Citizenship judge. In the months following the Notice you will receive an invitation for a scheduled Citizenship exam, which you will need to attend, or reschedule. Every applicant between the ages of 18 and 54 is required to attend an exam, with applicants 55 or older required only to verify their documentation at an interview. Information for that notice, and of what is required by you once you receive it, you can find here.
More News
Can you reschedule an exam?
Yes. Once you receive the actual invitation for the exam, it will contain instructions on how to reschedule, which we summarized here: If you are unable to attend the exam you need to notify the IRCC Call Centre, to get a new exam scheduled as soon as possible. If you miss the exam you need to contact the IRCC call centre within 60 days of the date of the exam, or your application will be closed, and you have to provide an "acceptable reason for missing the exam", which would be health issues of yourself or relatives, or work-related travel. This procedure applies to either a first exam, a second exam (in the event that you have failed the first one) or an interview with a judge (if you failed both exams before, or one is scheduled for you instead of a written test).
How to prepare for the exam?
IRCC recommends that you study the official Discover Canada guide, as all the questions on the exam will be based on information in it. IRCC also provides sample test questions, which can be found here. Our team at Immigroup has developed a sample test as well, which can be found here. Read more about preparing here.
What happens after the exam?
After you finish a written exam you will be made aware of your result immediately. If you don't pass the exam, you will be scheduled for a second written one, or an oral interveiw with a judge, who will asses your knowledge of Canada and your language skills, and who has the final word. His decision can, however, be appealed to the Federal Court of Canada within 60 days of the decision being mailed to you. If your second exam was written as well, you will be scheduled for an oral interview with a judge(provided your previous two exams were written). At whatever point it happens, if you have an interview with a judge, his decision will be mailed to you. If you meet the other requirements, and have passed a written exam, you may receive a date for a ceremony at which you will be awarded your citizenship certificate right then and there, or the date will be mailed to you. The ceremony will usually be scheduled for no more 6 months after the exam, and at the ceremony you will take the Oath of Citizenship and receive your citizenship certificate.
| | |
| --- | --- |
| | |
Do I meet the Residence Requirements?