If you're an international student in Canada, or if you're thinking of attending a university, college, technical school, or other post-secondary institution in Canada, here's a curious fact:
Almost triple the number of Chinese students attend universities in Canada, while more than 5 times the number of students from India attend colleges in Canada. Look at the following charts:
Note that India and China accounted for 53% of international students at all levels in Canada in 2017. If you exclude Quebec (which has a large number of students from France as well as some from other francophone countries) the figure would be even higher.
So, what's going on here? It seems that students from India are overwhelming choosing more technical or vocational post-secondary programs when they decide to study in Canada, while Chinese students tend more towards academic and/or professional programs that universities in Canada offer.
Keep in mind that this is a broad generalization and that with the large numbers of students from India and China, you will have students from both countries studying at every type of educational institution and at every level – from primary through secondary and on up to post-graduate studies at university – in Canada. However, this data does indicate that students from India are clearly more interested in technical and vocational programs while those from China are more likely to attend more academic programs of study at universities.
There may be another factor at work as well.
Tuition Costs
While tuition in Canada is still reasonable compared to the USA and the UK, international students in Canada do pay significantly higher fees than native-born or permanent residents do. And community colleges are usually – but not always – a cheaper option than universities.
In other words, because of China's enormous economic gains over the past several decades, Chinese students coming to Canada may be able to afford higher tuition fees than their counterparts from India. That means students from India are likely more cost-conscious and more geared to completing a post-secondary program that gives them employable skills that they can use immediately in the job market – as is the case with most technical and vocational post-secondary diplomas or degrees.
Start Looking for Bargains
This means it's time to start looking for bargains in Canada's educational system. This really is a must if you're an international student, seeing you're stuck paying much higher fees than citizens and PRs. It's your right, nay, even your duty one could say, to seek out where your hard-earned cash gets the most bang for the buck.
We'll start with the lowest-cost Community Colleges in Canada; ones that offer a wide range of degrees and diplomas, but which also save you money when paying tuition. Because it's a painful truth that what keeps most international students away from a successful application to a Canadian post-secondary institution is not their lack of academic preparation. Far from it. The hurdle that keeps you out of Canada's educational system is your inability to come up with enough money to pay tuition and living expenses. And while there are some scholarships available, this is not a realistic option for the great majority of students – whether they be foreign, permanent residents, or native-born.
Top 6 Affordable Community Colleges in Canada for International Students
6. Lethbridge College
A prank at Lethbridge College by dave_7 / Wikimedia Commons / CC BY 2.0
Located in Lethbridge, Alberta, this was one of the first community colleges to offer courses in Canada back in 1957, a full decade before most other colleges were created. While it offers courses in agricultural technology and welding and policing, it also has some more tech-oriented courses that offer fascinating career opportunities. Consider these programs:
Geomatics Engineering Technology:
This program combines the age-old profession of surveying with high-tech areas like GPS systems, satellite image analysis, and geographic imaging systems (GIS). From engineering fundamentals to surveying, mapping, and data collection techniques to high-precision location data, you'll be trained for jobs like mining surveying, industrial locations, and working with drone-based systems. You might even end up helping collect the data in order for your team to help design a drone-delivery system for Amazon! As well, it offers a path to work in environmental consulting, land-planning agencies and other government agencies, as well as in law enforcement. It's a 2-year diploma program with tuition for international students pegged at under $13,000 the first year and around $15,000 the 2nd year.
Wind Turbine Technician:
This 1-year certificate course is for people who aren't afraid of heights (like 200 feet up on a really windy day) and have an aptitude for mechanics. You will be trained to international certificate standards in wind turbines, helping you to write the BZEE certificate of competency exams as well as even preparing you to write the first-period electrician provincial (Alberta) apprenticeship exam. This is a hands-on course with special emphasis on safety, for obvious reasons. Tuition for international students runs at over $18,000 for the full year – about $9,000 a semester. 
5. Algonquin College
by Ajadams94 / Wikimedia Commons / CC BY-SA 3.0
With a main campus in Ottawa and 2 campuses in the Ottawa Valley in Pembroke and in beautiful Perth, Algonquin College provides the benefits of both small-town Ontario and the nation's capital area with its high-tech firms and its numerous healthcare facilities and government buildings nestled in green spaces. It's a convenient lifestyle, with nothing too far away and rush hour - yes, Ottawa definitely has a rush hour - nothing like what commuters in Toronto, Montreal, or Vancouver have to deal with on a daily basis. It is hardly surprising that along with areas like technology and engineering, Algonquin also has an emphasis on health sciences. Here's a couple of interesting programs that might appeal to international students who are looking for a degree that provides good job opportunities at a reasonable cost.
Practical Nursing – FTN (foreign trained nurse):
If you were trained as a nurse abroad and wish to be registered in Ontario to work as a practical nurse, this is the program you've been looking for. In other words, over the course of 2 years of study, you are trained and given the knowledge to write the Canadian Practical Nurse Registration Examination. Not only that, you also are eligible (as in the bridge training for Camosun College) for the pathway from Practical Nurse to Registered Nurse offered in conjunction with the University of Ottawa. After doing the bridge program you then enter a Registered Nurse Bachelor program. The tuition is a little higher for this program, coming in at a little over $ 9,000 per term but a more job-oriented course is hard to find. Especially one with a strong demand that will only grow over time as Canada's healthcare system copes to keep up with a wave of retiring baby boomers.
Biotechnology – Advanced (Co-op):
From cell biology to biochemistry, from microbiology to bioinformatics and statistics, this program prepares you to work as a lab technician or an analyst in areas like health and agriculture, as well as medical device testing or pharmaceutical testing. It's a rigorous 3-year program with lots of lab work combined with theory. Tuition is a little more accessible with costs per term averaging between $7,500 and $8,000. Remember there are 6 terms in total over the 3 years so your total tuition will be higher than in 2- or 1-year diplomas.
4. Sheridan College
by MMA | MHO / Wikimedia Commons / CC BY 2.0
While Sheridan has everything from nursing to engineering to tool and die making, one of the areas it focuses on is media and digital design. In a world filled with digital television and social media, these are cutting edge jobs in a growing and relevant field. The college is located in Oakville (a separate city just to the west of Toronto on the shores of Lake Ontario), Brampton (a suburb to the north of Toronto), and Mississauga (a major city immediately to the west of Toronto). So, if you live in the GTA, Sheridan is accessible by public transport (GO or TTC + the local transit system) or car. Not only that, it has an International Centre with professional support staff to help you with applying and any other aspect of student life as an international student, including study permits and visas. Let's see some of the media and design courses they have to offer.
Digital Creature Animation – Technical Direction:
This course is a graduate certificate course lasting 3 semesters (which can be done in 1 year or 18 months), with computer animation, technical animation, and advanced rigging and modelling techniques, all in order to give you the skills to create digital characters for movies, television, advertising or any other purpose. The total tuition cost for all 3 semesters for international students is just over $24,000 which works out to about $8,000 per term. There are cheaper courses but given the huge industry demand - the course was designed in conjunction with industry and your professors are all industry veterans - for these skills, your job future will be assured. Another excellent investment for people interested in drama and digital characters.
Game Level Design:
This 3-semester course that awards a graduate certificate is where game designers, coders, and artists work together and improve their collaborative skills as they learn how to produce video games. A game level designer student designer learns 2D and 3D designs as well as: story & scripting; cinematography & sound; multi-player systems; game documentation & play testing. Wow. Want to be a game design industry professional? This is the place. The tuition fees for international students are under $25,000 for all 3 terms which works out to a little over $8,000 per term.
3. Lambton College
Based in Sarnia, Ontario, which is located on the border with Michigan, USA, it also has campuses in Mississauga and Toronto. While Sarnia is a little out of the way, with campuses in Mississauga and Toronto, the college is easily accessible to anyone in the GTA. Perhaps not as well known as colleges like Sheridan or Algonquin, it nonetheless offers a good range of courses with some pretty innovative selections, including the following two:
Data Analytics for Business Decision Making:
Big data is key to almost any company or organization's ability to respond to a rapidly changing marketplace. From data scientists to data analysts, the jobs that help companies deal with enormous amounts of data are a growing area of the Canadian and world economy. This graduate certificate course provides you with the skills to collect, analyze, and manipulate data. This is the kind of course that specifies the hardware and software you will need on the device you will bring to your classes. Big data is serious business in other words. The course is given on a part-time basis and a University Degree or College Diploma is required in order to be eligible. Fees come to about $7,000 in tuition for international students, so that's about $14,000 per year. That's about the going rate at most colleges in Canada, although it's a little lower than some colleges.
Esports Management:
Do you know how much a video-game tournament winner can earn nowadays if it's a major international tournament and involves juicy sponsorship contracts? A. Lot. Of. Money. Even 7 figures ($1 million and up) on occasion. Video-gaming – or Esports – is now big business. And that requires qualified people to help manage this explosive new market. At Lambton, they've had the foresight to put together a program that includes in-depth material on hardware and software design; game design; live streaming; and even the history of Esports. As a graduate of this program you'll be able to go into careers like Esports marketing, management, and promotion, or as an event coordinator or coach or pro player maybe! You'll likely end up doing jobs that haven't really been invented yet – or have been around for a short while. You know what a streamer is, don't you? While clearly the world of professional sports offers plenty of examples from which to draw lessons, this is literally a whole new world, or if you like, level. You will need a post-secondary diploma or degree to qualify for this program which lasts 1 year and provides you with a graduate certificate. Total tuition fees for the 1-year course are just under $14,000.
2. Camosun College
by Michal Klajban / Wikimedia Commons / CC BY-SA 4.0
Located in Victoria, BC on Vancouver Island, this community college offers a nice range of technical and practical diplomas with the additional feature of bridge courses that can be added after a diploma in order to get you into a university level degree program at some point in the future. For example:
Civil Engineering Technology:
This 2-year (4 terms) diploma offers you great job opportunities in areas like infrastructure projects or water treatment projects with the possibility of an 8-month bridge course that gets you into 3rd year of a full civil engineering program at UBC in Vancouver. Tuition for international students costs about $14,000 per year with the additional cost of an internship or work term adding about $1,500 per term. Considering you can earn over $50,000 a year working as a Civil Engineering Technology graduate with some years experience, that's a good investment.
Computer Networks Electronics Technician:
This 8- to 12-month certificate provides you with the knowledge and practical experience to install, repair, and maintain servers, computer networks and electronic systems. The program lasts for either 8 months or 12 months if you choose an optional 3rd term, and internships and co-op options also available. Tuition for international students is the same per term at a little over $7,000 but you can get a certificate for under $15,000 or an advanced certificate (if you take the 3rd term of the program) for around $22,000. And a job in the field is practically guaranteed.
1. Confederation College
by Ryan Hodnett / Wikimedia Commons / CC BY-SA 4.0
Named for the then-upcoming 100th anniversary of confederation (1967) the college opened as a trade school in Thunder Bay, at the far western edge of the Great Lakes. This is North Ontario and if you don't know what beautiful Neil Young song starts with the words "there is a town in North Ontario, with dream, comfort, and memory to spare" then you'll have to cut a winter's worth of firewood as penance. The main campus is still in Thunder Bay, but Confederation College also has campuses in Dryden, Geraldton, Kenora, Marathon, and Fort Frances. One of the areas the college's founders wanted to focus on was aviation. This was soon after the Avro Arrow's tragic cancellation by the Diefenbaker government in the late '50s and the importance of aviation was still clearly felt by educators and government officials. Always dreamed of working in the aviation industry? Try these courses:
Aviation Technician – Aircraft Maintenance:
This is a 2-year diploma course that gets you ready to take the Transport Canada Aircraft Maintenance Engineer (AME) license exam. The course is pragmatic and hands-on with the focus on gaining experience at maintaining and trouble-shooting complex aircraft systems. Aircraft construction, electronics, airframe systems, rotary-wing maintenance (helicopters) and structural repair are some of the areas you'll be working on. Your tuition fees as an international student will be a little over $17,000 per year (under $9,000 a semester). That should get you a job with anyone from regional airlines to major airlines, to what are called fixed-base operators.
Aviation – Flight Management:
This 21-month or 2-and-a-half-year advanced diploma program is for people who dream of being a pilot. Pilot training begins almost immediately with 3 available flight simulators and Thunder Bay International Airport as the staging platforms for much of the course, with 13 types of aircraft available for training in. The employment opportunities range from regional airlines to major airlines, from medevac pilots to even flying for the Canadian Armed Forces (assuming you meet the remaining eligibility requirements to join the CAF). You might even end up being a flight instructor. As an international student, your tuition will come to over $15,000 a year with some additional expenses because of the cost of the program. You should budget around $20,000 a year to be sure. Remember training pilots is not cheap and this is quite a reasonable cost compared to other flight programs. But once you graduate, the sky's literally the limit!
We've just touched on the enormous range of courses in Canada's Colleges. And there are literally over a hundred colleges to choose from across the country. So if you're perhaps someone from South Asia who's looking at obtaining job-ready education and training at a fraction of the cost of most professional programs at Canada's universities, then maybe a College diploma, degree, or certificate is just the ticket you're looking for. And as always, being an international student in Canada is a great first step towards finding a job and applying for permanent residence.
Cheap Universities in Canada for International Students
Are you thinking of how to pay for your university studies as an international student in Canada? The fact is tuition at a Canadian post-secondary institution is not cheap. It might be somewhat less than at comparable universities or colleges in the USA or the UK, but not that much cheaper if you're thinking of a top-flight university like UBC or University of Toronto.
That's because as an international student, you pay around 3 times the tuition that a Canadian citizen or permanent resident pays. That's before cost of living expenses. That might not seem fair, but Canada's universities have banded together to create a business that pulls in $22 billion in Canadian dollars a year.
And it's true that the quality of education you receive as well as the cultural advantages of getting to know the country and improving your English (or French) language skills make the offer an attractive one for students from around the world. And that's not to mention that you may very well be able to work part-time and obtain a graduate work permit if you manage to get a job in your field of study.
But there is a way to help meet those tuition costs: scholarships, bursaries, and awards geared towards international students. That's the good news.
The not so good news is that there are not nearly as many scholarships in Canada as in the USA given that tuition costs have not been much of an issue in Canada until recent years. So Canada hasn't built up as much of a scholarship infrastructure as you might find south of the border in America.
But there are scholarships available. Let's see what a few of the options an international student has when seeking financial help for the cost of their studies are.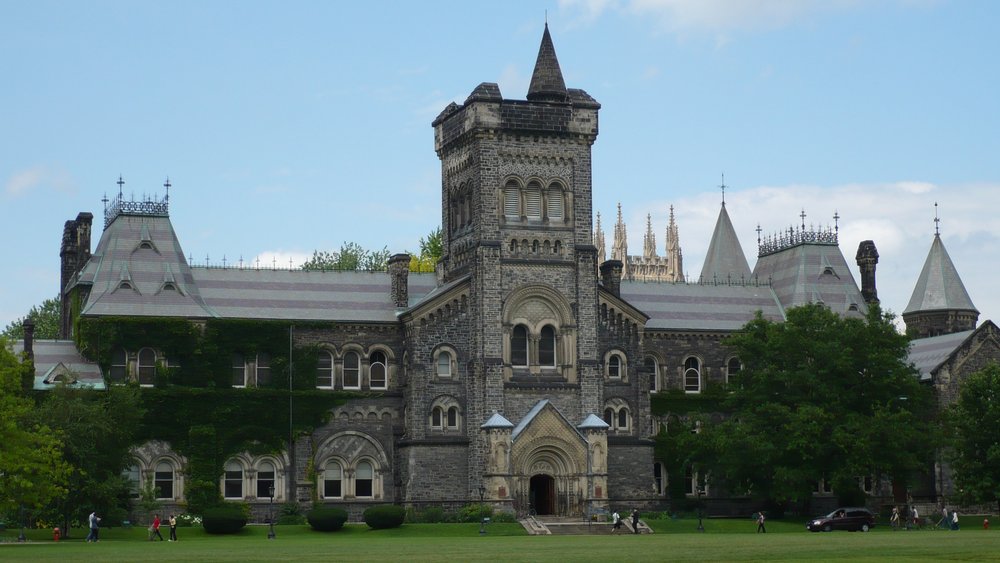 The University of Toronto by Nat / Wikimedia Commons / CC BY-SA 3.0
 
Government-funded Scholarships:
EduCanada is a government department managed by Global Affairs Canada that oversees scholarships of various kinds including those for international students. The scholarships are often grouped by geography, with certain types of scholarships targeted at students from different regions of the globe.
Study in Canada Scholarships:
Study in Canada offers academic scholarships for up to 2 years of study that leads to a diploma, a post-secondary or post-graduate certificate, or a master's degree. Eligible students must:
Be a citizen of one of the following countries: Azerbaijan, Bhutan, Comoros, Djibouti, Fiji, Kazakhstan, Kiribati, Liberia, Mauritania, Micronesia, Palau, Tonga, Uzbekistan, Turkmenistan, and Vanuatu.
Not hold Canadian citizenship or permanent residency or have an application for permanent residency.
Apply and be admitted to a full-time academic program at a Canadian post-secondary institution.
Indicate their interest in the Study in Canada Scholarship when applying to the Canadian post-secondary institution.
Be linguistically competent in English and/or French to enable them to study at the Canadian university level.
Be a citizen of one of the following countries: Azerbaijan, Bhutan, Comoros, Djibouti, Fiji, Kazakhstan, Kiribati, Liberia, Mauritania, Micronesia, Palau, Tonga, Uzbekistan, Turkmenistan, and Vanuatu.
Not hold Canadian citizenship or permanent residency or have an application for permanent residency.
Apply and be admitted to a full-time academic program at a Canadian post-secondary institution.
Indicate their interest in the Study in Canada Scholarship when applying to the Canadian post-secondary institution.
Be linguistically competent in English and/or French to enable them to study at the Canadian university level.
The Canadian post-secondary institution must:
Apply on behalf of the student;
be on the designated institutions list;
enter into a binding agreement with the recipient (of the scholarship) over disbursement of funds and expenses to be covered which can include:

visa and/or work/study permit fees
travel expenses to give biometrics
economy-class airfare
health insurance costs
tuition and other mandatory school fees
living expenses
public transportation
books and supplies;

ensure recipient has health insurance plan;
provide reports on recipient's progress.
Recipients of the scholarship must:
engage in full-time studies or research;
maintain good academic standing;
may not simultaneously hold any other scholarship funded by the government of Canada.
The scholarship amounts are:
up to CAD$60,000 for 1 academic year (duration: min 8 months; max 12 months);
up to CAD$120,000 for 2 academic years (duration: max 24 months).
Canada – ASEAN Scholarships and Educational Exchanges (SEED):
SEED provides students from ASEAN nations with short-term exchange opportunities for study or research at Canadian post-secondary institutions. The overall purpose of SEED is to find candidates who will contribute to the UN's Sustainable Development goals, including gender equity and action to combat climate change.  To be eligible, candidates must:
Be citizens of ASEAN member states: Brunei, Darussalam, Cambodia, Indonesia, Laos (Lao PDR), Malaysia, Myanmar, The Philippines, Singapore, Thailand, or Vietnam.
Not be Canadian citizens or permanent residents or have applied for permanent residence.
Not be already enrolled in a degree or diploma program at a Canadian post-secondary institution.
Be enrolled in a post-secondary institution in an ASEAN country.
Take the responsibility themselves for applying for a work permit (research) or study permit (course work).
Choose a field of study or research in line with the 2030 Agenda for Sustainable Development by submitting a 1-page letter of intent showing how their chosen field of research contributes to the 2030 Agenda for Sustainable Development.
The duration and amount of the SEED exchanges are as follows:
CAD$10,200 for a 1-term (4 months) exchange. For college, undergraduate, or graduate (Master's & PhD) students
CAD$12,700 for a 5-to-6-month period of study or research. For graduate students only (Master's & PhD)
CAD$15,900 for a 2-term (8 months) period of study or research. For undergraduate and college students.
The Canadian post-secondary institutions are responsible for selecting and applying on behalf of candidates in ASEAN countries, while the candidates themselves should inform their home post-secondary institutions of their interest in SEED and see if their home institution has an arrangement with a Canadian post-secondary institution.
Canada – CARICOM Leadership Scholarships Program:
This is an arrangement between post-secondary institutions in the Caribbean Community Countries and Canadian post-secondary institutions who submit applications on behalf of eligible candidates from CARICOM institutions. To be eligible candidates must:
Be citizens of: Anguilla, Antigua & Barbuda, Bahamas, Barbados, Belize, Bermuda, British Virgin Islands, Cayman Islands, Dominica, Granada, Guyana, Haiti, Jamaica, Montserrat, Saint Kitts & Nevis, Saint Lucia, Saint Vincent & the Grenadines, Suriname, Trinidad & Tobago, Turks & Caicos.
Not be Canadian citizens, permanent residents, or applying for permanent residence.
Not be already enrolled in a degree or diploma program at a Canadian institution.
Be enrolled full-time at a post-secondary institution in a CARICOM country and be paying tuition fees to that institution for the duration of the exchange.
If the candidate will be studying or doing research in pharmacy, medicine, dentistry, or other healthcare fields, they cannot be involved in clinical training or clinical research involving direct contact with patients. The candidate is expected to return to their home institution upon completion of the exchange/scholarship.
The duration and amount of the Canada - CARICOM exchanges are as follows:
CAD$7,200 for a 1-term (4 months) exchange. For college, undergraduate, or graduate (Master's & PhD) students
CAD$9,700 for a 5-to-6-month period of study or research. For graduate students only (Master's & PhD)
CAD$14,700 for a 2-term (8 months) period of study or research. For undergraduate and college students.
Canada – China Scholar's Exchange Program (CCSEP):
This program was established nearly 50 years ago in 1973 as a way to foster academic cooperation between Canada and China. They are for research and scholarship for periods of 4 to 12 months but do not involve formal enrollment at a Canadian post-secondary institution.
Full-time teachers, researchers, and post-graduate students are awarded places in this program and preference is given to the following fields of study:
Public administration and public policy analysis
Business management
Economics, finance, and banking
Environmental protection
Law
Education
Public health policy and management.
Vanier Canada Graduate Scholarships:
Established in 2008 these scholarships are aimed at doctoral students and intend to bring the best and brightest to Canada to help create world-class centres of research and higher learning in Canada. Up to 166 scholarships are awarded in any given year while up to 500 scholarships are active at any given time.
The scholarships are for 3 years and are for CAD$50,000 per year. They are distributed among the following Canadian grant agencies:
Canadian Institutes of Health Research (CIHR)
Natural Sciences & Engineering Research Council (NSERC)
Social Sciences & Humanities Research Council (SSHRC).
The selection criteria are based on 3 broad areas:
Academic excellence
Research potential
Leadership ability and potential.
Applicants select a nominating institution based on their field of expertise and then put together an application package.
Pierre Elliot Trudeau Doctoral Scholarships:
These scholarships are for postgraduate PhD students and provide a wide diversity of candidates the opportunity to undertake a three year program with emphasis on leadership and ethics in innovation. It provides up to CAD$40,000 a year for tuition and living expenses and up to CAD$20,000 a year for research and travel purposes, both over the full 3-year period. It also involves:
Leadership seminars at reserved locations (like Montreal or Helsinki) during the first year of the program;
Creating a conference event in order to communicate your work to a broader public;
Work with mentors and other collaborators to put together a creative project in your third and final year. It can involve everything from publishing a book to putting on a theatrical production to holding a fundraising gala.
For more information, write to [email protected].
University scholarships:
Lester B. Pearson International Scholarship Program:
This program is for international students at University of Toronto who have demonstrated not only academic excellence but have also impacted their school and community. Other eligibility requirements are:
Currently in final year of secondary school or having graduated within less than a year;
Original and creative thinker;
Enthusiastic about learning and innovation;
Demonstrated strong leadership skills;
Intend to start university in the upcoming academic year at the undergraduate level.
To apply you must receive a nomination from your high school or secondary school and your high school/secondary school must apply to U of Toronto to be part of this scholarship program. Go here for more information. The scholarship covers tuition costs, books, incidental fees and residence costs for 4 years.
International Major Entrance Scholarship:
This UBC scholarship is for international undergraduate students and are awarded for their 1st year. The IMES is then renewable for up to 3 additional years for a total of 4 years. The eligibility requirements are as follows:
Be a new student at UBC, that is about to enter your first year
Be an international student on a Canadian study permit
Demonstrate exceptional academic achievement and community involvement
Not be nominated for a needs-based International Scholars award.
Outstanding International Student Award:
Also based at UBC, this is a one-time merit-based entrance scholarship based on academic excellence and community involvement. The requirements are the same as the IMES.
International Scholars Program:
Yet another program based at UBC, it is tailored to undergraduate students and hands out 2 awards to successful candidates from around the world. Some of the features of the program are
Exchange programs where you can study abroad
Community learning projects
Annual retreats to develop leadership skills
Annual workshops.
The two awards are
Karen McKellin International Leader of Tomorrow Award: for international undergraduate students with exceptional academic achievement as well as leadership skills and community involvement.
Donald A. Wehrung International Student Award: for international undergraduate students from war torn, or impoverished areas that have achieved academic excellence and would be unable to attend university without financial support.
Humber College International Entrance Scholarships:
As an international student at Humber, you have a couple of options to choose from.
Bachelors Degree Scholarships which are available to ALL undergrads including international students.
English for Academic Purposes Scholarships are also available to international students for the EAP program which prepares international students for university level English. There are also several annual awards:

Academic Excellence in English for Academic Purposes award which hands out CAD$250;
English for Academic Purposes International Student Diploma Pathway awards which is worth CAD$500;
English for Academic Purposes International Student Degree or Post Graduate Pathway awards which is worth CAD$500.
As you might imagine, there are financial support programs at most Canadian post secondary institutions. Once you have chosen where you would like to study in Canada, head to the school's website and look under international students as well as financial aid. We've listed a few of the main awards and scholarships in Canada but its up to you to research and apply for them, depending on where you wish to study. The options are there. And feel free to ask us at IMMIgroup about a specific school if you wish.  
7 Scholarships for Students from Africa
As well, if you're an African student looking to complete your post-secondary studies abroad and are perhaps considering studying in Canada, you should know that there are a number of scholarships available to African students studying in Canada. Some are specific to a university but also part of a general scholarship program like the Mastercard Foundations Scholarships, for example. While some are for full tuition, many give financial support worth thousands of Canadian dollars but don't cover the complete cost of your studies. Nonetheless, they are a big help to any international student struggling with the higher fees they face, compared to the tuition paid by Canadian students.
So, let's continue our look at financial assistance for international students by focusing in on what's available specifically for African students planning to study at the post-secondary level in Canada. Here then, are 7 Scholarships for Students from Africa:
UBC Mastercard Foundation Scholars Program
In conjunction with the Mastercard Foundation, University of British Columbia has put together a wonderful scholarship opportunity for dozens of students from Sub-Saharan Africa. The Mastercard Foundation has a planned target of providing scholarships to up to 15,000 students from Africa through a network of schools in Africa, Europe, North America & the Middle East. You must be 29 years old or younger to apply for undergraduate MCF Scholarships and 35 or younger to apply for graduate MCF Scholarships.
UBC, along with U of Toronto and McGill, is part of that network and has been offering these scholarships since 2013. The plan at UBC is to offer a total of 163 scholarships over the ten-year period starting in 2013, including 77 undergraduate scholars.
Unfortunately, all undergraduate scholarships at U of British Columbia have currently been awarded and at this point no further undergrad scholarships are being awarded at UBC. To ask about other scholarships (like Masters/graduate Scholarships or others) please write to the address below, as well as to see when they might start offering new undergrad scholarships again.  
The address is as follows:
The UBC Mastercard Foundation Scholars Program
Vancouver Campus
c/o MCFSP, Global Lounge
2205 Lower Mall, Bldg 1
Vancouver, BC, Canada
V6T 1Z4
604-822-9803
[email protected]
U of Toronto Mastercard Foundation Scholarships
As with UBC, the Mastercard Foundation also offers scholarships to study at University of Toronto. To qualify, you must be both a resident and a citizen of a sub-Saharan country. It offers full tuition, housing, travel, books, and other expenses, for the duration of a 4-year undergraduate degree.
The scholarship applies to 4-year undergraduate programs in the Arts & Sciences faculty as well as the Applied Science & Engineering faculty.
As well, students must do 2 unpaid internships:<

During the 2nd summer of the undergrad program (between 2nd and 3rd year) you must do an unpaid internship in the Toronto area to improve your local practical and work skills.
During the 3rd summer of the undergrad program (between 3rd and 4th year) you must do an unpaid internship in Africa where you will be able to apply some of the skills and knowledge obtained at school and in your first internship.
To contact U of Toronto about the MCF Scholarship Program: Email: [email protected]; Phone: 1-416-946-5269
McGill Mastercard Foundation Scholarships
McGill's MFC Scholarships have the unique quality that candidates from French-speaking African nations have the option of applying and taking an intensive English-language course in order to get up to speed for their studies at McGill. The university is located in Montreal, the main city in Canada's francophone province, Quebec, so French speakers are able to adapt fairly easily to Quebec's culture. McGill provides most of its courses in English, of course.
Applications for the fall of 2020 are no longer being accepted, so you should contact the university to see when applications for next year will be available.
For more information: Email: [email protected]
Richard J. Van Loon Scholarship
This scholarship for studies at Carleton University in Ottawa, is awarded annually to an outstanding student from an African country. The amount is CAD$5,000 so while it is certainly a great help, it is not a full-tuition scholarship as is the case with MCF Scholarships. To be eligible you must:
Be a citizen of an African country.
Be an international student with a valid Canadian study permit.
Be registered as a full-time student at Carleton University and be transitioning successfully from one year to another in any program. In other words, you must be finishing up at least your first year at Carleton and have passed all requirements in order to start your next year of studies.
Be in good academic standing.
Go here to download the application form, and then once you have completed it, take it to the Awards Office at Carleton University.
African Leaders of Tomorrow Scholarship
This provides funding for a master's degree in:
Public administration,
Public finance, or
Public policy
in Canada for African students. It has two components:
Completion of a 1-or-2-year master's program in the above-mentioned areas;
Preparation and development of a professional development plan with a mentor involving case studies.
The scholarship is managed by the Canadian Bureau for International Education (CBIE) in conjunction with Global Affairs Canada and Mastercard. Unfortunately, there will be no applications for the upcoming 2020-2021 academic year. To find out when new applications will be accepted see the following contact information:
220 Laurier Ave West
Suite 1550
Ottawa, ON, K1P 5Z9
Canada
Email: [email protected]
University of Waterloo Mastercard Foundation MBET Scholarships
This is for graduate students who have studied at a post-secondary institution in Kenya or elsewhere in East Africa and wish to study at Waterloo in a Masters of Business Entrepreneurship & Technology (MBET). The amount of the scholarship is between CAD$25,000 and $42,000. One or two scholarships are awarded annually based on academic merit (minimum 80% averages are required). As well, an interest in and some experience in entrepreneurship is also required.
For further information contact the graduate co-ordinator for Business Entrepreneurship & Technology – Tara Gingerich Hiebert, email: [email protected]
Open Society Foundation Disability Rights Scholarships
This provides financial aid for 1-year master's programs for disability rights advocates, lawyers, and educators to develop laws and programs to assist and develop disability rights in Africa and around the world. To be eligible:
You must be a citizen and legal resident of one of the following countries:

Ethiopia
Lesotho
Sudan
South Sudan
As well as Czechia, Georgia, & Ukraine;

You must have worked in the legal profession or advocacy of disability rights;
You must have an excellent academic record and an LLB (law degree);
You must have demonstrated leadership in the field of disability rights;
You must be proficient in spoken and written English or French;
You must be able to receive a study permit from the host country where you will study;
You must demonstrate a clear commitment to your home country;
You must be able to begin the graduate program in August or September of 2020.
Go here to start the process of registering and applying online.
For African applicants, your coordinator is located at the University of Pretoria in South Africa:
Jehoshaphat Njau
Project Coordinator, Disability Rights Unit Centre for Human Rights
Faculty of Law, University of Pretoria
Pretoria, 002, South Africa
Tel: +27 (0)12 420 6345
Fax: +27 (0)86 580 5743 
Email: [email protected]
Website: www.chr.up.ac.za
Go here and scroll down to the bottom of the page to download program guidelines and the application form.