Marrying and Sponsoring a Cuban Citizen USA
How to Get Married in Cuba (Guide for United States Citizens)
Overview of the Cuban Marriage Process
Scan & email your documents to us for a review
Courier your package to our office (you will find our address in the kit)
Receive your documents by courier
Related Application & Information
Immigroup's Step by Step guide to the Requirements for Marrying in Cuba
Fill out the included forms
Photocopy these items:

Your Birth Certificate (listing your parents' names, often called a "long form" birth certificate)
Your US Passport
A signed Single Status Declaration

Scan and email (or fax) these documents to us at our office for us to review: Use our email

[email protected]

or use our fax 416-640-2650
After we have professionally reviewed all your documents, and we contact you, you must mail or courier the entire package to us (we will give you the mailing address in an email when everything is reviewed and ready to go)
As part of our service, we get the following done for you:

Translate all of your English-language documents to Spanish
Certify all your documents with a Notary Public (as required)
Authenticate all of your documents with both the State & Federal governments
Legalize your authenticated documents at the Cuban Embassy in Washington, DC

We will courier your Cuban marriage documents to you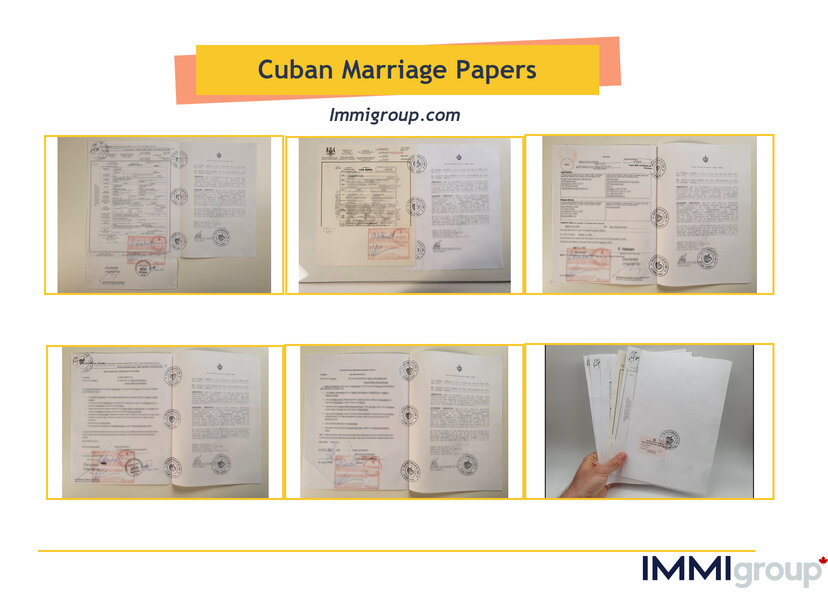 FAQs & Troubleshooting for American-Cuban Marriage
American-Cuban Marriage Overview – Basic Cuban Marriage Questions
Marrying a Cuban National – Basic Overview for American Citizens Marrying Cuban Citizens
Each nation has its own laws which apply to nationals marrying foreigners. Marrying a citizen of Cuban with the aim of later bringing your pouse to United States to live is a complicated procedure with many different parts. The government of Cuba imposes strict conditions on all foreigners who marry Cubans in order to discourage Cuban citizens from emigrating to other countries.
All foreign nationals must apply for official Cuban government permission to get married to a citizen of Cuba. The foreigner must prove to Cuban government officials
that they are not currently married to another person – either the foreigner is still single or all divorces have been finalized
that they are who they say they are (proof of identity), and
that the foreigner has never committed any crimes in Cuba.
You can prove you are single and free to marry by providing certain documents, most importantly a document usually known as an Affidavit of Single Status (or Single Status Declaration, there are many other names), to the Cuban embassy in Washington or the Cuban government in Cuba. (We recommend the Cuban Embassy in Washington for this process.)
If the plan is for your Cuban spouse to live with you in the United States, you must do a second step with US immigration. You will at some point need to contact an immigration attorney. If you need a referral, please indicate this request on our order form.
How long will it take to get my documents ready so I can get married in Cuba?
Once you have found all the necessary documents, it can take 2-4 weeks for the various documents to be authenticated in your home state (and in Washington, if necessary) and legalized in Washington for use in Cuba. *Covid-19 timelines are 2.5 to 3 months.
What other Cuban marriage fees can I expect?
Courier costs if you currently live outside of United States – this usually only happens if you have already left United States and need the documents delivered to where you are. (For example: if you have already travelled to Cuba Cuba.)
Applying for an international birth certificate (i.e. not American) – this only happens if you were born outside the US and need your birth certificate (please note, we cannot replace birth certificates for citizens of all countries – call us to find out if we can help you).
Getting missing documents (i.e. birth certificates).
Application Questions – American-Cuban Marriage
American-Cuban Marriage Basic Document Requirements
If you want to marry a Cuban citizen, you must prove to the government of Cuba that you are qualify to do so. You must provide the following:
Proof of country of birth (a birth certificate authenticated and legalized)
Proof of single status (an affidavit of single status duly authenticated and legalized)
Proof of age requirement (an ID with your birth date).
As you might expect in a communist country, marriage in Cuba is a bureaucratic process with all sorts rules you have to follow. Just about anyone can get married in Cuba, not matter your citizenship or your country of residence, as long as you can follow the rules and provide the correct documentation. As the American, i.e. the foreign partner, in the marriage, the Cuban government must see the following documentation:
Long Form Birth Certificate ("long form" means a birth certificate showing your parents' names).
Proof of your marital status (you must be single). As an American that means drafting and signing a witnessed Affidavit of Single Status. Alternatively, you try to have one executed one at your local government of United States office located in Cuba, in this case the American embassy in Havana. But we strongly recommend you do this in your home state.
If you are a widow, you will need both both your old marriage certificate and your deceased spouse's death certificate.
If you have ever been divorced, you will need the divorce certificate (and if you've been divorced more than once you will need all divorce certificates). You cannot be merely separated if you want to marry in Cuba.
A valid passport and your Cuban tourist card and/or Cuban visa.
It's extremely important to remember that all these documents, or certified or notarized copies of the documents, need to be translated into Spanish and then legalized (i.e. accepted for use in Cuba) at the Cuban diplomatic mission in United States nearest you. You should really should make sure this is all accomplished before you fly to Cuba for the marriage.
In order to get married in Cuban, your Cuban fiance will need to provide the following documentation:
His or her Cuban identity card;
If he or she is divorced, they will need to provide their Cuban divorce certificate or a certified copy of it – There are special rules for females who are divorced: if the divorce was less than 300 days ago, then your fiancee will need a medical certificate that shows she is not pregnant;
If your Cuban fiance is widowed, they will need to provide both their marriage certificate and the death certificate of the deceased spouse.
If you are marrying in Cuba, if you, the American citizen, are unable to actually attend the marriage ceremony due to travel restrictions imposed by the US government, believe it or not you can choose a representative to go to the wedding for you, through the Cuban Embassy in United States. This grants the representative the legal ability to stand in for you at your own wedding (seriously) by means of a letter notarized in the United States, which is then legalized by the Cuban Embassy, and mailed to Cuba. This representative only has to be an adult, and can be either gender regardless of your gender. The representative can be of any nationality, too.
In order to to represent you in the wedding, your representative must give the Cuban authorities require the representative provide certain information about themselves:
Full name (first, last and middle if applicable);
Place of birth (city, country, and region if applicable);
Citizenship;
Marital status;
Occupation;
Address (street address, city, region, country, zip code if American);
Cuban Identity card if Cuban or American Passport if American (or other passport if they're from another country).
Civil marriages in Cuba occur at offices administered by the Ministry of Justice of Cuba named Consultoría Juridica Internacional, S. A. In Havana there are two locations, which you can find at these addresses:
108 Calle 22 – located between Avenida Primera and Avenida Tercera – in Miramar, Municipality Playa, Havana, Cuba (right by the water on the west side of the city)
At the intersection of Calle 23 and Calle J in El Vedado, Municipality Plaza de la Revolucion, Havana, Cuba (downtown)
When you go, make sure you have all the above-listed documentation (your documents plus your fiance's) along with at least 2 adult witnesses who cannot be related to or your Cuban fiance, nor can they be related to you. (No immediate family members!) These witnesses should be able to understand and speak Spanish enough to participate in the marriage ceremony, and must provide the following information:
their first and last names;
their addresses
their Identity card numbers or (passport numbers if foreigners) along with residency permit numbers or tourist card numbers (if applicable).
There are several marriage fees as well as a stamp fee. Once completed, you should receive 3 copies of the Cuban marriage certificate.
Can I get married in an alternative country (Ex. the Dominican Republic)?
Yes, but your Cuban partner will still need to prove they have married you if you're planning to move with your partner to the United States. The process for doing so is the same as preparing to marry in Cuba.
Questions about Cuba
What are the salaries like in Cuba?
Salaries are much lower in Cuba than they are in the United States. You guessed it! That's because Cuba is a communist country. Because of communism, there also isn't much variance between salaries. Though the average wage is about $10 month there isn't much salary difference between unskilled and skilled laborers. For example, an unskilled labourer may make as much as $17 while a a brain surgeon may make as a little as $22 a month. Because taxis in Cuba are paid using Cuba's so-called "convertible peso" which is tied to and equivalent to your U.S. dollar, a college professor in Cuba who earns $40 per month will have to pay half his his monthly salary to get to the college from the city (Havana) if he chooses to use a cab. A taxi driver can earn up to or more than half of a college professor's monthly salary from a 45 minute fare. 11 million Cubans get education and health care for virtually free, but putting food on the table can be extremely expensive in comparison.
Cubans who have access to American currency or even convertible pesos – those who work in the tourism industry or who have expat relatives overseas – can use this money to supplement their meagre incomes. But millions of Cubans have no such access – they are paid in Cuban money, which is of little value. And sometimes they have to pay for services in converitble pesos.
New President Raul Castro has reduced the number of state employees and their salaries and his government has also introduced some popular reforms such as allowing Cubans to stay in hotels that once were limited to foreigners but there hasn't been much economic improvement in day-to-day life.
What if my Cuban partner works at a resort? I'm worried that the resort will discover our relationship. (I believe Cubans who work for or at resorts are not allowed to have romantic relationships with foreign guests.) My partner will lose their job. What will happen if they're fired? Is there anything I should be aware of?
A resort job is one of the best jobs in Cuba, those at a resort sometimes get paid better then doctors. If your partner works at a resort and loses their job because of your relationship, you are expected to financially support them until they can find a new job or until you are able to bring them to the US. Obviously it's up to you how much money you decide to send to your Cuban partner but even USD$100 a month will make a big difference in the lives of most Cubans.
Weddings in Cuba
Is a basic civil marriage okay? Can I skip an elaborate ceremony and reception?
Yes you can do that but we strongly recommend you bring two Spanish-speaking witnesses, and the more the better. We recommend witnesses not just because of the government requirement but because you will have to prove your relationship to the US government. You need to provide photos of your relationship and photos of a well-attended wedding are good to include.
You don't have to pay for a giant ceremony and bring all your family and friends down for the marriage, but a small reception, at you loved one's family home for example, would provide some good photos for the I-130 petition. No ceremony at all might strike immigration officials as suspcious.
How do I get married in Cuba?
Weddings in Cuba are common, even if they aren't common for Americans. Most Cuban resorts are used to hosting weddings so ask your resort/hotel about what they provide.
Immigroup and You
How can Immigroup help you with your Cuban marriage?
Immigroup representatives deal with the American and Cuban governments on your behalf. Our job is to make everything is perfect for your marriage in Cuba and you are not missing any documentation, so you can successfully marry your Cuban spouse and bring them back to the US.
Is Immigroup experienced in Cuban marriages?
Immigroup has existed since 2004 and we have been providing Cuban marriage services since shortly after, in 2005. Because we're Canadian, we were doing Cuban marriages before most Americans were travelling to Cuba, so we have more experience than similar American companies. (And yes, we've done plenty of Cuban-American marriages too.)
Bringing Your Cuban Spouse to the United States of America
Related Content
https://www.immigroup.com/news/top-7-reasons-prenuptial-agreement-your-spousal-sponsorship-application