American Cuban Marriage in Cuba – A Guide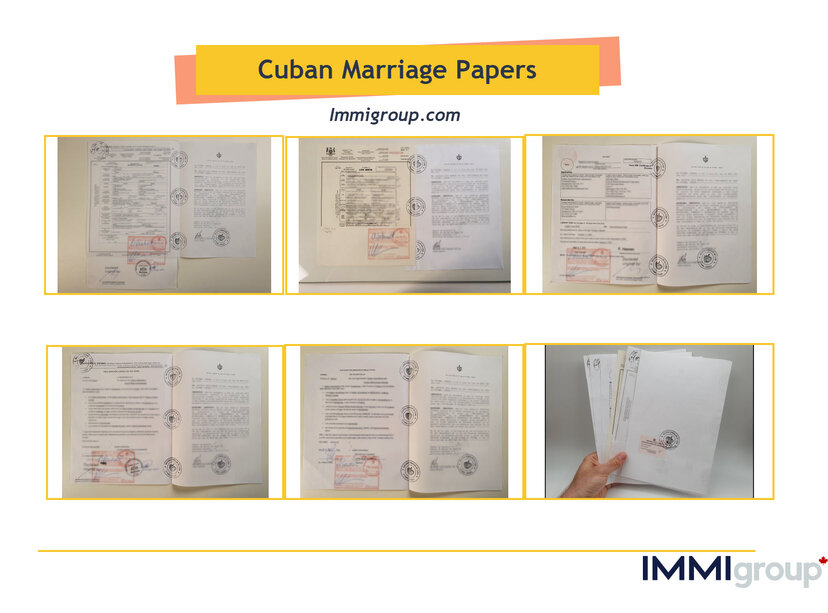 Getting Married in Cuba to a Cuban – a Guide for American Citizens

Marriage to a Cuban national in Cuba is an overly bureaucratic and arduous process, which can be very confusing. You will likely need the following documents translated and notarized, and certified by the State Department:
If you are single (never married):

Birth Certificate,
Affidavit of Single Status (not the same as a Marriage Search Certificate).

If you are divorced:

Birth Certificate,
Divorce Certificate,
Affidavit of Single Status if divorced for more than 2 years.

If you are a widower:

Birth Certificate,
Death Certificate of former spouse.

Note: Your name must match exactly in every document or you will need an Affidavit of Identity – translated and probably notarized – explaining why not. The Affidavit of Identity must not be more than 6 months old.
Remember that before you can get a translation for a document issued in the US, you need to take the following steps:
You must first get your document certified in the State of residence in the U.S. For example in Florida you must:

Include a cover letter naming the country in which the documents will be used. Cuba in this case.
Enclose the required fee.
Enclose a SASE in order to have the documents returned to you. If using a courier use a pre-paid air bill with your order pre-addressed FROM YOU to YOU.
If using U.S. mail send your package to:


Department of State
Division of Corporations
Apostille Certification
P.O. Box 6800
Tallahassee, FL 32314-6800

If using a courier send your package to:


Division of Corporations
Clifton Building, Apostille Section
2661 Executive Center Circle
Tallahassee, FL 32301
Phone: 850-245-6945

Each state will have a different certification process so check your state's website for certification of documents and apostilles. You must have your documents certified by the secretary of state in the state in which your documents were issued.
Once certified at the state level, you must then have your documents authenticated by the federal State Department. The requirements of the State Department for authentication of State and Local documents – like marriage, birth, divorce, & death certificates – are as follows:

You must submit the original document with a raised and/or stamped seal.
The document must be a certified original.
It must be certified by the Secretary of State from the state in which the documents were recorded (issued).

You can request authentication services from the State Department in 3 ways:

By Mail: You will need to submit

Form DS-4914: filled in and do not forget to state document's country-of-use (Cuba)
Documents
Fees
Pre-paid Self-addressed envelope
Mail to:


Office of Authentications
U.S. Department of State
CA/PPT/S/TO/AUT
44132 Mercure Cir, P.O. Box 1206
Sterling, VA  20166-1206

Walk-In: Drop-off and pick-up Monday to Friday 8 AM – 9 AM
Appointment: For emergency cases only. Monday to Friday; 10 AM to 12 PM and 1 PM to 2:30 PM

Your documents are now ready to be translated for use in Cuba.
The final step in getting your documents ready is to have them legalized at the Cuban embassy or consulate. As Cuba is not a signatory to the Apostille Convention, they have to be legalized at the Cuban embassy in Washington DC for them to be accepted for use in Cuba. This usually takes up to 4 weeks. As well, each document must be translated by a certified translator who must certify or notarize that they have translated the document in question. This should be done before the documents are legalized at the Cuban embassy in Washington DC.
All applicants will require these documents; however the process for obtaining the necessary certifications varies by state, which is why the comprehensive list is not listed here. Please contact us for further information.
When marrying in Cuba, your Cuban partner must present the following documents:
Their identity card,
If divorced, a divorce certificate or a notarized copy,
If female and recently divorced for less than 300 days, your Cuban partner will need a medical certificate stating whether or not she is pregnant.
If a widow, a marriage certificate and a death certificate.
In Cuba, marriages are Civil and held at the Consultoria Juridica Internacional, quasi-private branch of the Cuban Justice Ministry located in Havana. You will need 2 adult witnesses who are not related to either you or your Cuban partner. They must be functionally fluent in Spanish and present the following:
Full name
Address
Identity Document or Passport number (if foreign)
You will have to pay several fees, including a stamp fee, and will receive 3 copies of your marriage certificate.
Remember that rules are being modified almost day by day when it comes to Cuban-American relations, so the following information is subject to revision. Check back often for any updates. And please contact us if you have any questions.
How to Travel to Cuba as an American Citizen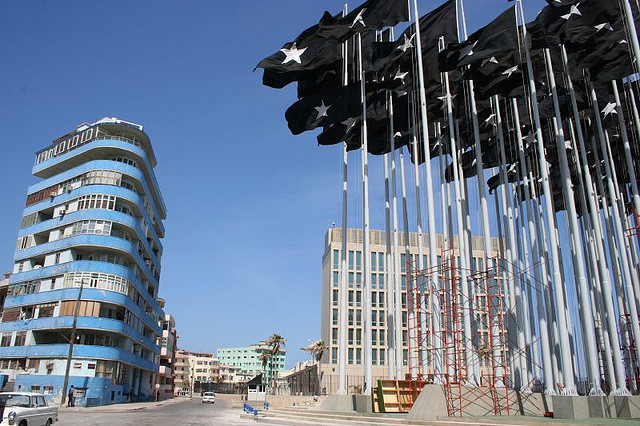 Flag barrier outside the old unoffficial US embassy in Havana by glichfield / Flickr / CC BY-SA 2.0
If you want to travel to Cuba, or have travelled to the island, and want to get married to a Cuban citizen, you should know this: the US trade embargo with Cuba is still in place. Yes, the United States Embassy has been re-opened in Havana after being closed for more than 50 years. Yes, the Cuban embassy has also re-opened in Washington. But for an American citizen to travel to Cuba, what you need is approval from the Treasury Department. That's because the trade sanctions are managed through Treasury and the 12 categories of people or organizations/businesses that are allowed to travel, are managed by the Office of Foreign Assets Control (OFAC), which is part of Treasury.
Getting to Cuba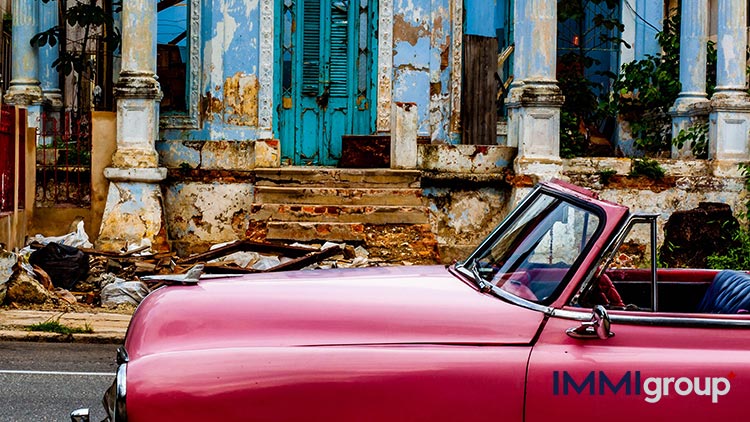 You can go cross-eyed trying to figure out what exactly is legal when travelling to Cuba. So let's start with those 12 categories:
Family visits: Re-uniting Cuban-Americans with their kin back on the island is a priority. You must be a close relative of someone living in Cuba (or someone who is temporarily in Cuba under any of the other authorized categories). That means no more than 3 generations removed by blood, marriage, or adoption from the person in Cuba you are visiting, or from a common ancestor. That would mean just about any Cuban-American qualifies for a trip to see relatives in Cuba.
Official US Government business – This includes foreign government business and certain inter-governmental organizations. This is pretty self-explanatory. These are the folks who are actually writing, or re-writing, the rules (of trade or diplomatic ties, etc.). They know who they are.
Journalistic Activity: These are full-time journalists, supporting broadcast & technical personnel, and freelance journalists. As with most of these categories, you can head to the beach, but your "free time or recreation in excess of that consistent with a full time schedule" is a no-no. A vaguely enforced no-no at best. And journalists can and do fall in love and get married abroad.
Professional Research: Whether or not you qualify for this category will depend on your profession and area of expertise. Zoologists with a specialization in Penguin mating behavior may not get approved. But you never know. This also includes professional meetings without a focus on research. The big exception is Tourism. For now, attending conferences in Cuba on Tourism is forbidden. As with most other categories, your down-time theoretically should not be excessive.
Educational Activities: This category involves people like faculty, staff, and students at US schools who visit Cuba for academic exchanges with Cuban counterparts or who perform non-commercial research. It may include providing testing services to Cubans or internet-based courses to Cubans, among other things. Cuban scholars may participate in US-based programs or activities as well. It includes secondary students participating in formal study courses or other educational programs.
People-to-People Exchanges: This one gets interesting. Officially it falls under Educational Activities, but it involves exchanges on an individual level or in groups, but sponsored and overseen by a third-party organization. They are non-academic and promote "people to people contact." Global volunteers is a good example. The people-to-people program started in 1999, was suspended in 2003, and re-started in 2011. There is one major condition: you must not engage in activities with any "prohibited official" of the government, or any "prohibited official" of the Cuban communist party. For most people in these groups, that should never be a problem. Tour agencies offer package tours to see Cuba under this sub-category. It's likely your best bet to travel to the island. Google People-to-People Cuba and you get there quick.
Religious Activities: You must be part of a US-based religious organization and be going to Cuba to be part of a religious program of activities, rather than just an individual pilgrim. Your free-time must be "consistent" with a full-time schedule of organized religious activity.
Public performances, clinics, workshops, athletic & other competitions, and exhibitions: The competitions may be amateur or semi-professional. Athletes can and do meet people and fall in love just like everyone else.
Support for the Cuban people: This category can include human rights organizations, independent groups that promote transition to democracy, & NGO's that aim to strengthen civil society in Cuba. Again, careful with excessive free time. How they measure that when you return home to the USA is a good question. Do NGOers fall in love more easily?
Humanitarian Groups: A long list that includes:

Medical relief projects
Disaster relief projects
Construction of needed infrastructure
Historical Preservation projects
Environmental projects
Rural development
<li">Microfinancing. </li">

The serious do-gooders and responders, in other words. Too busy to meet the love of your life in the Cuban countryside while building a school. Then again … maybe not. No worries about exceeding your "free time" right?

Activities of Private Foundations or Research or Educational Institutes: These groups must have an "established interest in international relations" and be in Cuba to collect data or do further research for non-commercial purposes. Free time must be consistent with a full-time schedule.
Exportation, Importation, or Transmission of Information or Informational Materials: The title says it all.
Certain Export Transactions: for business people who know what the rules are already. Or have a good lawyer.
Good luck and enjoy your trip to Cuba!