Canada vs Australia – Where should I go: Melbourne or Vancouver?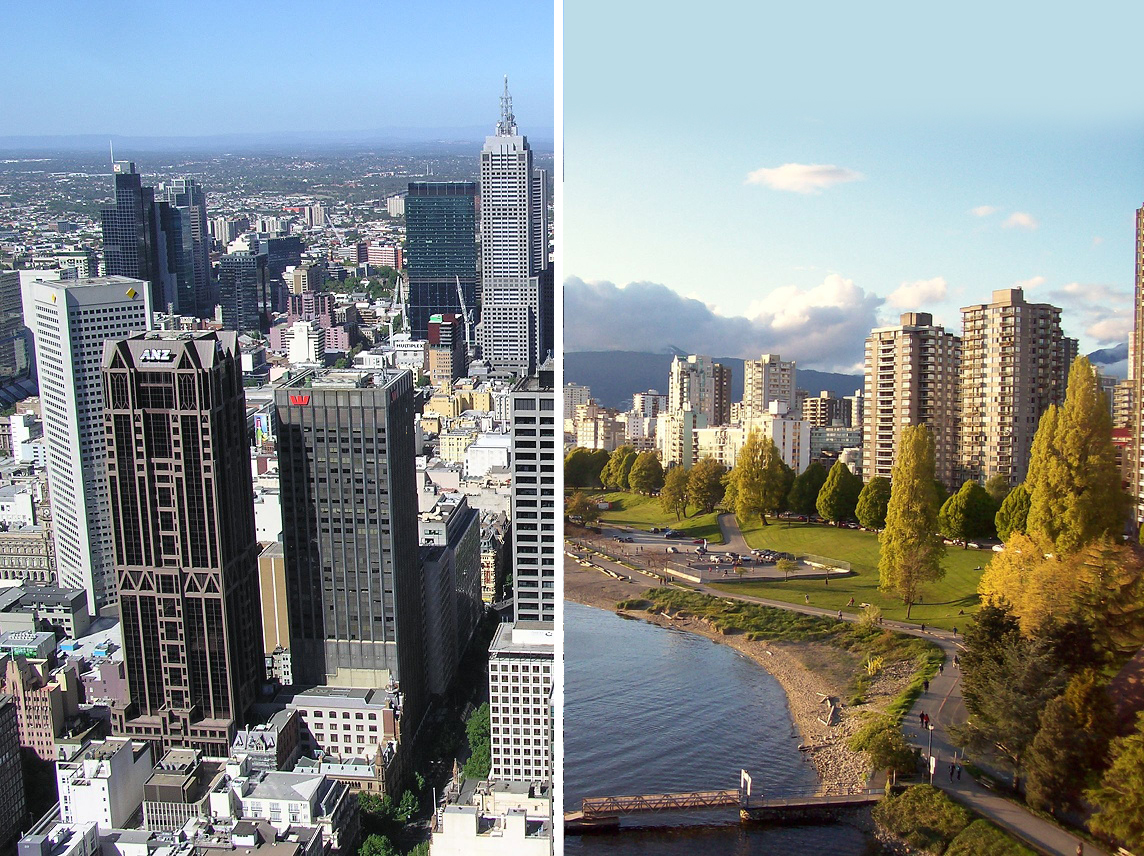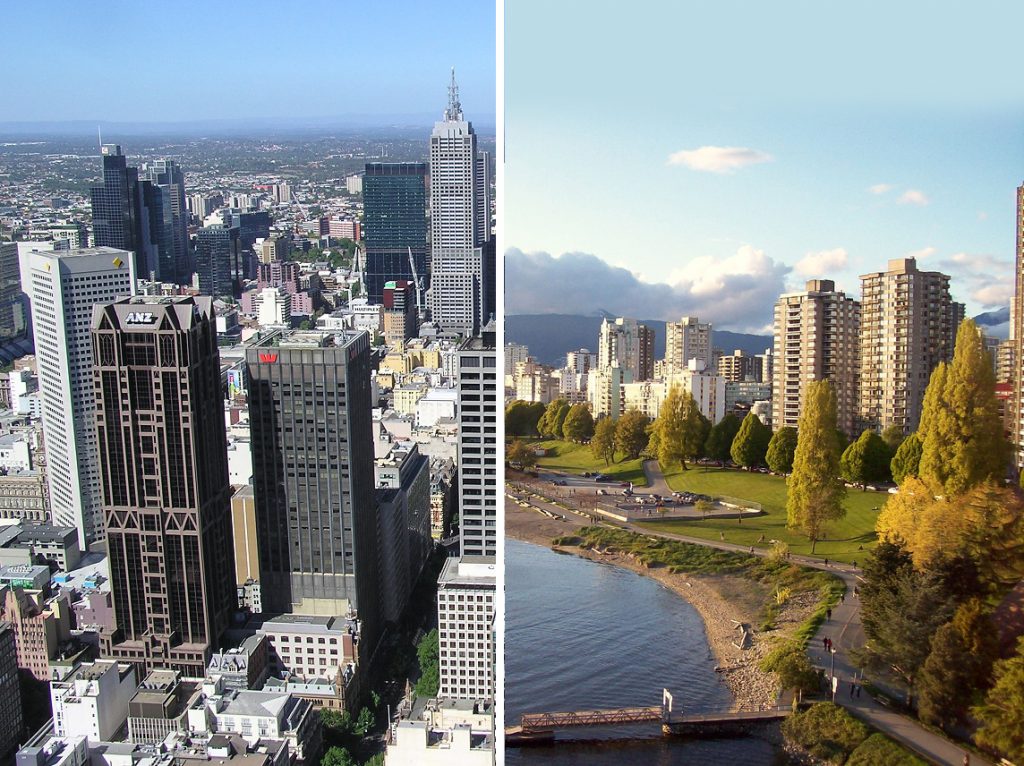 Australia compared to Canada, Melbourne compared to Vancouver
The 3rd part of our series, Canada vs. Australia, where we compare Vancouver with Melbourne, two destinations that a whole lot of folks from around the planet would love to move to, or certainly stay in for a while.

When James Cook, the first European to discover Australia and New Zealand in the late 1700s, set out on his 2nd voyage to further map out the South Pacific, he had on board a young teenager and candidate for future midshipman named, you guessed it, George Vancouver. And about 20 years later, Captain George Vancouver would explore and claim much of the Pacific Northwest for the British Crown, after the Nootka Crisis was peacefully settled. Vancouver, to state the obvious, is named after the Royal Navy officer. Whining about your cramped legs and square butt after flying from Vancouver to Melbourne by way of Sydney? George would have laughed in your face! So settle back in your seat, or couch, or park bench with a Wi-Fi hotspot nearby, and turn up the volume on your headphones and we'll give you a guide so you can decide which city you would choose, Vancouver or Melbourne. Melbourne, by the way, is named after the guy (Viscount Melbourne, also known as Lord Melbourne) whose wife did the nasty with Lord Byron and coined the phrase, "mad, bad and dangerous to know", in a scandalous and venomous tell-all book. Serves Lord Melbourne right for falling in with the so-called Romantic Radicals like Byron and Shelley while they were all students at Cambridge. Maybe that's why the fair city of Melbourne insists they have better coffee and way more culture than their brash rivals in New South Wales. But that's another story. So here goes the 3rd part of our series, Canada vs. Australia, where we compare Vancouver with Melbourne, two destinations that a whole lot of folks from around the planet would love to move to, or certainly stay in for a while.
Updated for 2018
Where to, Captain: Melbourne or Vancouver?
Index
Flights and Travel
Melbourne is way down under and Vancouver is way out west, if you're flying from London. We've used the same starting points as in our Adelaide vs. Montreal article. One city each from:
Europe – London,
Asia – Taipei, and
The Americas – Santiago de Chile.
All of these countries have international agreements with Canada on youth mobility, managed by IEC. Australia has reciprocal Working Holiday arrangements in effect with the UK and Taiwan, and citizens of Chile can apply for a work and holiday visa, subclass 462. It also evens out some of the flying time comparisons.
from – to (return)
dates and lengths
source
airline
stops
price
London-Vancouver
November 1, 2018
9 hours, 40 minutes
skyscanner.net
Finnair
0
€615
London-Melbourne
November 1, 2018
22 hours, 10 minutes
skyscanner.net
Royal Brunei
1
€494
Taipei-Vancouver
November 1, 2018
16 hours, 30 minutes
skyscanner.net
Japan Airlines
1
€372
Taipei-Melbourne
November 1, 2018
14 hours, 25 minutes
skyscanner.net
Air Asia
1
€212
Santiago-Vancouver
November 1, 2018
23 hours, 55 minutes
skyscanner.net
Avianca + Air Canada
2
€621
Santiago-Melbourne
November 1, 2018
14 hours, 45 minutes
skyscanner.net
Latam
0
€981
All prices quoted on skyscanner.net on October 1, 2018. Prices subject to change. Please consult with your travel agency. The number of stops are for the outward bound journey.
Rent
Both Vancouver and Melbourne are expensive when it comes to rent, but which city is cheaper depends on what size apartment you need. Surprisingly, Vancouver is a little cheaper for a 1 Bedroom, while Melbourne is a bit less outrageous for a 3 Bedroom. Vancouver cheaper than somewhere else? … Who would have thought.
| Apartment | Melbourne | Vancouver |
| --- | --- | --- |
| 1 Bedroom, city centre | AUD$1,821.51 | CAD$1,916.53 |
| 1 Bedroom, outside city centre | AUD$1,417.50 | CAD$1,457.72 |
| 3 Bedrooms, city centre | AUD$3,408.06 | CAD$3,600.76 |
| 3 Bedrooms, outside city centre | AUD$2,122.57 | CAD$2,605.00 |
Source: numbeo.com, quoted on October 10, 2018.
Jobs and Employment
Canada's unemployment rate rose slightly to 6% in August 2018, while B.C.'s unemployment rate was 5.2% as of June. In Vancouver itself, a major Pacific Rim port, the main areas of the local economy are: trade, film, natural resources – mining and forestry and some energy – technology, and tourism. A random sampling of a popular employment site will give you a wide variety of positions being hired for in services, manufacturing, academics, and tech, but many are mid-level positions and up.
Australia's overall unemployment rate stayted at 5.3% in August, while Melbourne's was 5.7%. Melbourne itself, however, is a booming and diversified economy if you have some work experience in the right areas. Its economy is somewhat similar to Vancouver's with major sectors such as finance, manufacturing, IT, education, logistics and transportation, and tourism. It is Australia's major port – like Vancouver's role as Canada's major port – and trade with Asia is crucial obviously. Due to changes instituted by the Australian government in 2012, you are no longer able to submit an application for a work visa automatically and must, at least in most cases, submit to a review. As well, there now is a quota system in place. Invitations for immigrant visas can be issued by State governments, Victoria in this case. Go here to find out more information on this. Here is a comparison of jobs in the two cities:
| Melbourne, VIC job classifcation | median hourly wage |
| --- | --- |
| Administrative Assistant | AUD$21.91 |
| Sales Associate | AUD$20.55 |
| Medical Receptionist | AUD$22.27 |
| Customer Service Represenative | AUD$21.79 |
| Carpenter | AUD$29.79 |
| Graphic Designer | AUD$24.98 |
| Registered Nurse | AUD$31.81 |
| Bartender | AUD$20.56 |

Source: Payscale.com

| Vancouver, BC job classifcation | median hourly wage |
| --- | --- |
| Administrative Assistant | CAD$16.95 |
| Sales Associate | CAD$11.85 |
| Medical Office Assistant | CAD$16.47 |
| Customer Service Representative | CAD$14.61 |
| Carpenter | CAD$24.52 |
| Graphic Designer | CAD$18.25 |
| Registered Nurse (RN) | CAD$33.13 |
| Bartender | CAD$10.98 (before tips) |

Source: Payscale.com
Taxes
Tax Revenues as a Percentage of GDP [Public Domain]
If you are working in Canada under International Experience Canada (IEC) unless you have lived in Canada for more than 6 months of the taxation year, which in Canada is the same as the calendar year, then you will file as a non-resident. If you have lived more than 6 months of the tax year in Canada then you may qualify to file as a resident. You should call the International Tax Services Office at 1 – 800 – 267 – 5177 from within Canada to see if your home country has a tax treaty with Canada which may affect your status in Canada when you file taxes. Use the link to find out how to call the Office from overseas. The international number to call from abroad is 001 – 613 – 952 – 3741. Go here to see the basic steps to file taxes in Canada, including getting all your T4 forms from any employer you worked for. Remember to include your basic personal amount, a non-refundable tax credit that essentially makes your first CAN$11,000 + income tax-free. You must adjust your basic personal amount by the amount of time you spent working in Canada in any tax year. For example, if you worked in Canada for 6 months of the tax year in question, then you can only claim half of the basic personal amount. Remember, all of this refers to income taxes. In the Provincial section below we also deal with federal and provincial sales taxes. Here's a guide to Canada's basic income tax rates:
Federal Income Taxes
15% on the first $46,605 of taxable income – remember that your first $14,890 is tax-free due to your basic personal amount.
20.5% of taxable income above $46,605 up to $93,208.
26% of taxable income above $93,208 up to $144,489.
29% of taxable income above $144,489 to $205,842
33% of taxable income above $205,842
Source: https://www.cra-arc.gc.ca/tx/ndvdls/fq/txrts-eng.html
BC Income Taxes
First of all, in B.C. they no longer have a combined, or harmonized, sales tax since March 2013. You now have the federal sales tax, or GST, currently at 5%, and the provincial sales tax, or PST, which is currently at 7% on most goods and services with a few exceptions where you pay a higher PST, like liquor with a PST of 10%. That means that you will generally be paying a combined sales tax of 12% in B.C. and sometimes even more, like a combined rate of 15% on liquor. Ouch. And just to round things off, here's your provincial income tax rates:
| taxable income – 2018 brackets | provincial tax rate |
| --- | --- |
| $0 – $39,676 | 5.06% |
| $36,676 to $79,353 | 7.70% |
| $79,353.01 to $91,107 | 10.50% |
| $91,107.01 to $110,630 | 12.29% |
| $110,630.01 to $150,000 | 14.70% |
| Over $150,000 (aww I miss the pennies) | 16.80% |
Source: https://www2.gov.bc.ca/gov/topic.page?id=E90F9F1717DB451BB7E4A6CC0BDC6F9F
While B.C. tax categories might leave you visually challenged after adding up your pennies to see what category you belong in, the provincial rates are in fact significantly lower than those in Quebec, for example. Go here to calculate your income taxes (Immigroup doesn't endorse this site). As an example, on CAD$30,000 your income taxes in B.C. would be CAD$4,028.74 or an average tax rate of 13.43%. Not too shabby, especially by European, or even Australian, standards. Speaking of Australia…
Australian Taxes
Remember to apply for your tax file number (TFN) so you can pay taxes in Australia. The sales tax is 10% and incorporated into the price of most goods and services. As a visitor on a working stay in Australia, your taxes will depend on whether the Australian Tax Office (ATO) classifies you as an Australian resident for tax purposes only or as a foreign resident. Essentially, you have to spend most if not all of the year in Australia and have a continuous work experience in a settled location. They will decide based on your specific situation. The Australian tax year runs from July 1 through June 30.
For the 2017-2018 tax year, the following tax brackets apply:
| taxable income (AUD) | Tax on this income (AUD) |
| --- | --- |
| $0 – $18,200 | Nil |
| $18,201 – $37,000 | 19c for each $1 over $18,200 |
| $37,001 – $90,000 | $3,752 + 3.25c for each $1 over $37,000 |
| $90,001 – $180,000 | $20,797 + 37c for each $1 over $90,000 |
| $180,001 and over | $54,097 + 45c for each $1 over $180,000 |
Transportation
We would love to put up a simple table of fares for Melbourne's public transport system, called in fact Public Transit Victoria, or PTV, or actually PT> with the > a little higher so you finally realize it's a V sideways. This should be a clue that to find a fare for a bus, train, or tram in Melbourne you get to go exploring like in Dungeons and Dragons. In fact, you get to go to a page in the PTV site and play with drop-down menus. It would appear that public bureaucrats in Oz, especially those dealing with public transportation, have policy-wonked their way into another dimension. To give you a taste go here, and decide:
What kind of fare you would like: Full, Concession, or Seniors
What day you would like: Weekday, Weekend-Sat, Weekend-Sun, or Public Holiday
What kind of product you would like: a 2 Hour Fare, or a Daily Fare
What kind of zone you would like: Zone 1, Zone 2, or Zone 1&2
For example, a Full-fare-Weekday-2-Hour-Fare-for-Zone-1 comes to AUD$ 3.58. A breeze huh? Or a Concession-fare-Weekend-Sat-Daily-Fare-for-Zones-1-&-2 is a steep AUD$ 6.00. And don't forget that a Weekend Daily cap applies, so be sure to get up early before they run out. Lots of fun.
Translink is Metro Vancouver's public transit system. It includes Skytrain – an urban rapid transit rail system on mostly elevated tracks with fully automated trains, a Bus system, Seabus – a passenger ferry system that links Vancouver with North Vancouver across the Burrard inlet – and West Coast Express – an interregional railway that links to Skytrain and Seabus at the Waterfront station in downtown Vancouver. The fare system, unfortunately, seems to compete with Melbourne in its ambition to be complex. You have 3 travel zones to contend with when figuring out the price of a ticket and Concession fares are on the menu as well. For example: A Weekday-Until-6:30PM-Adult-Single-Ticket-for-2-Zones comes to CAN$ 4.00. Or a 3-Zone-Concession-fare-Single-Ticket-Weekday-Until-6.30PM comes to CAN$ 3.75. You can find information on day-passes, monthly passes, and student passes as well. And please, have exact change when paying for bus-fare. Because we love tables, here's a basic comparison of fares between the two systems.
| translink, vancouver | ptv, melbourne |
| --- | --- |
| AdultPriceAllZone Day Pass CAD$10.25 | FullFareDailyRateZones1&2 Pass AUD$5.18 |
| MonthlyAdultPrice3Zone Pass CAD$174.00 | 31DayFullFareZones1&2 Pass AUD$145.04 |
Public Transit Victoria's fare structure is extremely complicated. This is just a brief summary.
Taxis and Cars
| taxi fares and car costs | Melbourne | vancouver |
| --- | --- | --- |
| Default price | AUD$4.90 | CAD$3.50 |
| Per km | AUD$1.63 | CAD$1.89 |
| Gas per litre | AUD$1.45 | CAD$1.51 |
| Volkswagen Golf 1.4 Trendline or equivalent | AUD$23,365 | CAD$26,438.00 |
Source: www.numbeo.com
Climate
Both Vancouver and Melbourne have moderate Oceanic climates (or Cfb under the Köppen classification system) with a huge landmass behind them occasionally affecting the climate. In Vancouver's case, it's a cold continental climate at their backs but Vancouver has snow less than 2 weeks per year on average and has the warmest winters in Canada, if you exclude Vancouver Island cities like Victoria and Nanaimo. It also has some of the coolest summers in Canada due to the Pacific Ocean. Summers are dry but the rest of the year is wet, as in really wet, as in lots of rain.
A problem Melbourne would like to have one suspects seeing drought is a problem in Oz. Melbourne's winters are similar to Vancouver's, if a little milder, but in summer Melbourne can get a lot hotter. Extreme heat waves sliding down from Central Australia have increased in frequency over the last few decades, with temperatures reaching the mid-40s on occasion. However, because the city is on the boundary between a cool southern oceanic climate and extremely hot inland areas, the weather is volatile. Cold fronts can push up from the south causing extreme weather in spring and summer like gales, heavy thunderstorms, hail and large temperature drops in a brief period of time. Winters in Melbourne are colder than in other major Australian cities but snowfall is very rare, and normally a Melbourne winter involves frosts and fog. Both cities have ocean beaches at a reasonable distance for those hot summer days. Overall, both cities have enviable climates if you can take the heat waves in a Melbourne summer, and the rain in a Vancouver winter.
Month
Jan
feb
mar
apr
may
jun
jul
aug
sep
oct
nov
dec
Melbourne
(Avg Max/Min in C)
26/14
26/15
24/13
20/11
17/9
14/7
14/6
15/7
17/8
20/10
22/11
24/13
Vancouver
(Avg Max/Min in C)
7/1
8/2
10/3
13/6
17/9
20/11
22/14
22/14
19/11
14/7
9/4
6/1
Source: Environment Canada & Bureau of Meteorology
Alcohol
Did you know that in the 50s and 60s restaurants in Melbourne posted lookouts to spot approaching inspectors and provided large vases on the tables so their customers could pour out their wine glasses into them. This was in case of an inspector caught them engaged in the illegal activity of drinking after 8 PM. Needless to say, Victoria was the historical seat of the temperance movement in Australia, which co-existed with a bureaucratic-induced binge-drinking phenomenon known as "the swill." Wartime – as in WW I – restrictions on closing hours, meant to repair the morals and morale of their young men off to fight the Germans and their allies, were made permanent after the First World War ended. They were later tightened to the point where hotel bars – basically the only drinking establishments left standing – had to close up by 6 PM. That meant a frantic rush by Melbourne males after work to down as much beer as they could before the taps were literally turned off. And in fact, the bars had hoses to enable the bartenders to fill as many mugs as humanly possible during the 6 O'clock swill. Fortunately, a changing demographic with more immigrants from Southern and Eastern Europe gradually transformed the rather puritan culture with several key reforms of Victoria's liquor laws. Happily, nowadays Melbourne is a far different city and has been for several decades with lots of small bars, rooftop cafes, restaurants and other locations where you can enjoy a drink with or without a meal. And closing time is much, much later than in the 60s.
If you want to enjoy a latte outdoors on a sunny patio in late March, Vancouver rocks, even if you have to wear a sweater. If you want to enjoy a few beers and check out live music, Vancouver doesn't rock quite as much as you'd expect from such a culturally diverse city in such a spectacular location. In fact, No-Fun city is a term applied to Vancouver for over a decade now by those who enjoy heading out to see live music. Why the term? Expensive real estate that has developers demolishing iconic clubs like Richard's on Richards to put up a condominium tower, for example. Then there's a whole lot of bureaucratic red tape that anyone wanting to start a bar or club has to wade through. And finally, late-night bylaws in Vancouver are more restrictive than places like Toronto or Montreal. Patios shut down at 11 PM, restaurants at midnight, and performing live music involves numerous restrictions. Bars stay open until 3 AM fortunately, but are clustered downtown around Granville St., and cater to younger crowds. But fear not, in such diverse, cultured and energetic cities, there are top rate establishments you can discover. For comparison's sake, we selected 2 of the top cocktail bars, one in each city: Vancouver's The Diamond in a converted brothel, and Melbourne's 1806, in a converted theatre.
| 1806, Melbourne | The Diamond, Vancouver |
| --- | --- |
| Whisky Toddy: Monkey Shoulder, Winter Spice Elixir, Lemon, Gomme, Water – AUD$17.00 | Gastown Phase: Local gin, Strega, Bianco vermouth, grapefruit bitters – CAD$14.00 |
| Hawker's Pilsner – AUD$10.00 | Parkside Pilsner – CAD$7.00 |
| Mornington IPA – AUD$12.00 | Strange Fellows Talisman – CAD$8.50 |
| Algonquin: Rye, Dry Vermouth, Pineapple, Gomme – AUD$19.00 | Kyoto Protocol: Sake, Bianco vermouth, lime, strawberry, bell pepper, hellfire, soda – CAD$12.00 |
The Diamond is located at 6 Powell St, Vancouver B.C.
604 – 568 – 8272
MON: Closed / TUE – THUR: 5.30 – 1 AM / FRI – SAT: 5:30 – 2 AM / SUN: 5:30 – 12 AM
Thanks to Alexandra for the photo.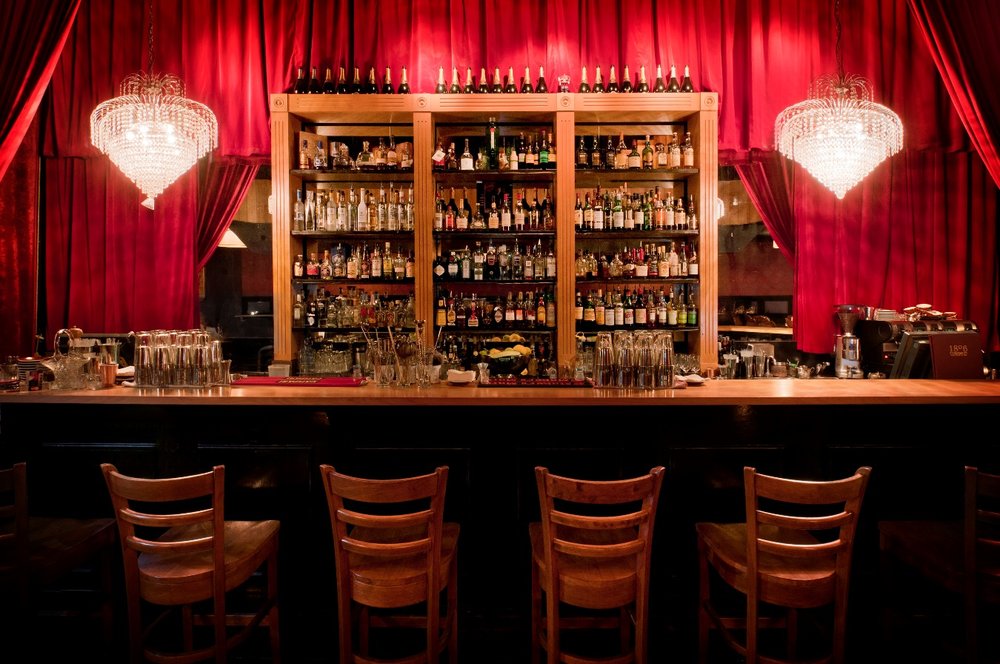 1806 is located at 169 Exhibition St. 3000, Melbourne Victoria.
03 – 96637722
SUN – THUR: 5 – 1 AM / FRI – SAT: 5 – 3 AM
We very much appreciate 1806's Colleen Stevens help with the menu and a wonderful photograph of the establishment.
Groceries
If you can't buy all your fav brands "from glorious home country", you can always buy cheap and in bulk. Here's a list of your basic needs when shopping. Nostalgia not included. Prices may change and were quoted October 10, 2018.
| Product (Size) | adelaide | montreal |
| --- | --- | --- |
| Milk (1 litre) | AUD$1.31 | CAD$2.32 |
| White Bread (500g) | AUD$2.63 | CAD$3.17 |
| Local Cheese (1kg) | AUD$9.76 | CAD$14.76 |
| Eggs (12) | AUD$3.94 | CAD$4.00 |
| Chicken Breasts, boneless (1kg) | AUD$9.95 | CAD$15.66 |
| Potatoes (1kg) | AUD$2.87 | CAD$2.53 |
| Apples (1kg) | AUD$3.77 | CAD$3.75 |
| Tomatoes (1kg) | AUD$4.54 | CAD$4.35 |
| Pack of Cigarettes | AUD$30.00 | CAD$14.00 |
Source: www.numbeo.com October 10, 2018
Phones
iPhone 5S by Kelvinsong / Wikimedia Commons / CC BY 3.0
Your most important accessory and multimedia, international, jet-setting communications tool is vibrating in your pocket. Did we mention it might be your digital wallet as well? Choosing a mobile provider and plan can be a little complex, especially seeing there is a nice variety of competing choices in both cities. So we hunkered down and simplified it for you, using a very up-to-date, early-adopter screening process to bring everything into high resolution focus: both companies start with the letter V. The feisty Videotron in Quebec. The feisty Virgin Mobile in Adelaide. Plus the plans we chose were on the cheaper side, just in case that carpenter's/bartender's/customer service job takes a while to go full time for you.
| city | company | model | data | UpFront Cost | monthly minutes | sms | contract length | monthly bill |
| --- | --- | --- | --- | --- | --- | --- | --- | --- |
| adelaide | Optus | iPhone X 64GB | 4GB within Oz | $0 | Unlimited within Oz | Unlimited within Oz | 24 months | AUD$80 |
| montreal | Videotron | iPhone X 64GB | 3GB | $429.99 | Unlimited within Canada | Unlimited within Canada | 24 months | CAD$105 |
Time Zones are Different
Time Zone Map of the World [Public Domain]
If you've been following our series you know that Toronto was 5 hours behind London. Know that Montreal is also EST and 5 hours behind. You also know that Sydney is 9 hours ahead of London and in this case, Adelaide is 8 ½ ahead of London. In spring and fall, however, daylight savings changes can make comparisons a little tricky for a week or two. So let's put up that Footy-watching chart again so you can compare what it's like watching your favourite team in each city with a coffee or a brew in hand, or both, depending on the local time.
| Event | adelaide | montreal |
| --- | --- | --- |
| Premier League (early start) | 8:30 PM You can still have a beer. Or two. Or more. | 7 AM Coffee and Croissant |
| Premier League (3PM start) | 11:30 PM 30 minutes to closing time. Drink up. | 10 AM Still Coffee, Pubs not open yet |
| Champions League | 4:15 AM Save a brew in the fridge for the start of the match, then switch to coffee for the closing minutes. | 2:45 PM Depending on how late you stayed up, coffee and then beer, or straight to a beer. |
| Six Nations (2 PM local start) | 10:30 PM You have 90 minutes to closing. Drink up. | 9 AM Even if it is rugby, best to go with a coffee, then switch to beer as 11 AM approaches. |
| Heineken Cup (2PM local start) | 10:30 PM You have 90 minutes to closing, and the words 'Heineken Cup' keep flashing on the screen. Drink up. | 9 AM Even if the tourney is sponsored by Heineken, you might start with a coffee and switch to beer in the 2nd half. |
| X-files reruns | Channel Ten started running them in 2008. If no longer on 10 HD, then stream on Netflix. Go straight to the brew, turn down the lights, and ogle Scully, or Fox. Or both. | Stream them on Netflix and start with coffee and then switch to beer. Turn down the lights and groove to the theme song if you're alone. Which you probably are. |
Immigration
Immigration Stamp [Public Domain]
Both Australia and Canada have programs for young people, usually between the ages of 18 and 35 (although this can vary a little in some cases) from countries around the world for which they have signed agreements with. In Australia you apply for a Working Holiday visa, (subclass 417). In Canada, the International Experience Canada is a similar program and available to young people from a variety of countries.
In Australia, the following countries are eligible for their working holiday visa:
| | | | |
| --- | --- | --- | --- |
| Belgium | Finland | Italy | Norway |
| Canada | France | Japan | Sweden |
| Cyprus | Germany | South Korea | Taiwan |
| Denmark | Hong Kong | Malta | United Kingdom |
| Estonia | Ireland | Netherlands | |
The visa, if applied for online, will cost you A$420 and is valid for 1 year. You will also need A$5,000 in personal funds and have health insurance and submit a clean police record.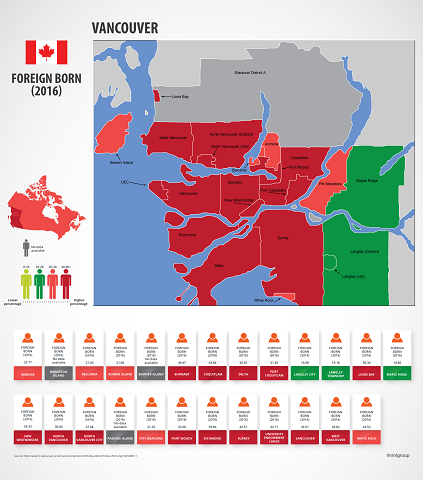 In Canada the IEC working holiday program is valid for 24 months and costs C$150. You will need C$2,500 in personal funds, as well as health insurance, and submit to a police check. Here is a list of the countries with Canada has signed agreements with.
| Country | Age | Country | Age | Country | Age | Country | Age |
| --- | --- | --- | --- | --- | --- | --- | --- |
| Australlia | 18-30 | Estonia | 18-35 | South Korea | 18-30 | Slovakia | 18-35 |
| Austria | 18-30 | France | 18-35 | Latvia | 18-35 | Spain | 18-35 |
| Belgium | 18-30 | Germany | 18-35 | Lithuania | 18-35 | Sweden | 18-30 |
| Chile | 18-35 | Greece | 18-35 | Mexico | 18-29 | Switzerland | 18-35 |
| Costa Rica | 18-13 | Hong Kong | 18-30 | Netherlands | 18-30 | Taiwan | 18-35 |
| Croatia | 18-35 | Ireland | 18-35 | New Zealand | 18-35 | Ukraine | 18-35 |
| Czech Republic | 18-35 | Italy | 18-35 | Norway | 18-35 | United Kingdom | 18-30 |
| Denmark | 18-35 | Japan | 18-30 | Poland | 18-35 | | |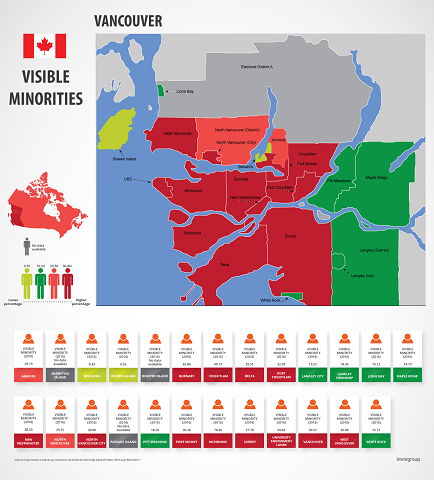 Note that each country has a particular quota of spaces available in any given year and you should check on your country's quota to see whether any spaces are left. Always apply as soon as possible to ensure you have a place. You may be able to apply later for Permanent Residence depending on factors like work experience and education, primarily, although others, like family ties, may be taken into consideration. Another route is to find a job offer with a potential long-term employer in Canada. Your employer first must apply for a Labour Market Impact Assessment (LMIA), and if your employer receives a positive LMIA, then you can apply for a work permit for up to 4 years (after your 24 month working holiday).
In Australia the best route is through employer sponsorship by means of a sponsor visa (457) which covers up to 2 years and leaves you in fairly good shape to apply for permanent residence. For more information, consult the official government websites in both countries:
If you guess wrong which site is for which country, you may be off to a rough start. But good luck! And we hope this article was useful, entertaining, and only slightly silly. And please, vote! Just a click, that's all it takes.