Canada vs New Zealand – Where should I Go: Halifax or Wellington?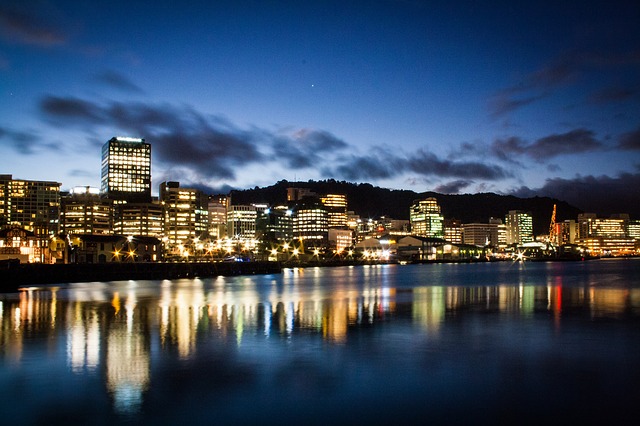 New Zealand compared to Canada, Wellington compared to Halifax
Now that we've tackled the big cities, what about some smaller cities, a little off the beaten path? Canada's port city versus the capital city of New Zealand.

Wellington was a second thought, a new location for New Zealand's capital city which had previously been Auckland, one that was strategically located in the middle of the island nation at the southern tip of the north island, where the bulk of the population was. Halifax was an 18th century outpost besieged by French, Mi'kmaq and Acadians, angry at the new English colonial intrusion into what they felt was their territory. The first session of parliament in Wellington was in July of 1865. When Canada's new parliament opened on July 1, 1867, Halifax had already served as the Royal Navy's North American Headquarters for 60 years – 1758 to 1818 – and was the capital of Nova Scotia. In other words, both cities are very much government towns with public sector jobs propelling a large part of their stable and prosperous economies. And both cities will go out of their way to guarantee you that they are definitely not boring. So what will it be, sea kayaking in Wellington's beautiful harbour in the cool waters of the (really) South Pacific? Or sea kayaking the (sometimes) foggy and very cool waters of the North Atlantic in beautiful Nova Scotia? In the latest article in our Canada vs. series we switch from Australia to New Zealand and compare cities from each country. They also say the waters around Wellington get a little choppy when the winds blow, which is just about always.
Sailboats, Sea Kayaks or Canoes? Wellington vs. Halifax
Index
Flights and Travel
We've kept our starting points of London, Hong Kong, and Mumbai to reflect the NRI community and the East Asian community and their vital importance to immigration around the world. Both being capital cities, Wellington and Ottawa's airports receive flights from a number of destinations. That said, they are not major international hubs so you may have to make connections to reach either city.
from – to (return)
dates and lengths
source
airline
stops
price
London-Halifax
January 5, 2015
21 hours, 55 minutes
expedia.com
United
1
$952
London-Wellington
January 5, 2015
38 hours, 55 minutes
travelocity.com
Etihad
3
$2,226
Hong Kong-Halifax
January 5, 2015
19 hours, 47 minutes
expedia.com
Air Canda
1
$2,572
Hong Kong-Wellington
January 5, 2015
19 hours, 15 minutes
expedia.com
Air New Zealand
1
$1,508
Mumbai-Halifax
January 5, 2015
27 hours, 52 minutes
expedia.com
Lufthansa
2
$1,995
Mumbai-Wellington
January 5, 2015
21 hours, 25 minutes
expedia.com
Quantas
2
$1,450
Source: skyscanner.net delivered outrageous prices on its searches so we switched sites and used Travelocity and Expedia. All prices quoted on November 4, 2014. We deliberately used January as a start date to avoid holiday prices. Prices are for information purposes only and may change. Consult your travel agent.
Rent
Rents in either city are not nearly as cheap as Montreal, but Halifax's rents are just a touch cheaper when it comes to 3-bedroom apartments. It may be because they are not hemmed in by hills and sea the way Wellington is. Still rents in Wellington are more than reasonable for such a highly ranked city, but a noticeable difference appears for larger apartments.
| Apartment | Halifax | Wellington |
| --- | --- | --- |
| 1 Bedroom, city centre | CAD$1,064 | CAD$1,185 |
| 1 Bedroom, outside city centre | CAD$819 | CAD$979 |
| 3 Bedrooms, city centre | CAD$1,800 | CAD$2,395 |
| 3 Bedrooms, outside city centre | CAD$1,233 | CAD$1,647 |
Source: www.numbeo.com NZ dollars were converted to Canadian dollars at the rate of 0.88, quoted on November 3, 2014.
Jobs and Employment
While unemployment in Canada in September 2014, dropped to 6.8%, Atlantic Canada has traditionally been a higher unemployment region and Nova Scotia's unemployment rate for the same period came in at 8.6%. Halifax's unemployment rate came it at a much better 6.0%, however. Aside from government jobs, Halifax is a regional finance and media centre and has positioned itself as a regional film and television production centre within Canada's booming film industry. The economy also includes agriculture, fishing, mining, forestry and natural gas production. In the alpha world city rankings Halifax comes in the modest Sufficiency rankings meaning it has a sufficient degree of services to not be dependent on world cities. Based on job postings, an informal survey of Halifax showed professional services taking up 31% of all postings while financial services took 16% of all postings. Next came telecommunications, media & technology at 11% and government at 10%. Health care, agriculture, manufacturing and insurance follow closely. It is not a booming construction centre like Calgary, Vancouver, or Toronto so you're more likely to get work if you have expertise in media or tech.
Wellington fares a little better on the alpha world city rankings coming in at High Sufficiency which means it is slightly more independent of world cities than Halifax. New Zealand's unemployment rate fell to 5.6% in July, 2014 and while unemployment in Wellington trended a little higher than the national average in 2013, the latest results are good news for all, including Wellington. While government jobs are key, corporate headquarters in finance, tech, and heavy industry account for a good portion of the local economy. As in the case of Halifax, Wellington is also home to a fairly recent film industry production centre. And of course, tourism and conferences are an important part of the city's work structure. A government website very helpfully lists in demand jobs in New Zealand and they include:
Construction and the Trades
Education
Engineering
Health & Social Services
Recreation, Hospitality & Tourism
Transport
Agriculture & Forestry
ITC (long term shortages only)
All these areas are experiencing immediate and long-term shortages so if you can swing a hammer or fix a circuit or do brainier stuff like Engineering, Wellington just may have a job for you. So, with all this in mind, here's a comparison of wage rates across a collection of jobs in both cities:
| Halifax, NS job classifcation | median hourly wage |
| --- | --- |
| Registered Nurse (RN) | CAD$30.84 |
| Continuing Care Assistant | CAD$16.43 |
| Administrative Assistant | CAD$15.34 |
| Office Manager | CAD$18.57 |
| Customer Service Representative (CSR) | CAD$14.33 |
| Licensed Practical Nurse (LPN) | CAD$23.13 |
| Carpenter | CAD$20.00 |
| Bartender | CAD$12.50 |

Source: www.livingin-canada.com   & payscale.com

| Wellington, NZ job classifcation | median hourly wage |
| --- | --- |
| Office Administrator | CAD$17.36 |
| Office Manager | CAD$18.69 |
| Builder | CAD$20.92 |
| Electrician | CAD$23.68 |
| Registered Nurse (RN) | CAD$20.86 |
| Barista | CAD$13.90 |
| Early Childhood Educator (ECE) | CAD$19.80 |
| Waiter/Waitress | CAD$13.35 |

Source: www.careers.govt.nz & payscale.com
Taxes
Tax Revenues as %age of GDP [Public Domain]
If you are working in Canada under International Experience Canada (IEC) unless you have lived in Canada for more than 6 months of the taxation year, which in Canada is the same as the calendar year, then you will file as a non-resident. If you have lived more than 6 months of the tax year in Canada then you may qualify to file as a resident. You should call the International Tax Services Office at 1 – 800 – 267 – 5177 from within Canada to see if your home country has a tax treaty with Canada which may affect your status in Canada when you file taxes. Use the link to find out how to call the Office from overseas. The international number to call from abroad is 001 – 613 – 952 – 3741. To see the basic steps to file taxes in Canada, including getting all your T4 forms from any employer you worked for. Remember to include your basic personal amount, a non-refundable tax credit that essentially makes for first CAD$11,000 + income tax-free. You must adjust your basic personal amount by the amount of time you spent working in Canada in any tax year. For example, if you worked in Canada for 6 months of the tax year in question, then you can only claim half of the basic personal amount. Remember, all of this refers to income taxes. In the Provincial section below we also deal with federal and provincial sales taxes. Here's a guide to Canada's basic income tax rates:
Federal Income Taxes
15% on the first $43,953 of taxable income – remember that your first $11,195 is tax-free due to your basic personal amount.
22% of taxable income above $43,953 up to $87,907.
26% of taxable income above 87,907 up to 136,270.
29% of taxable income above 136,270.
Source: https://www.cra-arc.gc.ca/tx/ndvdls/fq/txrts-eng.html
Nova Scotia Taxes
You pay a Harmonized Sales Tax or HST in Nova Scotia of 15%, of which 10% is provincial sales tax. Rather steep as far as sales taxes go.
8.79% on the first $29,590 of income
14.95% for incomes from $29,590 – $59,180
16.67% for incomes from $59,180 – $93,000
17.50% for incomes from $93,000 – $150,000
21% for incomes $150,000 and above
Source: https://www.novascotia.ca/finance/en/home/taxation/tax101/personalincometax/default.aspx
New Zealand Taxes
In New Zealand you pay income taxes and you pay an ACC (Accident Compensation Corporation) levy. The Inland Revenue Department, or IRD, collects taxes and New Zealand has tax treaties with a number of countries to ensure you do not suffer double taxation. You must pay tax if you plan to stay for more than 183 days in any 12 month period. That makes you a tax resident.  If you are a recent immigrant, you may be temporarily exempt from taxes on certain types of foreign income you earn. Go here for more details. The income tax rates are:
10.5% on taxable income from 0 – $14,000
17.5% on taxable income from $14,001 – $48,000
30% on taxable income from $48.001 – $70,000
33% on taxable income from $70,001 and up
45% on any taxable income when the employee does not fully fill out their Tax code declaration (form IR330). Ouch!
You also pay a levy of $1.45 per $100.00 for the 2014-15 tax year.
While their federal tax rates are high, and the GST – or sales tax – in New Zealand is at 15% just like in Nova Scotia, there are NO provincial or regional taxes. And that is pretty cool.
Source: https://www.ird.govt.nz/how-to/taxrates-codes/
Transportation
Halifax Transit provides bus services to the greater Halifax area and also has a ferry service from downtown Halifax to Dartmouth and Woodside. MetroLink is Halifax Transit's Bus Rapid Transit, or BRT, service that provides express bus connections Monday to Friday between Scotia Square downtown, and Dartmouth and Lower Sackville. MetroX or MetroExpress is Halifax Transit's rural bus express service. They run from Scotia Square to Tantallon, the airport, and Porter's Lake. Access-A-Bus provides bus service for the elderly and handicapped. The fare structure is fairly straightforward:
Conventional, Ferry, and Access-A-Bus:
| Fare Category | Cash Fare | 10 Tickets | MetroPass | Transfer |
| --- | --- | --- | --- | --- |
| Adult | CAD$2.50 | CAD$20 | CAD$78 | Free |
| Senior / Child | CAD$1.75 | CAD$14.50 | CAD$58 | Free |
| Student | CAD$2.50 | CAD$20 | CAD$70 | Free |
MetroLink Fares:
| Fare Category | Cash Fare | MetroLink Pass | with Ticket, MetroPass, UPass or Transfer |
| --- | --- | --- | --- |
| Adult | CAD$3.00 | CAD$94.50 | + CAD$0.50 |
| Senior / Child | CAD$2.25 | N/A | + CAD$0.50 |
| Student | CAD$3.00 | N/A | + CAD$0.50 |
MetroX Fares:
| Fare Category | Cash Fare | MetroX Pass | with Ticket, MetroPass, UPass or Transfer | With MetroLink Pass or Transfer |
| --- | --- | --- | --- | --- |
| Adult | CAD$3.50 | CAD$111 | + CAD$1.00 | + CAD$0.50 |
| Senior / Child | CAD$2.75 | N/A | + CAD$1.00 | + CAD$0.50 |
| Student | CAD$3.50 | N/A | + CAD$1.00 | + CAD$0.50 |
Metlink services the greater Wellington area and provides bus services, trolleybus services, train services, ferry services, and cable car, or funicular, services. Apparently, 77% of the region's population live within 800 metres of a public transport stop with a 30 minute ride frequency. With such an extensive and varied public transport network, the fare structure depends on how many zones you ride through – the more zones the more you pay. We give you here a sample of some of the fares using a binary approach, sort of. We give you fares for travel through 2² zones, 2³ zones, and 2⁴ – 2 zones. (It only goes to 14 zones which is 16 – 2. Get it?)
Adult
| Number of Zones | Cash | Bus snapper/SmartCard | Train Off-Peak | Train 10-Trip |
| --- | --- | --- | --- | --- |
| 22 | CAD$4.84 | CAD$3.59 | CAD$3.96 | CAD$35.90 |
| 23 | CAD$9.24 | CAD$7.07 | CAD$7.48 | CAD$70.66 |
| 24-2 | CAD$15.84 | CAD$12.67 | – | CAD$126.72 |
Child
| Number of Zones | Cash | Bus snapper/SmartCard | Train 10-Trip |
| --- | --- | --- | --- |
| 22 | CAD$2.64 | CAD$2.05 | CAD$20.50 |
| 23 | CAD$4.84 | CAD$3.59 | CAD$35.90 |
| 24-2 | CAD$8.36 | CAD$6.34 | CAD$63.36 |
The New Zealand dollar was converted to Canadian dollars at the rate of 0.88 quoted on Nov. 5, 2014. Source: Metlink
Taxis and Cars
| taxi fares and car costs | Halifax | Wellington |
| --- | --- | --- |
| Default price | CAD$3.20 | CAD$3.08 |
| Per km | CAD$1.79 | CAD$2.38 |
| Gas per litre | CAD$1.36 | CAD$1.94 |
| Volkswagen Golf 1.4 Trendline or equivalent | CAD$22,868 | CAD$25,080 |
Source: www.numbeo.com  The New Zealand dollar was converted into Canadian dollars at a rate of 0.88 quoted on Nov. 5, 2014
Climate
Halifax, surprisingly does not have a maritime climate, due to westerly winds blowing across the North American continent. It has, in fact, a humid continental climate under the Köppen climate scale. That means milder winters and cooler summers, and lots of precipitation all year long. Because of the maritime influence, winters are often rainy, but snow, ice and rain mix together, and every now and then Halifax enjoys large wet snowfalls. Summers are milder than in places like Toronto or Ottawa, but warmer Atlantic waters can mean that the city occasionally receives the tail end of tropical storms from August to October.
Wellington has a temperate maritime or marine climate under the Köppen scale, with cool summers and relatively mild winters, although strong southern winds can lower the temperature in a hurry during winter, given the wind-chill factor. Inland in the suburbs, and especially the surrounding hills, frosts occur during winter, and snow very occasionally can fall.
Month
Jan
feb
mar
apr
may
jun
jul
aug
sep
oct
nov
dec
Halifax
(Avg Max/Min in C)
0/-8
0/-8
4/-4
9/1
14/6
20/11
23/14
23/15
19/12
13/6
8/2
3/-4
Wellington
(Avg Max/Min in C)
20/14
21/1

4

19/13
17/11
14/9
12/7
11/6
12/7
14/8
15/9
17/10
19/12
Source: Environment Canada & MetService
Alcohol
As in Australia the 6 o'clock swill, brought in during WW I to boost morale amongst conscription age men likely off to fight in Europe, finally ended in New Zealand after a referendum in 1967. New Zealand had been a year ahead of Australia in making the 6 o'clock closing times permanent in 1918, so it was almost half a century of enforced late afternoon guzzling before the closing time was pushed all the way back to 10 PM. That would have been just after San Francisco celebrated its summer of love. In 1949, pub owners had apparently supported continuing the 6 o'clock closing times, worried about overtime costs if hours were extended. It was the restaurant industry that began to agitate for change a decade or so later and so on October 9, 1967, after a referendum the month before, the hours were extended. In late 2013, regulations were changed to cut back closing times once again: from 5 and 6 AM to a default closing time of 4 AM. Hardly puritan but bar owners are lobbying for staggered closing times. They would wouldn't they?
Closing hours are indeed staggered in Nova Scotia and Halifax, depending on what type of establishment is involved. Some close at 1 AM, some at 2 AM, and cabarets close at 3:30 AM. Unifying closing hours around, say, 2 AM, as the Chief of Police in Halifax has suggested, would cause chaos according to bar owners. As in Sydney, bar brawls along Argyle Street have caused concerns. But in a CBC viewers' poll about 33% want earlier closing times, about 19% are opposed and about 42% think things are fine as they are.
In Halifax, one of the places to check out is Durty Nelly's, an authentic Irish pub where you can also sample lobster. Their extensive drinks menu features beer cocktails which we gladly lay out for you on our table below: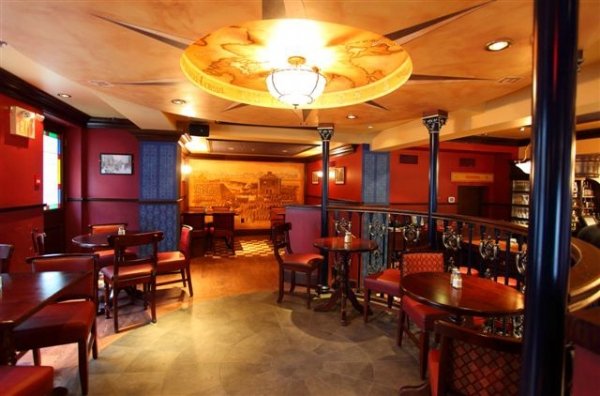 | Beer Cocktails | You're Kidding! / Tastes Great! | Price |
| --- | --- | --- |
| Black & Tan | Murphy's Stout layered on top of Smithwicks's Irish Red | CAD$6.95 |
| Crown Float | Murphy's Stout atop Strongbow Cider | CAD$6.95 |
| Guinness & Black | A pint of Guinness with a shot of Blackcurrent | CAD$6.95 |
| Snakebite | Cider, Lager, & Blackcurrant Is it really banned in the UK? | CAD$7.17 |
| Half & Half | Guinness Stout carefully poured over Harp Irish Lager | CAD$6.95 |
| Black & White | Murphy's Stout floating over Rickard's White | CAD$6.95 |
Durty Nelly's can be found at the corner of Argyle & Sackville, Halifax, Nova Scotia, Canada.
In Wellington, JJ Murphy & Co. sports a woody, classic look with just enough of a cozy touch and a great menu to sample from. While they may not feature beer cocktails, they have very nice selection on tap which we spread out on our table for you:
| Brand | large Pint | Small Pint |
| --- | --- | --- |
| Murphy's Stout | CAD$9.24 | |
| Murphy's Red | CAD$9.24 | |
| Black Dog Chomp | | CAD$8.36 |
| Heineken | | CAD$8.36 |
| Tiger | | CAD$8.36 |
| Erdinger | | CAD$7.92 |
JJ Murphy & Co. can be found at 119 Cuba Street, Wellington, New Zealand.
Groceries
In Halifax, the following site helpfully lists 23 ways to save on groceries. Following our use of exponents in our transportation section, we've decided to sample a few ideas from the list of 23, using base 3:
Idea 3¹: Do not shop when hungry.
Idea 3²: Cut back on meat.
Idea 3³ – 4: Drink water.
Or you can go shopping at Sobeys.
In Wellington, take your car or a taxi to Pak'n Save, which recently won New Zealand's supermarket wars by offering the cheapest prices. Apparently, there is a lack of competition among supermarket chains in the country, meaning food prices are not cheap, so they say. But, in fact, aside from cigarettes, food is a little bit cheaper in Wellington. Let's check out a comparison between basic groceries in the 2 cities, both being priced in Canadian dollars due to the fairly large difference between the currencies, unlike between Canada's and Australia's currencies.
| Product (Size) | Halifax | wellington |
| --- | --- | --- |
| Milk (1 litre) | CAD$2.93 | CAD$2.45 |
| White Bread (500g) | CAD$3.00 | CAD$2.61 |
| Local Cheese (1kg) | CAD$9.88 | CAD$9.38 |
| Eggs (12) | CAD$3.52 | CAD$4.47 |
| Chicken Breasts, boneless (1kg) | CAD$18.40 | CAD$14.51 |
| Potatoes (1kg) | CAD$2.12 | CAD$2.37 |
| Apples (1kg) | CAD$4.40 | CAD$3.61 |
| Tomatoes (1kg) | CAD$4.75 | CAD$5.55 |
| Pack of Cigarettes | CAD$12.00 | CAD$16.06 |
Source. www.numbeo.com & New Zealand dollars converted to Canadian dollars at a rate of 0.88 quoted on Nov. 6, 2014.
Phones
iPhone 5S by Kelvinsong / Wikimedia Commons / CC BY 3.0
You know what kind of phone you need to stay in touch, and an iPhone 5c is good enough for most of us. We left the international calling rates out this time, seeing most of you will choose an international calling card instead. Clearly in a nation about the size of New Zealand, mobile plans are cheaper than a country the size of Canada. We tried comparing similarly priced plans, and the features of the 2 plans are fairly similar.
city
company
model
data
monthly minutes / SMS
contract length
monthly bill
Halifax
Fido Smart $65 Plan
iPhone 5s 16GB
1GB
Unlimited Canada wide
24 months
CAD$65
Wellington
Spark (former Telecom) / 

Ultra Mobile

iPhone 5s 16GB
1.5GB
600 min. 

Unlimited SMS

24 months
NZ$69
Source:  comparecellular.com  & spark.co.nz
The exchange rates against the Euro for the Canadian and New Zealand dollar on Nov 6, 2014 were: 0.70 and 0.622
Time Zones
Time Zone Map [Public Domain]
For all those who flew from Auckland to Hawaii on Dec 31, 1999 to celebrate the new century twice, you will know that New Zealand is where the sun rises each day, as far as the International Date Line is concerned. You can't get any further from either Europe or North America, although Asia is only slightly farther away than from Australia. That means that while Halifax is just 4 hours behind London during winter at least, Wellington is 13 hours ahead of GMT. That makes catching your favorite European sports events interesting to say the least.
| Event | Halifax | Wellington |
| --- | --- | --- |
| Premier League (early start) | 8AM No worries. Coffee and a spot on the couch. | 1AM If you're in a late night bar you have till 4 AM. No worries. Drink up. |
| Premier League (3PM start) | 11AM No worries. Wake up if you fell asleep on the couch. Get more coffee. | 4AM Leave in a cab before closing. Turn on TV and fall asleep on the couch. |
| Champions League | 2:45PM No worries. Wake up if you took another nap. Get more coffee. | 745AM It's a weekday so call in sick and make coffee. Go to couch. |
| Six Nations (2 PM local start) | 10AM No worries. If it's Sunday curl up on couch and go back to sleep. | 3AM Watch first half at bar, then take cab home and fall asleep on couch with TV on. |
| Heineken Cup (2PM local start) | 10AM No worries. If at work, keep sound down on laptop. | 3AM If weekday sleep on couch rather than bed. Pretend you will wake up in time to see match. |
| Dawson's Creek reruns | Watch Desperate Housewives on Netflix because you're a real fan and you know what shows you want to see, over and over again. Make a comfy spot for yourself on the couch. No worries. | Did you know that Sky in NZ paid some of the world's highest prices to obtain Desperate Housewives? Get comfy on the couch and get your money's worth. |
Source: worldclock
Immigration
Canadian Immigration Stamp [Public Domain]
Similar to Australia, New Zealand has what is called Working Holiday Scheme arrangements with a number of countries. Go here to see the list of countries involved but note that each country may involve different conditions. For example, Argentines have 1,000 places available to them under their quota system with New Zealand for the Working Holiday Program, while Ireland has an unlimited quota available to its younger citizens, enabling them to work for 12 months in the country. Citizens of China also have a 1,000 person quota for those wishing to work in the country. The UK, like Ireland, has an unlimited quota, but remember to check the conditions: you must be at least 18 and not over 30 for example, and no kids either. Germany has an unlimited number of places available to its citizens, and similar conditions to those from the UK. And finally, big and brash Brazil gets all of 300 places for its younger citizens to go work in New Zealand. Get up early to apply online. There are a number of other countries on the list, so check out the first link above to see if your country has a quota. Yes, there are unlimited number of places for Canadians as well, just in case you want to head from Halifax to Wellington and see if you agree with our comparisons.
In Canada the IEC working holiday program is valid for 24 months and costs CAD$150. You will need CAD$2,500 in personal funds, as well as health insurance, and submit to a police check. Here is a list of the countries with Canada has signed agreements with.
| Country | Age | Country | Age | Country | Age | Country | Age |
| --- | --- | --- | --- | --- | --- | --- | --- |
| Australlia | 18-30 | Estonia | 18-35 | South Korea | 18-30 | Slovakia | 18-35 |
| Austria | 18-30 | France | 18-35 | Latvia | 18-35 | Spain | 18-35 |
| Belgium | 18-30 | Germany | 18-35 | Lithuania | 18-35 | Sweden | 18-30 |
| Chile | 18-35 | Greece | 18-35 | Mexico | 18-29 | Switzerland | 18-35 |
| Costa Rica | 18-13 | Hong Kong | 18-30 | Netherlands | 18-30 | Taiwan | 18-35 |
| Croatia | 18-35 | Ireland | 18-35 | New Zealand | 18-35 | Ukraine | 18-35 |
| Czech Republic | 18-35 | Italy | 18-35 | Norway | 18-35 | United Kingdom | 18-30 |
| Denmark | 18-35 | Japan | 18-30 | Poland | 18-35 | | |
Note that each country has a particular quota of spaces available in any given year and you should check on your country's quota to see whether any spaces are left. Always apply as soon as possible to ensure you have a place. You may be able to apply for Permanent Residence depending on factors like work experience and education primarily although others like family ties may be taken into consideration. Another route is to find a job offer with a potential employer in Canada. You first must apply for a Labour Market Impact Assessment, and if your employer receives a positive assessment or LMIA, then you can apply for a work permit for up to 4 years.
If you guess wrong which site is for which country, you may be off to a rough start. But good luck! And we hope this article was useful, entertaining, and only slightly silly. And please, vote! Just a click, that's all it takes.
Vote Now