Canada vs the USA – Where should I go: Boston or Montreal?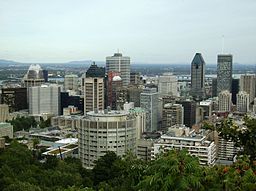 Canada compared to the United States, Montreal compared to Boston
There are some rivalries that, like a fine wine, highlight the absolute best of the ingredients involved while only getting better with age.
Canada versus America.
French versus English.
The Canadiens versus the Bruins.
It all adds up to one thing—
Montreal versus Boston.

Canada Vs the United States
There are some rivalries that, like a fine wine, highlight the absolute best of the ingredients involved while only getting better with age.
Canada versus America.
French versus English.
The Canadiens versus the Bruins.
It all adds up to one thing—
Montreal versus Boston.
If you're an NHL fan, Montreal/Boston means a classic Original Six showdown like no other, with images of everyone from Don Cherry, Bobby Orr and Patrice Bergeron stacking up against Maurice Richard, Guy Lafleur and P.K. Subban facing off in one of the league's most enduring and defining rivalries.  If you're a fan of museums, concert halls, and cities with centuries of history, you can't do much better than these two titans of North American tourism.
But which one is the better bargain and gives you more all-around bang for your buck?
Naturally, calculating comparative costs for some of these are going to be a bit difficult, as different sites and measurements are apt to yield different results.  As such, we're using sites such as expatistan.com, which provides users a "winner" in different categories, as well as data and prices to help you see how they choose the leaders in each category.
Using that as a source, let's take a look and see who comes out on top this time around between Beantown and the Biggest Bastion of Francophone Canada.
Where should You Go: Boston or Montreal?
Index
Flights and travel
This is one of the more subjective categories included here.  After all, your answer is going to vary depending on where you are flying out of, what kind of airline you're taking, etc.
Google is an invaluable tool here in getting a quick estimate, and searching from my current location—the Los Angeles area—I'm able to determine that a flight to Boston is far and away less expensive than flying into Montreal.  LAX isn't just the most notable airport in Southern California, it's likewise one of the most important from an air traffic perspective in the entirety of North America.  An average flight out of LAX on one of the "standard" airlines—Delta, American Airlines, etc.—should cost you something between $350 and $425.  The price for a flight to Montreal from LAX?  Over/under $1000.
While that specific example is a point in one in Boston's favor, it's easy to see how a flight originating out of Toronto or London might favor Montreal price-wise instead.
| | | | | | |
| --- | --- | --- | --- | --- | --- |
| Destination | Date | Source | Flight operator | Stop(s) | Price (USD) |
| London to Boston | Dec 1st 2014 | Skyscanner.ca | IcelandAir | 1 stop | $622 |
| London to Montreal | Dec 1st 2014 | Skyscanner.ca | IcelandAir, Air Canada | 2 stops | $685 |
| London to Boston | Jun 1st 2015 | Skyscanner.ca | IcelandAir | Direct | $543 |
| London to Montreal | Jun 1st 2015 | Skyscanner.ca | Icelandair, Air Canada | 2 stops | $604 |
These prices were quoted on October 29, 2014 from skyscanner.ca. The flights and prices on this chart are for example only. Prices may vary and fluctuate. We are not responsible for flights or prices quoted from this chart. Please contact your travel agent or the airline if you would like to book a flight.
Rent
Both areas are extremely-historic and wealthy, meaning that rent either way is going to be expensive.  As such, comparing rent for Boston and Montreal is a bit like comparing rent for London and Paris, or LA and San Francisco—similar cities, similar degrees of prestige and, of course, a similar degree of expensiveness and exclusivity.
That being said, Montreal is a clear winner in this category, at least on the surface, with a 900 sq. ft. apartment in Montreal averaging between $1500 and close to $1700, while an apartment of a similar size would cost on average more than twice as much in Boston.  What's more, expatistan.com notes that this estimate is for an "EXPENSIVE" area at that.  Granted, furnishing that apartment might be slightly cheaper, as items such as flat screen TVs rank as being slightly more expensive on Montreal than in Boston, but overall, buying or renting property is more costly in Beantown than Montreal.
| | | |
| --- | --- | --- |
| Apartment Size | Montreal  | Boston  |
| Apartment (1 bedroom) in City Centre | $778.44 | $1,904.55 |
| Apartment (1 bedroom) Outside of City Centre | $547.55 | $1,339.13 |
| Apartment (3 bedroom) in City Centre | $1466.71 | $3,607.14 |
| Apartment (3 bedroom) Outside of City Centre | $946.61 | $2,347.06 |
Source: https://www.numbeo.com as of October 29 2014. Exchange rate of that date was 1 USD = 1.12 CAD
Jobs/ employment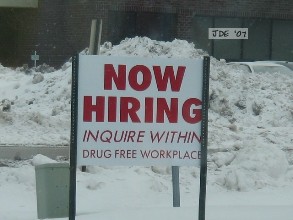 Now Hiring by Jay / Wikimedia Commons / CC BY 2.0
The above wage information is taken from the Comission des normes du travail, Massachusetts Labor and Workforce Development, and the US Department of Labor.
How about employment rates?
Montreal has an unemployment rate of 8.5%, while Boston enjoys a rate of 6.3%.  Boston's job rate is growing faster than most areas of Massachusetts, while even within Quebec, Montreal cannot exactly claim a huge victory on that front at the moment.
Neither place are Detroit-terrible as far as job prospects are concerned, but Boston definitely gets the nod here.
Taxes
Like most countries, Canada imposes a variety of taxes on its residences: income taxes, "consumption" taxes and "wealth" taxes. The most important of the "consumption" taxes is Canada's sales tax, usually called "Value Added Tax" (VAT) in Europe. Canada has two, a federal and a provincial, and this can get really confusing, but let's focus on Ontario. In Ontario (and in many other provinces), the VAT or sales tax from both the federal and provincial governments is combined into one and is known as the Harmonized Sales Tax (or HST). HST in Ontario is currently 13%, about average for Canada.
Other Canadian sales taxes are hidden. These taxes are known as "excise taxes" and are responsible for the high prices of certain goods in Canada: alcohol, cigarettes, gas and other products are more expensive in Canada because of hidden excise taxes.
Federal Income Tax in Canada in 2014
15% on the first $43,561 of taxable income
 22% on the next $43,562 of taxable income (on the portion of taxable income between $43,562 and $87,123)
 26% on the next $87,124 of taxable income (on the portion of taxable income between$87,124 and $135,054)
 29% of taxable income over $135,054
Source: www.cra-arc.gc.ca
Provincial Income Tax in Quebec in 2014
16% on taxable income of less than $41,495.
20% on taxable income above $41,495 but not more than $82,985.
24% on taxable income above $82,985 but not more than $100,970.
Before you get scared adding up tax rates, remember the basic personal amount. To give you an example by going here you can calculate your combined federal and Quebec income taxes. For an income of C$ 30,000 you get total income taxes, both federal and provincial, of C$ 5,628.90 which is an average tax rate of 18.76%. The Canadian tax year is the same as the calendar year.
American Taxes
The US has similar taxes to Canada, only most American products have lower excise taxes on them.
Boston, by contrast to Montreal, doesn't tax clothing cheaper than $175 and employs a 6.25% sales tax, making Boston the better of the two on this front.
Federal Income Tax in the United States
The US federal income tax rules are extremely complicated and we will not go into great detail here. Below is a table of "effective" federal income tax rates in the United States, namely what you are likely to end up paying after various deductions.
Effective Federal Tax Rates and Average Incomes for 2010
Quintile
Average Income Before Taxes
Effective Individual Income Tax Rate
Effective Payroll Tax Rate
Combined Effective Income and Payroll Tax Rate
Total Effective Federal Tax Rate (includes corporate income and excise taxes)
Lowest
$24,100
-9.2%
8.4%
-0.8%
1.5%
Second
$44,200
-2.3%
7.8%
5.5%
7.2%
Middle
$65,400
1.6%
8.3%
9.9%
11.5%
Fourth
$95,500
5.0%
9.0%
14.0%
15.6%
Highest
$239,100
13.8%
6.7%
20.5%
24.0%
81st to 90th Percentiles
$134,600
8.1%
9.4%
17.5%
19.3%
91st to 95th Percentiles
$181,600
10.7%
8.9%
19.6%
21.6%
96th to 99th Percentiles
$286,400
15.1%
7.1%
22.2%
24.9%
Top 1%
$1,434,900
20.1%
2.2%
22.3%
29.4%
Massachusetts Income Tax
Masschusetts imposes a flat tax of 5.2% on all income, except capital gains, taxed at 12%. A win for Boston.
Transportation
Another close call.  The price of gas is one thing you're going to want to keep your eye on.  You're almost certainly aware of the fact that the price of gas has been on the rise for the last decade and a half, and isn't looking to let up any time soon.  As such, which city offers you the best relief from the pain at the pump?  Americans are so used to hearing about these high gasoline prices may be shocked to find out that ¼ of a liter of gas is almost 40 cents cheaper in Boston than in Montreal.  That being said, the average monthly transit ticket shakes out to an even $71 average in both cities.  Taxies are, likewise, virtually the same in price.
One determining factor might be traffic, and in this instance, Montreal might have a slight advantage, given how notorious certain areas of Boston can be for gridlock.
| | | |
| --- | --- | --- |
| Transportation | Montreal  | Boston  |
| One way city transit ticket | $2.68 | $2.00 |
| Monthly pass (city transit) | $71.02 | $70 |
| Taxi fare begins at (normal tariff) | $3.13 | $2.60 |
| Taxi 1km (normal tariff) | $1.52 | $1.74 |
| Gasoline (1 litre) | $1.07 | $0.98 |
| Volkswagen Golf 1.4 90 KW Trendline (Or Equivalent New Car) | $19,650.75 | $19,000 |
Source:  https://www.numbeo.com. These prices were quoted on the October 30, 2014
Weather
Spoiler alert: it snows quite a bit in the home cities for the Bruins and le Canadiens.  If you're planning a trip to either Boston or Montreal in the winter, plan on snow.  Even if the forecast is clear, you can bet it's going to be nippy, so pack and dress in layers. (This is scarf and coat weather, folks!)  And summer in both areas can get hot and somewhat humid.
Fall in the greater New England area is really something to see, with the leaves turning a brilliant amber.  The crisp weather really complements Montreal, but might be a bit colder due to its being further north, whereas Boston experiences a different kind of chill, brought in by the winds and sea air coming off the harbor.  What kind of cold and weather you prefer is ultimately going to be up to you.
| | | | | | | | | | | | | |
| --- | --- | --- | --- | --- | --- | --- | --- | --- | --- | --- | --- | --- |
| Month | Jan | Feb | Mar | Apr | May | Jun | Jul | Aug | Sep | Oct | Nov | Dec |
| Montreal average high/low | -6/-13 | -4/-11 | -1/-5 | 11/3 | 19/10 | 24/15 | 27/18 | 25/17 | 20/12 | 12/6 | 5/0 | -2/-9 |
| Boston average high/low | 2/-5 | 4/-4 | 7/-1 | 13/5 | 19/10 | 24/15 | 27/19 | 26/18 | 22/14 | 16/8 | 11/3 | 5/-1 |
Sources: Environment Canada and National Oceanic and Atmospheric Association
Month

Jan

Feb

Mar

Apr

May

Jun

Jul

Aug

Sep

Oct

Nov

Dec

Montreal

Rain (mm)
28.4
22.7
42.2
65.2
86.1
87.5
106.2
100.6
100.8
64.3
68.9
44.4
Snow (cm)
45.9
46.6
36.8
11.8
0.4
0
0
0
0
2.2
24.9
57.8
Hours of Sun
99.2
119.5
158.8
181.7
229.8
250.1
271.6
230.7
174.1
138.6
80.4
80.7
Boston

Rain (mm)
85.3
82.6
109.7
95
88.6
93.5
87.1
85.1
87.4
100.1
101.3
96
Snow (cm)
32.8
27.7
19.8
4.8
0
0
0
0
0
0
3.3
22.9
Hours of Sun
163.4
168.4
213.7
227.2
267.3
286.5
300.9
277.3
237.1
206.3
143.2
142.3
Entertainment and Alcohol
The Bruins in Boston, and le Canadiens in Montreal.  Close in the standings, and close in terms of ticket prices as well, with the Bruins just managing to beat out Montreal here, as average resale Canadiens tickets are $8 more expensive than Bruins tickets.
(Most expensive?  The Toronto Maple Leafs, because their on-ice success warrants that kind of expenditure, right?  Lease expensive?  The Tampa Bay Lightning, perhaps as an apology for that embarrassing four-game sweep in the quarterfinals at the hands of Montreal?)
Now that we have the obvious out of the way, what else is there to do in both of these immaculate world-class cities, and which city offers more of a bargain?
On the one hand, Boston, unlike Montreal, still has a baseball team—sorry, Expos fans, hopefully your day will come again someday!—and there's nowhere better to take in a ballgame than 102-year old Fenway Park, which at this point is practically and American landmark.  Ticket prices for the Red Sox?  The most expensive in Major League Baseball, the average ticket price sitting at just over $50.  The Boston Celtics aren't any better, the median ticket price upwards of $90 (which only ranks as #17 on Forbes' list because King James has returned to Cleveland, the Lakers continue to have ridiculous ticket prices, and the New York Knicks are, well, the New York Knicks.)  Let's not even get into how expensive Patriots tickets or other expenditures.  Happily, there are plenty of historical and cultural sites to visit as well—this is Boston, after all—but these, too, can prove costly.
On the other hand, Montreal is the clear choice for theatre goers in terms of price–$122 average for optimal seats vs. slightly more than double that figure for similar theatres in Boston.  If theaters or opera houses are your thing, then Montreal might be your place—both cities can boast great venues, but Montreal has a hefty edge in price here, and as anyone who's ever tried to sit through a performance of Puccini or Shakespeare from the nosebleed section will tell you, the better your seats, the better the experience, 9 times out of 10.  Meanwhile, Montreal's Notre-Dame Basilica and Saint Joseph's Oratory make for other good tourist sites, with the latter being the largest church in Canada.
All in all, both cities obviously have an absurd amount of history, culture, and entertainment to offer, and in terms of quality, it's really a matter of preference.  When it comes to cost, however, Montreal is the winner here, hands down.
Drink
(All prices are in USD, include tax, and are city-wide averages. Prices are more expensive in many areas.)

Montreal

Boston

Pint Can of Marco Domestic Beer at the store
$2.47
$2.97
Bottle of Marco Imported Beer at the store
$2.44
$4.42
Bottle of decent Wine at the store
$13.41
$12.00
Whether you're frequenting Boston Gardens, TD Garden, Fenway Park, or are looking to skip out ln the sports scene entirely and enjoy a night at one of the many restaurants, theatres or opera houses which both cities can boast, alcohol prices, whether it's draft beer or the finest of wines are going to be a concern.
Table wine prices—as discussed below—are going to be essentially the same.  Both places have their own plusses when it comes to wine.  Boston, as a port city, has an advantage when it comes to importing, while Montreal excels in French-style wines due to its long-standing ties to French culture.  There are a lot of different small breweries around the Boston and greater New England area, making it a good choice for craft and independent beers, while both are good choices for beer, Boston has a slight edge, in the same way Montreal might be a slightly better option for French wine.
Groceries
This oft-overlooked category can make a big difference in just how expensive your trip proves to be, and how much money you have left over for luxuries during your stay.  The most obvious sub-category to focus on here would be food.  There are plenty of expenditures you can cut back on, but chances are, if you're visiting or moving to either of these great cities, you're going to want to enjoy the full culinary experience.
So, how do the two cities compare in this regard?
Frankly, they're roughly the same, as expatistan.com ranks both cities' average prices for "Daily menu in the business district" as being roughly even, $15 to $13 in favor of Boston, with typical grocery store items such as a carton of eggs, apples, and tomatoes being slightly cheaper in Montreal.  What about wine?  Once again, the prices are virtually the same, $15 to $14 in favor of Boston.
All in all, this is a category that shakes out to a rough tie, meaning that the price here doesn't matter nearly as much as which city's restaurants, products and wines you actually prefer.
Time Difference
This one's another tie.
It's going to be roughly the same no matter where you fly in from, as Boston and Montreal share the same time zone.
Immigration
Finally, we come to the matter of immigration, and here, there's just no choosing here because both areas have brilliant histories in this regard.  Boston has long been a haven for Irish immigrants, and the flavour of the city has been hugely influenced by that ongoing wave of immigration.  Likewise, Montreal has stood as a bastion of Catholicism in Canada for centuries, welcoming everyone from Francophones to Spanish and Italian speakers over that time.
Which one is easier to immigrate into has less to do with the individual cities and more to do with the immigration systems of their respective nations.  It's a lot easier, in general, to immigrate into Canada than the United States.  As such, it might be easier for you to immigrate into Montreal than Boston, unless you happen to have family in Beantown already who can assist you.
What Do You Think?
Overall, there are a lot of categories here which are relatively tied, while Montreal tops Boston most significantly in areas such as Entertainment and Immigration, while Boston has the edge in categories such as Employment Opportunities and Taxes. Disagree, vote below: