Canada vs the USA – Where should I go: LA or Vancouver?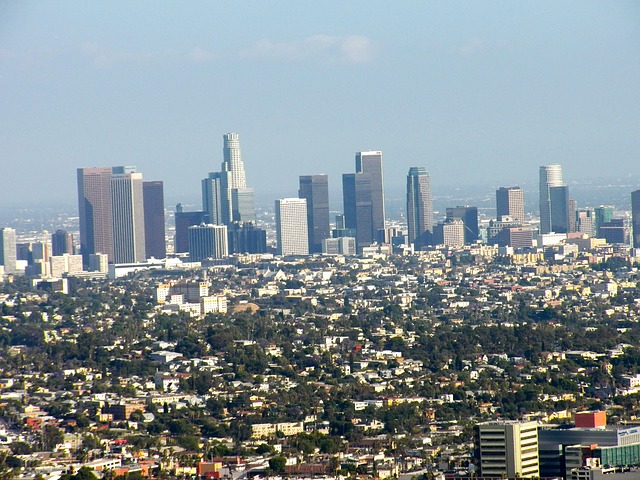 Canada compared to the United States, Vancouver compared to Los Angeles

Vs the United States
"Go West, Young Man."
That's been a popular phrase, one which has been bandied about from time to time in American history during the expansion westward in the 1800s, and then again at the turn of the century, and once more as first San Francisco and then Hollywood established themselves as internationally-recognized cultural touchstones.  Cities like New York and Toronto, Boston and Montreal will always remain the vanguards of the United States and Canada, but since the 1950s, however, the push westward has really gained momentum.  Everything from the explosion of the film and TV industry to massive waves of immigration from East Asia and Latin America have seen the Pacific Coast absolutely explode in terms of prominence, population and importance.
Los Angeles has emerged as the New York City of the West Coast, tying the Big Apple in terms of media presence and standing as the second-most populous city in America.  Whether you're taking in a game at Staples Center or Dodger Stadium, catching a show at the Ahmanson, catching the stars as they cross the red carpet, or just cruising down Sunset Boulevard, you can be sure of star treatment.
Updated for 2018
Where should You Go: Los Angeles or Vancouver?
Index
Flights and travel
Both Vancouver and Los Angeles are on the West Coast, and so both enjoy Pacific Coast time.  Which one is cheaper to travel to is going to depend on where you're coming from—a nonstop flight on Air Canada from New York to Vancouver will take just a little longer than a comparable nonstop trip from the Big Apple to Hollywood USA on another airline.  Likewise, the airfare is likely to be similar, ranging in the middle hundreds range for both cities, depending on the airline and whether or not you're flying nonstop.
Los Angeles does have the advantage of LAX, one of the most traveled and important airports in the entire world.
| | | | | | |
| --- | --- | --- | --- | --- | --- |
| Destination | Date | Source | Flight operator | Stop(s) | Price (USD) |
| London to Los Angeles | Nov 1, 2018 | Skyscanner.net | Norwegian Air | Direct | $360 |
| London to Vancouver | Nov 1, 2018 | Skyscanner.net | Air transat | 1 stop | $304 |
| London to Los Angeles | May 1, 2018 | Skyscanner.net | Norwegian Air | Direct | $300 |
| London to Vancouver | May 1, 2018 | Skyscanner.net | WestJet | Direct | $374 |
These prices were quoted on October 12, 2018 from skyscanner.net. The flights and prices on this chart are for example only. Prices may vary and fluctuate. We are not responsible for flights or prices quoted from this chart. Please contact your travel agent or the airline if you would like to book a flight.
Rent
Make no mistake about it—Los Angeles is one of the most expensive places to live in North America.  Los Angeles County varies greatly in terms of price, and because the area's been built up as a sort of mega-metropolis made up of interconnected cities joined together by freeways, you can live in "the Greater LA Area" and still have daily access to the main city itself.
That being said, you get what you pay for, and the least-expensive areas of LA County are likewise some of its least populous and least popular areas.  These areas are great if you're looking for a more laid-back experience and comparatively-inexpensive living—think $550 to $750 for a reasonable bachelor or bachelorette pad in the Antelope Valley, for example, with $100 to $1300 being closer to what you might expect for 2-3 bedroom apartment or small home for rent—but be prepared to face a longer commute if you ever want to experience the brighter lights of even satellite cities around LA.  Acton and Rosamond, for example, are two cities at the fringe of LA County which boast a great rural feel to them, with ranches and great terrain for horses.  It's not the "real LA experience," but it's cheap.  Areas, such as Santa Monica, Northridge, and of course the much-heralded Pasadena—if you watch The Big Bang Theory, that would be where Sheldon, Leonard, Penny and Company "live"—will put you closer to all the glitz and glamor which make LA a world city, but be forewarned, they don't come cheap.  $1300?  That might fly for a semi-decent one to two person apartment, and even then, you'd probably be looking at something on the smaller side.
As for Los Angeles itself, once again, it can be very glamorous…and is very expensive.  You're also going to want to take into account the fact that different areas of LA have different cultural leanings.  South Central LA, for example, is heavily influenced by Latino culture, while Wilshire and world-famous Beverley Hills have significant Caucasian and Asian-American populations and are very upscale (with prices to match.)  East LA is far cheaper, but is also notorious among residents, and while it's not a "stay away at all costs" situation, unless you're feeling particularly adventurous, as a tourist, outsider, or immigrant just coming into the area, you might want to try another area of LA first.
So, after all that, what do we have to say about Vancouver?  Well, it's less expensive, though that wouldn't take much.  Even with that said, however, Vancouver is still expensive, and chances are, the biggest break you'll get on rent or charges is if you have an advantageous exchange rate as an American or British citizen.
All in all, while Vancouver offers a slightly cheaper rent, it isn't as cheap as you'd think—expatistan.com lists apartments of modest size in expensive areas in both cities at a $2,406 average—and the Greater Los Angeles Area simply has more variety, from the high-priced glitz and glamor for which the area is famous the world over to ranches and rural areas more off the beaten track.  For what it's worth, Vancouver's average rate for unpaid utilities is 44% lower than similar services in LA.
| Apartment Size | Vancouver  | Los Angeles  |
| --- | --- | --- |
| Apartment (1 bedroom) in City Centre | CAD$1,916.53 | US$2,119.59 |
| Apartment (1 bedroom) Outside of City Centre | CAD$1,457.72 | US$1,640.83 |
| Apartment (3 bedroom) in City Centre | CAD$3,600.76 | $3,930.10 |
| Apartment (3 bedroom) Outside of City Centre | CAD$2,605.00 | $2,885.99 |
Source: https://www.numbeo.com as of NOctober 12, 2018. Exchange rate of that date was 1 USD = 1.3 CAD
Jobs/ employment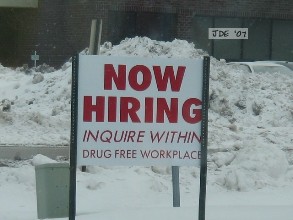 Now Hiring by jay / Wikimedia Commons / CC BY 2.0
The above wage information is taken from the BC Ministry of Jobs, Tourism and Skills Training, StatsCan, the California Department of Industrial Relations and the Department of Numbers.
In terms of economic opportunities, it's a wash.  When it comes to entertainment, "there's no business like show business," and no substitute for making your mark in Hollywood for anyone looking to become a big-time TV or film star in North America.  That being said, Vancouver is the LA of Canada in this regard, and has a booming entertainment industry.  LA's employment opportunities in this regard may be "worth more" classically, but it could be easier to get a start in Vancouver.  Outside of the entertainment industry which matters so much to both cities, Los Angeles has been adding jobs steadily but painfully slow since the Recession, but it is still a viable market.
Both are good choices, and it really comes down to personal choice in this regard.  Vancouver offers a better place to break into show business, LA more prominent and higher paying opportunities, and both have the benefit of a large metro area.
Taxes
Sales Taxes
There's an 8.25% sales tax in Los Angeles, compared to 12% in Vancouver, though Vancouver's sales tax drops to 10% for alcohol.
15% on the first $46,605 of taxable income – remember that your first $14,890 is tax-free due to your basic personal amount.
20.5% of taxable income above $46,605 up to $93,208.
26% of taxable income above $93,208 up to $144,489.
29% of taxable income above $144,489 to $205,842
33% of taxable income above $205,842
Source: https://www.cra-arc.gc.ca/tx/ndvdls/fq/txrts-eng.html
BC Income Taxes
First of all, in B.C. they no longer have a combined, or harmonized, sales tax since March 2013. You now have the federal sales tax, or GST, currently at 5%, and the provincial sales tax, or PST, which is currently at 7% on most goods and services with a few exceptions where you pay a higher PST, like liquor with a PST of 10%. That means that you will generally be paying a combined sales tax of 12% in B.C. and sometimes even more, like a combined rate of 15% on liquor. Ouch. And just to round things off, here's your provincial income tax rates:
| taxable income – 2018 brackets | provincial tax rate |
| --- | --- |
| $0 – $39,676 | 5.06% |
| $36,676 to $79,353 | 7.70% |
| $79,353.01 to $91,107 | 10.50% |
| $91,107.01 to $110,630 | 12.29% |
| $110,630.01 to $150,000 | 14.70% |
| Over $150,000 (aww I miss the pennies) | 16.80% |
Source: https://www2.gov.bc.ca/gov/topic.page?id=E90F9F1717DB451BB7E4A6CC0BDC6F9F
While B.C. tax categories might leave you visually challenged after adding up your pennies to see what category you belong in, the provincial rates are in fact significantly lower than those in Quebec, for example. Go here to calculate your income taxes (Immigroup doesn't endorse this site). As an example, on CAD$30,000 your income taxes in B.C. would be CAD$4,028.74 or an average tax rate of 13.43%. Not too shabby, especially by European standards.
Federal Income Tax in the United States
The US federal income tax rules are extremely complicated and we will not go into great detail here. Below is the table for a single person, without deductions. See the full details here.
Single Individual
| | |
| --- | --- |
| Taxable Income | Tax Rate |
| $0 – $9,325 | 10% |
| $9,326 – $37,950 | $932.50 plus 15% of the amount over $9,325 |
| $37,951 – $91,900 | $5,226.25 plus 25% of the amount over $37,950 |
| $91,901 – $191,650 | $18,713.75 plus 28% of the amount over $91,900 |
| $191,651 – $416,700 | $46,643.75 plus 33% of the amount over $191,650 |
| $416,701 – $418,400 | $120,910.25 plus 35% of the amount over $416,700 |
| $418,401 or more | $121,505.25 plus 39.6% of the amount over $418,400 |
California Income Tax
1 percent on the first $8,015 of taxable income.
2 percent on taxable income between $8,015 and $19,001.
4 percent on taxable income between $19,001 and $29,989.
6 percent on taxable income between $29,989 and $41,629.
8 percent on taxable income between $41,629 and $52,612.
9.30 percent on taxable income between $52,612 and $268,750.
10.30 percent on taxable income between $268,750 and $322,499.
11.30 percent on taxable income between $32,499 and $537,498.
12.30 percent on taxable income of $537,498 and above.
13.30 percent on taxable income of $1,000,000 and above.
Transportation
Never fear, however, Vancouverites—you win this category hands down.
Remember those "eternal traffic jams" from above?  LA is notorious for its gridlock.  Everyone who's anyone travels by car in LA, and given just how many people make up the LA area, you can bet that's a lot of cars.  Add to that the fact that any Angelino will tell you, tongue-in-cheek, that no one actually knows how to drive in LA, and the LA public transit system is infamous for all the wrong reasons, and you have a multi-layered transportation nightmare, especially compared to Vancouver.  The public transit there is far more efficient, there's less of a problem with traffic and gridlock, and there's a lower crime rate, for those thinking of traveling extended distances on foot (another "adventure" for those visiting LA for the first time).
| Transportation | Vancouver  | Los Angeles  |
| --- | --- | --- |
| One way city transit ticket | CAD$2.95 (1 zone) | US$1.75 |
| Monthly pass (city transit) | CAD$95 (1 zone) | US$100 |
| Taxi fare begins at (normal tariff) | CAD$3.50 | US$3.00 |
| Taxi 1km (normal tariff) | CAD$1.89 | US$1.68 |
| Gasoline (1 litre) | CAD$1.51 | US$0.93 |
| Volkswagen Golf 1.4 90 KW Trendline (Or Equivalent New Car) | CAD$26,438.00 | US$22,000 |
Source: https://www.numbeo.com. These prices were quoted on October 12, 2018.
Weather
There's a reason the Mamas and the Papas were "California Dreaming" in the 1960s—you really might "be safe and warm if [you come to] LA."  (Well, you'll be warm, anyway.)  Sunshine year-round—that's the stereotype for the LA area, and while there's definitely some "June gloom" and plenty of overcast days as marine layers make their presence felt, it's almost always warm, and hardly ever chilly.  The temperature (in terms of Fahrenheit) rarely gets below the 60s during the day and sometimes 50s at night.  It can get pretty hot however, especially during the summer, and while the 80s and 90s are the norm here, triple digit days occur enough that they're not a shocker to anyone who lives in the area.
The tradeoff here is while Los Angeles experiences pretty much stable, warm weather throughout the year—to the point a slight breeze in the low 60s sets suntanned arms shivering like the palm tree branches overhead—it likewise really only experiences two "seasons," dry and drier.  By contrast, Vancouver experiences everything from the depths of winter to the peak of summer, and everything in between, giving you a great deal of variety and a more earthy, green atmosphere any time of the year, as opposed to the smog and haze-filled skies of LA.
As such, this one really comes down to choice, and what time of year you yourself are planning on making your trip.
| | | | | | | | | | | | | |
| --- | --- | --- | --- | --- | --- | --- | --- | --- | --- | --- | --- | --- |
| Month | Jan | Feb | Mar | Apr | May | Jun | Jul | Aug | Sep | Oct | Nov | Dec |
| Vancouver average high/low | 7/1 | 8/2 | 10/3 | 13/6 | 17/9 | 20/12 | 22/14 | 22/14 | 19/11 | 14/7 | 9/4 | 6/1 |
| Los Angeles average high/low | 20/9 | 20/10 | 21/11 | 23/12 | 24/14 | 26/16 | 28/18 | 29/18 | 28/17 | 26/15 | 23/11 | 20/9 |
Sources: Environment Canada and National Oceanic and Atmospheric Association
Month

Jan

Feb

Mar

Apr

May

Jun

Jul

Aug

Sep

Oct

Nov

Dec

Vancouver
Rain (mm)
168.4
104.6
111.8
88.5
65
53.8
35.6
36.7
50.9
120.8
185.8
161.9
Snow (cm)
11.1
6.3
2.3
0.3
0
0
0
0
0
0
3.2
14.8
Hours of Sun
60.1
119.5
134.8
185
222.5
226.9
289.8
277.1
212.8
120.7
60.4
56.5
Los Angeles
Rain (mm)
79.2
96.5
61.7
23.1
6.6
2.3
0.3
1
6.1
16.8
26.4
59.2
Snow (cm)
0
0
0
0
0
0
0
0
0
0
0
0
Hours of Sun
225.3
22.5
267
303.5
276.2
275.8
364.1
349.5
278.5
255.1
217.3
219.4
Entertainment and Alcohol
It's LA and Vancouver—need we really say more?
On the one hand, you have one of the real "world cities."  That word gets tossed around a lot these days, but in the case of Los Angeles, that term is most definitely warranted.  LA is the home to some of the world's finest dining, the most exclusive boutiques, world-famous theatres and stadiums alike.  If it exists, and it can be bought or sold, it's on sale in LA (just don't expect it to come cheap.)
The Ahmanson, the LA Opera and the Dorothy Chandler, the Mark Taper Forum…
Dodger Stadium, Staples Center, the Rose Bowl in Pasadena…
The Hollywood Walk of Fame, and all the stars and starlets of Hollywood themselves…
New stage productions in the theatre district, and a lively Latino performance community…
This is the mythologized mental picture of LA, forever sun-kissed and glamorous.
So what if the reality can't quite live up to that tantalizing dream?  What city possibly could?
Los Angeles, as much as any city, has been built on the idea of entertainment as much as the actuality of show business itself.  One comes to LA with rational, reasonable understanding that it's noisy, hazy, and stuck in one eternal purgatorial traffic jam, and yet, if you don't live here, there may well be a part of you, however small, that dreams of the streets really being paved with gold and lined with stars.
And who are we to crush that dream?
No more need be said—no matter whether you're into music, theatre, dance, TV, film, sports, or whatever else, chances are you'll find a well-branded, recognizable version of it in LA, and chances are, you already have an inkling as to whether or not you're interested.
As for Vancouver, all of the above is, of course, present.
Music and dance are well-represented…
There's a nice theatre scene…
It and Toronto are Canada's two premier TV and film locales…
There are always the Canucks and BC Lions, if you're into hockey or football…
Vancouver is a great place with great entertainment.
It's just that it's up against Los Angeles…
And when it comes to the entertainment industry, pitting Vancouver against Los Angeles is like pitting any young, hot actor or actress against a Jennifer Lawrence, or Meryl Streep, or Denzel Washington.
That young actor or actress might well be great…but they're going up against absolute titans.
We native Angelinos have to put up with the ubiquitous presence of everything from tabloids to the paparazzi to the unofficial paparazzi of TMZ and Entertainment Tonight—call it a bias, but we're not ceding superiority when it comes to absolute dominance of the entertainment industry.
At least not to anyone less than an Emma Thompson or Patrick Stewart—but let's leave the battle of Screen Actors vs. Shakespearean Thespians for another day.  Point, LA.
Drink
(Prices are more expensive in many areas.)
Vancouver

Los Angeles

Pint of Macro Domestic Beer
CAD$6.00
US$6.00
Bottle of Macro Imported Beer
CAD$7.00
US$8.00
Bottle of decent Wine at the store
CAD$19.50
US$12.00
Los Angeles begins this category with an early advantage, owing to the fact it doesn't suffer from that 10% sales tax on alcohol which could leave your glass and wallet just a little drier on a trip to Vancouver.
Both cities have some great sports bars.  Los Angeles has some rather famous bars, especially in the more opulent and famous areas of town, but be forewarned—the more famous the locale, the larger the cover you may have to pay, something which isn't such a problem in Vancouver.  In terms of imports, both have a lot to boast about.  As a port city, Vancouver enjoys plenty of advantages when it comes to imported materials, including alcohol, while LA is, well, LA—again, if you can buy it, chances are you'll find it somewhere in the City of Angels, though you may be able to still buy it cheaper in Vancouver, even with that sales tax.
Groceries
Groceries and food prices are a commonly overlooked category, but it's definitely an important one.  After all that talk about how expensive Los Angeles is, however, it may shock you to learn that, according to expatistan.com, everything from domestic beer and a Big Mac to more wholesome items such as cheese and milk are more expensive in Vancouver.  That being said, when factoring in the cost of other everyday items, chances are toiletries and other groceries will cost you more in LA than Vancouver, though the former, surprisingly, seems to have a marked advantage when it comes to food and beverages.
Time Difference
Time difference?  What time difference?
Both cities are on the West Coast, and enjoy Pacific Standard Time, so this one's a wash.
Immigration
Both are cities rightly famous and likewise rightly praised for their immigration record.  There have been spotty incidents in both city's history regarding immigration, but then, what city or nation is free from such a claim?
The big difference between the two is one of obvious demographics.  Los Angeles is one of the major Latino centers in North America.  It has a long and rich history of Latin influence—it was, after all, founded and for many years controlled by Spain and then Mexico—and is one of the major centers of Spanish-language TV, film, music and culture in the United States.  It should come of no surprise, then, that Los Angeles is likewise one of the major centers for immigrants coming from every corner of Latin America.
In addition, the city has proven to be a haven for many other immigrant groups as well.  America's Jewish population have found happy homes in both LA and New York City, as both cities represent the two most prominent clusters for that community.  Arab, Persian, Indian, Bangladeshi immigrants have increased in number over the past years, and of course, Los Angeles has a vibrant Chinatown as well.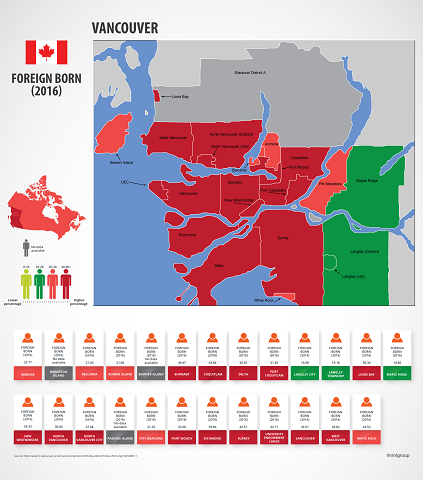 Vancouver, meanwhile, stands with San Francisco and Seattle as the great bastions of Asian immigration into the Pacific Coast and the greater North American community.  It has a proud history of being warm and welcoming towards this immigrant group in particular, and its cityscape and identity has been forged in much the same way as Los Angeles' Latino immigrants have colored that city's cultural being.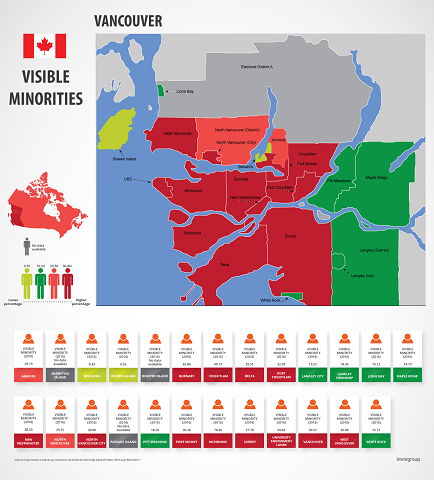 What Do You Think?
In the end, Los Angeles is definitely the more prominent city, and has more (and more expensive) cultural landmarks and commodities to offer.  Vancouver, by contrast, offers more in the way of seasons, affordability, and ease of travel.  Both score highly in terms of entertainment, but LA is, of course, the home of Hollywood—and, thus, the Land of the Stars.