Got rejected for your NEXUS or Fast Card? Learn How to Appeal in Canada
If you have applied for a FAST or NEXUS Card and been rejected you can still appeal! Learn how in this article.

Have you recently applied for a NEXUS or FAST Card or other 'trusted traveler' ID but your application has been rejected? This article will tell you about
The so-called "trusted traveler" programs run by the United States, Canada and Mexico have strict restrictions and, like any programs requiring security clearance, carrying a 'trusted traveler' ID Card is a right, not a privelege. Still, bureacracies make mistakes every day – witness the numerous mistaken-identity problems with the Terrorist Screaning Centre's "No Fly List" – and maybe your rejection for a NEXUS or a FAST Card shouldn't have happened. Here is a brief list of common reasons why your application might have been rejected, since they often don't tell you why: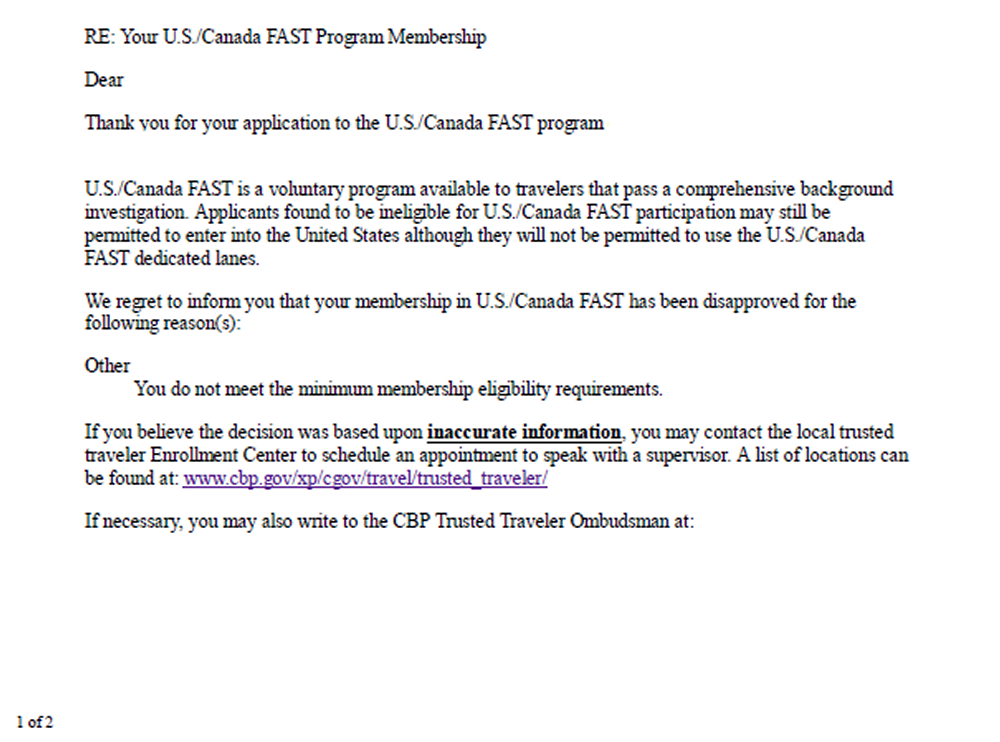 failure to prove your identity (insufficient ID);
past criminal convictions, even if you have been pardoned;
customs violations;
security concerns;
inconsistencies in your application or between your statements at your interview and the statements on your application.
Learn more about FAST Card and NEXUS Card eligibility here.
Remember, the Canadian Border Services Agency (CBSA) or US Customs and Border Protection (CBP) can reject your application at their discretion so your rejection could be for any number of reasons. Also, CBSA and CBP both evaluate your application. Both agencies have access to Canadian and American criminal records, and their respective security databases, but also the security databases of other countries, such as the UK's. Do if you are trying to hide some mistake from your past, it is likely they know about it already.
But if you are who you say you are, you don't have any criminal convictions and you are not a security risk, you should normally be approved.
So, the question is, how do you appeal a rejection if you shouldn't have been rejected?
The process differs from Canada to the United States. This articule covers the appeals process in Canada. A future article will cover the process in the US.
Appealing a "Trusted Traveler" Program Rejection in Canada
The very first thing you should do is to call the office where you had your interview and ask to speak to a supervisor. In the past, this was actually the only recourse you had if you were a Canadian citizen or permanent resident and got rejected for a NEXUS or FAST Card. There was no official appeals process in Canada, just in the United States. When you call the office, ask for an appointment to discuss your case.
If you cannot speak to a supervisor, or get someone to book an appointment with the supervisor, then you need to request a review. You need to either book your appointment with the supervisor or request a review within 30 days of the date of the rejection letter; not the date you received it but the date it was sent to you.
To request a review, send a letter to the office where you had your interview, along with a copy of your rejection letter. Your letter requesting a review should include the following:
your name as it appears on your passport;
your current address;
which program you were rejected for (NEXUS, FAST, CANPASS, etc);
your client ID number;
your explanation as to what happened: why you applied, why you think you were rejected, why you shouldn't have been rejected in your opinion, etc.
Additionally, you need to re-submit your certified criminal record check and you should submit any other documents you think will help prove your case, including additional proofs of your identity, residence, personal history and the like. Not sure what to submit? Contact us for help.
Provided you requested the review in time – i.e. within 30 days of the rejection letter being issued – you will get a letter in the mail from CBSA informing you of their decision: either your application will be approved and you will get your card in the mail or you will not be allowed to join the program.
What do you do if your review fails and you still want to appeal?
How to Request a Second Review
If your request for a review fails to overturn your rejection, you have a second option, which is the appeal to CBSA's head office. The office has the rather ominous name of "Recourse Directorate." You need to send a letter similar to the one above, with the same documentation – or, preferably, better documentation – to the below address:
Canada Border Services Agency
Recourse Directorate
1686 Woodward Drive
Ottawa, ON  K1A 0L8
Facsimile: 613-960-5129
They will assess your situation and determine whether or not you should be allowed to join the program.
Your Last Option for Appeal
If the Recourse Directorate denies your appeal, you have only one other option and that is legal action. Under the Federal Courts Act, you have 30 days from the receipt of letter rejecting your appeal to file for judicial review, either in person, at a Court Registry Office (find your nearest location here), or online at the Federal Court's website. This is obviously a very serious decision and even if you are adamant that you meet the eligibility requirements, you should still consider the cost and time it will take to file an appeal through the federal courts before filing. It is just an ID card after all.
No ID, No Problem
Remember, trusted traveller IDs are privileges and they only help to speed up crossing the border or moving through airport security. It's not necessary to have one to travel. As long as you have your passport, and you are admissible, you are still good to travel.
If you needed a FAST Card for your job, you can still apply for membership in the Commercial Driver Registration Program. You don't get all the benefits of a FAST Card but you will still be able to keep your job if your employer is a member of the Customs Self Assessment Program.