How to Call Citizenship and Immigration Canada from Outside of Canada – IRCC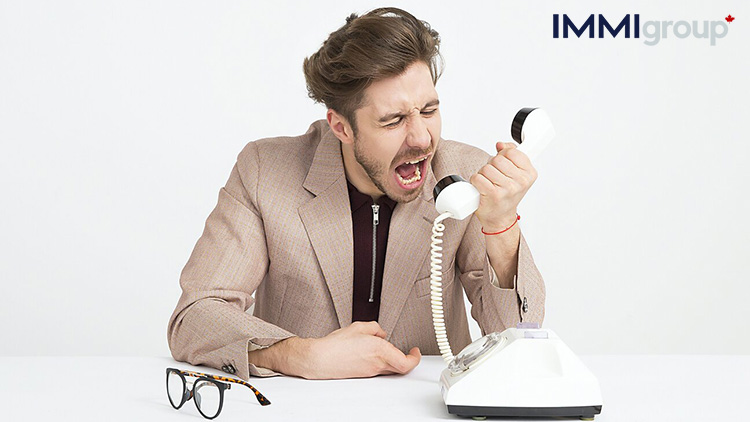 Key Takeaways
IRCC policy is to discourage call centre agents from speaking with callers from outside Canada, because they want these people to use email or a webform instead.
You can appoint a representative in Canada to call on your behalf (and do other work for you as well if you wish).
You can try blocking your Caller ID to get through, but if you admit you're calling from abroad you may have to convince the agent not to hang up on you.
The only reasons they will officially talk to you is if your application's processing has been substantially delayed or if you have a specific problem that needs solving.
If you set up an IRCC secure account, you can monitor the progress of your application online.
Calling an Immigration, Refugees and Citizenship Canada (IRCC, formerly CIC) office from outside of Canada is often a frustrating exercise. The fact is, if you live outside Canada, IRCC does not want you to contact their call centre. This policy means that call centre agents may refuse to provide information if they ascertain you are calling from abroad.
If you are outside of Canada, IRCC only answers by mail or email to any of your enquiries about an application's status. And only then if the average time for processing has been exceeded or if there is a specific problem.
It is clear that with the number of applications IRCC handles from around the world, they have decided to restrict phone calls from abroad to avoid being swamped with requests on how the caller's application is doing. So, how can you manage to call IRCC from overseas to get a quick update on your application?
The first thing to understand is that call centre agents are NOT the same as the case officers who process your application. Whether it's your spousal sponsorship applicaton status, your citizenship application status, or your PR card processing status, call centre agents can't and won't provide information to people outside Canada. So, remember:
Call centre agents cannot answer questions about an application once it has been sent to a visa office outside of Canada.
They cannot make decisions on applications.
They cannot help applications be processed more quickly.
In other words, they don't want you calling unless there is a substantial delay or a problem with your application, and even then, they want you to contact them by email. And they especially don't want you calling from overseas. With all that in mind, then, how can you manage to call IRCC from overseas to get a quick update on your application?
Get help accessing the GCMS notes for your application.
This number will not work outside of Canada.
The IRCC Call Centre toll-free number is 1–888–242–2100, and it does not work if you try dialling it from outside Canada. However, there are work-around solutions, as they say. But these are not guaranteed to succeed and have more to do with understanding the international phone system and how to take advantage of certain features than with IRCC policy on international callers.
The Government of Canada has changed the below number from an IRCC number to a Foreign Affairs number, so it no longer works as an option for calling IRCC from overseas. You can try using some of the below tricks to call IRCC's main number, 1-888-242-2100 or you can try other alternatives not currently listed here. We will update this article if we discover another non-800 number you can use.
The local Ottawa area phone number for IRCC is

+1-613-944-4000

, and if it were a standard local number, you would be able to dial 001 613-944-4000 from abroad and reach the call centre. However, controls have been put in place to detect calls from abroad at IRCC, and you will not get through dialling 001 613-944-4000. One trick that has worked in the recent past is to dial *67 613 944 4000. This blocks caller ID at the receiving end but works only for calls from the US, so you might as well call the toll-free number. It also works in Canada, but that's a moot point. There are other prefixes you can dial to block caller ID depending on what country you are dialing from:

From the UK and Ireland, dial 141 before the number.
On a GSM phone from any country, dial #31#613-944-4000.
In Argentina, dial *31# from a landline and *31* or #31# for mobile phones.
From Hong Kong, dial 133 before the number.
From South Africa, dial *31* (Telkom) before the number.
From cell phones in Asia and elsewhere, dial +1 613 944 4000.
Callers using Skype have encountered problems, but other VOIP providers may offer number portability, like Voip.ms, that allows you to port toll-free numbers to your Voice Over Internet Protocol, or VOIP, service. You can attempt to use this feature to call IRCC from abroad.
In all the above, you will eventually be directed to a menu where you have to work through the options by choosing 1, then one again on the following menu, and then option 2.

The IRCC Call Centre will see a 'blocked number' on the caller ID, and your call should be put through. But now comes the tricky part. You will be talking to a suspicious call centre agent who may become even more suspicious if there is an echo or delay. You will have to convince them that you are not calling from abroad and that they will try to ascertain your current location. Some callers have admitted to calling from abroad, and despite an angry reaction on the part of the agent, they were able to glean some information. That may not be your case, as agents are under orders not to talk to you. In other words, if you are going to use these tricks to get through, you better have a good reason to convince the person at the other end of the line that they should not hang up on you. It also appears that now agents are merely polite and tell you they cannot give you any information on any matter you may ask them about. There seems to be a running battle between international callers to the IRCC and IRCC policy directives meant to discourage them, and this does not bode well for you being able to get any helpful information on the status of your application by phone.
In summary, unless your application is delayed by more than a few days or there is an urgent problem you must take care of, think twice about attempting to call IRCC from abroad. They will be sending you your acceptance or refusal in due course, and there is little a phone call to them can do to change that.
If you do feel you have to dial, then you can try some of the tricks listed above and any others you come across, such as VOIP services. You will have to trust, however, that the agent at the other end is willing to help you. And that likely will not be the case.
Remember, there are far more effective ways of checking on how our application is doing. So, if you looking for tips and tricks for checking your IRCC (Canadian immigration) application status, click here.
Get someone to be your representative and phone on your behalf from Canada legally!
This tip will take some work, but it will be well worth it if you have contact in Canada willing to help you. Here is how it works:
There are two applications you can use to get through to IRCC:
IMM 5475 Authority to Release Personal Information to a Designated Individual
IMM 5476 Use of Representative.
If you choose the IMM 5475 form, whomever you choose to telephone IRCC will only be able to get information from the Call Centre. They won't be able to give IRCC any information.
For the IMM 5476 form, what you're going to be doing is getting IRCC to recognize this Canadian contact as your legal representative on your file.
This part is important: For the IMM 5476, the rules state that only licensed members from the legal profession can be your representative (e.g. consultant or lawyer), OR someone not getting paid. Now, because the person you're using is not getting paid, they can be your representative. Here is what you do:
Fill out IMM 5476 
Submit it, and it will take a few days for the IRCC system to add this person to your file. Here is the way you file it:
After a few days, your Canadian contact can reach out on your behalf. If you two can also find a way to do a three-way phone, it would be great.
By the way, Immigroup can also do this for you, but here you would have to pay for this service. We can find you a representative to track down your application and get the answer for you. Here is what we charge:
CAD$150 to file an IMM 5476 Use of Representative, and we will make three attempts with IRCC to get the answers you were looking for.
You can also, at this point, use your new representative to keep track of your application, deal with correspondence, reply to IRCC on your behalf and answer any questions you may have. You will need to send a copy of your application to your representative. The cost for this service is usually a flat fee (approximately $550) or pay by the hour: junior consultants are $150 per hour, and senior Consultants are $225.
Tip from Paul S, April 2021: "From the US, I dial up CBSA about crossing the border with a pending citizenship certificate application. After 30 seconds, the phone service guy was tired of listening and suddenly transferred me to IRCC. Next time I need to ask about my application, I'll call CBSA and ask them about my application until I hear that sweet, impatient sigh and get transferred to IRCC." 
If the tips we posted end up working for you, then please email us or leave us a review! The Immigroup community has power! 
FAQs
What do I do if the Call Centre Agent Hangs up on me?
In the first place, as we mentioned, you're going to get an answer in writing (in your email account) so be patient. Additionally, you should set up what is called an IRCC secure account that will allow you to monitor the progress of your application as well as receive messages from IRCC.
So, is IRCC answering calls?
As mentioned above, IRCC call centre agents have preferred you use email, especially if you're trying to call from outside Canada. The COVID pandemic forced them to switch to emails in 2019, and while they began taking calls again in 2020, they still prefer that you send an email of use IRCC's online webform to make an inquiry. However, to use the webform, they state that you must have submitted an application and it must have exceeded normal processing times.
What should I do if IRCC is Not Responding?
If you have waited 30 days and still not received a reply, or you disagree with the reply you got, you can contact the Case Management Branch (CMB) by email at:
How can I track my application if I applied on Paper?
If you are sponsoring or being sponsored as a spouse/partner/dependent child or you applied through Express Entry, you can set up what is called an Application Status Tracker account. Go here and scroll down to the bottom of the page to create the account.
If I get through to an Agent, What Information do I need to have ready?
You may be asked to identify yourself, so have the following on hand: Your full name; your mailing address; your email address; your Date of Birth.
How to Contact the Case Processing Centre in Ottawa