How to Ship Alcohol to and Within Canada
Cruising with Booze: What You Need to Know About Transporting Alcohol in Canada
When it comes to alcoholic beverages, Canada is known as a world leader both in production and consumption. Molson Coors, with headquarters in Denver, Colorado, and Montreal, Quebec, is one of the top ten largest global beer marketers by volume. This is according to a study by David Jernigan of the Department of Health, Behaviour and Society, Johns Hopkins Bloomberg School of Public Health in Baltimore, Md. According to a report by Statistics Canada, the country's wine production grew by an average yearly rate of 7.1% from 1993 to 2005 (From the Vine to the Glass: Canada's Grape and Wine Industry. By Penny Hope-Ross). Finally, a study by the Centre for Addiction and Mental Health found that Canadians drink more than 50 per cent above the global average. Obviously we love our adult beverages.
Given our propensity to produce and consume mass quantities of alcohol, it's only natural that we will be moving our favourite tasty beverage from one part of the country to another, even if it's just a short day trip with enough beer to enjoy a picnic or ball game. Unfortunately it's not as simple as throwing a few drinks in the backseat and heading over to visit relatives in a neighbouring province, or shipping Aunt Edna a case of her favourite wine at Christmas. Canada has some unique laws that require us to be mindful of how we transport alcoholic beverages, and how much we can legally possess while traveling.
Border Crossing Dos and Don'ts
Prohibition-Era Laws Still Influence Transport Within Canada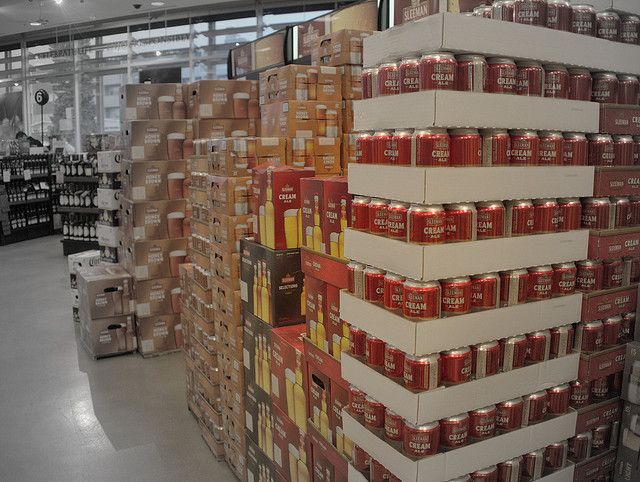 BC Liquor Store by Hisakazu Watanabe / Flickr / CC BY-SA 2.0
Many native Canadians are unaware that laws regulating the flow of alcohol into Canadian provinces were established by the 1928 Importation of Intoxicating Liquors Act. If natural born citizens are mostly unaware of this obscure law, it's understandable that immigrants and visitors from other countries will also be unfamiliar with it. It is extremely important to note that until very recently, these regulations prevented private citizens from buying an alcoholic beverage such as wine or beer in one province and transporting it into another province without permission of the appropriate provincial/territorial liquor board or commission.
Each of Canada's 10 provinces and three territories has its own liquor board, commission, or authority. This should be your first source of information when you have a question about shipping alcoholic beverages. There are actually two separate entities governing alcoholic beverages in British Columbia–the Liquor Distribution Branch and the Ministry of Energy and Mines — Liquor Control and Licensing Branch. A complete list can be found on the Canadian Vintners Association website.
The particular issue of transporting alcoholic beverages between provinces and territories strays into a grey area at this point. In Breaking Down the Barriers to Inter-provincial Alcohol Shipping, the National Post reports that the government introduced an amendment to the prohibition-era laws in February 2015; however it goes on to state that there are still ongoing prosecutions under the old provisions of the law. So we have an antiquated law that has recently been amended, but citizens still face the possibility of prosecution for violating it. The best way to avoid this pitfall is to always check with the affected provincial or territorial liquor board before transporting alcohol.
Bringing Alcoholic Beverages From Outside Canada
At Canada's ports of entry the Canada Border Services Agency (CBSA) is charged with investigating violations of the Customs Act, which includes illegally transporting or shipping alcoholic beverages across the country's borders. Penalties for violation include seizure of the goods, financial penalties, and/or criminal charges. The CBSA website has provided a page with a definition for alcoholic beverages and guidelines for what quantities can be carried across the border for personal use without having to pay taxes and duty.
A Guide to Bringing Alcohol Back from the US
You may bring up to 1.5 litres of wine, 1.14 litres of alcoholic beverages, or up to 8.5 litres of beer or ale without the additional tax. You must also be of legal drinking age in the province or territory to which you are travelling. The legal drinking age varies between 18 and 19 years of age, depending on which territory or province you are in. The Canadian Centre on Substance Abuse provides an easy-to-read chart that shows you the legal age in each province or territory.
What happens if you're immigrating to Canada and you want to bring an extensive wine collection? The CBSA goes into great detail about applicable taxes and fees. An informative table is provided on their website noting the fees in each province according to the type of alcoholic beverage imported for non-commercial use. In addition to making reference to the duty-free allowances, this section of their website mentions additional taxes that may be levied by New Brunswick and Manitoba on top of those already listed in the table. Of course, flying alcoholic beverages into Canada requires coordination with the liquor authority in the province to which you are importing the beverage. Bear in mind when you visit the CBSA page dealing with non-commercial importation of alcoholic beverages that there is a seemingly overwhelming amount of information to sift through and absorb. If you are importing a large quantity, your best bet is to consult with a lawyer who has expertise in this subject.
When In Doubt, Call the Experts
It can be confusing trying to determine which laws govern the shipping and transportation of alcoholic beverages in Canada, especially if you are not a native of the country. When you consider that until recently it was illegal to transport alcohol between provinces the issue becomes even more complicated. It appears that the Canadian government is slowly amending these antiquated laws to ease restrictions on the shipping of intoxicants while in Canada. Alcoholic beverages shipped into Canada from another country will still be subject to taxes for the most part, with the most notable exception being specific personal amounts that are carried in by an individual. When in doubt about the legality of transporting or shipping your favourite drink, call your provincial or territorial liquor board or a qualified attorney.