To Do List – Things you don't have answers for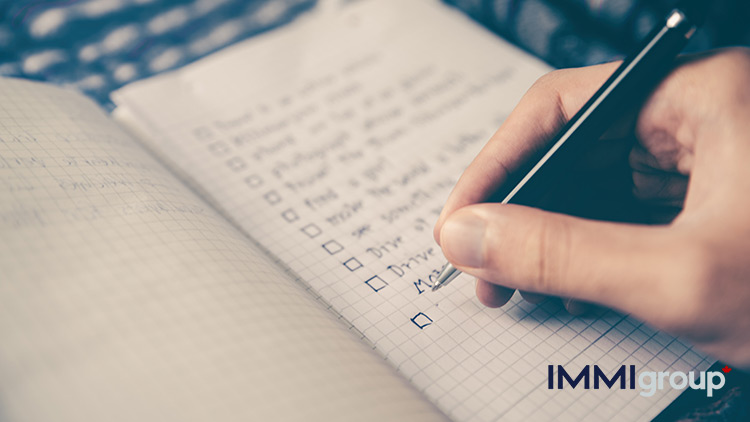 What do you we mean by a To Do list?
This document will help you to tie up loose ends when you get to the latter stages of your application process. Here's how it works:
Each time you encounter an issue or procedure you're unsure of, rather than waste a lot of time trying to find the answer, write it down in a blank doc reserved for only this purpose – use a Word Doc or Notepad whatever works for you.
If you haven't already downloaded To Do List template, do it now:
Keep it up to date and store it in an easily accessible folder on your pc. You'll be filling it in more than you realize as you work your way through your immigration Application.
Here's a good rule of thumb for Managing Your Immigration Application:
If you can't find an answer after a couple of hours of research or a few phone calls, put it down in your  To Do List document. Don't let yourself get stuck on one issue. Note it down in the document and move on.
When you've filled out the forms and gathered all the supporting documents required – or at least all the required supporting documents that you have been able to obtain by this point – then it's time to open up the To Do List doc and start trying to find some answers.
Here're some ideas for how to get your immigration questions answered:
Free Options for Getting Answers to Your Sponsorship Questions
Post your question in one of the following immigration website forums:
In fact, post the same question in all 3 forums and see if you get similar answers from different people. It may indicate it's a lead worth following up on.
Calling IRCC
From within Canada, call IRCC at the following number: 1-888-242-2100.
You will get an automated response but work your way through the menus by pressing the following options in sequence: Press 3; then Press 4; then press 1; finally press 0 to talk to an agent.
Contacting IRCC online
Go here to this IRCC page (its URL uses the old name for IRCC cic.ca so don't be confused) to fill in a webform to contact IRCC. 

Click on the blue

Tell Us More button and then answer the questions that appear below. Please note that there are some webform questions that you CANNOT submit unless you have already submitted an application.
Go the IRCC Help Centre page here to see if they have an answer for your question.
Go to this IRCC webpage here to see a video on completing an application and see if they answer your question.
Other Options for Free Legal Assistance for Your Sponsorship Application
Google "free legal clinic" plus your city or town name.
Contact the provincial Bar Association for your province to see if they know of any free legal clinics.
If your city has a university, contact law school faculty to see if they can be of assistance.
Legal clinic lawyers will be well-meaning, intelligent, and overworked lawyers who generally are not specialized in immigration law and IRCC rules and regulations so you may be given inaccurate advice in some cases. But at least it's free.
Paid Options for Getting Answers to Your Sponsorship Questions
Hire a paid immigration consultant or lawyer. You will now be dealing with a professional regulated by an overseeing body governed by a legally-binding ethical code.
Take advantage of this. How?
Shop around and ask each consultant or lawyer the following question:
How many spousal sponsorship applications have you filed in the last 12 months?
Anything over 4 or 5 means they are experienced enough for you to have a good level of trust in their ability. If they haven't filed any applications or are evasive with their answer, keep looking for someone else.
What can you expect to pay for a legal consultation for your sponsorship application?
The fees charged for a spousal sponsorship application range from $500 to $1,500 per review, depending on how much experience they have and whether they are a lawyer or registered immigration consultant.
Once you find and contract a professional consultant or lawyer, do not think your work is over. Keep reading our tutorial because you still have responsibilities and should still fill out the forms. The consultant will then review and adjust your application to ensure it's complete and well laid-out.
By using a professional, you've guaranteed that the accuracy of your Sponsorship Application has gone up significantly. Yes, you're paying a thousand dollars or more – much more if you hire a lawyer and they are doing the entire application – but for something as significant as bringing your spouse or partner to live and build a life with you in Canada, investing in accurate and well-researched advice is hardly wasting your money.
You get what you pay for in life.
Paid Service from Immigroup – Sponsorship Review
Paid Service from Immigroup – 1-hour phone consultation – get your questions answered