Top 10 Canadian Universities for International Students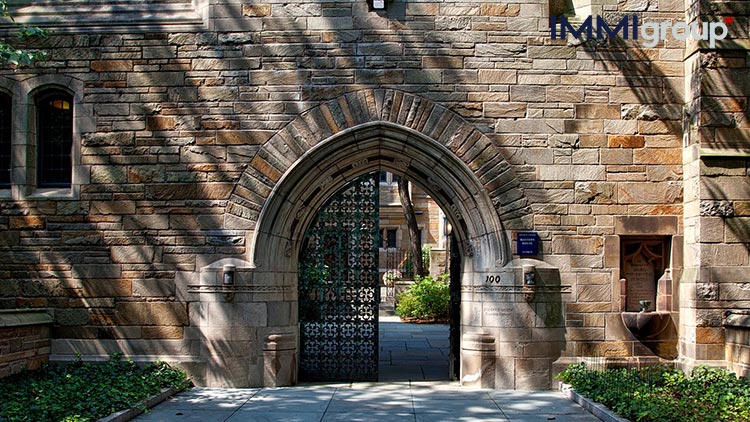 Canada needs you. Don't let the increasingly expensive tuitions fees for international students dismay you. Canadian authorities and academic institutions realized a decade or two ago that declining birth rates in Canada meant that future cohorts of Canadian students – a graduating class at any secondary or post-secondary school/college/university – would start to shrink. Less babies in the '80s and '90s has meant less university students some 18 to 20 years later. The demographic problem that has been affecting Japan for at least a generation was just over the horizon in Canada's case.
So, along with increased immigration rates, Canadian authorities realized that they would also need to drastically increase the number of foreign students studying at Canadian colleges and universities.
And charge around 3 to 4 times more for tuition.
Yes. Ouch. But the cost is similar to the equivalent fees charged in Australia and the UK, as well as being cheaper than costs at public universities in the USA, never mind the private top-ranking schools like Harvard or Stanford. Consider the following charts:
Country
University
Tuition fees (annual)
Australia
Queensland University of Technology
AUD $38,000
Macquarie University
AUD $37,500
University of Sydney
AUD $46,500
Australian National University
AUD $45,600
UK
London School of Economics
US $25,640
UK
University of Manchester
US $27,300
USA
Public out-of-state on-campus average
US $42,970
Below, we'll detail tuition costs for international students in Canada. Remember to refer back up to this table to get an idea of what the competition is charging. As well, these are tuition fees only. You always have to add cost of living (room and board essentially) as well as books and any other incidental fees when budgeting for a year's worth of study at the university level.
However, even more importantly, look what happens when you put both pieces of the Canadian demographic puzzle together:
A need in Canada to find qualified, skilled workers to compensate for all those retiring baby boomers, AND
A need in Canada to find smart, qualified university students from around the world to keep Canada's top-rate post-secondary institutions filled with bright young minds;
And you quickly realize that you can be part of the solution to both problems that Canada is desperately seeking to solve:
An international university/college student studying courses that cover dynamic and growing areas of Canada's increasingly knowledge-based economy, AND
A skilled foreign worker with:

Canadian cultural experience – you will have lived and studied in Canada for a number of years,
Canadian work experience – as an international student you may qualify for a temporary work permit, and
Improved English and/or French language abilities – nothing like sitting in lecture halls, doing lab work, or having to study for those mid-terms as a way of improving your official language skills.
Please note that this perspective is valid whether you plan to apply for PR status in Canada once you have finished your studies and have a Canadian job offer, or if you plan to use your educational and other skills acquired in Canada in order to further your career back home.
So, you really should view the opportunity to study in Canada as a gold-star investment opportunity where you're investing in your own future career(s). And, as is the case with any investment, you have to be clear about the costs. It's time to dive in and see what you should budget as an international student in Canada.
As we did last time, and as we will continue to do in order to give a full and clear picture of the costs you can expect as an international student in Canada, we list tuition costs for both Canadian (and PR-status-holding foreign nationals) as well as international students in the following table. As you'll see, there's a big difference.
| Region | Average Undergraduate Tuition – Canadian Students 2019 – 2020 | Average Undergraduate Tuition – International Students 2019 – 2020 |
| --- | --- | --- |
| Canada | CAD $6,423 | CAD $29,714 |
| Alberta | CAD $5,714 | CAD $21,925 |
| B.C. | CAD $5,924 | CAD $27,705 |
| Manitoba | CAD $4,698 | CAD $16,295 |
| New Brunswick | CAD $7,628 | CAD $16,059 |
| Newfoundland & Labrador | CAD $3,038 | CAD $12,042 |
| Nova Scotia | CAD $8,368 | CAD $18,504 |
| Ontario | CAD $7,922 | CAD $23,770 |
| Prince Edward Island | CAD $6,762 | CAD $21,628 |
| Quebec | CAD $3,065 | CAD $23,711 |
| Saskatchewan | CAD $7,756 | CAD $20,756 |
If you're observant, you'll note a statistical anomaly in the above chart. The average tuition for international students for Canada as a whole is above any of those of the individual provinces, including B.C. which has the highest average international tuition fees at $27,705. There are a number of reasons this might happen (the information is taken directly from Statistics Canada's survey of tuition fees) so it's best to focus on the provinces' average tuitions fees.
In fact, there's an even better way. Find a top-quality university and/or college offering the degree you're looking for and then see how their tuition costs compare to the above averages.
How to do that?
A great start is to keep reading below as we outline our 2020 Top Ten Canadian Universities for International Students update!
Do-it-yourself Study Permit Course
Study Permit – Paid Support from Immigroup
10. York University- Toronto, Ontario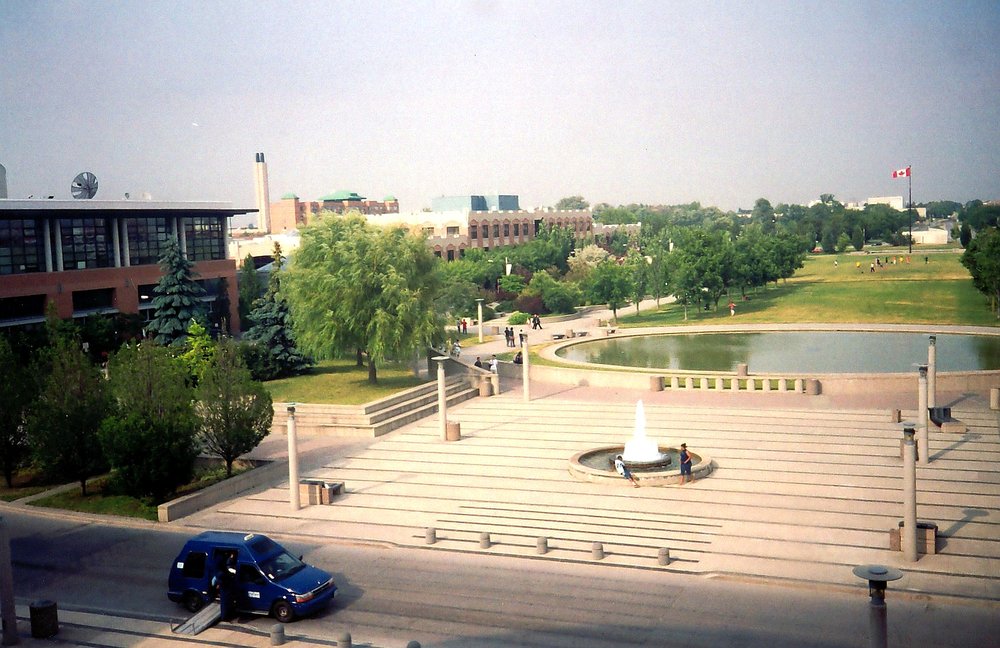 [
Public Domain
]
While York University can pride itself as one the leading academic institutions in Canada that pushed for and achieved diversity not just on its campus but in the country's broader society as well, it is a relatively expensive school to attend, so we've placed it this year at number 10.
As an international student you will feel not just welcome but a central part of campus life and faced with the choice of a wide range of courses on offer.
However, be prepared to spend around CAD $30,000 just on tuition if you're thinking of studying engineering or computer science (or any other STEM course). Add another CAD $10,000 for living and other costs and you're looking at CAD $40,000 or more. Sharing living expenses with other students is always a good idea, especially in the GTA where rents are high.
9. University of Manitoba – Winnipeg, Manitoba
by James Teterenko / Wikimedia Commons / CC BY-SA 3.0
One of the best universities in the prairie provinces of Canada and located in beautiful but cold-in-winter Winnipeg, the school offers much better value in terms of its tuition fees. For example, its renowned school of architecture costs CAD $19,500 for international students while its engineering school comes in at CAD $22,100.
While the city of Winnipeg has a number of cultural offerings, the immigrant community is smaller and the city is smack in the middle of Canada, so a visit to Toronto or Vancouver almost always involves a flight unless you have a couple of weeks of free time to do some long-distance driving.
8. Dalhousie University – Halifax, Nova Scotia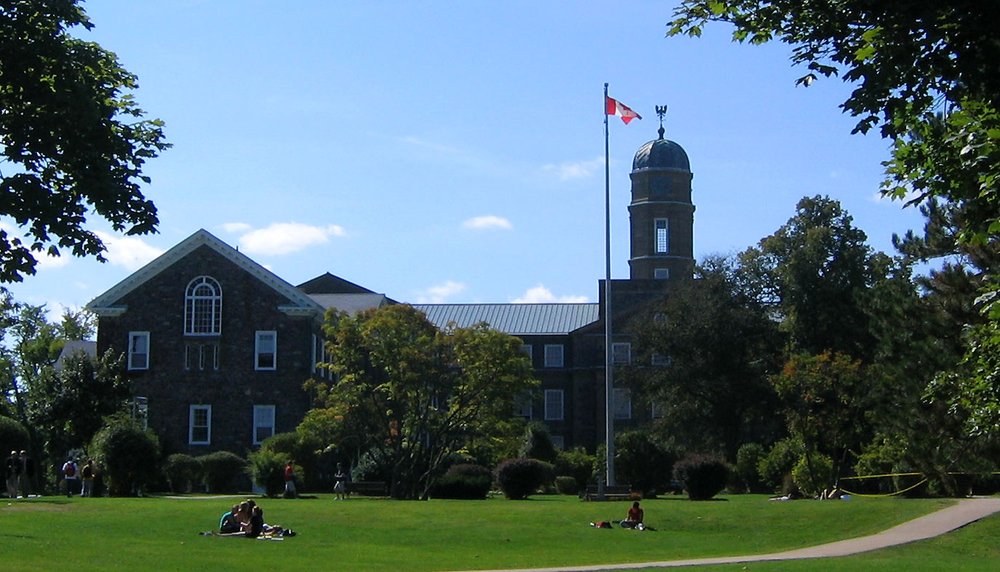 [
Public Domain
]
In case you think this is a cozy little seaside college tucked into a cove on the Nova Scotia coastline, Dalhousie has almost 20,000 students and about 190 different undergrad programs across 13 faculties with an emphasis on research as well as innovation.
The Maritimes most storied post-secondary institution has a term-based tuition fee system. Assuming your course only involves the classic (and increasingly outdated) Canadian academic year of only two terms – fall and winter with exams held in April – then your tuition as an international undergraduate comes to CAD $5,634 per term multiplied by 2 terms which equals CAD $11,268. If, however, your course involves 3 terms per year with the additional spring or summer term (usually starting in May/June and running through early August) then your tuition would come to $CAD 16,902. Given the quality of education at Dalhousie, this is great value for your tuition dollar.
And unlike Toronto, summer in Nova Scotia is mild with the ocean breezes keeping everything at a very civilized degree Celsius. Bring on that summer term!
7. Simon Fraser University – Burnaby, British Columbia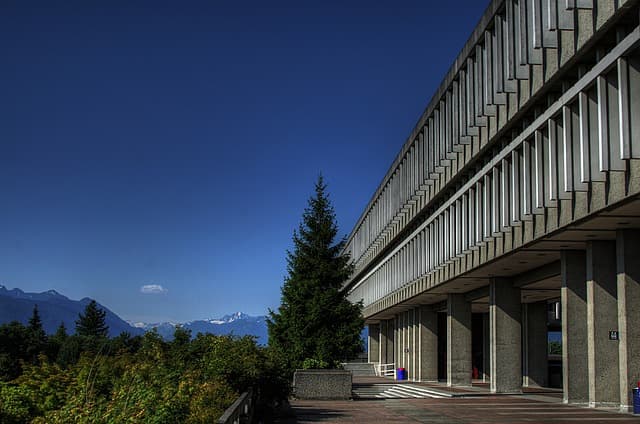 [
Public Domain
]
The school on a hilltop overlooking Metro Vancouver keeps its spot at #7 compared to our previous survey.
While not as well-known nor quite as financially well-endowed as its neighbour UBC, it nonetheless benefits greatly from being in one of North America's major gateways to the Pacific and Asia. Essentially a liberal arts university that has been increasing its STEM course load (or "units" to use SFU's terminology) it has a wide-ranging curriculum with areas like its Global Asia program. Consider taking a Global Asia minor program where you study courses like Mandarin Chinese (I and II) as well as Japanese, and offerings like Beyond the Nation-State – Identity and Belonging in a Globalized World. Or how about: Nationalism, Democracy, and Development in India? Of if you'd rather do applied science, how about Mechatronic Systems Engineering?
Tuition for international students comes to around CAD $14,000 a term working out to CAD $21,112 per year on average. Add in living and other expenses and you should budget over CAD $40,000 a year.
Is the cost worth it? It's QS world ranking puts Simon Fraser at #314, behind Dalhousie which comes in at #280 in the world ranking and has tuition that's about half as much. But SFU is rapidly becoming a go-to Pacific Rim school, one with a high research output according to QS.
You decide.
6. Waterloo University – Waterloo, Ontario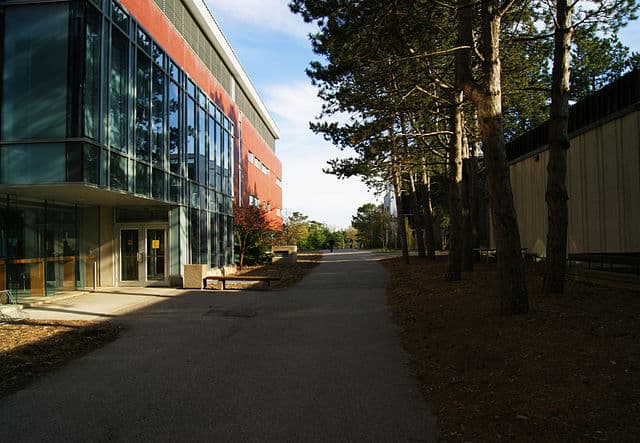 by Victor Vucicevich / Wikimedia Commons / CC BY-SA 3.0
West of the Greater Toronto Area, Waterloo has been a pioneer in the co-op (or work-study) approach to education. Very much a STEM university with an emphasis on engineering, computer science, and hard sciences, it has developed a good international reputation as a place where creative ideas can be the spark for innovative tech companies like Blackberry.
We've boosted its spot in our Top Ten up to 6th because in a globalized, connected, and competitive world, STEM-focused schools add lots of value to both their students and faculty and to the community at large. And by the way, their psychology department apparently is tops in Canada based on research citations. Keep in mind that this was a founding member of the U15 group of Canadian research-focused universities, and its QS world ranking is a reasonably respectable 152nd.
Fees are high. For example, software engineering runs at CAD $25,632 per term which means you're looking at over CAD $50,000 per year just for tuition. Yes, a degree in software engineering from Waterloo just about guarantees you a well-paying job after you graduate. But be ready for some steep tuition costs.
5. McMaster University – Hamilton, Ontario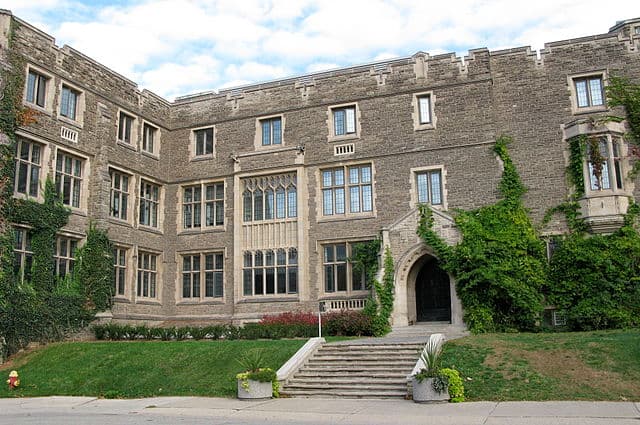 by Saforrest / Wikimedia Commons / CC BY-SA 3.0
McMaster, the pride of Hamilton, Ontario, has often had to scrap in the corners – that's an ice hockey metaphor for gritty play folks – to gain the respect that its fellow Ontario universities like Waterloo, York, U of Toronto, or even Queens have been the beneficiaries of. That's changing, and in a noticeable way.
Just look at the world rankings. QS world rankings places McMaster at 140 worldwide and 6th in Canada. Meanwhile, U of Calgary came in at 233 and 9th, respectively. So, we've replaced U of Calgary with McMaster in our top ten list. And not only that, the Times Higher Education survey placed McMaster at 78th worldwide and 5th in Canada, in its employability ranking. This ranking is a good measure of what a graduate's job prospects from any given university are like. With its engineering and healthcare programs as well as its Global Hub gateway, McMaster has worked hard to climb the rankings.
It's not cheap as far as tuition goes. For example, the tuition for a full-time automotive engineering degree comes to CAD $35,634 per year for an international student. But with an employability ranking as impressively high – based on surveys with 6,000 businesses around the world – this might be the sweet spot in terms of affordability and return on investment. It's never at the top of most lists, but increasingly McMaster deserves to be (as good as U of Calgary is).
4. University of Alberta – Edmonton, Alberta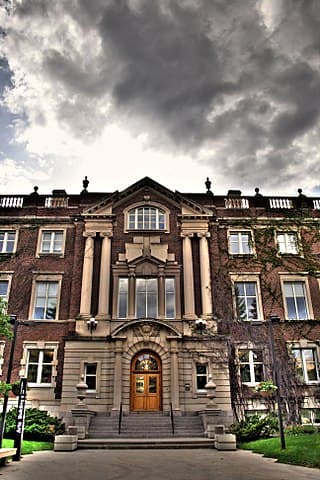 [
Public Domain
]
People sometimes think the province of Alberta starts in the eastern suburbs of Calgary and ends somewhere just west of Banff.
Wrong. As dynamic and successful as Calgary and the surrounding area in southern Alberta is, there's a lot more to the province and the University of Alberta, located several hundred kilometres to the north in Edmonton the provincial capital, is clear proof of that fact. It ranks 113 in the QS world survey and comes in at 4th in its Canadian rankings. Petroleum engineering, paleontology and forestry are among its top-ranked programs.
Fees for international students are per course and come in at an average of around CAD $2,200 per course so based on 10 courses per year in a 2-term (fall and winter) academic year that works out to around CAD $22,000. Fees are higher for professional programs like Law, for example.
This is a very solid academic institution with a wide range of courses – it's one of the pioneers in computer science in Canada having established its computing school well before many other universities – and a very reasonable fee structure. All in all, a winner.
Plus, Calgary might have Banff National Park, but Edmonton has Jasper National Park and the drive from Edmonton through Hinton and up into the Rockies is just about as beautiful as the one from Calgary to Banff.
Make sure you keep U of A on any short list you have of Canadian universities. It's more than worth it.
3. University of British Columbia – Vancouver, British Columbia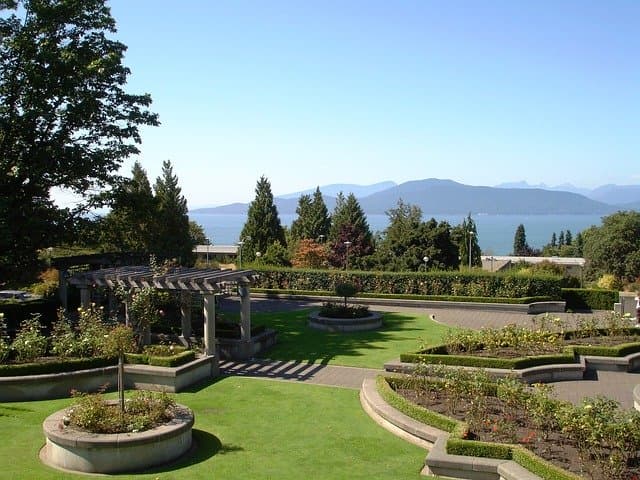 [
Public Domain
]
UBC is almost always near the top of any list of Canadian universities, especially one geared towards international students as this survey is. But for this latest edition, it's slipped 2 notches down to 3rd place.
No one's questioning its research institutions or the quality of the overall educational experience at UBC. It's more a case of deciding where an average international student who wishes to study in Canada can best invest their time and money. In other words, despite its undeniable attractions, is UBC the absolute best investment an international student can make regarding their future careers?
The answer to that question really depends on your budget because Vancouver itself if a very expensive city and UBC is arguably one of the most expensive schools in Canada. For example, international engineering students at UBC pay CAD $46,241 in tuition annually. At the Sauder school of business tuition fees, a year of a commerce degree are a lesson in luxury-good pricing at CAD $49,237 while annual tuition for computer science come in at CAD $39,197. That's not including other fees or living expenses. So, count on budgeting over CAD $50,000 per year if you're solvent enough (and smart enough) to attend UBC. And if you have to rent off-campus, add a few thousand to that figure.
Yes, UBC is a very good university and Vancouver is absolutely beautiful. Vancouver Island is lovely. Whistler is world class. But remember, you need world-class savings to be an international student at UBC. Very nice if you, or your family, can afford it.
2. University of Toronto – Toronto, Ontario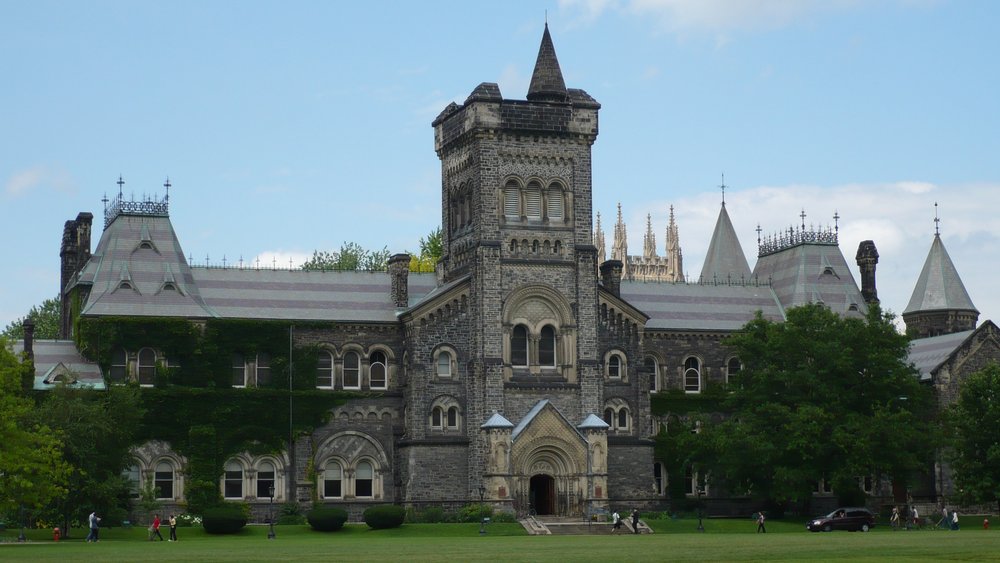 by Nat / Wikimedia Commons / CC BY-SA 3.0
Why isn't U of T at number 1 if UBC isn't? Aren't they the duopoly fighting it out for top spot at the summit of Canadian post-secondary institutional achievement?
That's a good question but remember again that we're focusing on value for money. Both U of T and UBC have large endowments – money donated by corporations, organizations, or wealthy individuals – and top-notch research facilities. Vancouver and Toronto are arguably Canada's principal business centres, as important and vital as Calgary may be. Many companies are headquartered in the Greater Toronto Area or Metro Vancouver. In fact, the diversity of companies in the GTA and the Golden Horseshoe area – the area bordering Lake Ontario from Toronto through Hamilton – is undeniable. But again, U of T knows all of this and boy do they make you, the international student, pay up for the benefits of a degree from University of Toronto.
Consider the following: if you wish to study computer science at U of T the fees for international students are CAD $53,290 in first year and rise to CAD $58,970 by your upper years. If you prefer management studies (business or commerce, in other words) you're looking at a similar fee for first year but then CAD $64,810 for your upper years. For all other programs, internationals pay CAD $53,290 for their first year and then CAD $55,950 for their upper years. While this is clearly even more expensive than UBC, the fact is that Toronto remains Canada's principal city economically and unless you plan to study for a degree in environmental forestry, Toronto is more likely the city where you will find a job. And as we explain below, it has far and away the best ranking of any university in Canada.
So, as an overpriced but world-class university, U of T comes 2nd in this year's survey.
1. McGill University – Montreal, Canada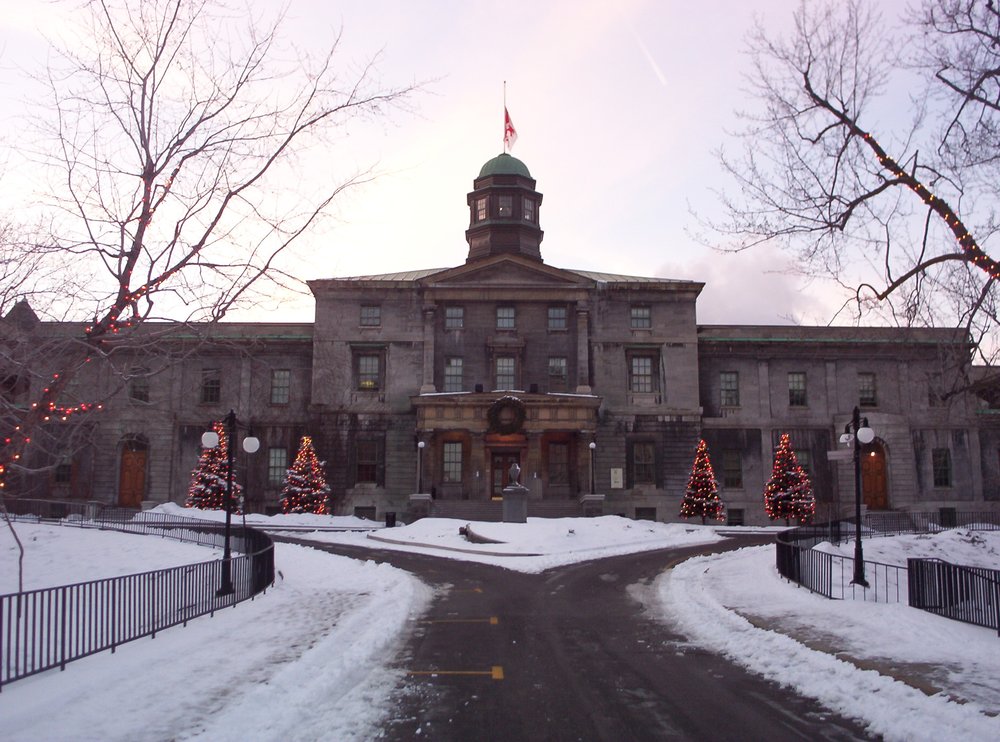 by Colocho / Wikimedia Commons / CC BY-SA 2.5
A 5-hour drive from Toronto up the 401 heading east, you will find Montreal. (Which means Mount Royal in French.) And nestled on the lower slopes of that hill which we call Mount Royal in the middle of an island in the middle of the St. Lawrence River, you will find the campus of McGill University, our top choice this year. To be clear, that island in the middle of the river is Montreal, a city bounded by water on all sides with an old quartier that was French before it was Canadian and a city where you do have to speak French to truly enjoy its delights. But one where a little French is good enough to get by at McGill, especially as an international student.
While McGill might not have quite the rankings of U of T – U of T came in at 17th worldwide among public universities in the QS survey – McGill actually ranked ahead of UBC in the same survey coming in at 35th compared to UBC's 51st. McGill has made tremendous efforts at improving its research facilities and investing in its staff and performance as a major post-secondary institution and it shows.
Plus, the costs are more than reasonable given the quality you get with a degree at McGill. The range is quite wide from CAD $18,110 up to CAD $48,747 for some professional degrees. All are noticeably less than those at either UBC of U of T. And Montreal is a much cheaper city to live in compared to either Toronto or Vancouver.
So, if your budget is not quite as ample as that needed to pay for fees at U of T or UBC but you still want a top-rate world-recognized school to attend, McGill has to rank as the top choice for international students looking to study in Canada.
2018 List: Top Ten Canadian Universities: How to Make Your Pick
Canada takes pride in its growing reputation as the best place to study abroad. Providing excellent quality of educational programs that matches world's university giants like Oxford or Stanford, a welcoming and a tolerant community and safe student environment, it isn't surprising that international students are crowding in to enrol in top-ranked Canadian universities. The staggering 92% increase in the number of international students over the last decade is not only due to the superb choice of undergraduate and advanced-level postgraduate study programs, but is also has merit in the rich city diversity of Canada and even better offerings for outdoor activities.
Enrolling in a Reputable Canadian University Improves Your Job Prospects
If you choose to study in one of the Canadian provinces, you not only get the chance to enjoy the real-life postcard-perfect Canada but also improve your prospects to get a job with a Canadian employer or another employer in an English speaking country. Furthermore, new job opportunities in Canada serve as a sort of a guarantee for your investment in a post-secondary education. Although top Canadian universities are not as expensive as their UK or their US counterparts, international students still do need to pay way more than the domestic candidates. However, tuition fees are easier to manage when you think of them as job generators. Engineering and business, as well as the natural and social sciences, are popular study alternatives for international students in Canada. A degree in these areas will raise your odds of getting a high-paying job, so the benefits are mutual. Canada gets a skilled worker and you get a first-class job in one of the world's most stable countries.
| Region | Average Tuition for Canadian Students | Average Tuition for International STudents |
| --- | --- | --- |
| Canada | $6,907 | $16,252 |
| Alberta | $5,655 | $11,703 |
| British Columbia | $8,313 | $15,673 |
| Manitoba | $4,712 | $10,280 |
| New Brunswick | $6,069 | $11,314 |
| Newfoundland and Labrador | $2,752 | $3,174 |
| Nova Scotia | $8,856 | $18,255 |
| Ontario | $9,918 | $22,217 |
| Prince Edward Island | $5,260 | $11,602 |
| Quebec | $2,979 | $14,907 |
| Saskatchewan | $3,942 | $5,918 |
Average tuition fees for international students across Canadian provinces in 2017/2018.
Canadian Universities Rank Higher on Global Lists
Prestigious ranking institutions place several Canadian universitiesamong the top fifty in the world. When you think that the top-ten competitors include Oxford, Harvard and California Tech Institute, and include runners-up from the growing Chinese higher education sector, having three or four among the best 50 out of 1,000 is an admirable number. The list includes the University of British Columbia at position 34, and the McGill University at position 42. It is obvious that 2018 will put yet another plus on the side of top Canadian universities.
Navigate the Canadian Tuition Fees Maze
Certainly study costs will be the one factor you shouldn't overlook when you choose your university preference. The rise of the average tuition fees of about 5 to 6 percent in the last year for graduate and for undergraduate international students is another proof of the exceptional value of Canadian colleges and course programs. As more and more people are getting their degrees in Canada, faculties are improving and, despite the tough competition, international applicants are spoiled for choice.
When you are budgeting your Canadian education costs, make sure to add costs for housing, academic materials, living expenses, transportation, and insurance. For example, there is a difference in the cost of living if you choose to study in one of the cosmopolitan universities, such as those in Toronto or Vancouver, or if you rather opt for a college in Nova Scotia. Monthly apartment rents off-campus can range between $500 and $1,500 depending on where you live. On-campus housing alternatives will save you travel money and on the bonus side, provide options for working while you study. Multiple scholarship opportunities are always of great help and many universities attract international students by offering various scholarships.
Have Your Budget Priorities Set, What Else is There to Consider?
If you fail to do your research on the top universities by your essential criteria, you may miss out on the best possible experience. Openness to international students is part of Canadian culture. Some towns are more dynamic while others have a less urban feel. Keep that in mind when you are thinking about going for the cheapest option. These top-ten international student-friendly Canadian universities will offer a rich social life and plenty of options to try out the life of a Canadian while you study there as an international student:
Top 10 Canadian Universities for International Students for 2018
by Raja Shalhid / Wikimedia Commons / CC BY-SA 4.0
10. University of Manitoba – Winnipeg, Manitoba
By James Terenko / Wikimedia Commons / CC BY-SA-3.0
The largest and oldest university in Manitoba offers over 90 courses to international students, including preparatory programs and distance learning. The central prairie location provides many explorative opportunities. Its low point is the distance from everywhere else in Canada. However, studying in Manitoba may be your only chance in life to see rare species, such as polar bears and beluga whales.
9. York University – Toronto, Ontario
by The City of Toronto / Wikimedia Commons / CC BY 2.0
If the costs associated with the tuitions fees and the central location of the University of Toronto are over your budget limit, consider applying to York University, in northern Toronto. It is just behind UoT in size and its diverse courses can accommodate almost any chosen subject. If you want to attend York, you must calculate for the time and the costs associated with getting from northwest Toronto to wherever you choose to live (such as downtown Toronto). However, York has a fine residential capacity for its students and the size of the campus can compensate for the lack of urban attractions. York University has an enticing study program, including novel cross-disciplinary degrees, such as integrated science, disaster management and globalization of indigenous peoples.
Do-it-yourself Study Permit Course
Study Permit – Paid Support from Immigroup
8. University of Waterloo – Waterloo, Ontario
by Victor Vucicevich / Wikimedia Commons / CC BY-SA 3.0
If you are thinking about enlisting in an innovative post-secondary program, the University of Waterloo, located 90 minutes from Toronto, is just what you need. Student entrepreneurs can engage with after-school activities in Velocity Garage, a free start-up incubator and grow as businessmen along taking exams. Advanced tech and interdisciplinary courses, such as knowledge integration, nanotechnology engineering and remote piloting lay a fertile ground for developing a business idea that you can launch after you graduate.
7. Simon Fraser University – Burnaby, British Columbia
[
Public Domain
]
Simon Fraser University provides stunning mountain views to take your eyes off the books when you complete your course lessons. Simon Fraser University is a new favorite for internationals, topping the ranks this year by the student reputation. The great thing about the three campuses located in Burnaby, Surrey, and Vancouver is that they have established a social scene for students with strong bonds to the local community. The wide scope of academic classes ranging from advanced environmental programs to business design and mechatronics makes it inclusive to all type of scholars. If you enjoy cool courses with an exuberant social life, Simon Fraser might be your choice.  Simon Fraser is about 30 minutes by car, or an hour by bus, from downtown Vancouver.
6. University of Alberta – Edmonton, Alberta
[
Public Domain
]
Some say that the cold weather is the lowest point of your Canadian studies, and though Edmonton is pretty far north, many don't consider it as scary weather-wise as some cities. The rates for grad students are a factor that may make you forget about the living costs. The excellent research reputation can compensate for the harsh winters. The city-sleek ambience, the wide-range of student support services, and a world famous shopping mall are welcoming students from almost 150 countries who come to study at the University of Alberta.
5. University of Calgary – Calgary, Alberta
by Qyd / Wikimedia Commons / CC BY-SA 3.0
Apart from over a hundred study programs, if you want to build not only your academic skills, but also your athletic prowess, the University of Calgary is a top pick as it is located in one of the world's best and cleanest cities to live. With an average of 333 sunny days per year, it is a contrast to the stark Canadian weather everywhere else. Calgary has all essential aspects of Canadian hospitality  – diversity and a multicultural openness. The amazing ski slopes 2 hours away are just a bonus.
4. University of New Brunswick – Fredericton and Saint John, New Brunswick
by HazelAB / Wikimedia Commons / CC BY-SA 4.0
Canadian medical and law schools top among the favorites for international students. The New Brunswick University will definitely suffice for the pickiest future medical doctors and lawyers while the 75 other courses available at Fredericton and Saint John campuses make the University of New Brunswick one of the best options if you are on a budget, particularly if you find a bargain in accommodation. The study curricula comprises attractive programs related to human and satellite intelligence, as well as courses in global web activism.
3. McGill University – Montreal, Quebec
by paytonc / Wikimedia Commons / CC BY 2.0
There are two main reasons you wouldn't want to miss McGill University, especially if you speak French. The first reason includes the affordable tuition rates for international students, which are   $14,618 for undergraduate and $12,550 for graduate tuition and fees. If you are lucky enough to be a French citizen, you can qualify for extra-affordable rates on the level of Quebec residents. Tuition savings aside, you will not have enough hours in the day to enjoy Montreal's European vibes. If you don't dig in the bountiful festivals on offer, including the largest comedy festival in Canada, you just might spend the extra savings on theaters, music and visual arts.
2. University of Toronto – Toronto, Ontario
[
Public Domain
]
Toronto is the picture of Canadian multiculturalism and one of the deciding factors for over 15,000 student per year to choose it as a preference. The tuition fees and the costs of living are not exactly cheap, though, and if you have a generous study budget at your disposal, you will enjoy one of the most vibrant international student communities in Canada, located in the core of Canada's largest and most multicultural city. The world-famous University of Toronto is great for culture fans, with many world class attractions, including the Toronto Film Festival, which is one of the top 3 film festivals in the world.
1. University of British Columbia – Vancouver, British Columbia
by Shawn / Wikimedia Commons / CC BY-SA 2.0
Sometimes, it pays off to pay higher tuition fees to get lively panoramas, a choice of smaller and larger campuses, as well as access to some of the best research grants in the world. In as much as Vancouver gets higher and higher on the list of world's most expensive cities, the picturesque surroundings of Vancouver are not only populating world travel magazines, but also luring in newcomers to settle. All the best open-air experiences in Canada are in the Vancouver area, so, if you are thinking long-term and want to stay in Canada after you complete studies, the University of British Columbia is a smart choice.
Do-it-yourself Study Permit Course