Top 10 Malls to Cross Border Shop for Torontonians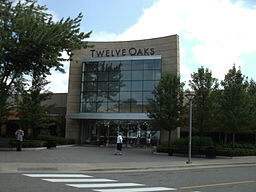 Everyone in the car? Let's plan our trip by checking out 10 malls that you can visit in 3 weekend getaways. If you're one serious shopper, you could just about do all 10 malls in one crazed long weekend. We think it's a little better to pace yourself, but that's up to you. And your credit cards.

Updated for 2019
Pack your bags, but only half full, and grab your partner, or spouse and kids, or just head by yourself in your car for a shopping getaway. Your starting point is somewhere in the greater Toronto area – make it the Golden Horseshoe – and your destination is somewhere just over the border where gas is cheaper and a great deal is waiting for you, somewhere in all those malls. We all know there're wonderful malls in the Toronto area, but things in Canada are just a touch more expensive. So how can one take advantage of the bargains south of the border? Given that gas and some products tend to be noticeably cheaper – sometimes even with the loonie siting at about US $0.74 – why not make it a weekend trip? There's an added bonus to doing it this way, which we'll cover in just a few paragraphs.
Everyone in the car? Let's plan our trip by checking out 10 malls that you can visit in 3 weekend getaways. If you're one serious shopper, you could just about do all 10 malls in one crazed long weekend. We think it's a little better to pace yourself, but that's up to you. And your credit cards.
5 Things I Learned as a Foreigner Living in Toronto
Heading South to the Falls
And slightly to the west. As in Niagara Falls and Buffalo. First things first. Which bridge do you use to cross over into the USA? There are 3 of them in case you didn't know:
Queenstown-Lewiston Bridge: It has the fewest amount of lanes and tends to be slower.
Rainbow Bridge: 18 customs inspections lanes heading into the US. Faster.
Peace Bridge: 11 lanes into the USA and gets you into downtown Buffalo. The other 2 bring you into Niagara Falls NY.
(If you have a NEXUS Card you can use the fourth bridge, the Whirlpool Bridge. But only if you have a NEXUS Card.)
NiagraFallsBridges.com is a site that will give you traffic conditions and delay times. You can also check with the Canadian Border Services Agency. Or, for your iPhone, why not download a wait-times app from iTunes? Yes, there is one. Your speediest crossing is often the Rainbow Bridge if you want to start to your spree in Niagara Falls. That's where we'll start with our first mall:
The Fashion Outlets Mall by Deutsch Fetisch / Wikimedia Commons / CC BY-SA 3.0https://creativecommons.org/licenses/by-sa/3.0/deed.en
Located in Niagara Falls, NY, this mall has around 140 stores with just about any brand you want as well as a foreign exchange service and a Tim Horton's. At 1900 Military Road, just off of Route 190, not far from a couple of the bridges mentioned above, it's a perfect first stop on your cross-border shopping spree.
Walden Galleria by Cathy Smith / Wikimedia Commons / CC BY 2.0https://creativecommons.org/licenses/by/2.0/deed.en
Buffalo's premier mall, it also has foreign exchange services and a Tim Horton's. And over 180 stores. There's an indoor karting track, a movie complex, and various restaurants for dining out. You get there from the I-90 or Route 190. Go here for directions.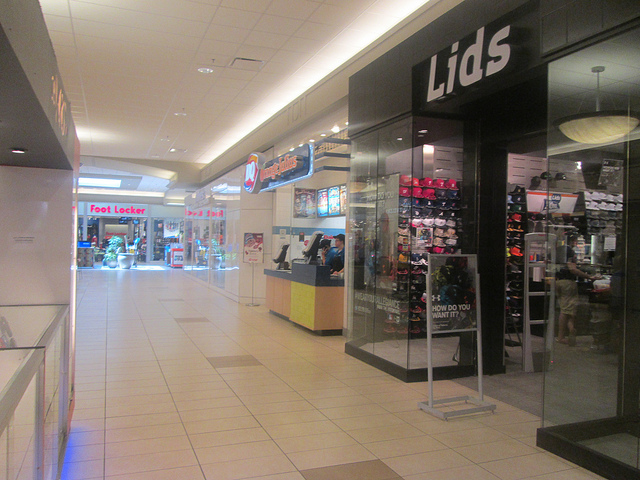 Millcreek Mall by Random Retail / Flickr / CC BY 2.0
Just 90 minutes down the I-90 in Erie, Pennsylvania (Pennsylvania has a small northwestern corner of the state that reaches the southern shore of Lake Erie), this mall is your final stop on your busy weekend getaway. Or you might head here first and finish up in Buffalo on the way back. With about 180 stores, the drive should be worth it.
Motor City Madness
Everyone knows Detroit has seen tough times for the last few decades. But this classic city still has a lot to offer you, especially if you mix in a little sports with your shopping. It's a nearly 4 hour drive from Toronto to Windsor, so start early if you can on Friday. And who knows, you might just be a raving Red Wings fan looking for an excuse to see them live on their home ice. Need a little NFL? The Lions may not be contenders this year, or last year, or next year, but they're still the Detroit Lions. And oh yes, they play a little basketball in Motor City. And what was that other team, the one that plays when the weather gets really hot? Ah that must be it, you're a closet Tigers fan! Or better yet, your husband is, so you can leave him and the kids at one of Detroit's multiple sports venues and take care of the more meaningful things in life. Detroit is a city slowly rebuilding itself and with a little driving around the greater Detroit area, you can find quite a few malls. We found 4 of them.
Great Lakes Crossing by TenPound Hammer / Wikimedia Commons / CC BY-SA 3.0
Huge and with about 200 stores, it is a super-regional mall and is located in the northern Detroit suburb of Auburn Hills. And apparently it has 25 stores that can't be found anywhere else in Michigan. Wow. All sorts of options are available, including movie theatres and a play area for the kids with a classic merry-go-round.
Twelve Oaks Mall by The Devil's Advocate [Public Domain]
A ways out of downtown Detroit out in Novi, Michigan along I-96, it features over 180 stores and is also a super-regional mall with lots of choice in its offerings. Upscale and fashion conscious shoppers tend to head here.
Fairlane Town Center by Anne B. Hood [Public Domain]
Guess what, it's a third super-regional mall, located in Dearborn Michigan. A nearly identical website to 12 Oaks means it's likely owned by the same folks, but each mall has its own specials, so maybe your best deal is waiting for you at Fairlane. Over 160 stores means there is plenty to choose from.
Somerset Collection by Mike Russell at the English Wikipedia / Wikimedia Commons / CC BY-SA 3.0
No, it's not an antique silverware collection, it's an upscale, luxury, super-regional shopping mall located in Troy, Michigan. Enormous yet elegant, this is for serious shoppers. With about 180 specialty stores for the fussy and discerning among us, you can be sure to find something special on sale.
From Kingston
Our third and final weekend outing for the shopper in all of us, has us heading the other way on the 401, just past lovely Kingston, Ontario and across the border at the Thousand Islands Bridge that connects the thriving urban centres of Lansdowne, Ontario, and Alexandria Bay NY. Go here for wait times at the border crossing, which can be a fairly busy one. Another good site for border crossings into New York State is here. You're not in Buffalo-Niagara Falls, you're far from NYC, and Detroit, and you are in New York State's forgotten Northern corner heading to Watertown, then Syracuse, and finally Rochester. Why? Why not?! They have some pretty good malls and the pace might just be a little more relaxed, with less chances of getting into a shoving match with some guy from Mississauga in the check-out line at Abercrombie & Fitch in Niagara Falls NY.
Salmon Run Mall
What better place to start your NNY (Northern New York) shopping excursion than at a mall with the word salmon in its name? 31 miles south of the Ontario border, Watertown is home of the safety pin, and once had the highest number of millionaires per capita in the USA, at least that's what the folks in Watertown say. The wealthy, many from NYC, have left an architectural legacy and did you know that the city has a park designed by Frederick Law Olmsted, the landscape architect who designed Central Park? With almost 90 stores, it may not be a super-regional mall but it has a nice selection of outlets where you can start your shopping at an easy, friendly pace.
The Carousel Center before it became Destiny USA by Bear golden retriever / Wikimedia Commons / CC BY-SA 2.0https://creativecommons.org/licenses/by-sa/2.0/deed.en
They like you. They really like you. The Carousel Center in Syracuse New York changed its name a couple of years ago and is now hoping to be your destiny for shopping south of the border. With over 160 stores, dozens of services, and dozens of dining options in 3 levels, this aims to satisfy your shopping needs. It's a 70 mile drive from Watertown, just enough to work up an appetite for a late lunch perhaps at one of its restaurants. By the way, Greater Syracuse has a population of nearly 750,000, and Forbes ranked the city 4th in the top 10 places in the USA to raise a family.
Eastview Mall by Matthew D. Wilson / Wikimedia Commons / CC BY-SA 2.5
In Rochester NY, moving west, still south of Lake Ontario, from Syracuse, this mall offers around 170 stores. Rochester was rated the most livable city among 379 metropolitan areas in the USA. Not bad for a tidy, prosperous city with a population just over 1 million in the Greater Rochester area. Surprised? Maybe it's time to load up the car and head to the Thousand Islands Bridge. Or the Niagara crossing, seeing the city is about halfway between Syracuse and Buffalo.
Exemptions
Since 2012, CBSA has granted greater exemptions for Canadian residents returning to Canada after a stay abroad. Depending on how long you stay in the USA, your exemptions will increase. Go here for the details, and here for alcohol, here for tobacco. Basically after 24 hours you get CAN $200 worth of exemptions, and after 48 hours you get CAN $ 800 worth. Nice. CBSA suggests you declare all your purchases and they will figure out what your exemptions are. Keep all receipts, please! There are horror stories of shoppers caught up at the border with no receipt for some large item. If you want an easy and smooth return back into Canada, play it honest and declare all your purchases. If you do exceed your exemption limit, you must pay GST and HST. Please keep your GST/HST pay slip as you re-enter the customs lanes, as it will be your ticket back into Canada, so to speak. So with this in mind, your weekend shopping trip almost pays for itself, with savings and exemptions. And you get to see a bit of New York, Pennsylvania, or Michigan, depending on which of our 3 outings you choose. All in all, a pretty good value proposition.