Border Crossing Dos and Don'ts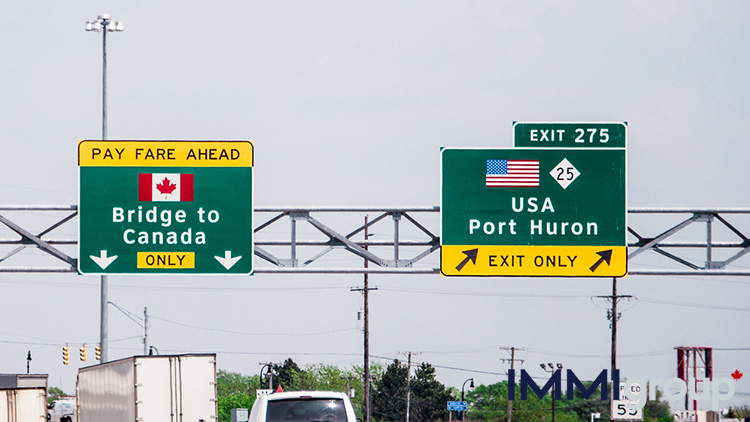 Maybe your parents have stories about the way the border of Canada and US used to be – guards eating donuts and waving or maybe even sleeping at their posts. Things have changed. Now it's all interrogation and snarling drug dogs and fear of shoe bombers when you're crossing from Canada to US.

Maybe your parents have stories about the way the border of Canada and US used to be – guards eating donuts and waving or maybe even sleeping at their posts. Things have changed. Now it's all interrogation and snarling drug dogs and fear of shoe bombers when you're crossing from Canada to US. Don't get too smug, Canadians: crossing the border from the US to Canada isn't exactly a matter of high-fiving a Mountie while smoking a joint. Here are a few tips to help you minimize the seemingly inevitable hassle.
TOP DOS WHEN CROSSING THE BORDER OF US AND CANADA
Update: Read our latest article: Border Interview Questions – How to deal with CBSA agents like a pro! 
1. YOU WILL BE PROFILED AT THE BORDER.
DO LOOK IN THE MIRROR.
The stories are true. Racial profiling happens at the border of US and Canada and in Canadian cities. It might not be right, but it keeps happening, so prepare for it. Try to tailor your appearance a little to appease border guards trained to use your ethnicity to gauge how much of a security risk you might pose. Avoid traditional dress (unless your tradition happens to be WASP office worker). Avoid outward displays of non-Christian religious affiliation – hide your Koran. Even if your ethnic background doesn't make you seem likely to fit a "terrorist" profile, think about the impression you're making. Maybe you don't have to pull out the formalwear, but would it hurt to leave the anti-American t-shirt or the tie-dyed headband in the luggage until you get through the checkpoint? Border guards need to choose who to search based on some visual cues, and your scraggly beard and that dreamcatcher hanging from the rear-view mirror is sending the wrong message. The right message is "I am law-abiding and I recognize your authority," and even if that isn't the whole truth, it's what you want these guys to think. The border is one of the least fruitful places on earth to rebel. Button up and play the part.
Don't act surprised if you get hassled on the way into America wearing this, Osama.
Try to use the "tell them only what you want them to know and make it sound like what they want to hear" rule. Are you an exporter, an airport baggage handler, or a sex worker? Try calling yourself a warehouse manager, a porter, or a massage therapist, instead. Make yourself seem as dull and risk-free as possible.
2. POT SMOKER?
DO CLEAN UP YOUR CAR BEFORE CROSSING.
You will appear much less likely to be hiding something if there isn't a layer of garbage on your floor. Make a quick stop long before lining up (before the last exit prior to the crossing) on either side of the Canadian and US border to throw out the trash, prepare your identification, and make sure that the border agent is going to sense order and neighbourliness (or neighborliness). If you smoke marijuana regularly, get rid of any remnants or paraphernalia. Vacuum up the stems and ashes and fish the roaches out of the ashtray. Double check any of your usual hiding places. Search your hazy memory. The dogs might find something that you've forgotten. Get rid of everything and plan to replenish your supply on the other side.
Or, if you're loyal to your dealer's brand, a University of Western Ontario news article suggests that some border crossings into Canada merely confiscate "personal use" amounts of marijuana under 28 grams, choosing not to waste time on arrests and charges. Do a little research to figure out what "port policy" is around pot possession at the crossing of your choosing, and decide how much you're willing to risk. This won't work in the other direction, though: American drug laws are WAY less liberal than Canadian drugs laws. According to Steve Graham, defence attorney, if you're caught with even the smallest amount of marijuana (even one-tenth of a gram!) when entering the US you could face prosecution and an entry ban decades long. Don't risk it.
3. "YOU'RE A TERRORIST? YOU'RE A TOURIST? WHAT DID YOU SAY?!"
DO TURN OFF THE RADIO.
You're going to be talking with a border agent, and you're going to need to hear what they're asking you so that you can answer as plainly and blandly as possible. Would you leave the music blasting at the drive-through window? No. Don't do it at the border of Canada and US, either. The wrong topping here could be a few extra hours of search and interrogation. That's way worse than unwanted mustard. Loud rap or metal tells the guard that you don't like authority. Remember: you want to fit the profile of pleasant and boring, not armed and wasted.
4. DON'T LOOK LIKE A KIDNAPPER.
DO MAKE SURE YOU HAVE APPROPRIATE DOCUMENTS IF YOU'RE TRAVELING WITH CHILDREN.
You're going to need to prove that you haven't stolen those children in the back seat, even if they have your eyes. If you're traveling without your significant other or if you are traveling with someone else's children, you'll need written permission from all of the absent parents or legal guardians of any children younger than 15. Don't forget to include contact information. The guard might want to call for verification.  The kids themselves will need proof of identity, too. If you're crossing by land or water, children aged 15 years or younger are fine with an original or photocopied birth certificate or citizenship card. If you're traveling by air, you'll need to get that baby a passport. Also be prepared to let children speak for themselves: border guards might ask them some direct questions if they're old enough to talk in complete sentences. The same rules apply if you are crossing the Canadian border in the other direction. To get your offspring into the US, you need a birth certificate or passport for children 15 and under, and you need express written permission from all absent parents and guardians.
5. NO WEAK LINKS ALLOWED.
DO GET YOUR STORY STRAIGHT, AND DO PUT THE CHARMING ONE BEHIND THE WHEEL.
Know the citizenship and residency status of everyone in your vehicle. Make sure everybody knows which visas or permits they need, that they've been approved, and that they've brought the proper documentation. This is especially important now. You really want to avoid lying unknowingly to the border guard, so make sure everyone knows what's up.
Do you hate guys in uniforms or have a short temper? Maybe let someone else drive and do most of the talking at the border. Put the calmest person with the least to hide in the place where they'll do the most talking: behind the wheel. If that takes the owner of the car out of the driver's seat, just say that they're resting.
6. KNOW HOW MUCH YOU CAN BUY.
DO DECLARE ALL ITEMS THAT YOU ARE BRINGING (OR BRINGING BACK) WITH YOU.
If you're coming back from a shopping trip, make sure you know what you can and cannot take with you. These are the personal exemptions for Canadians returning to Canada:
PERSONAL EXEMPTIONS FOR CANADIANS RETURNING FROM THE US
PERSONAL EXEMPTIONS FOR CANADIANS RETURNING FROM THE US
TIME AWAY

$ VALUE PER PERSON

NOTES
>24 HOURS
C$200
X

X

You have to bring everything with you to the Canadian border.
>48 HOURS
C$800
1.14L (40 oz) LIQUOR
1.5L WINE
24x355ml BEER
200 CIGARETTES
50 CIGARS (or cigarillos)
200 TOBACCO STICKS
200g (7 oz.) manufactured tobacco
Again, bring everything with you to the border.
>7 DAYS
C$800
1.14L (40 oz) LIQUOR
1.5L WINE
24x355ml BEER
200 CIGARETTES
50 CIGARS (or cigarillos)
200 TOBACCO STICKS
200g (7 oz.) manufactured tobacco
You can ship these goods, except for booze and tobacco, limited quantities of which you can bring with you to the border.
DUTY-FREE EXEMPTIONS FOR AMERICANS RETURNING FROM CANADA
TIME AWAY

$
VALUE PER PERSON

NOTES

<48 HOURS
US$200
1L
(33.8 oz)
200 CIGARETTES
100 CIGARS
You have to bring everything with you to the American border.
>48 HOURS
US$800
1L
(33.8 oz)
200 CIGARETTES
100 CIGARS
Again, bring everything with you to the border.
Big spender? Planning to buy more than your personal duty-free exemption allows? Here's what you can expect to pay:
DUTIES FOR AMOUNTS OVER THE PERSONAL EXEMPTION
DUTY RATES WHEN RETURNING TO CANADA

DUTY RATES WHEN RETURNING TO THE US

7%
+ GST/HST
(ON GOODS VALUED UP TO $300 ABOVE PERSONAL EXEMPTION EXCLUDING ALCOHOL AND TOBACCO)
3%
(FOR UP TO $1000 ABOVE PERSONAL EXEMPTION)
VARIABLE IMPORT DUTY RATES APPLY TO GOODS
>$300 ABOVE EXEMPTION
VARIABLE IMPORT DUTY RATES APPLY TO GOODS
>$1000 ABOVE EXEMPTION
Americans can also pool the duty-free exemptions of family members travelling together, including children, each of whom are allowed the same individual duty-free exemption amounts as adults. Canadians can only declare items for children if they are actually items for children. Claiming that new drill is for your 4-yeard old is not going to work. The exemptions are pretty limited, especially for Canadians. Have a look at our cross-border shopping and duties and taxes articles for more information about what counts as duty- free in Canada or in the US.
If you are bringing a firearm, make sure you know the strict regulations pertaining to it, and don't neglect to mention that you are carrying it. That's called concealing a weapon, and the Canadian side of the border takes it very seriously. If you're American and you forget about the handgun you keep stowed under your seat for emergencies, you could be in for hefty fines, entry bans or even jail time. Moving to Canada permanently, or moving back after a long stay away? Check out the specific rules and procedures around getting your furniture and personal goods back into the country.
7. WANT TO AVOID THE PEPPER SPRAY?
DO KNOW YOUR BORDER GUARD PSYCHOLOGY.
The era of lax, genial crossings between the US and Canada is over for; border guards on each side are developing a reputation for discourtesy. Stephen Porter of UBC confirms that intimidation and aggression are not the most effective ways to question travellers at the border, but we have to remain prepared to deal with border agent attitude. If you complain too loudly about bad guard manners, you could end up with a face full of pepper spray, like one traveller did in B.C. a few years ago. Border guards are trained to ask pointed, probing questions: they are not customer service agents, and their demeanour is usually fairly stern. The guards are going to act like belligerent teenagers. It is important to do your best to stay polite.  You don't get to regress to adolescence. Don't roll your eyes or complain. Do you want to get pepper sprayed?
8. AAAAAAAAAAARGH, THIS LINE ISN'T MOVING.
DO CHOOSE YOUR BORDER CROSSING WISELY.
Sometimes you don't have a choice about where to cross the border, but it's a good idea to check the Border Services Wait Times website if you're crossing in Southern Ontario, Quebec or British Columbia, especially if it's a holiday. Peace Bridge from Fort Erie to Buffalo crowded? Try the bridge at Queenston-Lewiston. Meandering around Eastern Ontario? Try the tiny ferry from Wolfe Island to Cape St. Vincent, New York, where the line will never be longer than the five cars they can squeeze onto the boat. Border crossings have a variety of individual policies and search thresholds, so experiment a little to find the speed and service that matches your needs. Are the officers at the small rural crossing bored and looking for an excuse to give you trouble, or are they sleepy and happy to wave you through? Ask around and try a few to find out.  Visit our Border Crossing Database to find out more about the most convenient border crossing for your purposes or to share a border tip or complaint.
9. WAIT, YOU MEAN I NEED A PASSPORT NOW?
DO>REMEMBER THE BASICS, GENIUS.
This is a no-brainer, right? You'd be surprised. Let's make it as simple as possible: since 2008, Canadian and American citizens and permanent residents need a passport or PR card to cross the United States and Canada border. Check with US Customs and Border Protection or the Canadian Border Services to ensure that you have the proper documentation. Make sure that you have applied for and obtained the appropriate visas and waivers. Have all of your passports and documents open and ready to hand to the border agent. If you find yourself crossing the US and Canadian border frequently, try applying for trusted traveller status with a NEXUS card from Canada or from the US. If you're a commercial driver, enrol in the FAST (Free and Secure Trade) program. Under both of these programs you can use dedicated lanes at most crossings, and the additional fee is relatively modest. You can also use the NEXUS at some airports. Click the links to apply for a NEXUS or FAST card with us, and read this article to find out more about the futuristic technology these cards use. If you're making the crossing from the US to Canada frequently by air or boat, consider applying for the appropriate CANPASS program. Like NEXUS, CANPASS Air involves an iris scan, while CANPASS Private Boat involves a telephone check-in system. Unlike NEXUS and FAST, which are jointly operated by the Canadian and US border agencies, CANPASS is limited to Canadians returning from the US.
TOP 10 DON'TS WHEN CROSSING THE US AND CANADA BORDER
1. SHUT UP! Part 1.
DON'T TRY TO BE FUNNY.
Border guards are not your friends, and it's highly unlikely that they moonlight as talent scouts for comedy clubs. This is the wrong moment to make a buddy or tell jokes. Stay respectful and succinct and save the complaints for the drive away from the checkpoint.
2. SHUT UP! Part 2.
DON'T DISCLOSE MORE THAN YOU'RE ASKED.
Answer all of the guard's questions, but avoid getting chatty about your plans if you don't have to. Thinking of catching up on some work on your laptop a little during your vacation, for example? Don't mention that. There is no such thing as an American working holiday visa, although there are plenty of options for working holidays in Canada, or for Canadians travelling to other parts of the world. If you're going to the U.S, however, best to say that your laptop is just for fantasy sports and YouTube. Planning a trip to propose to your girlfriend? Congratulations. But…
3. EVEN YOUR SEX LIFE MATTERS.
DON'T MENTION THAT YOU'RE PLANNING TO MARRY A CITIZEN OR RESIDENT OF ANOTHER COUNTRY WHEN YOU'RE ENTERING IT.
Even if you're in the middle of the appropriate application process, talking about your romantic attachments will not warm the hearts of the border guards and it will get you flagged as a potential risk for illegal immigration. This goes for crossing the US and Canadian border in either direction. Say that you're visiting "a friend" and save the flaunting of your ring for the day when you're married or your citizenship and residency information is fully settled.
4. DEVELOP A "CREATIVE VOCABULARY."
DON'T BE IN A RUSH TO EXPLAIN EVERY DETAIL ABOUT THE GOODS YOU'RE BRINGING WITH YOU, BUT KNOW THE RISKS OF INCOMPLETE DISCLOSURE
It can be mighty tempting to try to bring a few extra items back from your trip without declaring them. You can push the limits of the personal exemption (see above for the exact amounts), or you can declare the extras and pay the duties. If you're pushing it, try to describe dollar values using words like "approximately," "about," or "around" if you're just above the personal exemption limits. Remove the tags, and ditch the shopping bags and receipts. If you are searched and the agents find something that you haven't declared, it's most likely that you'll be delayed and that you'll have to pay the duty. Hey, people forget the things they buy all the time, right? Mistakes can happen.  If you push it too far, however, and you get caught making a false declaration crossing to Canada, you might also have your goods seized or you might have to pay a penalty that's an extra 25-80% of the goods' value. The worst case scenario is that you'll lose the goods permanently and have your vehicle impounded. You'll also almost certainly find yourself subject to more intense scrutiny at future crossings. Getting caught with small amounts over the limit shouldn't have lasting repercussions, unless you're busted repeatedly. Now you know the risks. Govern yourself accordingly.
Bonus tip: Never try to conceal anything you just bought at the duty-free shop. They take your name and license plate number and their database is coordinated with the border guards on each side, so lying in this case makes for a guaranteed delay. Don't do it.
5. A CRIMINAL MIND, IT'S ALL I'VE EVER KNOWN.
DON'T LIE ABOUT YOUR CRIMINAL PAST.
If you have run into legal trouble, check to see if it's serious enough to prevent you from travelling. Each country has its own regulations on this, and most countries reserve the right to deny anyone the right to entry for any reason. If you are denied entry crossing from Canada to US, consider applying for a US Entry Waiver. If you are worried you can't enter Canada from the US, consider getting a temporary resident permit if you are just coming to Canada once. (Or try the more permanent Criminal Rehabilitation process if you want to visit often or immigrate.) The process rules and process for both the US Entry Waiver and the TRP can be complicated and difficult, so you can always seek help.
4. HEY, IT'S ME AGAIN.
DON'T LIE ABOUT ANY HISTORY OF BEING DENIED ENTRY.
This is probably the most foolish lie to attempt. Border agents will definitely know that you have been denied entry, so it is extremely unwise to attempt to cover this up. Lying about this is the equivalent of fruitlessly holding your hand over part of the agent's computer screen. Don't bother! Follow the rules about the length of time you must wait before attempting another visit and tell the truth.
And what about that computer screen? What's do border guards know about you? Guards can access your criminal history, some of your health records, the names of your relatives, your tax status, any outstanding debts, your current employment status and location, and, of course, a complete history of where and when you have crossed borders.
5. SERIOUSLY, YOU AGAIN? DENIED ENTRY FOR 5 YEARS.
DON'T TRY TO CROSS AT A DIFFERENT POINT ON THE SAME DAY IF YOU'RE DENIED ENTRY. The border guards on both sides will know that you've tried and failed to cross the border and they'll know why. Deciding to change your story and try crossing somewhere else once you've realized too late that you needed a work visa for your trip will not fly. In fact, it will very likely lead to an entry ban of unpredictable length. This is an unnecessary risk.
6. DON'T SWEAT IT.
DON'T ACT SUSPICIOUSLY
Don't drive too quickly or slowly up to the checkpoint. Don't decide you need to change your clothes or stretch your legs or dump your trash once you're in line. Don't rustle through your belongings while the guard is questioning you. Save the M&Ms for later. Think ahead and take care of everything that you need to well before you arrive at the border.
7. YOU AREN'T RAY CHARLES.
DON'T WEAR SUNGLASSES
Oh wait, are you in the Velvet Underground? Is this 1969? Didn't think so, cool guy. Take your shades off and make eye contact with the border agent. You aren't allowed to wear dark glasses in an ID photo, so don't bother wearing them when you're being matched with the photo in your ID. You'll seem shifty and rude if you leave your sunglasses on. Roll down your vehicle's windows, too. Think of it as taking off your car's sunglasses.
8. ILLEGAL ORANGES.
DON'T BRING PROHIBITED FRUITS OR PLANTS
Check which fruits, vegetables, plants and other organic material you aren't allowed to bring across the border and get rid of them. Now is the perfect time to gorge on those lamb chops. Pull over and fire up the camp stove. Right now there are relatively few restrictions on most plants grown natively in Canada or the US (with clear labels stating as much), but there are still plenty of restrictions on bringing food imported from the rest of the world across the border in either direction. Unless there's an enormous diseased animal carcass hidden in your luggage, the worst that could happen here is confiscation. That said, it's probably better not to stock up on groceries right before you cross the border of US and Canada. Check current US and Canadian regulations at the CBP and CBSA websites if you're wondering about that pear or slab of bacon.
Here are the permissible items as of April 2013. Please note that rules are subject to change and that they only concern products manufactured in Canada or the United States. If you are unsure, contact CBP or CBSA. And always check with CBP or CBSA before travelling across border with food.
For up-to-date information about which food products you can bring into Canada, use the online AIRS.
For entering the US, check out this page.
Type of Product

Entering Canada

Entering the United States

Animal Products: Meat and Poultry

Animal Fat or Suet: 20KG per person
Game animal carcasses: only with a hunter's permit or license. Provincial restrictions may apply.
Processed Meat: 20KG per person, packaging must be provided and proof of origin may be requested
Fresh, frozen or chilled meat: 20KG or one turkey per person, packaging must be provided and proof of origin may be requested

Meat products are not normally allowed. If you need to bring meat products with you, contact US CBP for any possible exceptions.

Baby formula

20KG per person. Must be commercially packaged, sealed and for personal use only. Can be liquid or dried.
Normally allowed, provided it is commercially labelled and is intended for personal use.

Baked goods and candies

20KG per person provided they don't contain meat

Normally allowed.

Dairy Products

Up 20KG per person but not exceeding $20 in value
Most cheeses are allowed. Other dairy products are not allowed. Contact US CBP for exceptions.

Fish and Seafood

20KG per person
Putterfish and Chinese Mitten Crab are not allowed.

Personal amounts are allowed.

Fruit and Vegetables

Dried: Up to 15 packages per person, but not exceeding 250KG
Frozen:

Fruit: 15 packages or cans per person, but not exceeding 250KG
Vegetables: 20KG per person

Fresh:

Potatoes: 4KG of US#1 only
Up top 15 packages per person, but not exceeding 250KG (excluding potatoes). All produce must be free of soil, pests, leaves, branches, or plant debris.
Please note that there are restrictions on some fruit grown in California, Idaho, Oregon or Washington
If you are travelling into BC, further restrictions may apply. Check with CBSA.

Canned: Can and jars must be sealed. Amounts for personal use.
Dried: Certain dried fruits are allowed. When in doubt, ask or call ahead.
Fresh or Frozen: Most produce that is grown in Canada is allowed. Produce that is not obviously a product of Canada is normally not allowed. Produce must be commercially labeled.

Grains and Grain Products

No posted rules. Contact CBSA.
All grains must be de-hulled. Flour is allowed.

Spices, tea, coffee, condiments

No restrictions.

Condiments: allowed provided they do not contain meat.
Coffee is allowed if there is no pulp attached.
Spices: Must be dried. Citrus leaves and seeds are not allowed. Lemongrass is not allowed. Many vegetable seeds and leaves are not allowed. Contact CBP for further details.
Tea must be commercially packaged. Teas containing barberry and citrus leaves will be confiscated.
9. ATTENTION, MAFIOSO.
DON'T BRING LARGE QUANTITIES OF ILLEGAL DRUGS OR GUNS ACROSS AN INTERNATIONAL BORDER. I'm guessing that if you're a sophisticated criminal working as part of a large smuggling operation, you're probably not reading this. If you're into personal use or hunting, figure out how to find what you want on the other side of the border or fill out the paperwork required when transporting firearms and avoid the hassle.
10. RELAX, IT'S NOT PERSONAL.
DON'T LOSE YOUR COOL.
Now you do get to be the cool guy. Relax. It's going to take a while to get across the border. You are likely going to be asked annoying and invasive questions. Even if you are prepared and law-abiding you could still get searched, detained, or interrogated. Your chances of avoiding discomfort and delay are greatly increased by remaining calm, polite, cooperative and reserved. See you on the other side.
Have a border tip or story of your own? Tell us about the time you were interrogated over your groceries or what you do to make it across with your dignity and stash intact. Post your story in the comments below.