How to Sign and Validate Your IRCC Forms

One of the biggest hurdles facing both temporary and permanent immigrants to Canada is Immigration, Refugee and Citizenship Canada's online system (at cic.gc.ca), which can be confusing for anyone who has never used it before. (That is, most people.) In this article we are going to answer two very common questions many people have regarding the online system: how to sign the forms when submitting online, and how to validate the forms.

One of the biggest hurdles facing both temporary and permanent immigrants to Immigration, Refugees and Citizenship Canada's online system (at cic.gc.ca), which can be confusing for anyone who has never used it before. (That is, most people.) In this article we are going to answer two very common questions many people have regarding the online system:
Before the internet, immigration forms were all submitted by mail. The signature box on the forms could be thought of as a relic of that era, however many if not most immigration forms must still be submitted by mail, including all permanent residence applications. In fact, it's still a relative luxury to be able to submit forms online, because the government has only recently caught up with the private sector in terms of providing service online.
Here is a list of applications you must file online:
eTAs to visit Canada without a visa;
Express Entry application for permanent residence.
Here is a list of applications you can submit online, depending upon your preference:
So how do you know if you can submit your visitor visa, study permit or work permit application online?
First, you need to complete the "Come to Canada" online questionnaire. Though it may feel like it, this isn't actually the application. This questionnaire just evaluates whether or not you are eligible for applying online and whether or not you are eligible to stay in Canada as a visitor, student or worker at all. The questionnaire is mandatory to complete if you are interested in applying online because it generates a "personal checklist code" which you will need to use the online submission process.
Once you have your checklist code, you can apply online for your TRV, study or work permit. If you do not get a personal checklist code from the questionnaire, you must submit a paper application to the nearest VAC.
"Signing" Forms on cic.gc.ca that are submitted online
Can't submit online? Skip down to the section on validating forms.
In order to submit any application form online to IRCC, you obviously need to 'sign' it. But though it is possible to "sign" many pdfs nowadays, IRCC hasn't quite caught up to that standard yet. (Though, based on the constant changes to this site, they are moving in this direction and we may see that any day.)
For the main application your signature is taken another way: When you create a profile on canada.ca  (or GCKey on any federal government website) you must both create a profile and agree to the terms and conditions. This is a roundabout way of taking your consent – the creation of the profile and agreeing to the various steps of the process is taken as a proxy for your signature.
So you don't need to worry about 'signing' the prmiary form. But you still need to sign any other form required for your application with a signature box on it.
Provided you qualify and you have been honest on your application, you should get your visa or permit much faster than if you submitted a paper application.
Validating IRCC Forms
Even if you are mailing your application to a IRCC office in Canada, some of your forms will have to be "validated," which means they cannot be printed until they are complete.
Which IRCC forms have to be validated?
Well, the general rule is that application forms – for any immigration application – need to be validated whereas some of the supporting documentation forms do not have to be validated.
For example, for an application for a work permit made outside of Canada:
Application form (IMM 1295) must be validated;
Schedule 1 – Application for a Temporary Resident Visa form (IMM 5257 Schedule 1), if applicable must be validated;
Family Information form (IMM 5645) does not have to be validated;
Statutory Declaration of Common-Law Union form (IMM 5409), if applicable does not have to be validated but obviously must be notarized;
Use of Representative form (IMM 5476) does not have to be validated;
Document Checklist form (IMM 5488) does not have to be validated.
Forms which must be validated have a button on them which says "Validate."
Please note that you cannot upload out-of-date validated forms to your online application.
So how do you validate your IRCC forms?
You press the button on the top of the form. But somehow it always seems to go wrong. If validating is not working, check the following information:
Answer All Mandatory Questions on your IRCC forms
The form must be complete. There cannot be any missing information. That's the first thing that a lot of people get stuck on. Your PDF program should prompt you when printing the form (if applicable) what section(s) you missed, but the first thing you should check if you cannot validate the form is whether or not you have completed all the mandatory fields.
This includes check-boxes. Sometimes the check-boxes aren't marked clearly, or appear almost hidden between the fields where you enter text. But if the check-boxes are for a mandatory question, and you haven't filled them out, you won't be able to validate your form.
Also, you cannot backdate the date fields. For example, if you are completing a TRV application, you cannot make the date earlier than the day you are completing the form. If you try to do that, you will not be able to validate the form.
Wrong PDF Reader for your IRCC forms
If you still cannot validate the form even though your information is correct, you should make sure you are using an up-to-date version of Adobe Reader or Acrobat. The program should have warned you it wasn't up-to-date when you first opened the form, but we all ignore so many of these error messages – it's easy to miss the one that matters. (You shouldn't even be able to see the form if you are using an older version than Reader X.) Adobe Reader updates multiple times a year, so it's quite possible you don't have the latest version, especially if you haven't allowed automatic updates. Fortunately, Reader is easy to update. Just click here to get the latest version.
If you are using another PDF reader, you should consult the manufacturer's website for the latest version. We recommend using Adobe Reader for all IRCC documents, but if you love your PDF reader, you can always consult an online help forum for your program of choice.
Java Script Problems with IRCC Forms
The other major hurdle for validating IRCC forms is your Java Script settings. Java Script is basically code that allows these forms to function the way that they do. If your Java Script is turned off, you won't be able to validate your form(s) even if you have the latest version of Reader and you have completed the form properly. To turn on Java Script in the current version of Reader (DC), click on the edit menu and select preferences: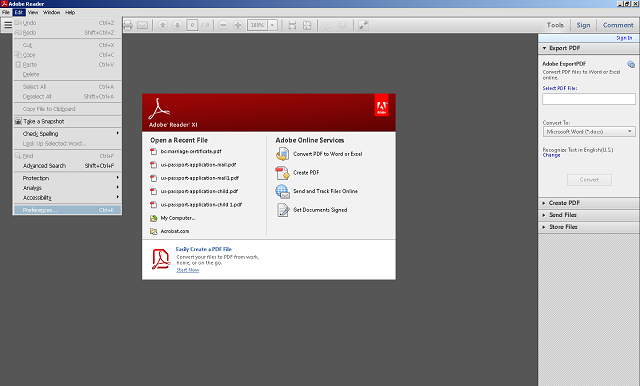 Then select Java Script from the side menu and ensure it is enabled: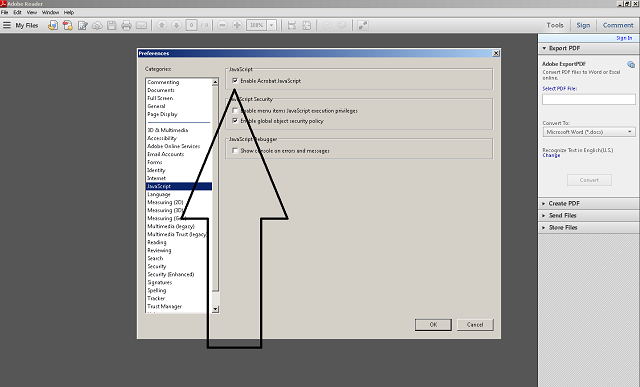 (Note: These screenshots are from Reader XI but the process is exactly the same in Reader DC.)
If you still can't validate your form, you may want to contact IRCC directly. Or see if you can use a friend's computer and see if it works better on their system.
Remember: If you do have to print your application, make sure the bar code is clear when your validated documents print off.
Good luck with your application.