The Top 8 Worst Ways to Immigrate to Canada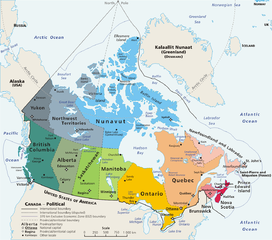 There are numerous ways to come to Canada as both a temporary and permanent resident, and so there are numerous ways to achieve that great goal, Canadian Citizenship. But not all ways are made equal, and one thing we have learned in our experience is that the most popular ways people think of immigrating to Canada are rarely the best. In fact, there are plenty of good pathways to Canadian permanent residence and eventual citizenship that are unknown to the average person contemplating a new life in Canada. So, in order to encourage you to check out your best options, here is a list of the worst options: the ways that are least likely to lead you to Canadian citizenship.
The 8 Worst Ways to Immigrate to Canada
8. Any PhD Stream
PhDs by Uri Rosenheck / Wikimedia Commons / CC BY 3.0
If you are studying in a PhD program in Canada, you can use that to gain permanent residence through either the Federal Skilled Worker program or through various Provincial Nominee Programs' international student streams. But let's face it, most of us are never getting PhDs so this is a bad option simply because of the sheer amount of work you have to do to be eligible.
Things are changing in 2015. Express Entry is coming. And this new will affect all skilled worker programs, including the PhD streams, and nobody quite knows how (as of September 2014).
7. The Temporary Foreign Worker Program (TFW)
Constructin Workers by Imre Solt / Wikimedia Commons / CC BY-SA 3.0
This should seem like one of the best ways but due to the recent scandal, the TFW program is getting harder to make use of. It is now harder for employers to get Labour Market Impact Assessments (LMIAs) and that means its harder for you to get a work permit. And that means it's harder for you to become a permanent resident and eventually a Canadian citizen.
It's going to become even harder to get a temporary work permit when Express Entry arrives and "Economic Immigration" programs become more dedicated towards permanent residents.
6. Work Permits for Most Semi-Skilled Work Jobs in Most Provinces
If you do manage to get a temporary work permit, that's great, congratulations. However, if it's a semi-skilled job, you better ensure your employer is located in the right province. Most provinces do not value semi-skilled work experience from Canada, and the federal government doesn't either.
A semi-skilled occupation is an occupation that requires some skill but not post-secondary education.
Only two provinces offer permanent resident streams for numerous semi-skilled occupations: Alberta and BC. So if you already have a Canadian work permit in a semi-skilled job, or if you are planning on working in Canada on a temporary work permit as a path to permanent residence, please note how the other provinces value or don't value semi-skilled work:
Province

Permanent Residence Occupations for Semi-Skilled Workers

Manitoba
Occupations at the discretion of the province
New Brunswick
Occupations at the discretion of the province
Newfoundland and Labrador
Occupations at the discretion of the province
Northwest Territories
Occupations at the discretion of the territory
Nova Scotia

Food and beverage occupations (NOC 6513)
Retail salespersons (NOC 6421)
Store clerk (NOC 6622)
Kitchen helpers (NOC 6711)
Sales and service applications (NOC 6623)
Visiting homemakers and housekeepers (NOC 6731)
Delivery drivers (NOC 7511)
Long shore workers and materials handlers (NOC 7451)
Truck drivers (NOC 7511)
Information correspondence and library clerks (NOC 5111)

PEI

Truck drivers (NOC 7511)
Customer service representative (NOC 6511)
Labourers (NOC 9619)
Food and beverage servers (NOC 6513)
Housekeeping attendants (NOC 6731)

Saskatchewan

Food and beverage servers (NOC 6513)
Food counter attendants or kitchen helpers (NOC 6711)
Housekeeping and cleaning staff (NOC 6731)
Long haul trucking (NOC 7511)

Yuon
Occupations at the discretion of the territory.
Note:
Nunavut does not have a nominee program.
Ontario does not offer a route to permanent residence for any semi-skilled workers.
So basically, unless you have a work permit in the right occupation in the right province, you are out of luck.
As with other "economic" immigration programs, the PNPs will be affected by the arrival of the Express Entry program in 2015.
5. Work Permits in the Following Jobs
A number of skilled jobs have recently been eliminated from the Canadian Experience Class program. The following jobs are no longer eligible so if you have a work permit in one of these jobs, or if you are planning on getting a work permit for one of these jobs, you might want to think twice:
Administrative officers (NOC 1221)
Administrative assistants (NOC 1241)
Accounting technicians and bookkeepers (NOC 1311)
Retail sales supervisors (NOC 6211)
Food service supervisors (NOC 6311)
Cooks (NOC 6322).
If you have a work permit in one of those jobs, or if this is your career and it's all you can get a work permit for, then you should look into provincial nominee programs, but make sure you are working in the right province.
4. Live In Caregiver Program
Contract Renewal Process by Ohconfucius / Wikimedia Commons / CC BY 3.0
It's no secret that Jason Kenney, the minister in charge of the program, hates the Live In Caregiver program. It's also no secret that it was becoming harder and harder to get LMOs (now known as Labour Market Impact Assessments or LMIAs) for live-in caregivers. Everyone in the immigration industry expects a major overhaul of the program any day now so, though this used to be one of the most popular ways into Canada, deciding to become a live-in caregiver in order to become a permanent resident is now not a very good plan.
With Express Entry debuting in 2015, we don't know how this will affect the Live-In Caregiver system (if it will at all).
3. Secondary School Study Permit
Students by Fred Hsu / Wikimedia Commons / CC BY-SA 3.0
This is one of the most popular ways to come to Canada: numerous families send their kids to study in North American not just to take advantage of the education system, but in the hopes that their children will become permanent residents and eventually citizens, and maybe even sponsor the rest of the family for citizenship later in life.
Well, if that's the plan, it's going to take a very, very long time. There is no path to permanent residence in Canada for students who study in secondary school, only for students who have graduated from post-secondary education. It's probably better for many families to send their children to a strong school in their own country and then send the kids to college or university in Canada.
2. Refugee Programs
Refugee status isn't some magical gateway into Canada. It is a special provision for people in genuine fear for their lives. Pretending you are a refugee in order to get into Canada is a not a way to become a Canadian citizen.
You Have to Get Here First
In order to claim refugee status in Canada, you have to claim refugee status in Canada. But this means you have to get here first. And the reason why that is difficult is because Canada has signed treaties with various countries known as "Safe Third Country Agreements". Basically, what this means is that if you reach another, participating country before you reach Canada, you cannot claim refugee status in Canada, but only in that first safe country you arrived in.
If you claim refugee status through an international agency such as the UN High Commission for Refugees, there is no guarantee you are coming to Canada.
You Will Get Caught
The Government of Canada is increasingly cracking down on immigration fraud to the point that even some legitimate refugees are not gaining refugee status in Canada. Don't assume that you can somehow convince these bureaucrats that you are a legitimate refugee. If you are coming to Canada from a country that Canada deems 'safe' you are out of luck. If you are trying to use some kind of "identity" claim, don't be surprised if that doesn't work either, as many, many people have tried that before you.
1. Temporary Residence (Study or Work Permit) in Ontario – the Ontario PNP
Ontario [Public Domain]
Ontario is the biggest destination of immigrants to Canada: Toronto is the most popular (and populous) city, somewhere between a quarter and a third of the population of Canada lives in southern Ontario, and you are pretty much guaranteed to find someone from your part of the world in the GTA. But there are many reasons not to start your life in Ontario.
The Jobs Aren't in Ontario Any More
It used to be that Ontario was so attractive because Ontario was where all the jobs were. This was true for a really long time; to this day Ontario's economy is the biggest in Canada. But biggest doesn't mean 'fastest growing' and Ontario's economy is enormous simply because this is where everyone lives. But for the last decade at least, the jobs aren't here, they're out west. Ontario's unemployment rate is above the national average, whereas the western provinces are all better. As of May, here's how they compare:
| | |
| --- | --- |
| Province | Unemployment as of May 2014 |
| Saskatchewan | 3.4% |
| Yukon Territory | 4.4% |
| Alberta | 4.7% |
| BC | 5.8% |
| Manitoba | 5.9% |
| Ontario | 7.4% |
So the chances of getting a work permit are significantly less good in Ontario (or Quebec or the Maritimes) than they are in the western provinces and Yukon Territory. But that's not the only reason to not move to Ontario because, frankly, the Ontario Provincial Nominee Program sucks.
Because Ontario has always been the first target of immigrants coming to Canada, Ontario has never had to work very hard to attract them. And so their PNP is the worst in the country, at least from the perspective of potential immigrants.
A Provincial Nominee Program is the program by which a province tries to keep temporary workers and students who it values, and the way in which it tries to attract future immigrants to its part of Canada. The Ontario PNP has the fewest options and the strictest requirements of any PNP in the country. If you are living in Ontario on a study permit or work permit, your options are as limited as can be. If you can never hope to qualify for the Canadian Experience Class stream, then you are pretty much out of luck.
The program only values students who have studied in Ontario and found jobs, or extremely rich business people. That's it. Everybody else is out of luck.
The only way Ontario really works is if you move here as a permanent resident, gaining your permanent residence through a federal program such as Federal Skilled Worker. Otherwise, it is downright near-impossible to stay in Canada permanently once you have moved to Ontario, unless you are willing to leave and move somewhere else.
There is no point in moving to Ontario and getting stuck in some kind of "temporary status" vortex, where you will never qualify for permanent residence, though you would if you lived in another province. Ontario has the least immigrant-friendly PNP, and working or studying temporarily in Ontario is one of the longest, most frustrating routes you could take to become a permanent resident in Canada, let alone a citizen.
Barriers to Immigrant Success in Canada