Where to Emigrate from Brazil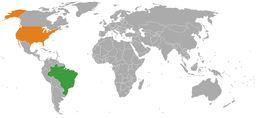 So let's assume you are somewhere in Brazil looking to work abroad and also study in English. Where to go? The top choices, in alphabetical order, are: Australia, Canada, the United Kingdom, and the United States of America.

Unlike almost all its Latin American neighbours, Brazil – along with Venezuela which is the odd man out – does not produce nearly as many emigrants on a proportional basis, especially among its highly skilled class. The rate for the country is less than 5% making it less than the equivalent rate for Canada as well as less than many European nations, according to OECD World Migration data. The reason is that Brazil, in the last 20 years or so, has finally truly begun living up to its enormous potential. From aerospace to finance to banking as well as manufacturing and agribusiness, Brazil has a thriving economy with a relatively stable currency, especially for the region. While bouts of modest inflation and corruption scandals as well as a large lower income class do pose challenges for the future, it manages to keep much of its population at home. Brazil ranks 31st as a source country of emigrants.  What this means is that are two classes of Brazilian emigrants: those on the bottom end of the economic ladder who, like migrants in much of the world, seek a destination that offers them a job and the possibility to improve their standard of living; and those who are well educated and/or highly skilled as well as often fluent in English, who wish to pursue opportunities overseas, including tertiary education, and often return home after a number of years abroad. According to the 2000 census 2/3 of immigrants into Brazil in the period 1990 – 2000 were returning Brazilian emigrants.
So let's assume you are somewhere in Brazil looking to work abroad and also study in English. Where to go? The top choices, in alphabetical order, are: Australia, Canada, the United Kingdom and the United States of America.
Australia
Australian and Brazilian Flags by Lucas Cabral dos Santos Miranda / Wikimedia Commons / CC BY-SA 3.0
In Australia Brazilian emigration divides along a time line. Brazilian immigration to Australia is grouped into 2 waves: the first occurring in the '70s under Australia's government assistance program and generally involving poor and unskilled workers; and the second occurring from the late '90s through the present and comprised of educated, young professionals seeking quality of life and new experiences. This latter group often study in Australia as well, and marry Australians. According to Australian Education International, a government agency, Brazil may become the largest non-Asian source of international students in the country. Aside from age differences, socio-economic differences means that there is little apparent contact between these two groups of Brazilian-Australians.
There were over 14,000 Brazilians living in Australia according to the 2011 census. New South Wales had over 40%, many located in Sydney, with Queensland 2nd at almost 24% and Victoria 3rd at about 14%. Western Australia has 12% of the total. Over 80% of these have arrived since 1996 with 70% arriving since 2000. A warmer climate than the UK and Canada and a thriving resource-based economy as well as the opportunity to learn English, are key factors inducing Brazilians to choose Australia.
The first step to immigrating to Australia is to go to the government's Department of Immigration and Border Security's Skill Select. This is an online service that manages the country's immigration program. At Skill Select you will submit an Expression of Interest (EOI) where you provide personal information – depending on the type of visa you need – and this profile is screened by Australian employers looking for skilled help, or by state and/or territory governments, who will then nominate you for a skilled visa. Your EOI will consists of:
Basic personal information;
The occupation you wish to be nominated for;
Your work experience;
Your education and any interest in studying you may have;
Your English skill level;
A skills assessment related to your nominated occupation;
Any business or investing experience you may have if you are applying in the business category.
You will then, if successful, receive an invitation to "lodge" or file a visa application. There are a number of visas that can be applied for, after a successful EOI:
Business Talent (Permanent) visa (subclass 132): this allows you to start a new business in Australia or further develop an existing one.

To apply in the Significant Business History stream you need assets of at least AUD 1.5 million and an annual business turnover of at least AUD 3 million.
To apply in the Venture Capital Entrepreneur stream you must have received at least AUD 1 million in funding for a high-value business idea.

Business Innovation and Investment (Provisional) visa (subclass 188): this allows you to own or manage an existing business in Australia. You must be nominated by a state or territory government.
Skilled Independent visa (subclass 189): this is for points-tested skilled workers who have not been nominated by an employer, state or territory government, or family member. You will need to have an appropriate skills assessment and be under 50 years old and have competent English skills.
Skilled Nominated visa (subclass 190): it allows you to live and work in Australia as a permanent resident and is for points-tested skilled workers who have been nominated by a state or territory government. The other requirements are the same as subclass 189 above.
Skilled Regional (Provisional) visa (subclass 489): this allows skilled workers to live and work in specified regions of Australia for up to 4 years. You can also apply for renewals.  You must have been nominated by a state or territory government or by an eligible relative who lives in a designated area. The remaining requirements are the same as subclass 189 & 190.
Canada
Brazilian Day, Canada by Andrevruas / Wikimedia Commons / CC BY-SA 3.0
The number of Brazilian migrants living in Canada is similar to Australia and thus proportionally somewhat smaller given Canada's larger population compared to Australia's. The total was around 15,000 in 2000 with about 12,000 in Ontario, including illegals and refugees and most of those lived in Toronto. There are smaller communities around the country, in Ottawa for example, but the bulk of Brazilians migrate to Toronto where a sizable and long-standing Portuguese-Canadian community exists.
Most migrated in the late '80s and the '90s. In the last decade and a half, however, the flow of Brazilians to Canada has been small. In 2011, for example, about 1,500 Brazilians were admitted as into Canada compared with a total of 248,000 immigrants. That's about 0.6%. The flow of investment from a booming Brazil into a thriving Canada, however, has been substantial. That means that the historical and economic ties between the two countries have increased substantially in the last 10 years or so. This seems to have an influence on the profile of the average Brazilian migrant to Canada. In a study of the Brazilian-Canadian population in Ontario, almost 70% have completed university level education and 33% have completed graduate studies. A further 16% have started but not finished their university education. As well, 72% were between the ages of 25 and 44 and about 68% married or living in a relationship. A high proportion, 63%, were female. The profile of the average Brazilian migrant to Canada is therefore a highly educated female living in a stable relationship, and likely in the Greater Toronto Area.
With the introduction of Express Entry at the start of 2015, Canada now has an online immigration management program very similar to Australia's Skills Select program outlined above. Essentially, someone from, say, Sao Paolo where the greatest number of migrants (about 38%) come from, can now go to Express Entry and build an online profile and hopefully be placed in a pool of candidates where the top candidates will receive an invitation to apply for permanent residence. You may also obtain a job offer from a Canadian employer or be nominated by a provincial or territorial government, although the nomination option would likely mean living somewhere other than Toronto, like Alberta or Saskatchewan for example, should your skills match their needs. While the impressive educational profile of the average Brazilian migrant will help, English language skills and work experience are a must to ensure a successful application. Go here for further information on Canada's Express Entry.
You will need to submit to an Educational Credential Assessment to have your university qualifications validated. You will also need to find your National Occupation Classification code which essentially lets employers know what type of work you are qualified for and are seeking. It will also help determine which federal immigration program your application for permanent residence would classify for:
Remember you will also need a police certificate and the results of a medical exam. As well, there are deadlines that must be followed at each stage in order not to have your application cancelled and have to re-apply.
The United Kingdom
Made in Brasil, London by Ewan Munro / Wikimedia Commons / CC BY-SA 2.0
The UK is rainy, chilly and a long way away from Brazil, but that has not stopped some 60,000 to 200,000 Brazilians from migrating to the UK. The estimates are very hard to pin down, because as is often the case with Brazilians abroad, many see their stay in the UK as temporary, even if it stretches out for years, and do not consider themselves permanent residents when responding to surveys. Brazilian immigration into the UK started in the early '80s, often as a part of a study program. They then stay to take advantage of opportunities, mostly in London, and often overstay their visas. This is why pinning down the size of the Brazilian UK community is difficult.
Brazilians tend to be attracted by the quality of education and the level of professional training available in large centres like London. They are clustered in communities in the borough of Brent, in Stockwell in South London, and in Bayswater in Central London. Most are fairly young, in their early 30s on average and share accommodations in London's expensive real estate market. Over half had secondary education and about a third had some tertiary education although not all had finished their university degrees. Business Administration was the most common field, with Physical Education, Pedagogy, Accounting and Engineering following in importance. Most were middle class. The reasons for choosing the UK were given as:
 

Work and Study: 25.1 %
Work to save for things like home purchases in Brazil: 24.3%
Quality of Life and to settle in the UK: 20.6%
Study and improve English: 16.3%
Other or no reason: 13.7%
Brazilians in the UK often arrive on tourist visas and then apply for student visas once their tourist visa expires in order to be able to remain in the UK legally and obtain work. It must be noted that those Brazilians eligible for a European passport from countries like Portugal, Spain, and Italy as well as Germany, face no restrictions on their stays in the UK. According to a survey in the late '90s in London Brazilians' immigration status was as follows:
Expired Visa: 53%
Student Visa: 16%
European National: 11%
Tourist Visa: 10%
Resident status: 7%
Work Permit: 3%
It should be noted that in the UK, work permits apply to highly skilled workers and are not easy to obtain. The survey found the following jobs being done by Brazilians in the UK.
Cleaning: 32%
Hotel & Catering: 26%
Other services: 13%
Courier-driver: 10%
Construction: 9%
No answer or not working: 7%
Au pair or babysitting: 3%
The survey also found that almost 50% earned either minimum wage or between the minimum wage and the living wage, while almost 20% earned above the living wage. 22% earned below the minimum wage or refused to answer. In other words, a significant minority – almost 20% – are in better paying jobs while a large majority are in low wage or minimum wage jobs.
Like the United States, the UK has a "tier" system where visas are ordered according to a points based system. Under this system points are awarded according to the applicant's ability, experience and age. There are five tiers:
Tier 1: For high-value migrants like entrepreneurs, investors, and exceptionally talented individuals from outside the European Economic Area. You cannot apply for a Tier1 General category of visa from abroad and from April 6, 2015 you will no longer be able to use the general category of Tier1 visas to extend you visa. Go here for information on the Tier1 Entrepreneur visa. Go here for information on the Tier1 Investor visa. Please note that you must have £ 2,000,000 or over US$ 3 million at current exchange rates to qualify for a Tier1 Investor visa. Go here for information on the Tier1 Exceptional Talent visa.
Tier 2: For skilled workers from outside the European Economic Area with a job offer in the UK. It includes intracompany transferees and skilled workers in areas with a proven job shortage. Go here for information on the various types of Tier2 visas.
Tier 3: Unfortunately this theoretical category of temporary worker visas for temporary labour shortages has never been issued and is thus unavailable as an option.
Tier 4: Student visa for those from outside the European Economic Area who are over 16 years of age. You must have been accepted at a Registered UK Educational Establishment.
Tier 5: For temporary workers with 6 sub-tiers including: creative workers, sportsmen and women, religious workers, and charity workers. Go here for more information.
The United States of America
Brazilian Restaurant in Florida by Infrogmation / Wikimedia Commons / CC BY-SA 3.0
The USA is the main destination for Brazilian emigrants. Between 1990 and 2000, almost 140,000 immigrants from Brazil arrived in the country. However, only 21.5% of those immigrations became naturalized US citizens, the lowest rate among South Americans. As of 2007, 42% of Brazilians who immigrated were residing in North America, the overwhelming number of those in the USA. In the 2000 survey, Brazilian immigrants were on average quite young, at 33.7 years of age. As well, 32% of Brazilians had a bachelor's degree from university or higher. Only 5.7% of Brazilians were likely to be unemployed, the 3rd lowest after Argentina and Chile. At the same time, Brazilian born had the highest poverty rates among South Americans at 18.7% compared with the lowest rate of 10.1% for Uruguayan born immigrants in the USA. Home ownership was lowest for Brazilians as well, with only 31.3% owning a home compared to 56.6% of Argentinians, although this may have something to do with Brazilians seeing their stay in the USA as more temporary than other South Americans. What this shows is that, similar to Australia but on a much larger scale, the Brazilian immigrant community in the USA is a divided one with unskilled labor existing alongside well educated professionals and investors as well. Geographically, the largest Brazilian communities are in Florida, New Jersey, and Massachusetts.
To apply for a work visa in the USA, you must first choose between a number of temporary work visas and other categories like Exchange Visitor visas and Treaty Traders & Investor visa. There are a number of temporary work visas, each applicable to different categories of work and with distinct requirements. Remember that each of these visas requires your prospective employer to file a petition with the US Citizenship and Immigration Services, (USCIS). Once that petition has been approved by the USCIS, you can apply for a work visa.
H1-B: These visas are for workers in specialty occupations including high-profile fashion models, workers in government-to-government research & development, or workers in projects run by the Department of Defence. There are 5 requirements:

You have to have an employer-employee relationship with your petitioning US employer. You may be able to show this even if you are owner of a company.
You need at least a bachelor's degree from a college or university, and this degree is required in order to work at the job, or the job is complex enough that it would require a university degree to perform the work.
You need to prove that the job you are applying for a visa to work at is a speciality occupation in field of work related to your area of study. A detailed explanation of your job's duties and how they pertain to your field of study, written opinions from experts, evidence that similar companies require similar university degrees are all helpful ways to prove your case.
You must be paid the actual or the prevailing wage for your occupation, whichever is higher.
An HI-B visa number must be available, unless your petition is exempt from numerical cap requirements (65,000). Exempt petitions include those with a US master's degree or higher, jobs at higher education institutions and non-profit organizations, and government research workers. Make sure you apply early if you are not in an exempt category.

H1-B1: These apply to Free Trade Agreement Partners, Chile and Singapore, and are not applicable to Brazilians.
H2-A: For temporary agricultural workers from a list of designated countries, which includes Brazil. You must prove that the job is seasonal or temporary and that there are no US workers able and willing to do the work. You must also show that wages and working conditions will not be adversely affected and you must obtain a labor certification from the US Department of Labor. Your temporary labor certificate must be submitted along with form I-129 to the USCIS. You must then apply for a visa once your form I-129 has been approved by the USCIS.
H2-B: For temporary non-agricultural workers. The process is similar to applying for an H2-A visa with a temporary labor certificate and the obligation for you to prove that US workers are not available to do the work and that general working conditions and wages related to the work will not be adversely affected. You must also show that the work is temporary in nature, whether it's of one-time, seasonal, peak load, or intermittent need.
H3: Trainee or Special Education visitor: For trainees, other than graduate medical or academic training, that need training not available in their home country or training in special needs education.
L: Intracompany transferee: This is to work at a branch, parent, affiliate, or subsidiary of your current employer which is located in the USA. It can also be for a position requiring specialized knowledge. You must have been employed abroad by the same employer for at leasat 1 year out of the preceding 3 years.
O, P-1, P-2, P-3: These visas are for: individuals with exceptional abilities & experience, athletes or artists visiting under specific conditions like sports competitions or cultural programs.
Q-1: For individuals participating in cultural exchange programs.
You should note that the USA has a preference ordering for employment visa applications, with 5 categories of priority from E1 to E5:
E1: Priority workers that fall into 3 types:

Individuals with outstanding abilities in science, arts, education, athletics.
Outstanding professors and researchers with at least 3 years experience teaching.
Multinational managers or executives who have been employed for at leasat 1 of the previous 3 years with their current employer.

E2: Holders of advanced degrees beyond a baccalaureate degree and 5 years progressive experience in their field, and people with exceptional abilities above the norm in the arts, sciences, or business worlds.
E3: This is for skilled workers in jobs requiring a minimum of 2 years training and experience that are not temporary; professionals in jobs requiring at least a bachelors or baccalaureate degree; and unskilled workers in jobs requiring less than 2 years training or experience.
E4: Certain Special Immigrants, like former employees of the Panama Canal Company or Iraq and Afghan interpreters. The only category that would apply to a Brazilian would be a religious minister. Your application as a minister will have to be cleared by the Department of Homeland Security as well as the USCIS. Go here for more information.
E5: Immigrant investors. For foreign investors that invest in new commercial ventures in the USA which will create jobs. You also must invest a minimum of US$ 1 million or US$ 500,000 if you are investing in a high-unemployment or rural area.
Summing up the options, Australia and Canada seem best suited for well-educated Brazilians with fairly good English skills who are looking for quality of life and employment experience. The United States offers a bit of everything with a large Brazilian expat community in places like Florida, New Jersey, Massachusetts and parts of Greater New York. And the UK has a thriving Brazilian community in Greater London with a large number of illegals staying on after their tourist visas or student visas expire. While we do not recommend illegal immigration as it often can result in deportation, it seems that the UK is perhaps somewhat easier for Brazilians to arrive at as tourists and students and then stay on illegally in the country, compared to the other 3 destinations. As always, policy is subject to change and the UK may at some point enforce deportation of illegals more rigorously than at present.