Canada vs the USA: Where should I go?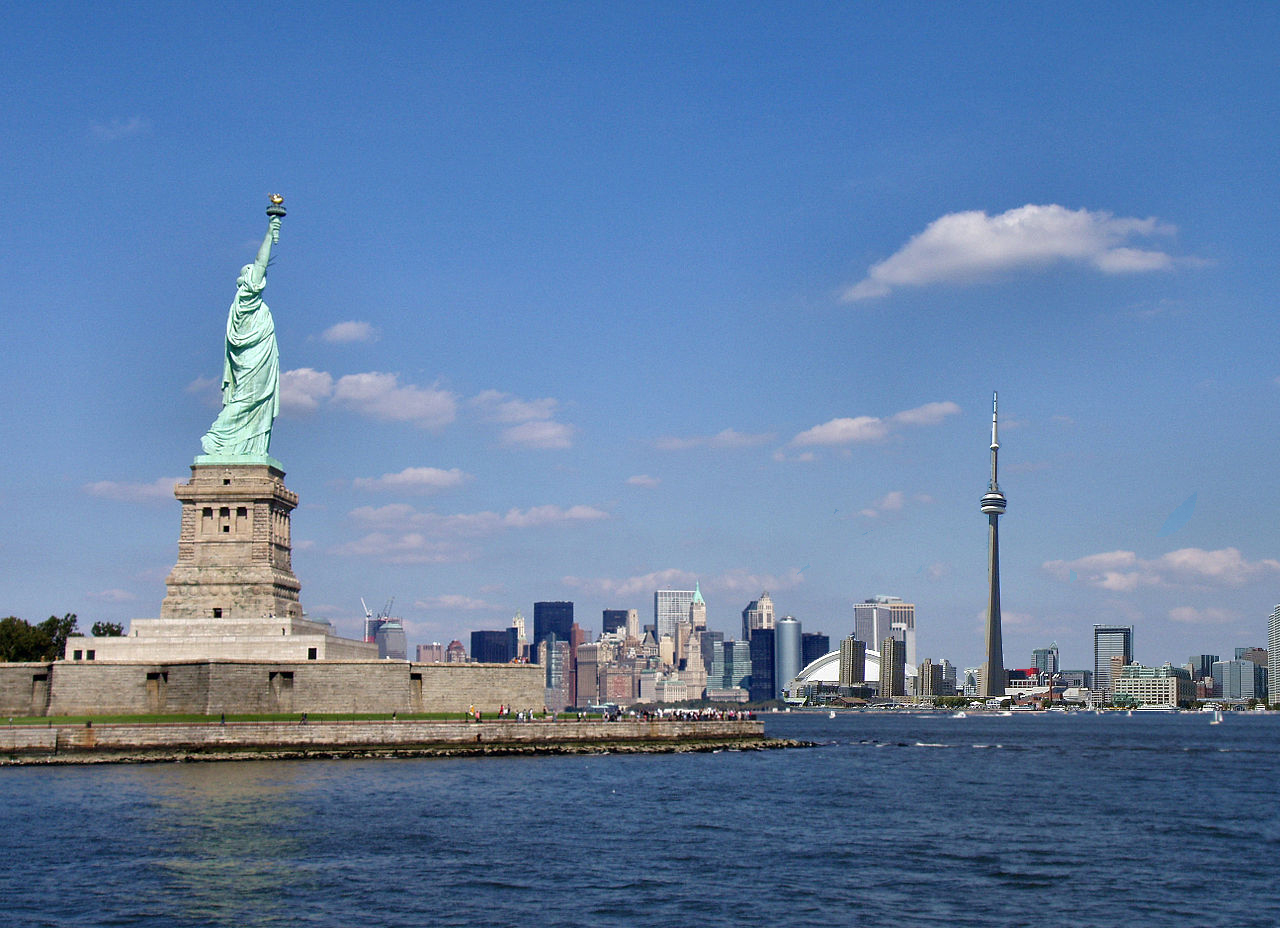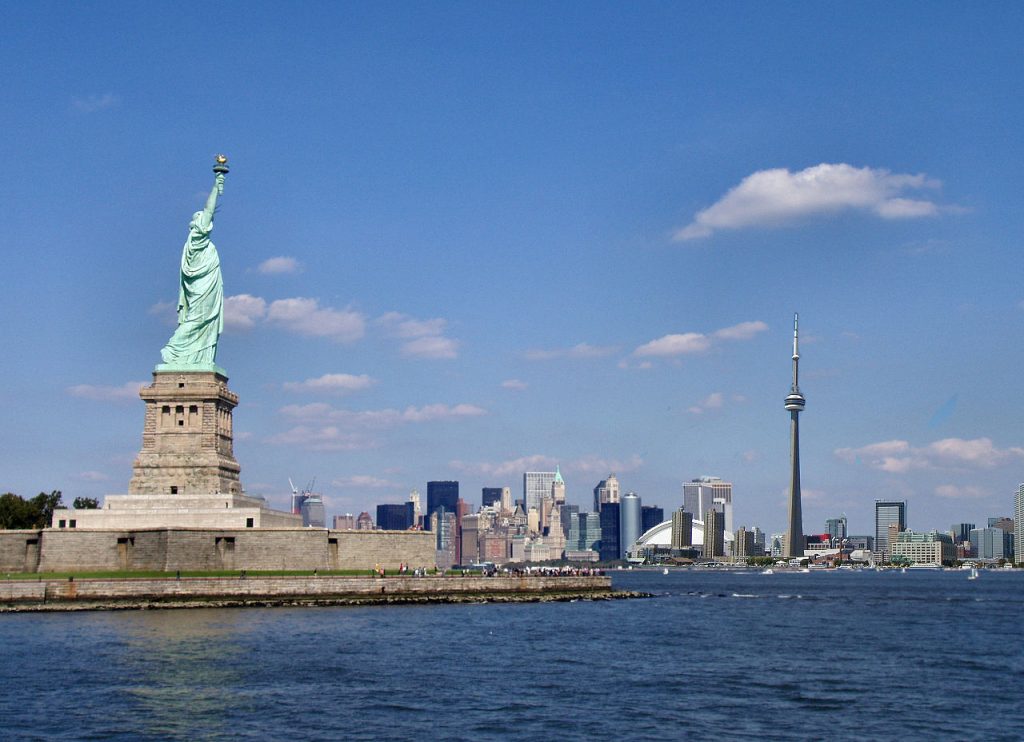 Canada compared to the United States, Toronto compared to New York City
The United States and Canada have long been two of the most popular destinations for migrants seeking a better life. The question is, where should you settle? So, what's it going to be? Moose or Bald Eagles? Hockey or Football? This article highlights major differences between two of the biggest cities in Canada and the United States.

Canada Vs the United States
Everyone has heard of the American dream but nobody's heard of the Canadian dream. Still, in a lot of pepeople'sinds, Canada and the US are either two very different places or pretty much the same place. As usual, the truth is pretty much in the middle.
Canada is the second largest country in the world by area, and the United States is the 4th largest, so it's tough to compare the two countries in total. That's the subject of a book, or perhaps a couple books. So let's focus on cities.
Toronto is the obvious choice for Canada: it is not only the most populous city in Canada but also the most popular destination for immigrants to Canada. New York City is the obvious choice for the United States: it's the country's most populous city and it has the largest foreign-born population of any major city in the world.
It might seem like an easy decision to you after all, who doesn't want to go to New York? But not so fast. There's more to the story than which city is more famous or which city is home to more authentic pizza places. Isn't there?
Where should You Go? Toronto or New York?
Index
Flights and travel
Let's assume you're going to fly to North America from London. The prices vary drastically depending on the time of year, the airline and the location in North America. (Since this article is geared towards new immigrants to Canada and the United States, please remember these prices are one-way.) It seems that the cost of your flight completely depends on when you are coming, and that's why it's important to put other things first, provided you are able to choose your departure time.
Call it a tie.
| | | | | | |
| --- | --- | --- | --- | --- | --- |
| Destination | Date | Source | Flight operator | Stop(s) | Price (USD) |
| London to New York | Dec 1st 2014 | Skyscanner.ca | AirEuropa | 1 stop | $621 |
| London to Toronto | Dec 1st 2014 | Skyscanner.ca | Air Transat | Direct | $470 |
| London to New York | Jun 1st 2015 | Skyscanner.ca | Norwegian | Direct | $321 |
| London to Toronto | Jun 1st 2015 | Skyscanner.ca | Icelandair | Direct | $597 |
These prices were quoted on September 18, 2014 from skyscanner.ca. The flights and prices on this chart are for example only. Prices may vary and fluctuate. We are not responsible for flights or prices quoted from this chart. Please contact your travel agent or the airline if you would like to book a flight.
Rent
Your biggest priority is likely finding a place to stay and unfortunately both New York and Toronto are very expensive cities. However, Toronto has nothing on New York and this is where Toronto scores a point – at least if you care about affordable rent. Everyone in Toronto thinks it is an incredibly expensive place to live – and it is – but New York is, by some measures, the 4th most expensive place to rent an apartment in the world. See below for some comparison – it's cheaper to rent a 3 bedroom apartment in downtown Toronto than it is to rent a 1 bedroom apartment in downtown New York. In fact, when you convert average Toronto apartment prices into USD, the rent in NYC is pretty much double that of Toronto.
Now, obviously some people are willing to pay that to live in the self-proclaimed Greatest City in the World, however let's remember one thing: it is not the 1980s any more. With recent developments in communications technology, it is entirely possible to live in cities other than New York or London and work for global brands. (Or, if you are your own brand, achieve global exposure. Witness Kevin Durant, one of the biggest athletes on the planet. He is based in Oklahoma City.) So the perks of living in New York (or London) have declined somewhat but the cost of housing has not.
Chalk on up to Toronto.
Prices in US Dollars.
| | | |
| --- | --- | --- |
| Apartment Size | Toronto | New York  |
| Apartment (1 bedroom) in City Centre | $1339.50 | $2839.88 |
| Apartment (1 bedroom) Outside of City Centre | $954.96 | $1727.46 |
| Apartment (3 bedroom) in City Centre | $2410.36 | $5039.42 |
| Apartment (3 bedroom) Outside of City Centre | $1710.61 | $3314.79 |
Source: https://www.numbeo.com as of September 18, 2014. Exchange rate of that date was 1 USD = 1.09 CAD
Jobs/ employment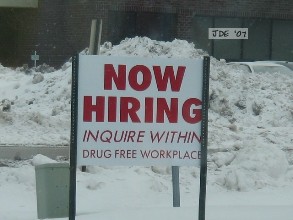 Now Hiring by jay / Wikimedia Commons / CC BY-SA 2.0
When it comes to wages, it really depends on what job you do. Toronto is the place for lower paying jobs: the minimum wage is higher in Toronto – especially in the restaurant industry – and obviously the lower cost of living means you might actually be able to live off the minimum wage in Toronto (albeit barely), unlike in NYC where it is hard to see how anyone could live for $8 per hour. However, when it comes to the better jobs, you are likely going to earn a little bit more in NYC than you will in Toronto, and that doesn't take into consideration rather huge differences in compensation in certain sectors. It's still not anywhere close to double (remember the rent is pretty much double) so it's hard to see how New York comes out ahead in the wage category, unless you a) have a very good job and b) don't live in the city limits and are willing to handle a brutal commute. All other factors being equal (and they're not), Toronto comes out ahead because the slightly better salaries in New York cannot makeup for the insane cost of rent.
Another point for Toronto.
The above wage information is taken from the Ontario Ministry of Labour and StatsCan, and the New York State Department of Labor
Taxes
Canadian Taxes
Like most countries, Canada imposes a variety of taxes on its residences: income taxes, "consumption" taxes and "wealth" taxes. The most important of the "consumption" taxes is Canada's sales tax, usually called "Value Added Tax" (VAT) in Europe. Canada has two, a federal and a provincial, and this can get really confusing, but let's focus on Ontario. In Ontario (and in many other provinces), the VAT or sales tax from both the federal and provincial governments is combined into one and is known as the Harmonized Sales Tax (or HST). HST in Ontario is currently 13%, about average for Canada.
Other Canadian sales taxes are hidden. These taxes are known as "excise taxes" and are responsible for the high prices of certain goods in Canada: alcohol, cigarettes, gas and other products are more expensive in Canada because of hidden excise taxes.
15% on the first $43,561 of taxable income
 22% on the next $43,562 of taxable income (on the portion of taxable income between $43,562 and $87,123)
 26% on the next $87,124 of taxable income (on the portion of taxable income between$87,124 and $135,054)
 29% of taxable income over $135,054
Source: www.cra-arc.gc.ca
Provincial Income Tax in Ontario in 2014
Tax brackets for Ontario:
 5.05% on the first $39,723 of taxable income, +
 9.15% on the next $39,725, +
 11.16% on the next $429,552, +
 13.16% on the amount over $509,000.
So to roughly calculate the amount of tax you pay, just add the two percentages together. The tax year in Canada runs from January 1st to December 31st. If you are on a working holiday you will be able to claim most of your taxes back.
American Taxes
The US has similar taxes to Canada, only most American products have lower excise taxes on them.
In New York State, sales tax is complicated, there isn't one rate. There is a state rate of 4% and then, on top of that, a minimum county or municipality rate of 3%, making the state sales tax rate normally 7% (so just over half of Ontario's). However, many counties and municipalities have higher sales tax rates. New York City's sales tax is currently 8.875% (still much lower than Toronto's) on most items. There are exceptions to sales tax in New York State, namely groceries and prescription drugs, and there are other, odder exceptions such as no state sales tax on clothing purchases less than $110. New York City's sales tax is about in the middle for US state rates.
Federal Income Tax in the United States
The US federal income tax rules are extremely complicated and we will not go into great detail here. Below is a table of "effective" federal income tax rates in the United States, namely what you are likely to end up paying after various deductions.
Effective Federal Tax Rates and Average Incomes for 2010
Quintile
Average Income Before Taxes
Effective Individual Income Tax Rate
Effective Payroll Tax Rate
Combined Effective Income and Payroll Tax Rate
Total Effective Federal Tax Rate (includes corporate income and excise taxes)
Lowest
$24,100
-9.2%
8.4%
-0.8%
1.5%
Second
$44,200
-2.3%
7.8%
5.5%
7.2%
Middle
$65,400
1.6%
8.3%
9.9%
11.5%
Fourth
$95,500
5.0%
9.0%
14.0%
15.6%
Highest
$239,100
13.8%
6.7%
20.5%
24.0%
81st to 90th Percentiles
$134,600
8.1%
9.4%
17.5%
19.3%
91st to 95th Percentiles
$181,600
10.7%
8.9%
19.6%
21.6%
96th to 99th Percentiles
$286,400
15.1%
7.1%
22.2%
24.9%
Top 1%
$1,434,900
20.1%
2.2%
22.3%
29.4%
So, so far New York is killing Toronto in the tax department.
New York State Income Tax in the United States
Individual States are also allowed to collect income tax and all but a few States do so. Some States impose a "flat" tax (i.e. one rate for everyone). New York State is not one of those States. Instead, New York State imposes different rates for pretty much everybody.
If your taxable income will be less than USD$65,000, see the rates here.
If your taxable income will be between USD$65,000 and $102,900, see the rates here.
If your taxable income will be above $102,900, you get to use a special form.
So obviously it gets complicated from here, but the State tax rate is never particularly high in New York, so NYC is still in the lead.
Municipal Income Taxes
Yes, there are municipal income taxes in the United States, but not in too many places. But New York City is one of thos places. The city taxes income at a rate between 2.907% and 3.648%, depending on income. However, there are a number of tax credits that reduce the effective tax rate for most people.
New York City's taxes could be the subject of a book, but despite the ridiculously complicated nature of taxes in New York State, we have to give them this one. It's still better to live in New York City than Toronto when it comes to paying taxes (for most peole).
Transportation
The Toronto Transit Commission operates four subway lines (two of which are rather short) and numerous bus and streetcar (tram) lines. The fare is a flat frate of CAD$3.00 (slightly less if you buy tokens). A few of the streetcar lines are dedicated, but most run with traffic. Most people try to live near the subway lines and so rent and housing prices near the subway is more than other places. Unfortunately, if you live outside of the city itself, you have to use one of the numerous other transit systems in the Greater Toronto Area: Go Transit (the regional train system) or one of the suburbs' systems, which makes for an awkward and expensive commute.
The Metropolitan Transit Authority is one of the transit wonders of the western world. The MTA is responsible for
The New York City Subway, which consists of 10 subway lines covering the five boroughs;
The Long Island Railroad, which serves all of Long Island;
The Metro North Railroad, which serves northeastern New Jersey, southern New York State, and southwestern Connecticut;
The Regional Bus Operations, which runs over 300 bus routes;
The subway fare is US$2.50 if you use a "Metro Card" or $2.75 for single rides. There are additional fares for the trains and buses, however the subway system covers a lot greater area than Toronto's.
Below is the breakdown costs transportation in both cities. All figures in US dollars.
| | | |
| --- | --- | --- |
| Transportation | Toronto  | New York  |
| One way city transit ticket | $2.69 | $2.75 |
| Monthly pass (city transit) | $120.08 | $112 |
| Taxi fare begins at (normal tariff) | $3.20 | $2.50 |
| Taxi 1km (normal tariff) | $1.60 | $1.28 |
| Gasoline (1 litre) | $1.20 | $1.05 |
| Volkswagen Golf 1.4 90 KW Trendline (Or Equivalent New Car) | $20,649.38 | $23,000 |
Source:  https://www.numbeo.com. These prices were quoted on the October 2, 2014
So, New York wins this one hands down. As a Torontonian, I'm jealous.
Weather
As you would expect, New York City is slightly warmer than Toronto, on average. Because of its situation on the coast NYC is slightly warmer than other, inland cities at the same latitude as well. Both cities experience extreme humidity for their latitudes at times during the summer. Below are the average temperatures for each month of the year. All temperatures in Celsius (which is not used in the US, by the way).
| | | | | | | | | | | | | |
| --- | --- | --- | --- | --- | --- | --- | --- | --- | --- | --- | --- | --- |
| Month | Jan | Feb | Mar | Apr | May | Jun | Jul | Aug | Sep | Oct | Nov | Dec |
| Toronto average high/low | -1/-7 | 0/-6 | 5/-2 | 12/4 | 18/10 | 24/15 | 27/18 | 26/17 | 21\13 | 14/7 | 8/2 | 2/-3 |
| New York average high/low | 4/-2 | 5.3/-2 | 10/2 | 16/7 | 22/12 | 26/18 | 29/20 | 28/20 | 24/16 | 18/10 | 12/5 | 6/0 |
Sources: Environment Canada and National Oceanic and Atmospheric Association
So at least on temperature, New York is the winner. What about rain and snow? Below are the averages for each month of the year.
Month

Jan

Feb

Mar

Apr

May

Jun

Jul

Aug

Sep

Oct

Nov

Dec

Toronto

Rain (mm)
29.1
29.7
33.6
61.1
82
70.9
63.9
81.1
84.7
64.3
75.4
38.2
Snow (cm)
37.2
27
19.8
5
0
0
0
0
0
0.1
8.3
24.1
Hours of Sun
85.9
111.3
161
180
227.7
259.8
279.6
245.6
194.4
154.3
88.9
78.1
New York

Rain (mm)
92.7
78.5
110.7
114.3
106.4
112
116.8
112.8
108.7
111.8
102.1
101.6
Snow (cm)
17.8
23.4
9.9
1.5
0
0
0
0
0
0
0.8
12.2
Hours of Sun
162.7
163.1
212.5
225.6
256.6
257.3
268.2
268.2
219.3
211.2
151
139
New York is far rainier than Toronto, and Toronto is far snowier, which makes sense because Toronto is farther north and further inland. Toronto is darker in the winter and brighter at the height of summer, again because of the latitude difference. You are definitely more likely to suffer from SAD during a Toronto winter, so if that's a concern, New York is your winner. And despite its rain, New York still gets more sun more of the time than Toronto. So I grudgingly have to give this one to New York.
Alcohol
Now to the most important category: booze.
New York and Toronto are home to thriving Craft Beer scenes, so if you like your beer interesting, its a wash between these two cities. New York's Brooklyn Brewery might be more famous, but both cities boast excellent microbreweries.
Toronto wipes the floor with New York when it comes to wine; though the local wine areas in southern Ontario do not get much respect from the rest of the world, New York wine is on another level of awfulness compared to Ontario, and the local wine areas are closer to Toronto too.
Neith city is home to particularly well known liquor brands.
Now for what matters to those of you who don't care about quality: the prices!
Drink
(All prices are in USD, include tax, and are city-wide averages. Prices are more expensive in many areas.)

Toronto

New York

Pint of Macro Domestic Beer at the bar
$5.36
$6.00
Pint Can of Marco Domestic Beer at the store
$2.37
$1.83
Bottle of Macro Imported Beer at the bar
$5.37
$7.00
Bottle of Marco Imported Beer at the store
$2.66
$2.48
Bottle of decent Wine at the store
$13.33
$15.00
These prices were quoted on October 2, 2014 from Numbeo. They are averages and the wine prices in particular are a little off. (You can get a decent bottle of wine in Toronto for less than US$13.) But still, Toronto is generally cheaper for a night out at a bar or club but NYC (predictably) has lower beer prices in store. Additionally the drinking age is 19 in Ontario and 21 in New York State. Since people are looking to have a good time, Toronto wins this one on affordability.
Groceries
Despite Canada's notorious excise taxes inflating prices in Toronto, it seems as though demand inflates prices in New York City.  Though food in the US is usually cheaper than Canada, this clearly does not apply to America's biggest city.
| | | |
| --- | --- | --- |
| Product (size) | New York | Toronto |
| Milk (1 litre) | $1.44 | $1.78 |
| Loaf of fresh bread (500g) | $2.75 | $2.46 |
| Local Cheese (1kg) | $10.82 | $9.75 |
| Eggs (12) | $3.14 | $2.97 |
| Chicken breasts (boneless) | $9.12 (per kg) | $10.51 (per kg) |
| Potatoes (1kg) | $2.18 | $1.83 |
| Apples (1kg) | $4.59 | $2.91 |
| Tomatoes (1kg) | $4.64 | $2.98 |
| Pack of cigarettes (Malboro) | $12.00 | $8.97 |
Source: www.numbeo.com on October 2, 2014
This one goes to Toronto in a shocker.
Phones
Canada has a reputation for some of the most expensive cell phone rates in the world, but at least judging by a national carrier there isn't much difference.
| | | | | | | | |
| --- | --- | --- | --- | --- | --- | --- | --- |
| City | Company | Model | Data | Monthly Mins | SMS | Contract length | Monthly bill |
| Toronto | Rogers | Apple iphone 5s 16GB | 500 MB | Unlimited within Canada | Unlimited | 24 months | $70.90 |
| New York | Verizon | Apple iphone 5s 16GB | 500MB | Unlimited within the US | Unlimited | 24 months | $70 |
These prices were quoted on October 2, 2014. Remember that, especially in the United States, there are many competing companies that may offer better rates. I'd call it a wash but I know that there are better options in the US. New York wins this one.
Time Difference
Toronto and New York are in the same time zone, Eastern Standard Time (-5 GMT). And they both move to Eastern Daylight Time at the same time of year, so there is no difference.
Immigration
Working Holidays
Canada has a program geared towards young people temporarily working and traveling in Canada. The rules and regulations for the Canadian working holiday program vary a little bit from country to country, but for the most part applicants must be from certain countries and of a certain age and they must apply before the quota fills.
The United States has a similar program – known as "Cultural Exchange" in the US – but it is extraordinarily complicated in comparison, with 55 separate sub-programs, and the requirement that the applicant is sponsored by either a government body or a private organization. This makes things a lot more difficult.
| | | | | | | | |
| --- | --- | --- | --- | --- | --- | --- | --- |
| Country | Age requirement | Period of stay | Program | Places allocated 2014 | Status of program | Government fee | Additional requirements |
| United States | No limit (children can come as dependents) | 30 days after the visa expires | J-1 Visa | Unlimited | Open | $180 + $160 + sponsor program fee (USD) | 55 different streams with different regulations for each; insurance required |
| Canada | 18-35 | 24 months (one time) | IEC working holiday program | Depends on your country of citizenship | Depends | $150 (CAD) | $2500 CAD in personal funds, Health insurance, police check |
So clearly if the aim is to visit the country to see what you think, the choice is obvious: Toronto beats New York on simple ease of application, provided you are from a qualifying country.
Immigrating Permanently
Coming to Toronto or New York to live permanently is a lot more difficult as both the Canadian and American immigration systems are complex. Workers usually require job offers and entrepreneurs must meet certain requirements.
Here are the government websites:
https://www.cic.gc.ca (Can)
https://www.uscis.gov (US)
For more information on Canadian immigration programs, check out the following pages:
Use this tool to see if you can come to Canada\
The US admits over three times as many new permanent residents than Canada but that doesn't mean there are more jobs for just because the US lets in far fewer new permanent residents per capita: the countries have nearly identical overall unemployment rates at the moment.  The Permanent Residence period in the US, prior to naturalization, is longer than Canada's (at the moment). So it takes less time to become a citizen if you come to Canada. Toronto wins this one. It's just far easier to legally come to Canada as an average person than it is to come to the US.
What Do You Think?
So there you have it, Toronto wins by a score of 6-5.
Don't agree? Vote for which city you would prefer to live in below, or leave us a comment below.
Toronto vs. New York
Canada vs. the US