The Top 7 Fastest and Cheapest Ways to Immigrate to Canada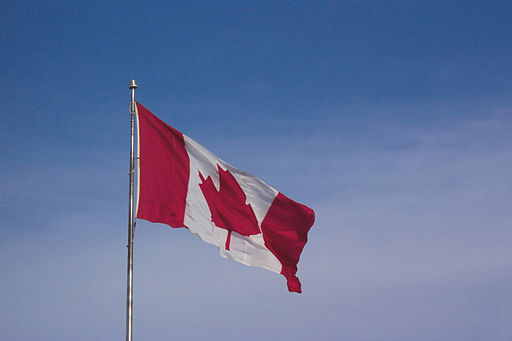 7. Trade Agreements
6. Work Permit
5. Spousal Sponsorship
4. IEC
3. Live-In Caregiver
2. Study Permit
1. Visitor Visa

The easiest ways into Canada aren't really accessible to most people. You have to be rich, "skilled" or some kind of artist. These are the easiest ways to come to Canada, if you qualify:
"Business" or "investor" immigration programs where immigrants essentially buy their permanent residence by creating or investing in a business and creating jobs; The federal program is back on and there is also the Start Up Visa. Also, .
Express Entry: The Skilled Worker and Skilled Trades programs, which are open to a select few people. The Skilled Trades program only allows in 3000 people a year. The Skilled Worker program is open to only a few select professions, requiring a lot of education and experience, or for other people with education and experience who already have job offers. Also, if you have a PhD, you may qualify as a skilled worker. Read more about Express Entry.
Finally, there are select professions which do not require visas to enter Canada to work and a special permanent residence category for some of these "self-employed" people such as artists and farmers.
Well, most people who want to come to Canada aren't rich or artists; and most others don't have the education and / or the work experience. So how does the average person immigrate to Canada?
Most of these are options for temporary residence in Canada, but each can be turned into permanent residence and, eventually, citizenship, if you meet the requirements.
Contents
Trade Agreements
Work Permit
Spousal Sponsorship
IEC
Live-In Caregiver
Study Permit
Visitor Visa
Check out our list of worst ways to immigrate to Canada
7. Trade Agreements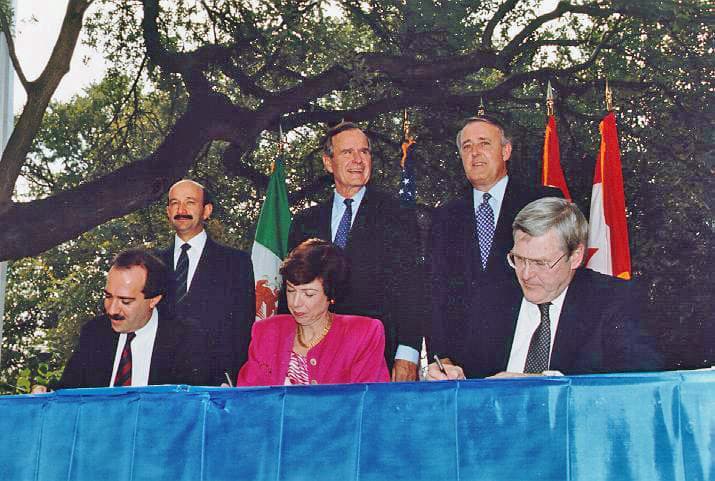 Signing NAFTA [Public Domain]
In addition to the most well-known trade agreement, NAFTA (since replaced by the USMCA), Canada has other trade agreements that allow for certain immigration exemptions. The only problem is these agreements are only open to citizens from the following countries:
Chile
Jordan
Panama
Colombia
Liechtenstein
Peru
Costa Rica
Korea
Switzlerand
Iceland
Mexico
United States of America
Israel
Norway
Nationals of member countries of

the European Union,
the Trans-Pacific Partnership (TPP) and
the General Agreement on Trades and Services (GATS) plus permanent residents of Australia and New Zealand
If you are a national of one of these countries and you work for a company that either has a Canadian operation or has a contract with a Canadian company, you may be able to work in Canada without a Labour Market Impact Assessment (LMIA). These agreements allow for you to work for your company, or their subsidiary, branch, affiliate, or parent company, in Canada in what is called an intra-company transfer.
This list will increase in the future as Canada has many free trade agreements in the works, but at the moment, only these nationals of these countries are eligible for the so-called "Nafta visa."
If you're here long enough, you may be able to use your Canadian work experience to apply for permanent residence through the Canadian Experience Class (CEC) or through a Provincial Nominee Program.
6. Work Permit with job offer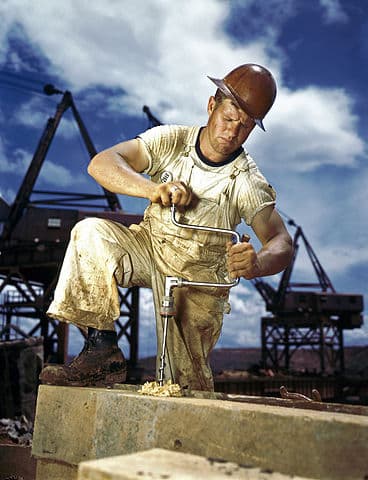 If you are semi-skilled or "skilled" (university educated) for most people the simplest way to come to Canada is to get a work permit. There are two problems:
First, you have to convince a Canadian employer to give you a job over a Canadian citizen or permanent resident.
Second, your employer has to convince Human Resources and Development Canada that they must hire a foreign worker as no Canadian can do that job (a Labour Market Opinion). So what seems like an easy process is made complicated.
Add to that the problem of applying for a job from overseas, and it seems impossible. If you have any connections in Canada, that is the best way; contact them and see if they know anyone who is hiring. Or see option number 1 below.
Your work experience can lead to permanent residence, through one of the below programs:
Learn about NOC Codes and how they relate to job offers in Canada.
5. Spousal Sponsorship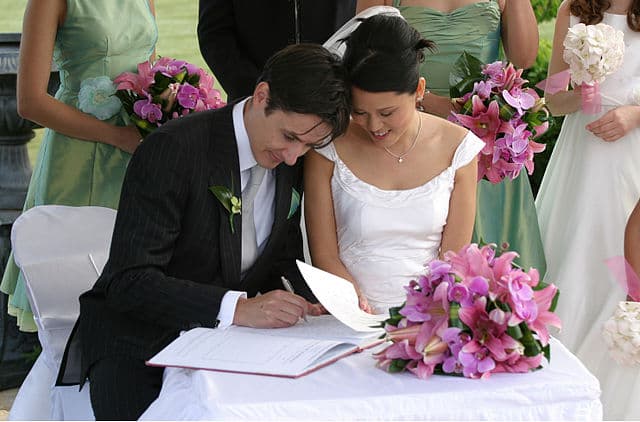 Psst, don't tell anyone, but having a Canadian spouse or partner is one of the easiest ways into the country. Immigration, Refugees and Citizenship and Canada is cracking down on "marriage fraud" – when two people legalize a sham marriage in order to get the foreign spouse permanent residence and citizenship – so you better make sure you're relationship is real. Learn more about spousal sponsorship:
Sponsor Your Spouse for Permanent Residence
4. International Experience Canada (IEC) aka Working Holiday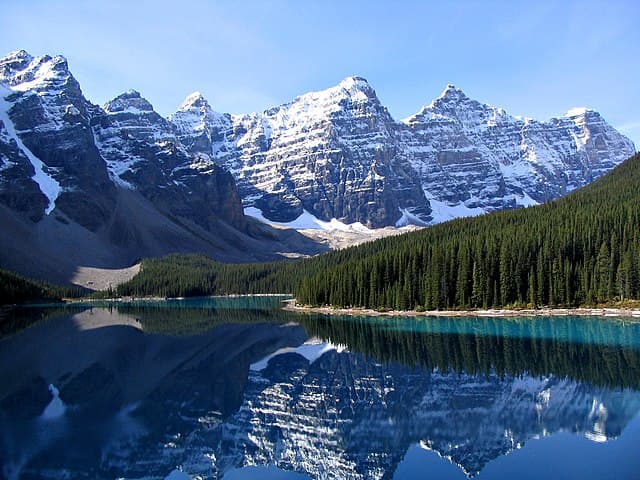 If you are from a select group of countries, this is the program for you. If you are between the ages of 18 and 35*, you can come to Canada on an open work permit, which means you don't need a job offer.
*With some countries eligibility stops at age 29 or 30.
Participating countries:
| | | | | |
| --- | --- | --- | --- | --- |
| Australia | Denmark | Japan | Norway | Taiwan |
| Austria | Estonia | South Korea | Poland | Ukraine |
| Belgium | France | Latvia | Slovakia | United Kingdom |
| Chile | Germany | Lithuania | Slovenia | |
| Costa Rica | Hong Kong | Mexico | Spain | |
| Croatia | Ireland | Netherlands | Sweden | |
| Czech Republic | Italy | New Zealand | Switzerland | |
There are three types of IEC programs:
Working Holiday – open to most nationals of the above countries aged 18-35 provided you meet the requirements;
Young Professionals – you need a university degree and a job offer;
Co-Op – must be a student at a post-secondary institution in your home country, in an eligible program.
To see how many spaces are available for 2019, click here.
Your work experience under the working holiday or young professional programs can be used towards obtaing permanent residence, through one of the following programs:
Co-Op experience cannot be used towards CEC.
Begin Your Workin Holiday in Canada
3. Live-in Caregiver –
Program Currently Closed
The easiest career-specific route into Canada for anyone who isn't a "skilled worker;" it's the live-in caregiver program. With only high school education, a job offer, and either six-months training or one year of caregiver experience, you could get a work permit. There are numerous agencies that specialize in matching employers with potential foreign caregivers so it is much easier to find an employer than it is for other jobs. Canada currently has a special permanent residence stream for those who have participated in this program, as well. This program is currently closed to new applicants.
2. Study Permit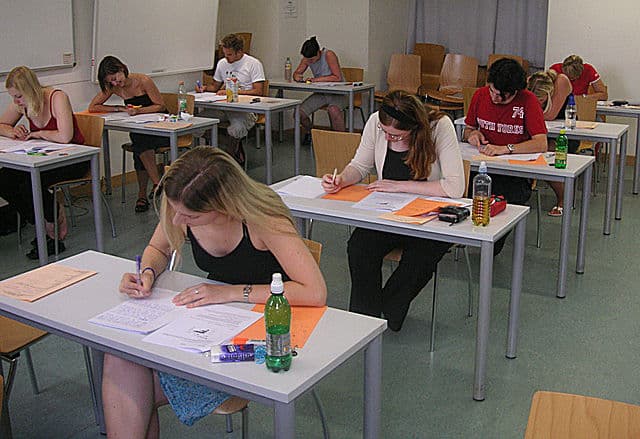 If you, or your parents can afford it, there is no better way to come to Canada than through studying at a Canadian university or college. Canada offers numerous programs and a few Canadian universities are considered among the best in the world. Colleges, which offer more practical education, are another option. Click here for a full list of Canadian universities. Click here for a list of Canadian colleges. The best part: the Canadian provinces offer permanent residence streams for graduates of post-secondary institutions. But make sure when you are choosing your university you research the Provincial Nominee Program for your university's province, to see what it takes to get permanent residence. It usually takes a job offer after graduation and a commitment to remain in the province at the very least. It's also important to remember that whatever work you do while a student will not count towards any work experience immigration streams, so if you get a student work permit to support yourself, keep that in mind.
Learn more About Study Permits
1. Visitor Visa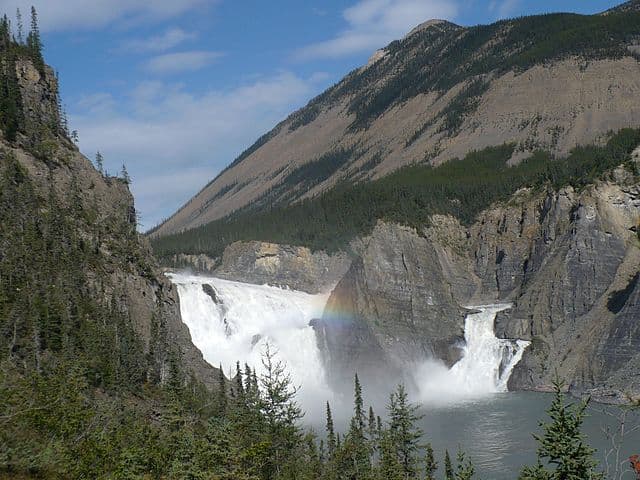 If the only way you can come to Canada is with a job offer and a work permit, the easiest way to come to Canada is to get a visitor visa, if you need one, and to look for a job while you're here. You cannot work in Canada using your visitor visa. But you can communicate with potential employers about future work. You should know that you will need another reason to visit Canada as it is unlikely that a border officer will be willing to let you into the country if you say you are coming to look for work. But don't lie; lying will only make you inadmissible, which means you will not be allowed in. Rather you should plan an actual holiday to Canada to see this beautiful country and, while here, see if you can make a few connections. Once you have returned home, you can start the work permit process.
How are you going to come to Canada?