Do-it-yourself Permanent Resident Travel Document (PRTD)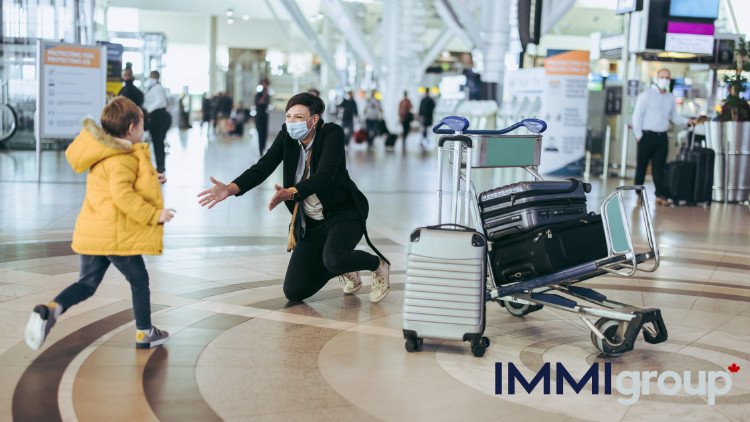 Course: PR Travel Document (PRTD)
What happens if you're outside of Canada and you don't have your PR Card, or you are in Canada and must leave now; perhaps because it's expired and your application to renew it is taking months? How do you get the documentation you need to travel back to Canada?
Just note, you can always leave Canada without a valid PR card, but you need a way back. This article will answer this question and a lot more.
Permanent Resident Travel Document (PRTD) in order to return to Canada. Here are 7 Simple Steps to get that document and travel back to your home in Canada.
To be eligible for a PRTD, you must:
Be a permanent resident of Canada
NOT have a PR Card
Be OUTSIDE Canada
Be returning to Canada by:

Airplane
Boat
Train, or
Bus
You'll notice that returning to Canada by car or truck is not included. We cover this in our FAQs at the end of this article.
Please remember that while your PRTD is valid for 6 months from the date it was issued, it is normally only valid for ONE SINGLE ENTRY into Canada. After that, it can't be used again. So, you apply for and receive your PRTD and use it to enter Canada. As soon as you get back to Canada, you should apply to replace your lost/stolen/destroyed PR Card.
Let's now dive into the steps you'll take to apply for your PRTD.
Tip: If you have your Record of Landing and you leave Canada by plane BUT on the way back you land in the United States airport, let's say an airport near the Canadian border and you drive back to Canada. You can enter without a PR card or Travel Document. Remember, this will only work if you can enter the United States (you have a U.S. visa in your passport or you are visa exempt)
Step 1: Get the Application PRTD Application Package
Go here to download the forms and checklist you'll need to apply. They are as follows:
IMM 5627 – Document Checklist Applying for Permanent Resident Travel Document
IMM 5524 – Application for Permanent Resident Travel Document
IMM 5476 – Use of a Representative (if applicable)
IMM 5529 – Instruction Guide
Remember to right-click on the link and choose save link as … from the menu. Save the IMM form to your computer, and then open it with Adobe Acrobat from there. Otherwise, it will not open, read more about this issue here.
Before we start, let's talk about the elephant in the room or in other words the biggest issues people have with this application:
Can I get this document before leaving Canada? The answer is, unfortunately, no. You can expedite your application for your new PR card and wait; is the safest thing you can do. To see an up-to-date timeline on PR cards, click here.
I am worried I have to send my passport in the mail, is there a better way? There are 291 Canadian diplomatic missions globally, you will need to check if they except walk in service. Just remember the information on some of the website is at times out of date, so just double-check everything. The other tip is if you are still in Canada and have not left, complete the package now and have everything ready before you leave on your trip. Just remember to read this article thoroughly; it will help you get everything in order as well as give you some helpful tips.
Step 2: Print and use your Document Checklist – IMM 5627
Let's look at IMM 5627, your Document Checklist, which you should download and print right away to use as a guide during the application process.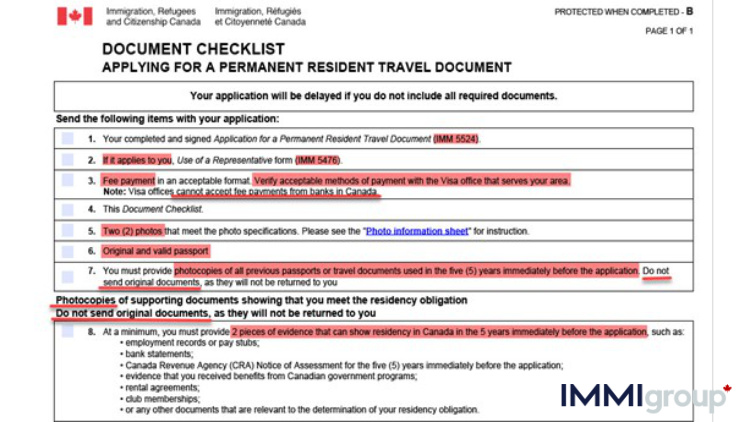 The first 8 items in your Document Checklist detail:
The forms you need to fill out and sign and date, including form IMM 5627 – the checklist itself
Proof of fee payment. You'll have to check with your local VAC (Visa Application Centre) to see what payment forms they accept. PLEASE NOTE that VACs do NOT accept Canadian Debit Card payments.
Your 2 photos according to the specifications given in the link:

The link takes you here. Print out the page and take it to the photographer, who hopefully understands English. If they don't, you'll have to carefully translate the specifications to them, which are as follows:
50 mm x 70 mm
Face measuring 31 mm to 36 mm from head to top of head
Neutral facial expression (no smiling) with head and shoulders centred
Plain white background
On the back of (1) of the photographs:

Your name & date of birth
Name & complete address of photography studio

Your original and valid passport (since you're a PR, you won't yet have your Canadian passport, obviously).
Photocopies of ALL the passports and/or travel documents you've used in the previous 5 years, with the relevant pages showing your travels as well as the information pages.
At least 2 supporting documents you need to prove your residence in Canada. Send photocopies of these. DO NOT send originals. They won't be sent back to you.
Tip: Contact family or friends back in Canada if you don't have the supporting documents on you. They should take photocopies and scan the documents (things like driver licenses or bills proving your residence in Canada) and send the scanned images to you by email, so you can print them out.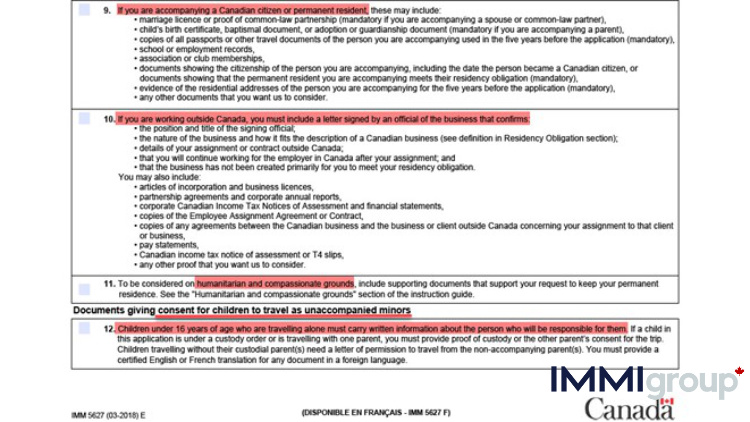 Question 9 lists other supporting documents you can send if you are with a permanent resident or Canadian citizen
Question 10 details the official letter you need to include if you're working outside of Canada.
Question 11 deals with evidence for applying on humanitarian & compassionate grounds, while
Question 12 deals with what additional supporting documents an unaccompanied minor (under 16 years of age) needs to be able to travel without both or without one parent.
So, remember. Gather each completed form and supporting document and check the box when you have each one. Print the Document Checklist (IMM 5627) and remember to send it with your application package.
Tip: Did you know 90% of people are trying to get a Travel Document before they leave Canada. In most cases, it's because their PR card has expired, and they don't have enough time to renew it.
Step 3:  Filling in IMM 5524 Application for Permanent Resident Travel Document
The first parts of form IMM 5524 are mostly straightforward personal information.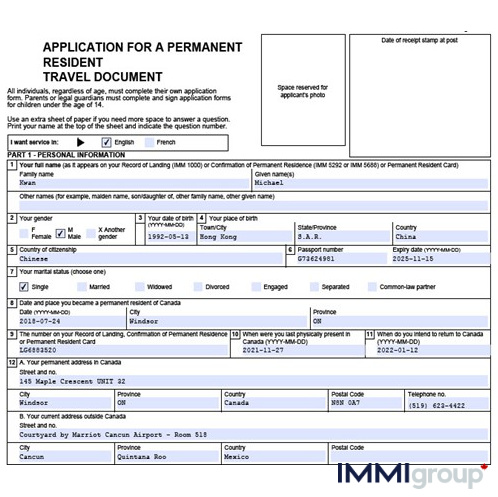 Use the information in your Record of Landing (IMM 1000) or COPR (IMM 5292 or IMM 5688).
Question 9 asks for your identifying number on your Record of Landing or COPR.
Questions 10 and 11 ask when you were last in Canada and when you plan to return to Canada. In other words, 10 and 11 are about your immediate travels that resulted in you being stuck abroad with no PR Card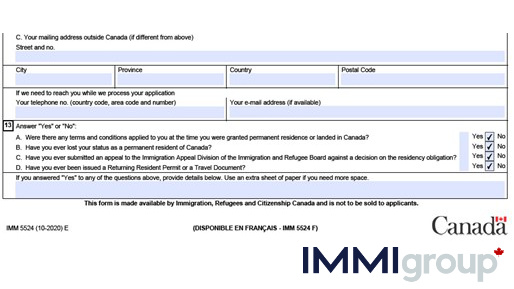 The address you list in 12C (which is normally different from your permanent address listed in question 12) is your contact address for the duration of your application for a PR Card. So, if you're stuck overseas, put whatever location (hotel, apartment, rented house etc.) where you are currently living abroad and where they will send your PRTD.
Question 13 basically asks if you have had any conditions imposed on your PR status, or made any appeals, or had a loss of status of permanent resident at any point since becoming a permanent resident. If you need more space for details add a sheet of paper. In our example above, Michael Kwan has no conditions or previous loses with his PR card.
Because you're replacing a PR Card through this application, IRCC want to be sure you've complied with both residency and any other requirements during your time as a permanent resident, so they ask you in question 14 to list all your activities for the last 5 years, or since becoming a PR if less than 5 years. That means work, study, unemployed, etc. DO NOT leave periods of time as blank space. That's a great way to invite further requests for information from IRCC.
Warning for all permanent residents: If you have been outside of Canada for more than 730 days then you must read this: When you get to 675 days outside of Canada, you are extremely close of triggering an investigation into your PR status. IRCC will request you to file an application called Residency Questionnaire (RQ), read more about this here.
Most people make the mistake of thinking they are okay because they are not over the 730 days, they may be close but not over, so they file an application causing an investigation into their PR status. This will result in a mountain of paperwork (read article link above to see what the paperwork looks like), thousands of dollars in legal fees, stress and a lot of time. After getting to the point where you've spent close to 730 days outside of Canada, you will then be put under a microscope every time you travel or when you file for a new PR card or apply for Canadian citizenship.
Exception to this rule is: if you are living overseas with a spouse or common-law partner that is Canadian. This is your ticket to not triggering a Residency Questionnaire, just make sure you have loads of documents proving you have always been living together.
Here is what you can do:
Don't file for a Travel Document if you are in Canada. What you should do is stay put until you are below 650 days.
If you are outside of Canada, we strongly recommend you hire someone, it does not have to be Immigroup, but do hire someone that has a lot of experience it 'status in jeopardy' cases.
When filing your PR card renewal application, be extremely thorough in proving you meet the requirements in Canada. Send as many supporting documents as possible; it's better to send too much than send too little.
Hire an expert like Immigroup, we only file applications that meet the requirements of IRCC. It's worth the money to have a professional representing you – keep in mind that we have over a decade of experience in 'status in jeopardy' cases.
If you do trigger a Residency Questionnaire (RQ), hire someone to at least review it before filing. Just make sure they have a lot of experience in these types of cases.
Although it comes after the residency requirements, let's deal with question 18 here. Question 18 is where you consent to allowing the IRCC to access your tax data at the Canadian Revenue Agency (CRA). It is strongly suggested you click on Yes. If you click No, you may be subject to further requests for information which will slow down your application.
Residency Requirements and Form IMM 5524
Next comes the most important part of your application – the Residency Requirements. As you may remember, when applying for and receiving your PR visa in your passport you were told about what the residency requirements were for a permanent resident. Let's summarize them again:
You need to have been physically present in Canada for at least 730 days during the last 5 years. The days physically present in Canada:
DO NOT have to be continuous
Can include time lived abroad under the following conditions:

You're working abroad full-time for a Canadian business/organization or for the federal or a provincial/territorial government.
You're travelling abroad with your spouse or common-law partner who is:

A Canadian citizen, OR
A Permanent resident working full-time abroad as described immediately above

You're a dependent child (younger than 19 years) travelling with a parent(s) who is:

A Canadian citizen, OR
A Permanent resident working full-time abroad as described immediately above
Questions 15, 16, and 17 all deal with residency requirements for Permanent Residents.
Question 15 is shown in the previous image. If you get a total of 730 or more days just by filling in the details of your travels in question 15, skip straight to the declaration (signing and dating the form basically) and leave questions 16 and 17 blank. Even if you did work abroad or accompany a parent abroad, there's no need to answer them as you've already complied with the residency requirements. You're good as long as you've also answered question 18 as we mentioned above. Sign and date the form and move on to the next step.
In our example, Michael Kwan has been in Canada for over 1,000 days so he can skip questions 16 and 17.
However, if you get a total of less than 730 days in question 15, you'll have to answer questions 16 and 17.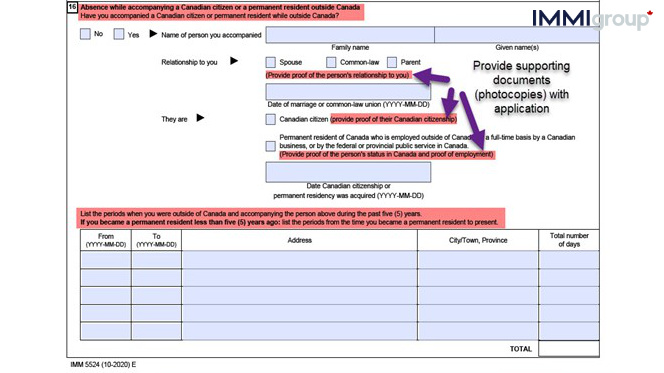 Question 16 deals with travels abroad as a dependent child (under the age of 19 normally) and please remember you will need to provide proof of your parent's Canadian citizenship or proof of their PR status and their employment abroad.
Question 17 refers to permanent residents who worked abroad for Canadian businesses, organizations, or the federal or a provincial/territorial government.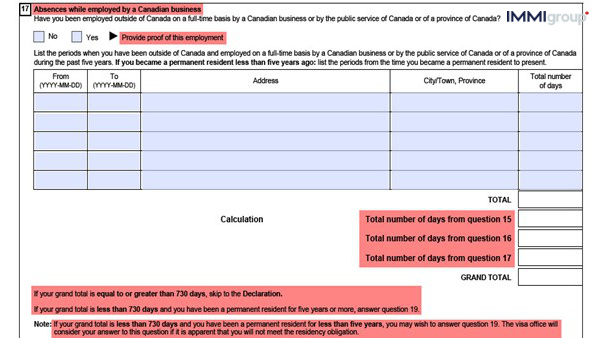 After completing questions 16 & 17, add up the number of days in questions 15, 16, and 17 (remember what we're doing is adding days lived abroad that qualify as residence in Canada to your days physically present in Canada). If your total is more than or equal to 730 days, sign and date the declaration and move on to the next step.
However, if your overall total number of days is less than 730, you have to answer question 19 where you provide reasons why you were not able to meet the residency requirements under Humanitarian & Compassionate grounds (H&C). You must convince IRCC officials with compelling reasons such as: the best interests of a child and/or hardship.
Tip & Warning: if you have a Humanitarian & Compassionate case you will have to create your own Letter of Explanation, you can find a do-it-yourself article here. Strong warning, you need to have experience in creating these types of letters, ether from your university years or profession. It is not an emotional appeal; this is the biggest mistake most people make. If in doubt, hire someone! Immigroup offers support around these matters, contact us today.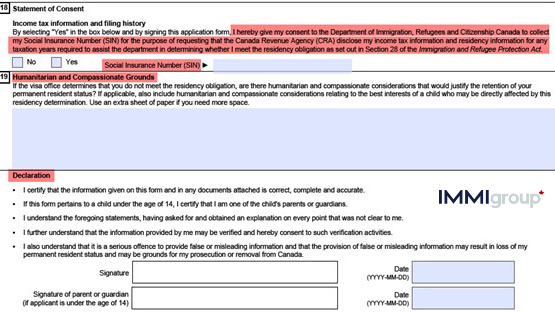 We mentioned question 18 – consenting to giving IRCC access to your tax information – before dealing with Residency Requirements, so remember that the recommended option is to click Yes and give your SIN.
For question 19, what you have to do is describe the hardships you and your family would face if you lost your status as a permanent resident. This can include the negative consequences it would have on any children affected by the loss of your PR status. Gather any supporting documentation that show there were exceptional circumstances that prevented you from meeting your residency requirements.
Step 4: Using a Representative
We deal with representatives (form IMM 5476) here, so follow the link to see how to appoint (or cancel) a representative.
Tip: You can add a member of the family or friend to this document. The benefit here is they can check the status and speak to the government on your behalf. This is great when you are busy. Just remember that the person you pick is an unpaid representative so they can't get any financial compensation for this service, otherwise you are breaking the rules.
Did you know when hiring Immigroup, we ask you to sign this form IMM 5476 because it gives your legal representative the ability to 1), check the status of your application, 2), contact IRCC (the government) on your behalf and 3), respond to IRCC on any request they may have.
Step 5:  Paying your fees
Go here and select the country you're applying from as well as the type of application, as shown below: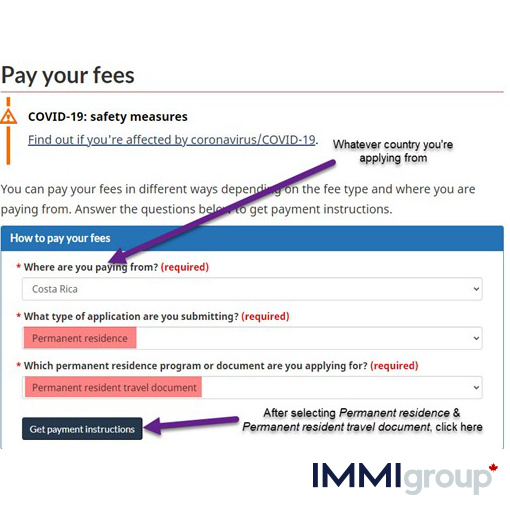 You will then be taken here in our example of someone applying for a PRTD from Costa Rica: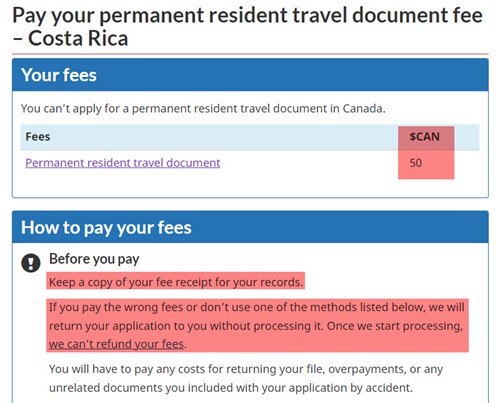 The fee for a Travel Document (PRTD) is CDN$50.00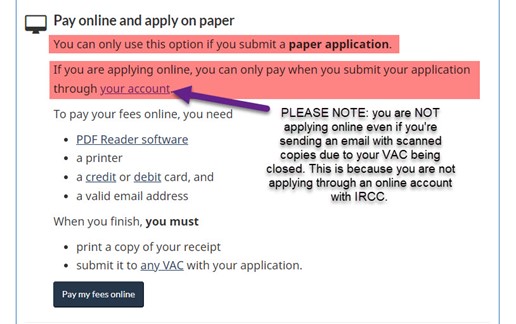 Click Pay my fees online to pay using a valid Credit Card or Debit Card. Remember, you can only use this option to pay your fees if you're applying on paper. As we show below, you may have to send your application by email using scanned (electronic) copies of your forms and supporting documents if your local VAC is closed. However, this is NOT an online application; it is an application by email, so pay your fees as shown here. And as always, you may be able to pay your fees at the VAC. Always check with your local VAC to see what forms of payment they accept.
Step 6: Where to Apply & What to do if your VAC is closed due to COVID
Given the persistence of the COVID-19 pandemic, you may find that your local Visa Application Centre is closed. Always contact your local VAC as soon as you realize you have to apply for a PRTD. If they are closed, you will have to submit your application by email.
Permanent Resident Travel Document applications are normally submitted on paper.
However, if COVID restrictions have closed your nearest VAC, then you are allowed to submit your application by email.
To apply by email, do the following:
Print your document checklist form IMM 5627
Using IMM 5627, fill in and sign and date form IMM 5524 and any other forms like IMM 5476 and gather any supporting documents you are required to submit.
Scan the forms/documents (make electronic copies) and upload them to your pc.
Pay your fees as shown in Step 5 and make sure you get a copy of your payment receipt.
Finally, send an email to the following email address:

PLEASE NOTE: Your Subject Line in the email should read as follows:
"PRTD application": your name here "first" and "last name" (it's a good idea to capitalize your last name).
For example, if your name is Sean Chen, write: PRTD application: Sean CHEN

Your email has to include the following:

Subject line as shown directly above
Scanned copy of IMM 5524 – Application for a Permanent Resident Travel Document
Scanned copies of all supporting documents as indicated by your document checklist, including a scanned copy of your document checklist itself


Tip:

scan your documents in colour and convert it to PDF. Don't use JEPG unless you know how to make the image small without losing resolution. If you don't know how to do this part you can YouTube it, just type in the words "how to scan and save to PDF"
Warning: Don't send shared links to the government (example: Google Drive or DropBox), in most case they will not open it because of security reasons.  Don't password protect your documents, IRCC does not take kindly to this.
Scanned copy of your travel itinerary if possible
Scanned copy of your payment receipt
Once you have sent the email and IRCC has processed your application, you will receive instructions on where to send your passport. PLEASE NOTE: applications by email for PRTDs TAKE LONGER than applications on paper.
PLEASE NOTE: DO NOT book your return trip to Canada until you've received your passport back with a PRTD sticker in it.
Step 7: Submitting your Application Tavel Documents Applicaiton
In a sealed envelope, submit:
Your original travel passport (the passport you used to travel outside of Canada)
All supporting documents (copies of the required documents)
Your completed, signed and dated form IMM 5524
Your Document Checklist form IMM 5627
A copy of your fee receipt
To see where to submit your application, go here and scroll down until you see the following: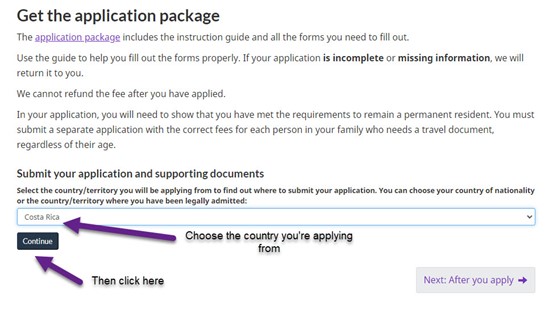 We've chosen Costa Rica as our example of the country we're applying from. Click the blue Continue button to go here:
You may see the above advisory page. If you do, click on the Send anyway button. This will take you here to the instructions page for Costa Rica:
Click on the underlined link to find your VAC closest to you. It will take you to the following page where you will need to write the name of the nearest major city in the search box to find your nearest VAC.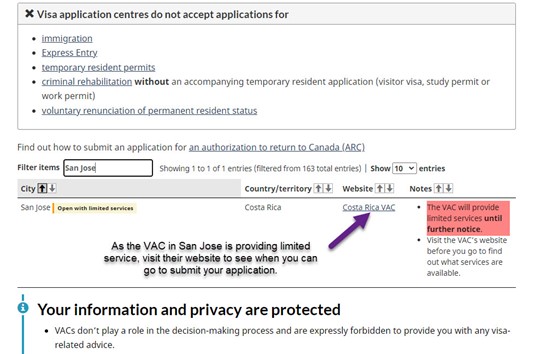 As the VAC in San Jose, Costa Rica (it's best to choose by city rather than country) is offering limited services as of late 2021, make sure you visit the website to see exactly when you can go to submit your application for a PRTD.
That's it! You've put together and submitted your application for a PRTD. Now you just have to wait for your passport with a PRTD sticker in it to then book your flight back to Canada.
FAQs
Can I get an ETA instead of a Travel Document?
No you can't. Once you become a permanent resident of Canada, you are no longer merely a visitor to Canada – even if you travel outside Canada for a short holiday. As a permanent resident to Canada, to enter Canada you must have either: your PR card OR you Permanent Resident Travel Document. For returning to Canada from the U.S. by car, see below.
I hold a strong passport, why can't just enter without my PR card or Travel Document?
For example, if you had a strong passport like a British one, if you're visiting Canada and you're not a permanent resident, you would just need an ETA to enter Canada. Unfortunately, because you are now a PR card holder, you are no longer eligible for an ETA as we explained above.
What if I can get back to Canada without my PR card or Travel document; what will happen?
If you can make it back, not much will happen in most cases. The reality is once you are back in Canada, the most that will happen is you will get a long talk from a CBSA official. In some rare cases, for example, if you have lost your permanent resident status in Canada or your close to losing it, you could be put on a plane and sent back.
I am thinking of driving to a U.S. airport and coming back to Canada by car; will this work?
Technically it should work. The only thing to watch out for is make sure your home country passport does not require a U.S. tourist visa to enter the United States. So, for example if you have a passport that is visa-exempt in the U.S. you might consider this option.
I lost both my passport and PR card; can I just apply for an emergency Passport form the Canadian embassy.
In most cases no, Passport Travel Documents or Certificates of Identity are issued to Canadian Passport holders or Refugees and Protected Persons. In rare exceptions, they can be produced if your home country's diplomatic mission is in such disarray that they can't assist you. Remember, you would have to make your case to the Canadian diplomatic mission nearest you. Tip: Keep it logical not over the top emotional (you will stand out from the other appeals)
What if I don't get my Passport back in time for departure date?
You would have to change your flight and get the new date on your ticket. Tip: Before buying your ticket ensure that you have rebooking or cancellation policy.
I am trying to get an answer on the status of my Travel Document, what do you recommend?
Here are some tips to follow: How to request an update from a diplomatic mission. Also, don't forget to try calling, emailing, and going in person. The more you do, the better your odds of getting an answer.
I filed a Travel Document application and couriered it to the Canadian embassy, but it seems they lost my package. What do I do know?
Unfortunately, you would have to reapply for a lost Passport from your home country's embassy. In most cases this could take some time, so make sure you request an emergency passport. Most countries have this; the passport is only good for one year but can be used to travel back to Canada.
I am applying for a Travel Document, but I have a change of name now, so what do I do?F
Just make sure you have the legal document showing the new name. For example, a marriage certificate, or legal change-of-name document will work. As well, it's a good idea to bring the originals with you on your trip if you know you're going to be applying for a PRTD.
I have been outside of Canada for many years, I am sure I am not a Canadian permanent resident anymore, but now I am trying to return to Canada. Should I apply for a Travel Document?
As we explain in the tutorial, in Step 3, the residency requirements are at least 730 days physically present in Canada during the previous 5 years, along with time spent abroad under certain conditions. However, the key point is that you only lose your PR status when an official with the Canadian government determines you are no longer a permanent resident. What you can do in this situation, is apply for a Permanent Resident Travel Document and see what happens. Remember, you can appeal a negative decision on your PRTD application as well.
Tip: Hire a professional asap if you are out of status. This is key because most people assume they will only hire and spend the money If their appeal fails. Unfortunately, it's a big mistake to wait until after your appeal fails before you hire someone. The reason this is a big mistake is because while the damage was bad before, now that your appeal has failed it's close to impossible to fix. As well, legal costs at this point will mount to three to five times more than if you had hired a professional as soon as you were out of status. Here at Immigroup, we have been dealing with issues like this for over a decade. Just book in an hours' worth of consultation and you will see the difference experience makes. 
Do I lose my PR status when my PR Card expires?
No you don't. As we explain directly above, you have to go through an official process to lose your permanent resident status. It usually involves one of the following situations:
An adjudicator determines you are no longer a permanent resident after an inquiry or a PRTD appeal,
You voluntarily renounce your PR status,
You have a removal order against you which is enforced, OR
You become a Canadian citizen.  
Is a PR Card still a travel document when it has expired?
No, it is not. A PR Card has to be valid (not expired) to be accepted as a travel document. If it expires, you need to apply for a PRTD from abroad or apply for a new PR Card while still in Canada. Always check the expiry date on your PR Card before you travel because some PR Cards are only valid for 1 year, although most are valid for 5 years. If your PR Card will expire in 6 months or less, apply for a new one if your immediate travel plans allow that. Unfortunately, waiting times for a renewed PR Card can involve several months and even up to 6 months.
What did we miss in this article? Please let us know and others that come after you will get a better experience. Also, we are happy to answer any question not listed in this article. Send us a message below. Tip: Did you know Immigroup has a community forum that can help you answer your Travel document questions? Click the link and start today!